I was born in the small village in my hometown - located in northern part of Luzon, Philippines. I grew up knowing traditional games. When I was growing up I was introduced to street games - we played in the street due to the lack of toys or should I say we don't have money to buy decent toys that can be brought in a toy store in the city. Our playground doesn't have swing, seesaw, slide, or playhouse. We did not know how the playground looked like. But we knew our playground was bare but wide.
We normally play in the afternoon, when the sun hides in the west. Our parents won't allow us to play after lunch. We were obliged to take an after-lunch nap. We were told that we needed to nap so that we will grow faster. I can sleep around 2-3 hours from that nap - which is I guess important for kids and even adults. I met other playmates when I started to attend school. We play in the school grounds, still no decent playground.
Traditional Filipino games are being neglected nowadays; I don't see kids playing them outdoor. I am not really sure if I can see kids in the far-flung provinces playing what we used to play in the 90s. Oh, I know. Our technology evolved into an era where kids are used to playing indoors - computer games, Xbox, mobile app games, name every mobile apps you know.
Are the traditional games being neglected by kids of today?
What are my favorite childhood games?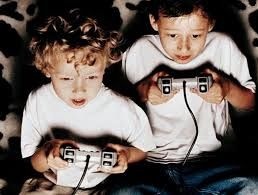 Kids Playing Credit: Affectivegaming
We never had these game controllers when we were kids - we only had sticks, stones, marbles, rubber bands, tires, bamboo guns.
However, we did not play with these toys most of the time. We played physical games - like the ones on my list:
1. Patintero - The trapping and tagging game. "try to cross my line without letting me touch you". This game is played by two teams with 4 members each some 5 because of the extra lines they draw. This will consume most of our playing hours because of the game's objective - to get past the guards for each line to the home base without being tagged or touched. Back in the province, we used water on cement or soil to draw the line or just a stick to draw the lines on the soil.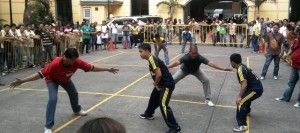 Source: maytopaksipepe
2. Luksong-Tinik (Jump over the thorns) - the game will start by tossing coins, once the players determined who will start off with being the "it" to create the thorns by filing their hands that serve as the thorns. The objective is to jump over the thorns without hitting the "tinik" or "thorns". I was good at leaping high when I was a kid.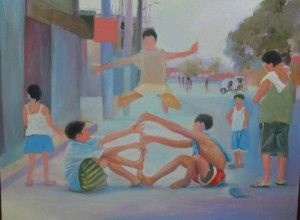 Source: DeviantArt
3. Luksong-Baka or Kalabaw (jump over the cow or carabao) - this is similar to Luksong-tinik. But this time there is only one person to act as the "it" - the cow or carabao who will be in a crouching position. The players will jump over the "it" and will gradually increase the level until such time that the jump becomes difficult who ever touches the "cow" during the jump becomes the "cow" and will repeat over again from step 1. This challenged every kid physical strength. I once was a cow, it was difficult to carry the other kids on my back.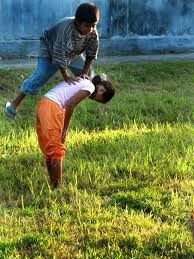 Photo by Peanuttt of flickr.com
4. Tumbang Preso - the objective of this game is to hit the tin can. I still don't know why this is called tumbang preso. Tumba is to fall and Preso is the prisoner. There will be one player who stands as a guard, guard the tin can against falling as the other players striking it with their slippers. The guard can catch another player to replace him/her in protecting the tin can to fall on its side. He/She can do so if the tin can is in its upright position. Players can save their lives from being caught by striking it to fall. Our agility were tested -
5. Taguan (Hide and Seek) - Back home, in the province, we played this game in the afternoon or night to make it more exciting and difficult for the finder to seek where the players were hiding. We hid from the darkness of the night. It was exciting but at times we were not allowed to go out at night.
6. Langit-Lupa (langit - heaven; lupa - earth) The game will start with the chant to determine who will do the chasing off other players. All players will sing and one player pointing at them one by one. When they reach the end of the song, the pointing will stop and the person pointed at will be out from the circle. Then the song is continued to be sung until the last person is left. The last person who is left (not pointed at) after the song will become the "chaser". Players need to step (clamber) on the higher object (langit) to avoid being tagged. The chaser can only tag players who are on the ground level (lupa). There was one rule we added (our own rule), that players who are stepping on the "langit" should move every 30 minutes so that there is chasing happening. failure to do so will be eliminated and became the chaser.
These are memorable games.
Kids of the 90s can download an app on their mobile phones to re-live the traditional games but I prefer to play it physically.
How about you 90s kids from the Philippines. what are your memories? How about those on the other side of the world?
There are things or events that are so memorable and even it happened many moons ago, we still remember it. We remember the things that made us happy. As a kid - little things are big things when we get to see our favorites on a daily or weekly basis.
Super Sentai Series
I grew up watching Japanese series the likes of Maskman, Bioman, Fiveman, Flashman, Power Rangers and others. I just learned that these were part of the Super Sentai series except Power Rangers.
I can still remember that not most of the households in my village own a television set. When we were kids, my siblings and I were lucky to have a television. We welcomed other kids - our playmates to watch these series. And after the show, we go to a vacant lot to emulate the moves and we called ourselves those names. I played "blue" as it is my favorite color.
Shaider - Space Sheriff


Dai and Annie
weak-spirited.rssing.com
Dai Sawamura alongside Annie - they made a great partnership saving the earth from the ugly creatures. The show was translated to Filipino in the early 90s. GMA Channel 7 created the Philippine version called Zaido: Pulis Kalawakan. Dai's name in the Philippine version was changed to Alexis.
The Philippine version introduced three space sheriffs - Dennis Trillo, Aljur Abrenica, and the late Marky Cielo. They are Zaido Blue, Red, and Green. The TV series was first aired in 2007.
Voltes V
Let's volt in! Lazer sword! Ultraelectromagnectic top!
Those are the key phrases I can remember with this Japanese series. Who can forget the Armstrongs? Steve, Little John and Big Bert who are joined by Jaimie and Mark to fight the out of this world enemies/creatures.
It was my dream to own a Voltes V robot.
Voltes V's would be incomplete without the opening and the closing songs. Credits to: david d
https://www.youtube.com/watch?v=lTpOMWVbabs
Video Source: YoutTube - Michael Reyes
Daimos
Another Japanese anime that was introduced in the 70s. I liked the Richard-Erika loveteam here. I am grateful that there are such a great Filipino talents who dubbed the series in Filipino so the kids can understand or relate to the program.
Another notable in this series was the ending theme song. A very sad ballad.
https://www.youtube.com/watch?v=DlScUwNYI3U
Video Source: YouTube - Random Stuff
Dog of Flanders
I followed this anime series - a sad story of Nello and his dog Patrasche. Nello is an orphan boy, he lived with his grandfather. When his grandfather became sickly, he was the one selling milk in the village. I can't remember all the details. I cried when the series ended. I hate the ending.
https://www.youtube.com/watch?v=ULYn7-tECs4
Video Source: YouTube - shakuhachi724
Why I missed these?
I remember my childhood - I don't worry about the problems, I don't know how to worry what is going to happen the next day. I only play and watch my favorites.
I feel like I am a kid again –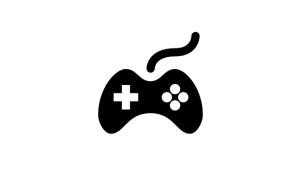 Controller
credit: sportsscientists
Our modern technologies give the luxurious way of living for the kids of this new generation. Online and computer games made kids be lazy - lazy to go to school, study, read a book and help their mothers with chores. They are accustomed to technology improvements and advancements.
Top Kiddie Toys
Because of limited resources or should I say because we can't afford to buy toys in a huge toy store, we end up creating our own toys. We invented the stuff we used for playtime.
• Toy Gun - We never had that bullet guns, we invented our own toy guns. Our toys were made of bamboo or wood. We assembled them by putting elastic materials like the rubber bands and our bullets were rubber bands. Or a bamboo gun made of a young bamboo branch. We used wet papers as a bullet.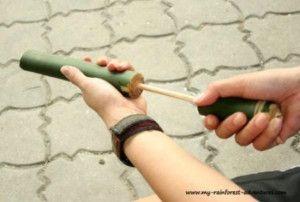 Source: www.my-rainforest-adventures.com
• Old Tire - People do waste their old bicycle or motorcycle tires. To them, it is a waste or a piece of crap. For us, kids in the 90s was a golden piece to satisfy our happiness. We used our bare hands or sticks to roll the tire on the streets.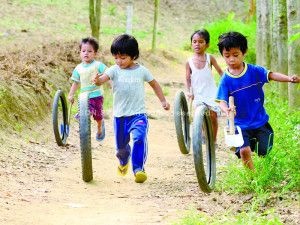 Kids Playing Old Tires. Source: SunStar Philippines
• Holen (Marbles) - Marble games can be played indoor or outdoor. We normally play it outside because we like to play with dirt. We play different types of game with these marbles. We place an x amount of marbles inside the circle and players would need to flick a marble to hit marbles inside the circle, those that went outside will be ours for taking.
• Saranggola (Kite) - Another Filipino term is Guryon. Kids in the 90s can create a small version of this toy made of barbecue sticks, plastic, and a hemp. Professional kite makers though on the other hand can create life-size kites for festival (like the kite festival in Rizal, Pangasinan, Guimaras and other parts of the country)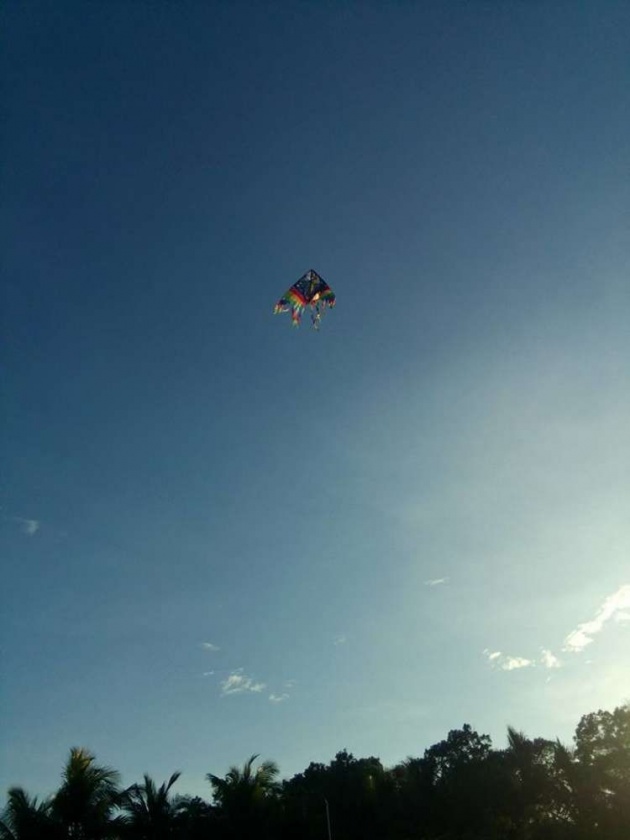 This is my own photo
• Trumpo (Top) - Before modern toys, like Beyblades, were made, Filipino kids were intrigued with the top which was one of the most loved toys by us. My grandfather was the best top maker, he used a guava branch which he said would make a great top.
• Teks - Filipino 90s kids have known this as "teks", these cards features cartoon characters, artist, or icons that had text printed on its side, the another side is plainly blank or just a logo. Kids bet their cards in exchange for fun.
• Pinoy LEGO - Because of statuses in life, we were contented with these "poor man" LEGO. We used these to create robots, cars, fighter planes and others that fascinate our imagination.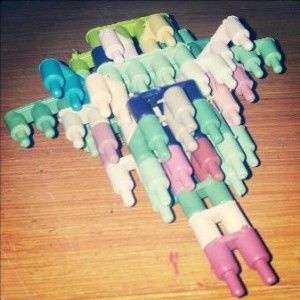 Source: marlonizer.wordpress.com
What was or were your toys during your childhood?
Sources:
FilipiKnow blog; marlonizer; SunStar Philippines; my-rainforest-adventures
I wish I can turn back time.