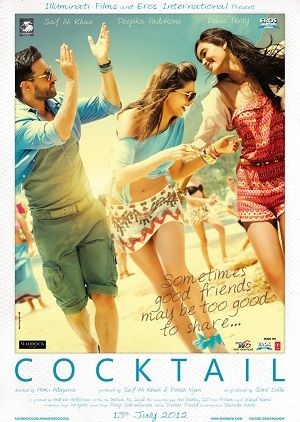 Cocktail is a movie of new generations, a movie of entity, new ideas having all the masala with entertainment and fun. Although it's a film widely covered in a foreign region but still has n Indian touch. This film is one such watchable film that anyone would love having fun which is in the air.
The whole film revolves around two ladies of different life styles but still it gives you knowledge of two different cultures. This movie would show you the modernity of a young fun loving girl and on the other hand you won't be unaware from the simplicity and innocence of girl which exists in every female.
Finally after all the fun and entertainment you would see love which here comes slowly but yet with great power. It's a film about your own life which we live daily. Its scenes and situations are from which it easily connects with the life of youth. It's a film full watchable having friendship, love, sacrifices and off course fun.
The lead actor role has been played by super star Saif Ali Khan and the the two ladies role has been played by again super start Deepika Padukone and a new comer Diana Penty. The other supported actors were Boman Irani, Randeep Hooda & Dimple Kapadia.
Most of the film's shooting was shot in many streets of London and some part in Cape Town, SA.
The film was a blockbuster and its music was also a super hit. Saif Ali Khan was one of the producers of the film.
This is a must watch film for all the age group.