My music and sound team for Requiem for Romance comprised of talented superstars Luigi, Vid and Kid Koala.
Luigi Allemano is one of the most sought after composers in the Canadian independent film scene. He has scored music for over 50 NFB films including the Oscar nominated Dimanche by Patrick Doyons. It was many years ago at the Ottawa International Animation Festival where I first saw the NFB film The Magic of Anansi, where I became a fan of Luigi's film scores. It would be several years later that I would get to work with Luigi as he created the music and sound design for my asthmatic superhero film Asthma Tech.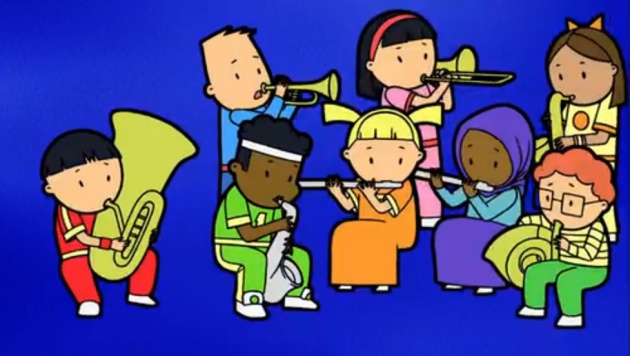 While in production, I met Kid Koala who was scoring for another NFB film Jaime Lo, Small and Shy directed by Lillian Chan. Luigi and Kid Koala were working together on the music for her film, and because of the proximity at the NFB, Kid Koala saw Asthma Tech and became a big supporter of my work. This opened the door for a future collaboration together on the Floor Kids collection. I had always been a fan of his work, as Deltron 3030 was one of my favourite albums from college, an album which spawned the Gorillaz. Always loved the animation in his videos like Fender Bender and Basin Street Blues. Since then Kid Koala has since been a big influence on me as an independent artist.
Through the production of Floor Kids, I worked a lot with the uber talented sound genius Vid Cousins who works closely with Kid Koala as a mixer, sound master for a lot of his albums and live shows and is also a co-composer on some Kid Koala's stuff; their work together on the Space Cadet album is an example of their collaboration. Vid has his own music composition, music recording and mastering studio called Monkey Puzzle and Vid was a pretty big contributor to the Floor Kids sound production, mix and recording.
I was super fortunate to have them all working in unison on my Concordia graduation film Alpha Beta Complex.
So when it came to Requiem for Romance, I was ready to work with the three of them again, in any way possible. Basically, they are all multi-talented, super flexible wizards in sound so whoever had the time would do whatever job and pass it onto the next one.
Luigi was the first to give the music a try, based on the early versions of the picture. As amazing as the piece was, the first try was sounding a little too epic for the film I was trying to make. Then Vid gave it a shot. Same thing, although it was a really well-thought out track, it sounded even more like a feature film action epic and didn't leave any room for the soft tones of the voices. But this is all part of the trial and error process of directing a picture.
I met up with Kid Koala and explained that I needed something more atmospheric like the Gorillaz untitled Damon Albarn track which I absolutely love. He agreed that the film needed something warm, and at the same time kind of sad and wintery, and he gave me a 4-chord progression that he happened to be working on. I asked him what album this was going to be for, and he said he was just working on it for the sake of it, and that I could use it. It was perfect. Problem was he had no more time to develop it, so he said to pass it back to Vid and tell him to go more in the Space Cadet direction. When Vid came back with his first working version based on the Kid Koala theme, it was exactly the right fit for the film. Vid had re-worked it so much that the basic theme turned into his own original composition that you can hear below. Luigi then supervised the music recording session. A string ensemble, a drummer, with one one erhu player over top and a bit more scratching from Kid Koala.
Here are the final tracks that Vid composed for the film:
After the River: https://soundcloud.com/vidcousins/after-the-river-end-credits
The Forest: https://soundcloud.com/vidcousins/the-forest-requiem-for-romance