Our third day in Coron started really early as we were set to go to the wonderful island of Calauit in Busuanga, around two hours away from Coron proper. The first half of the travel was posted on my previous blog. You can check it out in the link below:
However, the first two days in Coron has been spent in wandering the town and for island hopping as well which I had blogged too. Check out these stories in the links below:
Today, I'll be sharing about how the second part of our third day in Busuanga went. Read on to know further the details.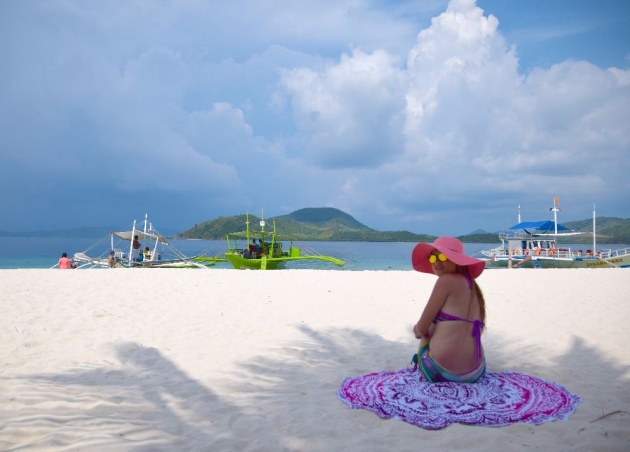 Busuanga Island Hopping. Photo credits: Jean Beltran-Figues via bitLanders.com
After our Calauit Safari Wildlife Park adventure and spending time in taking so much videos and pictures with the animals such as giraffes, zebras, calamian deers and others, the tour guide advised us that it was time to go. We obliged and went our way back to the wooden port. The same boat which brought us to Calauit also sent us back to the other side of Busuanga. It was almost lunch time and our companions has a flight which they badly need to catch up. We then realized that it was only the four of us whose going to take the second half of the tour. But first we have to take our lunch.
** Lunch at Karaenan Restaurant **
A lunch was served again at the same restaurant where we had breakfast. This is again included with the tour package and so we had a sumptuous one. Tender beef soup, unlimited rice, grilled fish, fruits and cold drinks were served and since it is now daytime compared to our dark breakfast, I had the chance to take videos and photos of the location.
I later realized that the restaurant has a mini garden at the adjacent side of it. They grew Samson's Hair which covered it and made it become their ceiling. Then there was a second floor as well.
The restaurant was full of native and rustic accessories. There were wooden statues as well as shells added into its wall decorations. I had fun taking videos the entire time.
** Busuanga Island Hopping **
Video credits: Jean Beltran-Figues via bitLanders.com
Lunch time was over and we have to move on to our next phase which was the island hopping. Although we already had island hopping the other day, we still went with the said tour since the island hopping was for Busuanga and that seemed to be a different spot compared to Coron's and indeed the sites in Busuanga are also nice, equally nice with the ones we had seen in Coron but there's one thing that made me love Busuanga and that is their Coral Garden.
The vehicle started and we were up again for another road trip. The little girl with us in the car loved the songs being played because they were all Disney songs. I also had played and sang along the entire time.
After a few minutes, we reached an intersection and the vehicle maneuvered a right turn into a narrow rocky road. After some bumpy time, we reached another port area with no other people around but us.
The vehicle driver called someone on his phone and a small guy, dark skinned and was wearing a rash guard whom I assumed would be our tour guide came walking from the arched cemented pathway. He was introduced to us but I had forgotten his name. My instinct was correct, he was our tour guide.
Here are the sites which were introduced by our tour guide:
Lusong Gunboat Shipwreck
Lusong Coral Garden
Passs Island White Sand Beach
Let's start with the mini island hopping tour.
** Lusong Gunboat Shipwreck **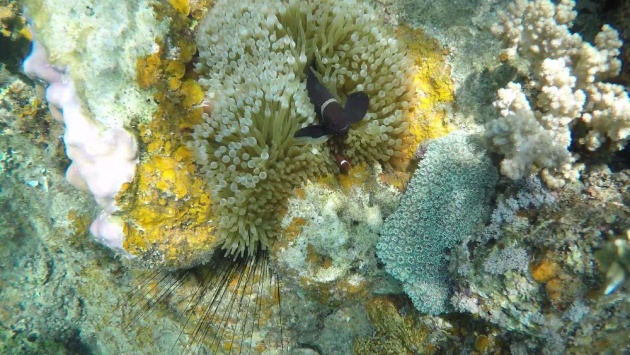 Photo credits: Jean Beltran-Figues via bitLanders.com
During the old times when the Philippines was still under the Japanese and the Americans were trying to rule the country as well, Japanese war ships were destined at different sites and spots in the country.
Most of them were situated in Palawan specifically in Coron because of its geographical location. These water vehicles were unfortunately beaten by the sky crafts used by the Americans and eventually were bombed and became shipwrecks, that somehow explains why there are lots of ship wrecks in Coron and Busuanga alike.
Remember that during our island hopping in Coron, we also had been to one shipwreck but that was a bit deep. This the me, we were told that the shipwreck was located in a shallow area where in we can step on the ship too.
When on our way, we passed by a shipwreck but were advised that it was super deep we would need scuba diving gears to see the ship.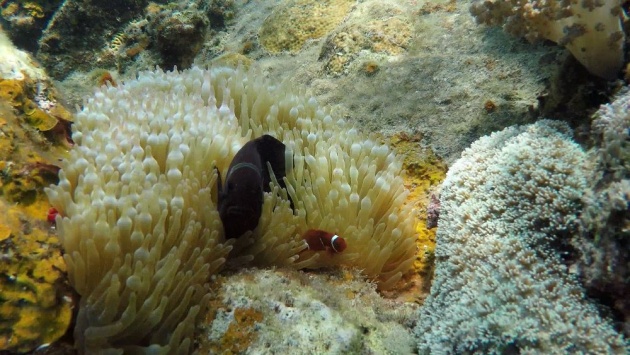 Photo credits: Jean Beltran-Figues via bitLanders.com
We spotted a huge boat docked somewhere in the sea and had an idea that the shipwreck is somewhere in that area too. When we were closer, we sighted foreigners snorkeling in that part which means we had reached the spot. The boat was called "Tao" and it is capable of traveling anywhere in Coron and Busuanga for days without docking land. It has all the supplies needed for days of traveling. Food and water are available and there are workers too who will man the boat for sailing and will also be doing all the cooking and etc for their guests. It was an interesting boat.
All four of us, me, my husband James, my brother Jonas and sister in law Gecell dived into the waters with our goggles on and found the shipwreck immediately. The sea creatures had somehow found a way of making it their home for years as there were sea plants and corals that had bloomed underwater. They had planted themselves into the body of the ship and made it a beautiful paradise for them to love in. The foreigners who were with the "Tao" boat dived freely down in to the bottom of the ship and we watched as he descended and ascended back for air.
James tried free diving too but didn't have enough air to keep himself underwater. But it was enough for him to swim and take videos of the fishes and corals underwater. He spotted "nemo" under just in the same area where we can step on the ship. There were even more fishes down below and I had been astonished to see that these fishes aren't afraid of the human beings swimming together with them. They would somehow try to get closer to us and if we would try to touch them, they would just simply slip away.
** Lusong Coral Garden **
Video credits: Jean Beltran-Figues via bitLanders.com
Indeed what is underwater is more beautiful and colorful than what we see from the land. A day before, we were at the Siete Pecados snorkeling and just being amazed at the beauty of the underwater but the Coral Garden of Busuanga was far far more beautiful and it covers a huge area in that part of the shoreline that you'll understand why the fishes and the others are more blessed to be able to explore these wonders without having any gears.
The boat men had dropped a handful of cooked rice and just in seconds, a flock of fishes of different kinds came in and started eating the dropped pieces of cooked rice. I was amazed and started taking videos of ourselves with the fishes. It was like that for a few minutes.
Then we started snorkeling gladly, the tour guide brought a floater. I hold onto it as he started swimming and pulling it. Without effort, I was just enjoying the view while I was being pulled here and there by the tour guide.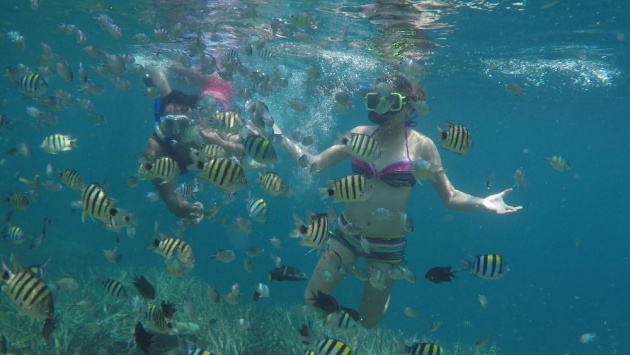 Photo credits: Jean Beltran-Figues via bitLanders.com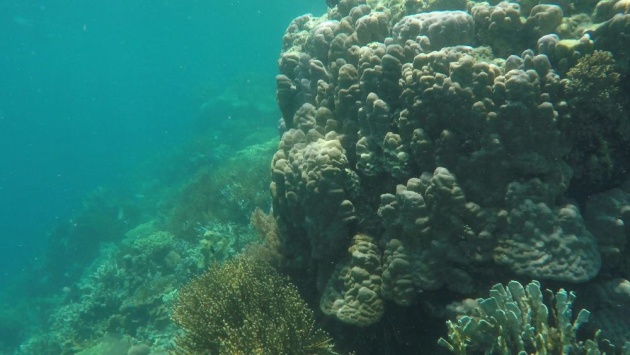 Photo credits: Jean Beltran-Figues via bitLanders.com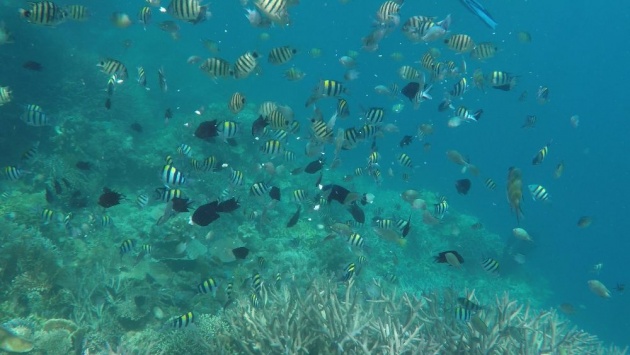 Photo credits: Jean Beltran-Figues via bitlanders.com
There were blue hard corals, soft corals of different colors, fishes of different kinds, clown fishes and there were even giant clams too. This coral garden has been preserved by the local government and so fishing is not allowed in there, boats are advised not to dock near the corals as well. There were local fishermen acting as guards or locally referred as " Bantay Dagat".
We were just in the water until we got tired of snorkeling and when we had enough, the boat men maneuvered a u turn.
** Pass Island **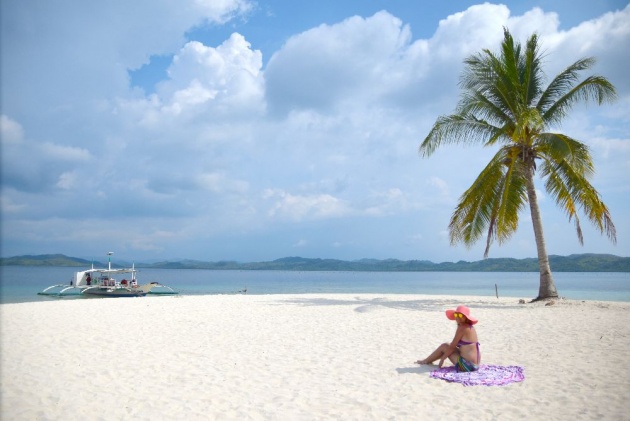 View of Pass Island Beach. Photo credits: Jean Beltran-Figues via bitLanders.com
The white sand beach of the Pass Island was clear to us even if we were thousands of meters away from the shore. The white color of its shoreline signifies a treasure that only a few have gone to because of the hundreds of other white sand beaches within the province of Palawan.
However, there are also islands in this particular side which have been owned privately by millionaires who had turned these islands either into a public or a private hideaways.
Our tour guide explained how the island got its name. The usual fishermen and locals of Busuanga had been going into this island to let time pass by so they refer it as Pass Island. However, one can not just pass time in here because there are lots of things to do.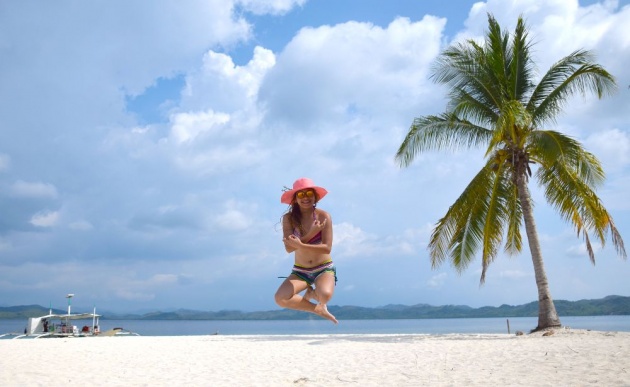 Gecell's jumpshot in Pass Island. Photo credits: Jean Beltran-Figues via bitLanders.com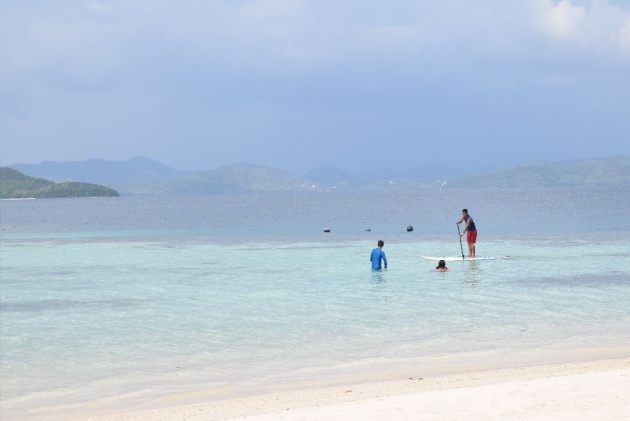 Photo credits: Jean Beltran-Figues via bitLanders.com
There's a spot for snorkeling. There's a stand up paddle available for rent too and there are boats as well which one can try sailing. Aside from that, there's a basketball court too where most men would indulge in and showcase their basketball skills.
Like us, there were also other groups who came to the island for their island hopping and so since we have been swimming all day long, we decided to just stay in land and sip some fresh buko juice for PHP 50 each.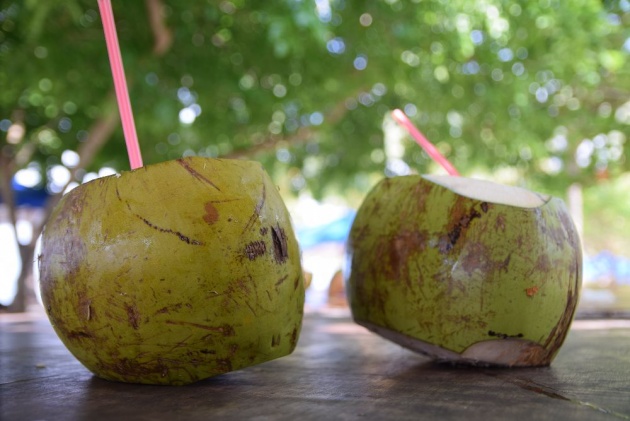 Buko. Photo credits: Jean Beltran-Figues via bitLanders.com
After few more shots and video clips, we went on board again and thought about it as the end of our third day in Coron. But I never thought that there would be one more surprise up for us on our way back to the main land. As the boat was moving, a huge sea turtle came up and which looked like either terrified or was taking in some air and swam right down deep into water. It was a great surprise to have a huge sea turtle saying hello to everyone of us except that I was sleeping when it came up so James and the rest had relayed the story to me instead.
I hope you had enjoyed this blog as much as I did.
All images and videos are mine, all rights reserved.
©Jean Beltran-Figues