Crystal Jade Restaurant at HK Airport
10:40 am was our touchdown time at Hong Kong Airport but we arrived there earlier. We rode a train inside the airport to get to immigration.
Line at
HK Airport immigration
. Video credit:
lapiz-lazuli
via
bitlanders.com
Good thing that the verifying of identity was a breeze (the officer didn't even ask where would I stay, how long I'd be there, what places I planned to go, etc, all those intimidating stories about immigration).
Not as How I Planned...
The itinerary that I made was that we'd eat lunch at the airport because according to the hotel that we're staying in, check in time starts a 2 o'clock. I searched online for a cheap restaurant at HK Airport and I kept on considering Cafe de Coral.
Since grandma was on wheels (lol), we had an airport crew pushing the wheelchair for us because it was protocol. It really was a lucky thing because we wouldn't know our way if it hadn't for the crew member (I tell you, the airport was humongous) and he was originally Filipino. Chatting was effortless and you get your point across pretty well.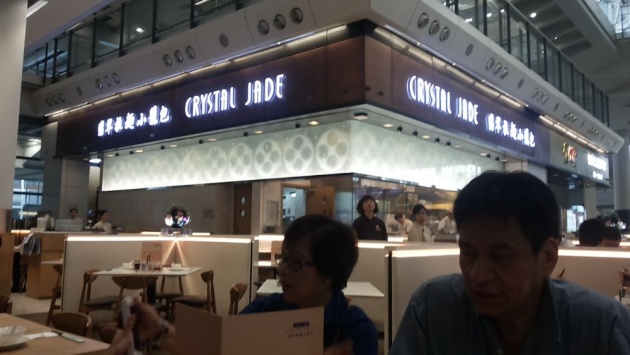 Photo credit: lapiz-lazuli
We weren't planning on eating at Crystal Jade, but it was this or McDonald's as I haven't seen Cafe de Coral around. It was nicely located beside the airport's exit way (leading to the cabs and buses), and we were excited to try something authentic HK food.
Push Cart Parking...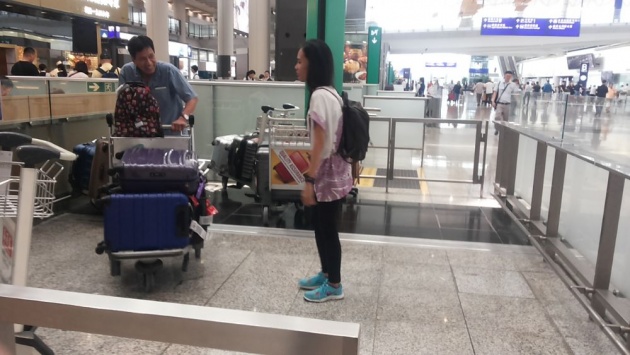 Photo credit: lapiz-lazuli
I was amused because there was a parking area for push carts while you eat. But because we're Filipino, we were a bit afraid of leaving our valuables so we took our handbags with us and just left out the bigger baggages.
Breakfast Menu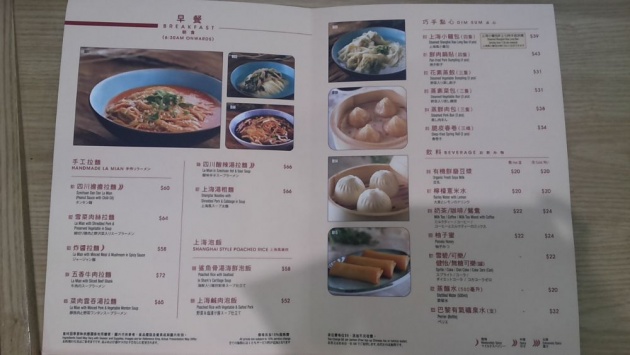 Photo credit: lapiz-lazuli
It wasn't lunch yet so the available menu that time was still breakfast. Well, at least it was considered breakfast for the Hongkies. You take your pick from dimsum, different types of noodles, and congee with fancy names you won't know what's coming. After much deliberation, we settled for a bowl of 5 different dishes, dimsums, some hot tea and service water. We ordered the famous Xiao Long Bao (pronounced as Sha-Lung-Bah, with "lung" as in the organ).
Superbowl Servings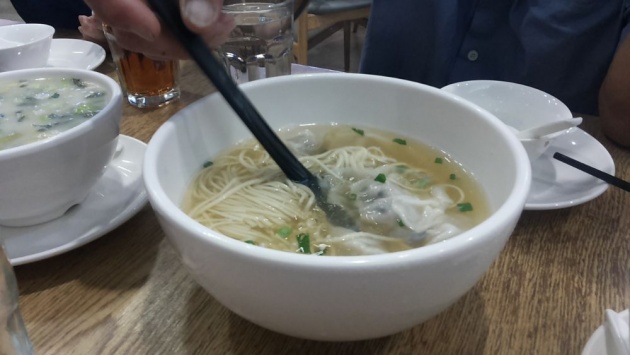 Photo credit: lapiz-lazuli
OH. MY. GOSH. Because it was our first meal at Hong Kong, we didn't expect it to be like that. The bowls were huge, the servings generous! It was like a bowl of serving for three people. And we ordered 5 of them. It was a belly-bursting experience.
Going Chinese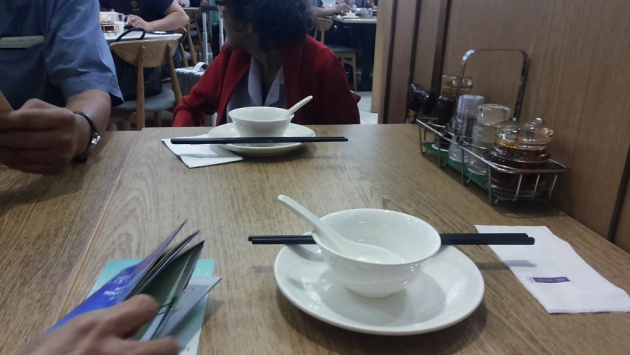 Photo credit: lapiz-lazuli
And because it's Hong Kong, chopsticks and oriental spoons were the norm. My uncle even requested proper utensils so we could cut the noodles and eat comfortably. But I managed to eat mine with those chopsticks, slippery as it was.
Nicely Done Chinese Noodles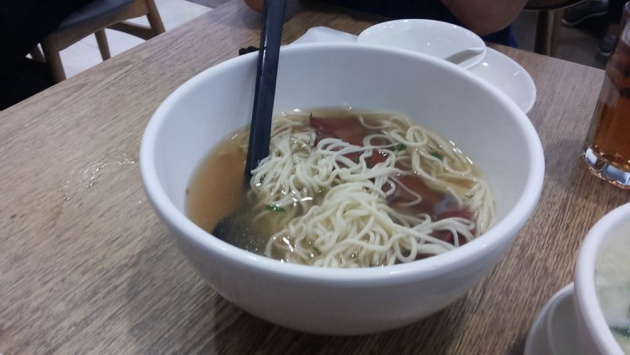 Photo credit: lapiz-lazuli
As for the food, it generally tasted flavorful. The Chinese really have a way to make the flavors stand out (MSG or without). The meat (beef) looked presentable and it was very soft to chew on. It had a similar taste here in the Philippines but I've forgotten what it was (heh, as always). The noodles seemed made by hand with fresh ingredients. There was something special about the noodles and yet I can't pinpoint what it was.
Poor Porridge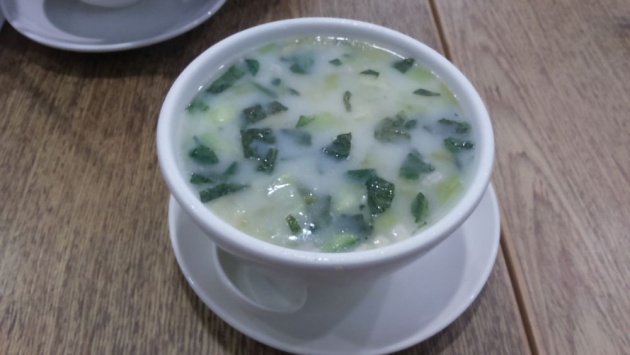 Photo credit: lapiz-lazuli
On the other hand, I was a little dismayed at the congee (rice porridge). It was like regularly cooked rice poured with meat stock. The rice and the stock didn't even blend coherently, because the rice wasn't sticky nor short-grained and the sauce was greater than the rice that the grains looked like they're free flowing in the bowl. I just took a couple of spoonfuls and never refilled my bowl with it. There was a consensus at our table about this dish, but my uncle managed to finish half of it.
Thick Noodles...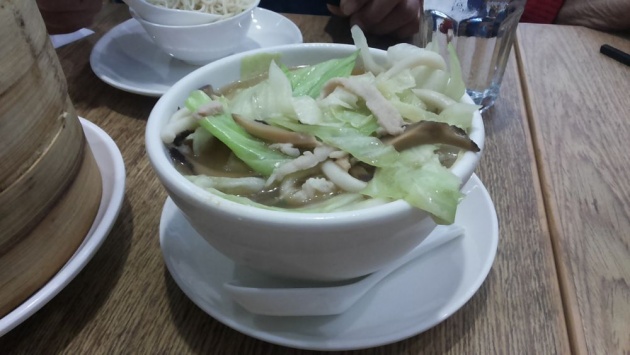 Photo credit: lapiz-lazuli
There was another noodle dish that we ordered. It literally looked like lomi. It was my uncle's order so I was shy to take a bite. Don't know how it really went, but from its stock and color, it looked more palatable than its Filipino counterpart (FYI, I don't like lomi). Note: book cover judging is mostly inaccurate.
Delightful Dimsum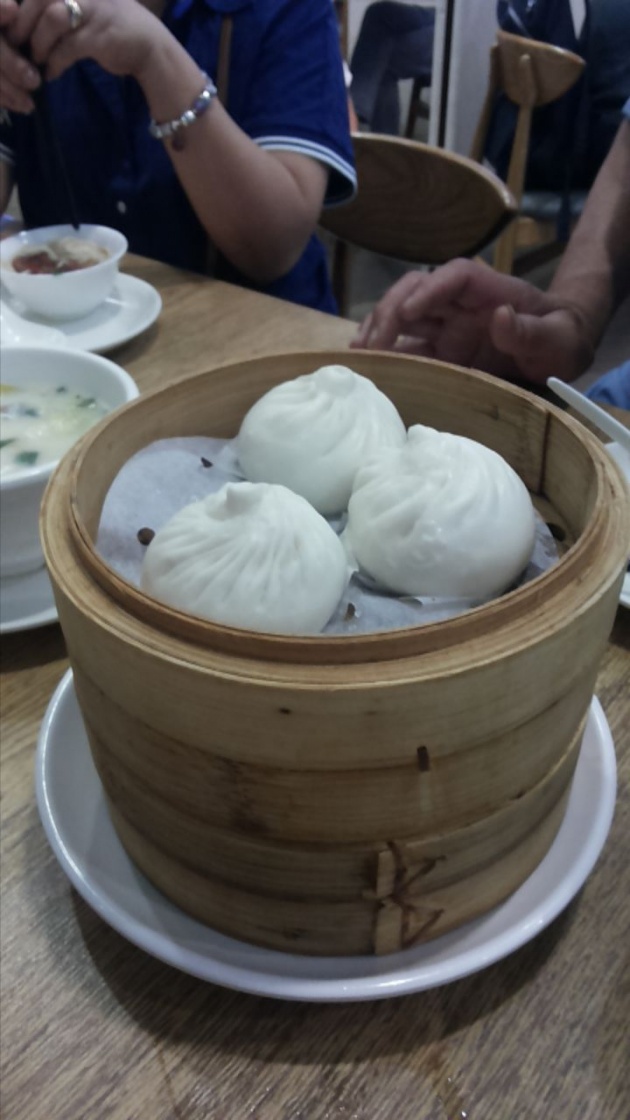 Photo credit: lapiz-lazuli
As for the dimsum, they're quite good actually. Grandma managed to eat up the rest of the mini siopaos because she really liked it. My mom finished up the Xiao Long Bao.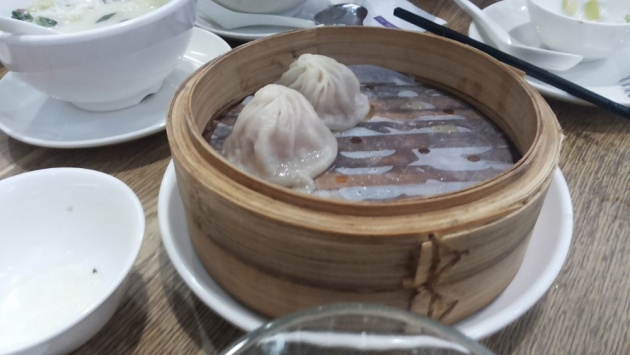 Photo credit: lapiz-lazuli
I thought we needed to reorder a couple more of these, but because other dishes weren't finished, I just kept the thought to myself.
Condiments
There were three condiments per table. I can't remember the two, but one was vinegar and neither one was soy sauce nor fish sauce. Probably pepper (ok, so not a condiment) and something else.
It really took us a long time to eat up our orders. We ate, then chatted for a while, rinse and repeat. The menu was even changed to lunch menu but I think we were just 3/5th finished then.
When Paying...
When you order, a receipt would be given to you. You musn't lose it because you'll present it to the cashier when paying. Our table was just beside the cashier so I figured out what the receipt was for.
Here in the Philippines, you order and after you eat, you ask for a receipt inside a small leather folder. You'd then call out for a waiter, hand back the folder with money or your card, and if you pay with cash, wait for your change. You can leave some change for tipping, but in Hong Kong, I think a casual restaurant tipping is not encouraged. And you have to fall in line to the cashier to pay. I've experienced this in restos we've eaten in Hong Kong (where you'd have to go to the cashier), except at Bubbagump.
Recommendation?
Video credit:
lapiz-lazuli
via
bitlanders.com
Would I recommend Crystal Jade? I reckon there's Crystal Jade here in Manila. Well, if you've got money to burn, why not? It's a Michelin-starred restaurant, and that's saying a lot. I just don't know if the taste would be as authentic as in Hong Kong. It's kind of ironic, but it's cheaper there (and yet, breakfast menus are really cheaper). From zomato, they scale that the budget is around 2000php for two, so I'm really thankful for my aunt treating us.
Until next time, avid readers! Thanks for dropping by. But before you go, here's some nice Querlo chat survey about restaurants:
Disclaimer: Pictures, videos and writeup are owned/made by lapiz-lazuli. Views and opinions in this blog post are truthful but subjective and are not influenced by sponsorship of any sort.