Mini-Reunion at Gloria Maris, Greenhills
The Mini-Reunion
Grandma passed away recently, and you know, it's one of those times when relatives, even distant, and family friends, get together again, telling tales of old and new. It's a gloomy affair (the funeral) but it gets less morose because my relatives are generally jolly, if not, Filipinos as a whole, even in trying times.
Sadly, my doctor aunt wasn't able to come. She must've wanted to see all of us too and settle other stuff so she treated us days after that day. She was planning to treat us at Seaside, but roads were then closed because of the ASEAN Summit, so they instead chose a more convenient and accessible location: Greenhills. They picked Gloria Maris because it's a tried and tested fine dining restaurant for them.
About Gloria Maris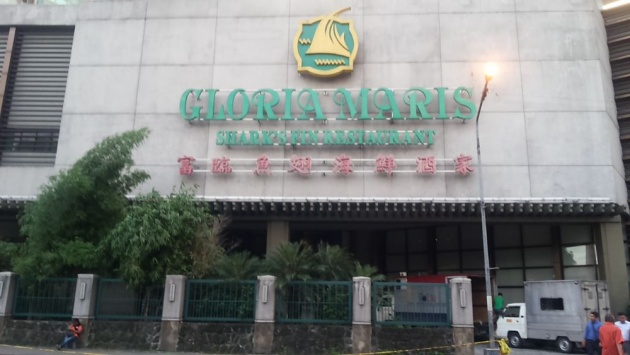 Photo credit: lapiz-lazuli
Gloria Maris serves Chinese dishes. Here's something about them:
Celebrations held in the highest regards feature the most simple things; a nice venue, good food, and great company. And there is no better place to experience these simple joys than in Gloria Maris Restaurant. From weddings and parties to holiday treats and business meets, Gloria Maris guarantees you a wonderful time.

Our kitchen takes in only the finest ingredients from respected suppliers. Our culinary practices are run and managed by seasoned chefs flown in from Hong Kong. They—together with our equally skilled local crew—carefully plan every single dish put on the table. Through dining innovations like the Dimsum Kitchen and Hot Pot, we cater to a variety of palates; from old souls longing for something warm and hearty, to the young at heart looking for something fresh and exciting.

Apart from great food and facilities, it is our dedicated staff that makes this restaurant a destination in itself. Behind our doors are people who take your enjoyment as an achievement. Celebrate with us and experience Gloria Maris' unrivaled service, radiant class, and authentic Chinese taste.

- from Gloria Maris, Greenhills

The Place
Video credit: lapiz-lazuli via bitlanders.com
Never have I've dined in a restaurant as colossal as Gloria Maris. I think it was built that way to cater to massive events like weddings and conferences. There were a few different areas inside and each has unique decorations and ambience to them. Our reserved seats were located at the biggest room. Our group count was about 23 so we were divided into two round tables. You know how it is with the Chinese being fond of circular dining tables, right?
Our area had a very efficient and strong air conditioning so our mates prior to our arrival requested that our table be moved away from those concentrated cold machines. But it was still a bit chilly for me, so I (little) regretted not bringing any sort of warming apparel.
Chopsticks were provided either in disposable wood or porcelain. Our group was a bit late so we didn't have a say which ones we'd get, but I think wood was a more hygienic option so no complains here.
Gloria Maris serves fresh stuff. I was fond of looking at these critters:
Video credit: lapiz-lazuli
They have a noble purpose of replenishing beings like us. Well, that's one nice way to put it. And yeah, it wasn't a Red Snapper, not at all.
Food and Drinks
Spicy Tofu Soup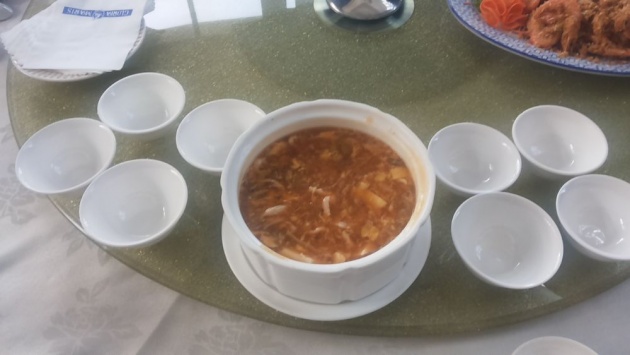 Photo credit: lapiz-lazuli
Soup was first served on our table. They served spinach soup on the other table, while we had spicy tofu soup. I tasted something similar at Chinatown's and I can say that the spices used weren't strong at all. Sensitive to spicy dishes, I gobbled down my portion without unease.
Birthday Noodles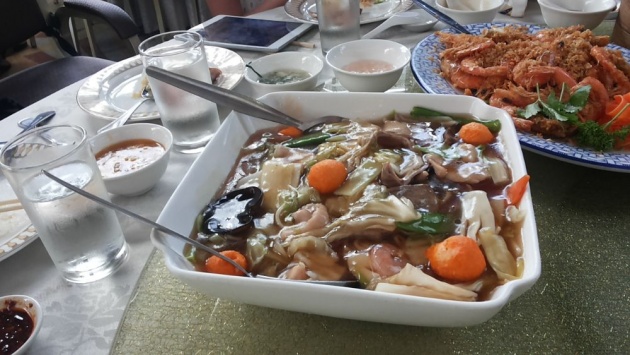 Photo credit: lapiz-lazuli
From the picture, you can guess that it's a familiar pancit. Well I guess it is with Filipinos, but theirs had much sauce, the noodles just slide off the serving fork (or was it a spoon?). For the Chinese, noodles were always a symbol of long life and is mostly served during birthdays as they believe it will prolong their stay on this physical realm.
Yang Chow Fried Rice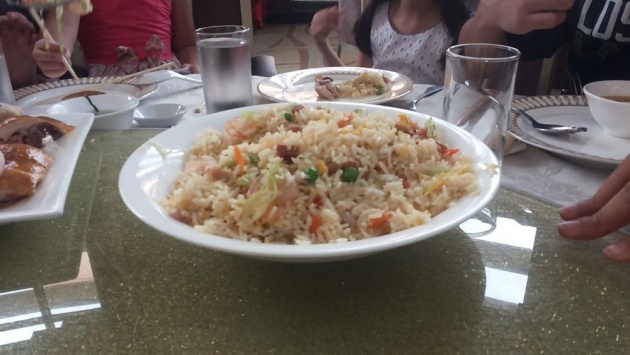 Photo credit: lapiz-lazuli
Greens, eggs and shrimps, this is a carb heavy dish but you'll also be satisfied with the meaty toppings in the mix. Their rice was so-so, but how the ham(?), eggs the shrimp were cooked and prepared had been well thought off, as they were cooked thoroughly but were still soft.
Drunken Shrimp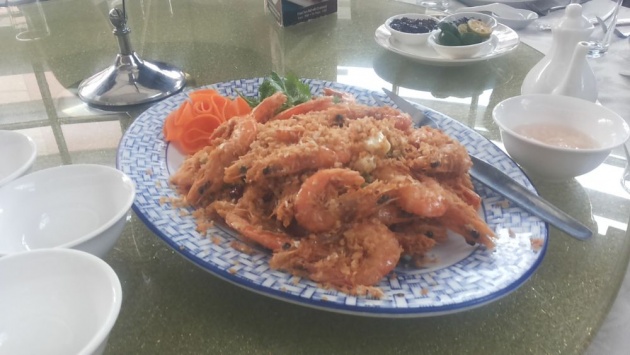 Photo credit: lapiz-lazuli
Suahe, a type of small to medium-sized shrimp, were used for this dish. It was then breaded then deep fried using a sort of liquor, or so I've been told, to keep their shells crispy and edible. I often skin my shrimps, even if their shells can be eaten so I was in for some new experience here. I found it quite convenient, hygienic even. But I left over the heads because it was too much for me. Good stuff though.
Breaded Fried Squid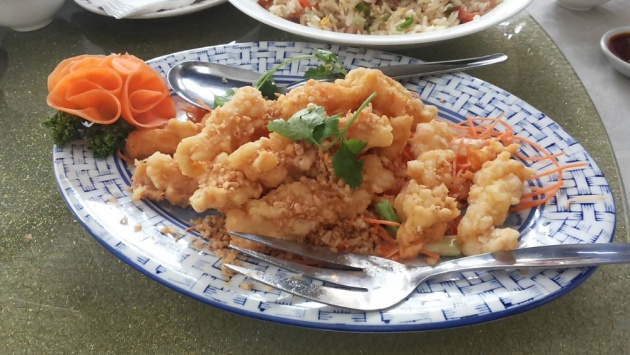 Photo credit: lapiz-lazuli
It was served a little late, when were halfway with our pancit and shrimp. Nonetheless, we still had room for this OK delight. It wasn't greasy but not too dry. One thing I noticed though, was that it wasn't cooked just right--you know, the feeling when you bite on a squid and it's very soft. Sadly, it wasn't like that. But its serving plate was emptied so I think my mates liked it.
Gloria Maris Platter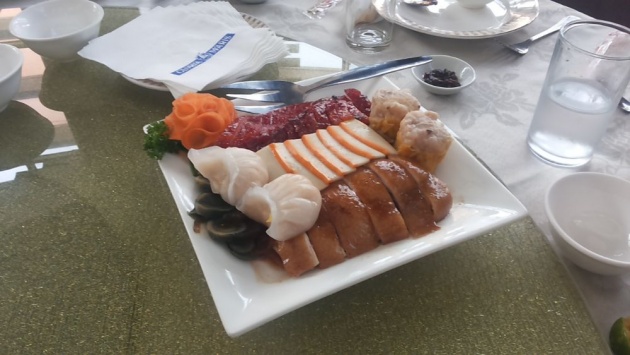 Photo credit: lapiz-lazuli
I don't know completely what was in this plate; I only tried the white with the orange stripe thingy and the century egg. Nothing special about the couple I mentioned, but they weren't barf-worthy either. I was just wondering what the white with orangey stripe was made of...I was too preoccupied (or anxious) to ask.
Siao Long Pao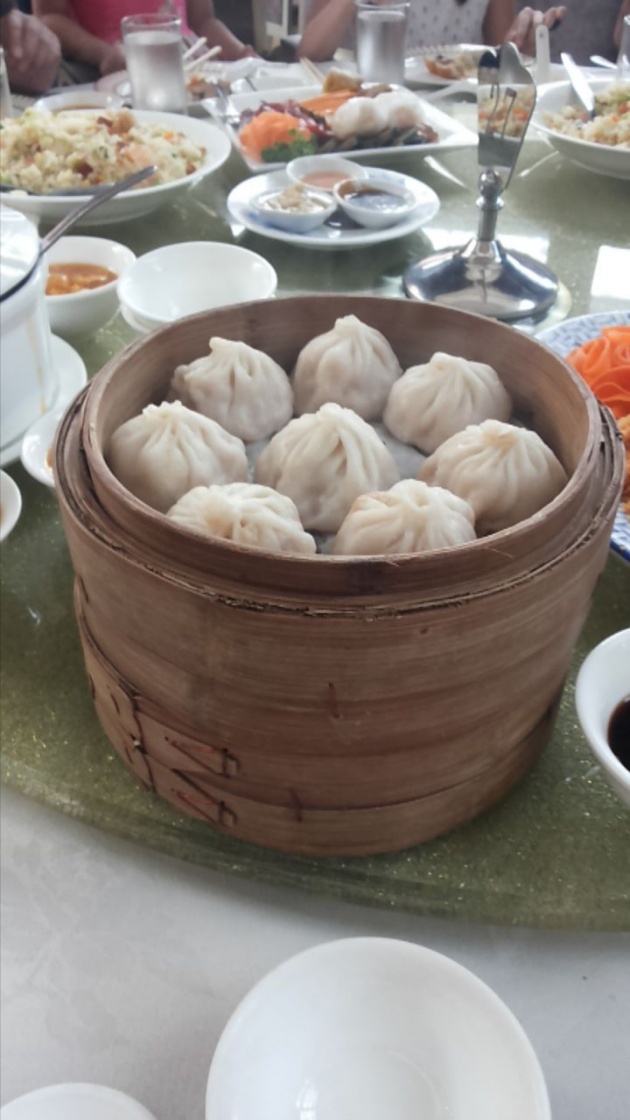 Photo credit: lapiz-lazuli
Or is it Xiao Long Bao? Whichever, you can't go wrong with Gloria Maris' Siao Long Pao. It's a surprise that theirs didn't have a shrimp on the top part inside the wrapper, but it was still a delectable delight. I only grabbed a few because my plate was full already, but I guess I can down every Siao Long Pao in one whole wooden steamer if given the chance.
Buchi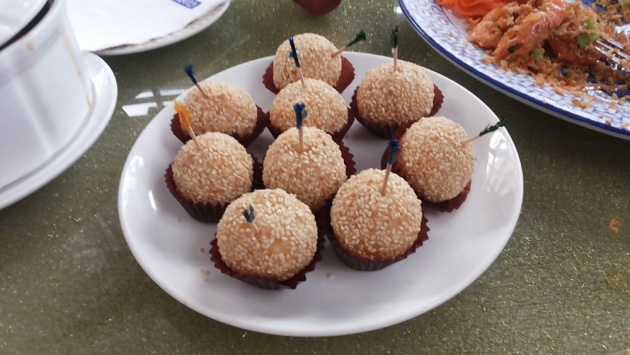 Photo credit: lapiz-lazuli
This is always the dessert when dining at a Chinese resto. Their Buchi was a bit large and heavily covered with sesame seeds compared to Chowking. For the taste, however, I found nothing sophisticated. It's just your good 'ol Buchi.
Chicken Feet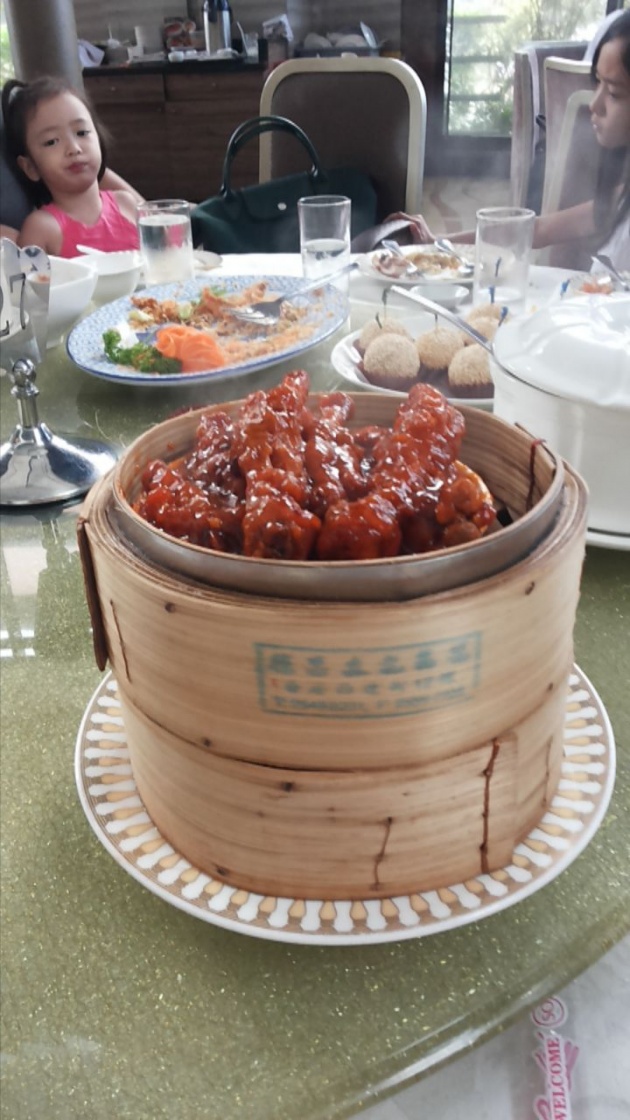 Photo credit: lapiz-lazuli
I honestly didn't want to eat Chicken feet because of small amounts of meat in them. My cousin, on the other hand, didn't care, as long as she ate it and eat it with gusto. I heard Chinese-style Chicken feet were the best and I witnessed that as my said cousin ate about three bowls of these in that moment.
Drinks
They ordered Mango juice, Lime juice, Calamansi juice and hot tea. I only sipped a little of Mango and Lime, and wasn't able to taste their Calamansi one, but I can say the fruits used were either sweet or had the right punch. There was also no sugar-coating of flavors, only purest of the pure. With the tea, I think I've had 6-7 teacups because it was just so addicting to sip and sip and sip.
Staff
It's branded as a fine dining restaurant so everytime you finish your plate, some waiter will it take away. They will also refill your glass of water when it's empty. All I can say is that the staff was trained well and they're courteous. And oh, didn't I mention there was a valet service?
You'll have a good time at an affordable rate at Gloria Maris, Greenhills!
Endnote: Pictures, videos and write-up are originally made by lapiz-lazuli, unless otherwise stated. Views and opinions in this blog post are truthful but subjective and are not influenced by sponsorship of any sort.