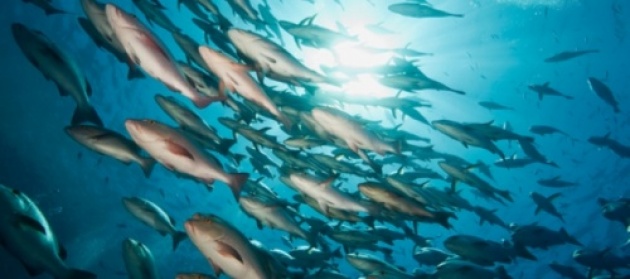 Approximately 85 per cent of the world's fish stocks are overexploited, depleted, or recovering from depletion; and the world economy can gain up to $50 billion every year by restoring fish stocks and reducing fishing capacity to an optimal level. The UN is emphasizing both the urgency and the means to counter overfishing including: investing in initiatives that seek to tackle harmful practices and protect marine biodiversity, as well as inform consumers of the benefits of buying sustainable fish products. See Blog for Film - "Defending the Oceans: A Plan"
Fast facts:
Oceans serve as the world's largest source of protein, with more than 2.6 billion people depending on the oceans as their primary source of protein.
Marine fisheries directly or indirectly employ over 200 million people.
Subsidies for fishing are contributing to the rapid depletion of many fish species and are preventing efforts to save and restore global fisheries and related jobs, causing ocean fisheries to generate $50 billion less per year than they could.
"Fisheries are a major piece of the global economy and a major source of jobs for people both in the developed and the developing world. Fish are a major piece in the global environment and we have to pay close attention to this issue if we want to maintain healthy and productive oceans going forward," according to the head of the Water & Ocean Governance Programme of the UN Development Programme (UNDP), Andrew Hudson, during a press conference at UN Headquarters in New York on the impact of overfishing. Mr. Hudson emphasized the influence of both the private sector as well as consumers in demanding sustainable fishing practices, but underscored that the involvement of fishermen, non-governmental organizations and governments is needed for sustainable fishing practices to prosper. See Blog for Video - "Green Economy in a Blue World-UN Initiative"
Whole Foods & Others Establishing New Rating Re Overfishing:
Some private companies are already addressing the challenge of investing in sustainable fishing practices. US Retailer Whole Foods Market recently announced that it will no longer carry wild seafood that has been 'red rated' – meaning that the fishery it came from may be involved in overfishing or that other marine life may have been hurt in the process. Instead, it will only carry wild seafood from fisheries certified sustainable by the Marine Stewardship Council.
Whole Food's Seafood Quality Standards Coordinator, Carrie Brownstein, emphasized that it is making its ratings information available to the public in an effort to raise awareness of fishing practices among consumers. We want to be completely transparent about our sourcing policies so that we can build consumer trust. We are hoping that our rating system can also help other companies develop their own sustainability policies…There are global implications in the policies we adopt and the businesses we work with and that's what people need to realize when they make decisions about what they buy,"
Also See Blog for Film – "Healing the Oceans-An Agreement"
Ambassador Muhamed Sacirbey - FOLOW mo @MuhamedSacirbey

Facebook-Become a Fan at "Diplomatically Incorrect"







Twitter – Follow us @DiplomaticallyX







See more at our Popular Video Blogs & Current News Event Articles – Ecology-Diplomat Channel