Earnhardt Jr., NASCAR's most popular driver, also won The Great American Race in 2004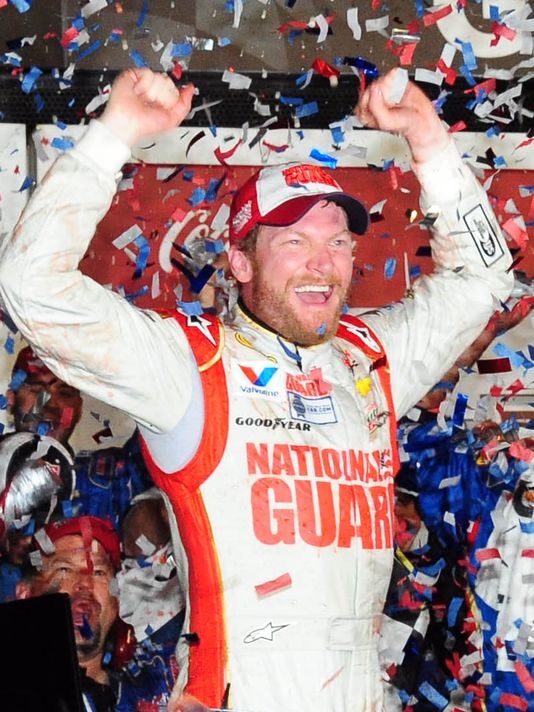 Dale Earnhardt Jr celebrates winning the 2014 Daytona 500 late Sunday night.(Photo: Jasen Vinlove, USA TODAY Sports)
DAYTONA BEACH, Fla. — Dale Earnhardt Jr. entered the Daytona International Speedway media center and shrieked "Wooo!" while thrusting his arms skyward.
"I bet someone hasn't come in here and screamed in 30 years," he said early Monday morning after capturing his second Daytona 500 victory. "But they used to!"
Few in the 55-year history of NASCAR's most fabled racetrack would have had as many reasons to be elated as Earnhardt was after weathering the longest day in Daytona history.
--He broke a 55-race winless drought in the Sprint Cup Series (he missed two races because of concussions) and began the 2014 season emphatically after a winless 2013 in which he finished second five times.
--He won the Great American Race for the second time (10 years after his first triumph) -- one more than his father, whose iconic No. 3 returned to the track (with rookie Austin Dillon) for the first time since the seven-time champion was killed on the last lap of the 2001 Daytona 500.
--He virtually assured himself a berth in the Chase for the Sprint Cup with his 20th victory on the Cup circuit but only his second in almost six years, answering the question of whether an emphasis on winning might hurt his title chances and whether the impending departure of crew chief Steve Letarte (who will leave for an NBC analyst role in 2015) would cause distractions.
"We're going for the jugular this year," said Earnhardt, who led the final 18 laps in a race that ended under caution at 11:18 p.m., nearly 11 hours after it began because of a rain delay of more than six hours.
Under NASCAR's new Chase for the Sprint Cup format, any race winner qualifies for the season-ending 10-race playoff, which also will feature elimination rounds and a winner-take-all season finale among four drivers.
"It's big for a lot of reasons," said Denny Hamlin, who finished second Sunday and one spot short of becoming the first driver to sweep the Cup races of Speedweeks. "He's obviously going into the last year with (Letarte). They going to start making Chase plans now. They're very flexible in what they can try.
"As far as the race win, it's obviously very significant that any Earnhardt wins at Daytona."
Earnhardt fended off a challenge by Brad Keselowski (third) on the final restart and got drafting help from Hendrick Motorsports teammate Jeff Gordon (fourth) to protect the lead.
"He's such a competitor, and there's no better race to win than the Daytona 500. Especially for Junior," said Gordon, Earnhardt's Hendrick Motorsports teammate. "There is something unique and special because of his fan base."
Though he hadn't won at Daytona since 2004, he'd finished runner-up in three of the past four years at the season opener.
"Winning this race is the greatest feeling that you can feel in this sport, aside from accepting trophy for the championship," said Earnhardt, who led a race-high 54 laps. "I didn't know if I'd ever get a chance to feel that again.
"This is amazing. I can't believe this is happening. I'll never take this for granted, man. This doesn't happen twice, let alone once. Just real thankful."
Keselowski, whose big break in NASCAR came when he was hired by Earnhardt for a Nationwide ride seven years ago, said, "I'm happy for my friend.
"He did a great job. He's been right there. He runs restrictor plates as an elite driver; he's probably in the top three. He hasn't gotten the win he deserved a couple of times from a whole bunch of circumstances out of his control. He was due."
There still were plenty of anxious moments in the final 60 laps, which featured four multicar crashes of at least six cars.
"Everybody kept telling me over the radio, 'There's more rain coming,' (and) I think that really added to the anxiety and rush of pace even more so than the break," Keselowski said. "I think everyone raced a hard 500-mile race. That has to be the hardest 500 race ever, probably one of the best.
"You could run the bottom, the top, the middle. At one point in the race, handling started to come into play and skill level really showed up from a driver's perspective. I couldn't be more pleased as both a participant and naturally a fan of the sport with how the 500 went."
Gordon, who was making his 726th start in NASCAR's premier series in a career that dates back to 1992, was blown away by the long, drama-filled day.
"I don't know what happened," said Gordon, a three-time Daytona 500 winner. "The sun went down and the rain went away and the track dried and everyone switched their brains to 'this is a 10-lap shootout.' It was unbelievable. I've never seen at Daytona 500 like that."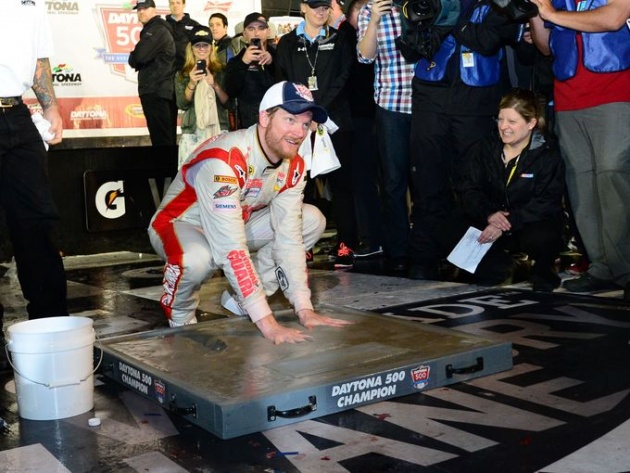 Source: USA TODAY
Annex News - Sport