Video credits: Jean Beltran-Figues via bitLanders.com
It could have been a boring day in Bantayan Island if we have not thought of going to another resort, not that we don't like the resort we had paid with but because check out time was at 11 in the morning and we don't want to go home just yet!
Thus, we decided to try going to Ogtong Cave Resort, just a few minutes drive from Hide Away Grove where we were staying. The rented motorcycle will be returned by 3:30 in the afternoon so we still have few hours to roam around Bantayan. We thought of going home to Cebu Island once we return the motorcycle as well.
So, today's blog is all about our day tour at Ogtong Cave Resort. You can also check out the previous blog about our Day 1 in Bantayan below:
Bantayan Island Once Again Day 1
• OGTONG CAVE RESORT •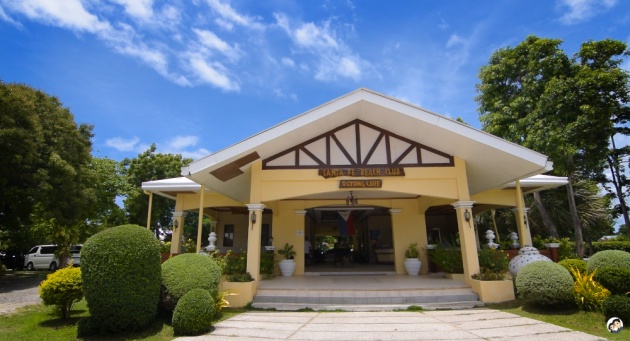 Image credits: Jean Beltran-Figues via bitLanders.com
I learned upon coming to the resort that this is actually an annex of Santa Fe Beach Club, that specific resort which is very visible from the Santa Fe port. In fact when on the way to Bantayan, it is very inviting while all the passengers look out to the docking area. Because it has very white sand beach area, it looked like shimmering on a sunny day.
So Santa Fe Beach Club and Ogtong Cave Resort are just sister resorts, both as well are very well known to locals and to tourists as well. But one thing special about Ogtong Cave Resort is obviously the cave inside the resort. Quite amazing to realize that there's a live cave in it. I'll talk about the cave later for now, let me share the experience while inside the resort.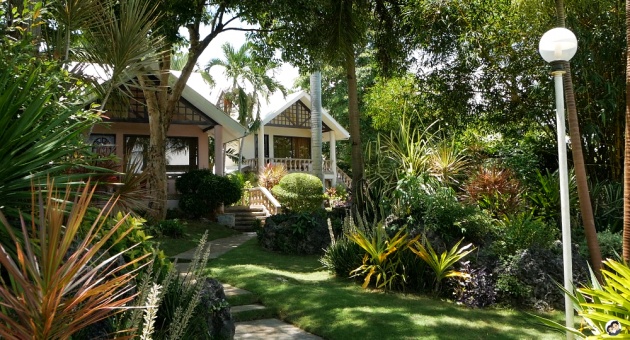 Image credits: Jean Beltran-Figues via bitLanders.com
The Ogtong Cave Resort is situated on natural limestone rocks with landscape garden, Our aircon Villas and non-aircon (electric fan) Cottages are individually located around our landscaped garden.

Information reference: ogtongcave.com
Since we were not staying here for the entire day, we thought of just roaming around, take videos and photos and just explore each and every corner of the resort.
At the entrance shows the guard house and the signage but what really caught my attention is their bougainvillea fence. It was definitely a great idea to have as fence although I can spot that they also have their interlink fence right there but the bougainvillea shrubs are all grown up and they had been trimmed nicely that they are just picture perfect. I was in fact happy to pass by them when on our way to the main entrance from outside.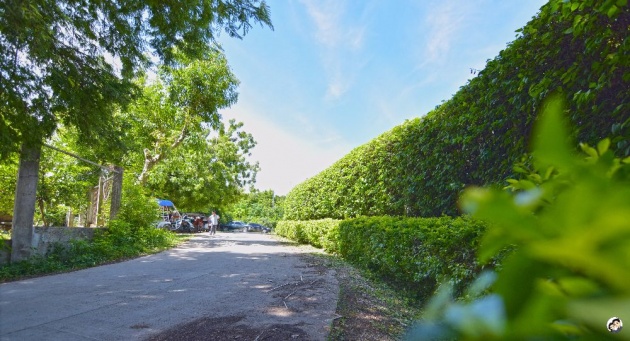 Image credits: Jean Beltran-Figues via bitLanders.com
Going inside, I can sense the cleanliness, kudos to the resort management. There were not much people inside, there were two other guests at the front desk. We paid for the day tour fee but unfortunately, they don't have any lockers for the walk in guests, so we have to bring our bags with us, they were not really heavy but it would be a hassle to move around with a bag so we thought I will just stay at the restaurant while James roam around.
Although there were only a few heads from the front desk area, most of the guests were actually in the swimming pool and beach area swimming and basking in the sun! The weather was perfect although the other day was a bit rainy.
At the front of the restaurant was the swimming pool and at the side is the cave itself and on the other side was the restroom. At the distant was the beach. The resort doesn't have a long beach shore area like the the one in Budyong Beach and Kota however, it was still a decent one. The view on the left side of the beach however is magnificent as the long stretch beach is visible from there. I guess the resorts such as Yoonik were in that area, that resort which I was considered staying at but later I changed my mind.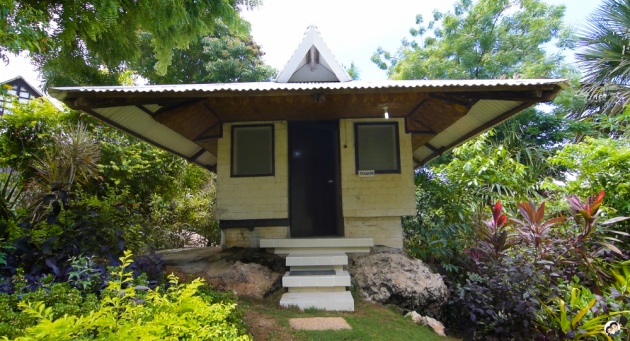 Image credits: Jean Beltran-Figues via bitLanders.com
Talking about the resort rooms, there were sea-view villas and cottages each looked nice from the outside. I guess I will have to book a room in the future here to experience its night view and the room ambiance as well. Perhaps in the future.
What I like about the resort as well is the presence of bermuda grasses, trimmed at a certain length and were covering the surface of the pathway. It looked really cool to the eyes plus there were trees which were swinging their branches here and there.
• OGTONG CAVE •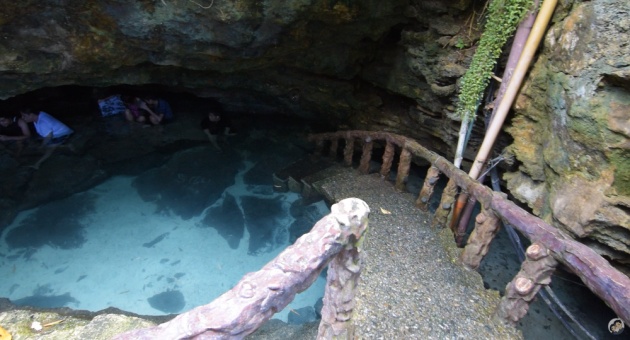 Image credits: Jean Beltran-Figues via bitLanders.com
The resort's name came from the cave which is situated right in the heart of the resort. The cave is something to visit as well because it's fresh water so if you don't like swimming in the pool and its too hot for the beach, you can opt to go for the fresh water cave instead.
It is just near to the public swimming pool and the restaurant so walk in guests can easily access it. Note that the resort has two swimming pools, there's one exclusive for the checked in guests which I was not able to see when we were there, another good reason to come back!
So there's cemented stairway going down to the cave and the water was clear too even if there were already people inside sitting on the rocks of the waterbed. I wonder if this is a flowing water but there's nothing much to do here but to escape from the tropical hot outside the cave.
Note as well that children below 14 years of age are not allowed to go into the cave for safety reasons.
• AMENITIES •
The resort as mentioned before has two swimming pools, a white sand beach, freshwater underground cave, sauna, activity area and a restaurant. The restaurant is also available 24 hours so those who are having insomnia can have anything they would like to eat and drink at the restaurant.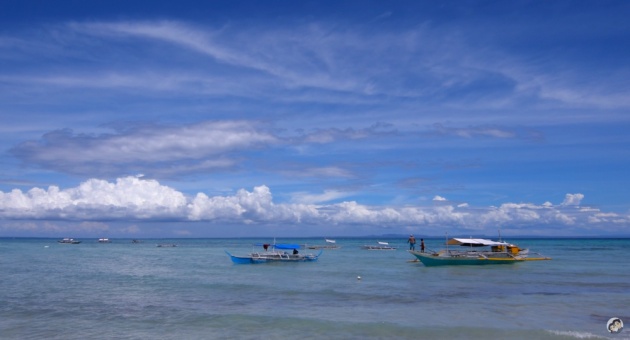 Image credits: Jean Beltran-Figues via bitLanders.com
Wifi is free but free for those checked in guests so we have to rely on our own data but it was okay since the location has good LTE connection.
Their 24 hour security and generator service is also a plus for those who care about their safety and electrical security. The island experiences multiple brownouts though so it is nice to stay in a resort with their own generator.
Some information for your reference in case you want to visit the resort and experience this lovely resort set in a lovely tropical garden landscape.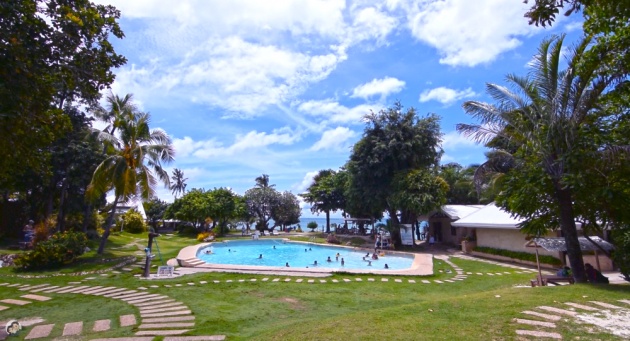 Image credits: Jean Beltran-Figues via bitLanders.com
Entrance fee for day tour walk in guests:
- Php 200 Ages 11 and up

- Php 100 Ages 3 to 10 (Free entrance for kids below 3)

- Php 160 PWD or Senior citizens (Senior Citizen I.D. is required)

*Note: Price may change without prior notice.
Video credits: Jean Beltran-Figues via bitLanders.com
• LUNCH AT OGTONG CAVE RESORT •
And since James and I arrived at Ogtong Cave Resort at eleven in the morning, we decided we'll be having lunch at the resort instead so we can also try their food. Unlike the experience with MJ Square the other day, this time the servings are only good for two to three persons but the prices are a bit higher but they are still okay.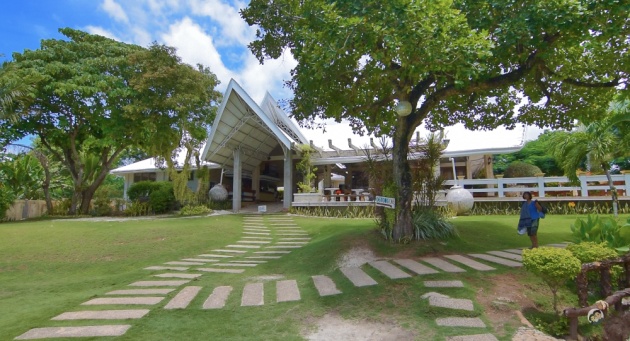 Ogtong Cave Resort restaurant. Image credits: Jean Beltran-Figues via bitLanders.com
I ordered a platter of plain rice of course, then the Tangigue fish kinilaw with coconut milk (Filipino ceviche), their stir fried vegetables with chili and the favorite lemon chicken.
It was nice that the staff can delay the serving of our orders. I was at the restaurant while James roam around. I ordered the above viands and asked the staff to serve it at 12 noon however, James went back to the restaurant stating he was already hungry so we had it served instead earlier, at around 11:30am.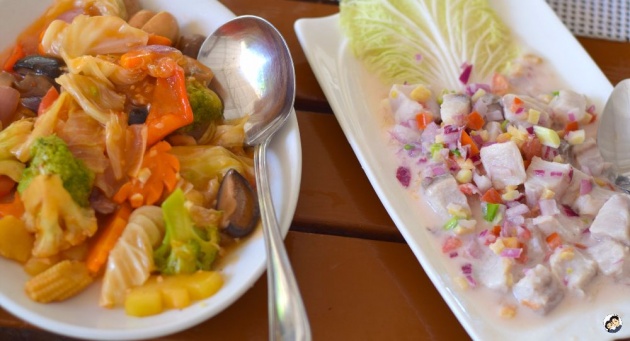 Right: Stir fried vegetables with chili for Php 135. Left: Fish Kinilaw with coconut milk at Php 160. Image credits: Jean Beltran-Figues via bitLanders.com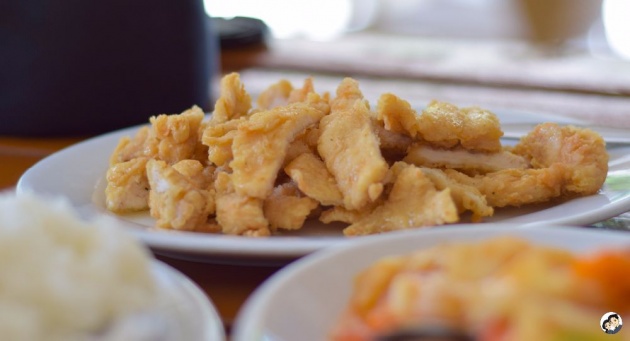 Lemon chicken at Php 230. Image credits: Jean Beltran-Figues via bitLanders.com
We started eating and the flies came to conquer our food but the staff were really quick at giving us candles to sho away the flies. There were not so many so they were scared of the candle light and smell I guess.
We were pretty much satisfied with what we ate, in fact we didn't leave anything in our plates! Looked like we were really hungry.
Check out this Querlo chat bot which I created about traveling in Cebu:
Contact details:
http://ogtongcave.com
Email: info@stafebeach.com
TeleFax: (+63 32) 4389129
Telephone: (+63 32) 438-9436 / 512-8928
Mobile: (+63) 920-8999456 / (+63)932-4336282
Location: Santa Fe, Bantayan Island, Cebu, Philippines.
xoxo,
Jean Beltran-Figues