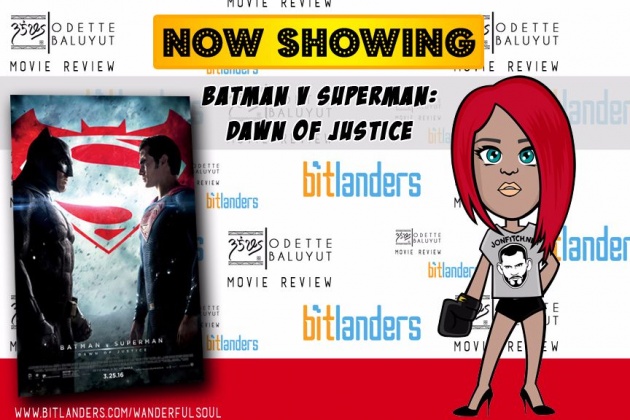 (Disclaimer: I do not own the Batman V. Superman poster, the said poster belongs to the rightful owner, the distributor of the Film, Warner Bros., the publisher of the Film or the graphic artist. The image shown above is edited by wanderfulsoul)

Hello there humans! So, I went out to see a movie; can any of you guys guess what is it? Yup! You got it right! I went out to see Batman V.S Superman: Dawn of Justice. As we all know Batman V.S. Superman: Dawn of Justice is one of the most awaited movies in 2016! In fact, we all have been asking this question, who will win? Will Superman or Batman win the fight?
"…And now you will fly to him, and you will battle him to the death. Black and blue. Fight night. The greatest gladiator match in the history of the world: God versus man; day versus night; Son of Krypton versus Bat of Gotham!"

— Lex Luthor, Batman V.S. Superman: Dawn of Justice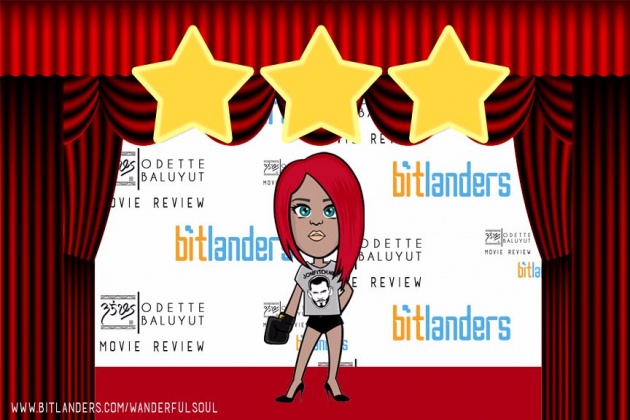 (Image by wanderfulsoul)
This blog is a movie review of the said popular movie, Batman V.S. Superman: Dawn of Justice, but let's cut to the chase shall we? As my own personal view, I rate Batman V.S. Superman: Dawn of Justice a 3 out of 5 stars movie (5 as the highest score).
So, why am I giving only 3 out of 5? Here's why, I listed some pros and cons of the movie, but before I'll tell you guys my reasons for giving such score, here are some basic facts about the movie.
Batman V.S. Superman: Dawn of Justice (2016)
Genres: Action | Adventure | Fantasy | Sci-Fi
Directed by: Zack Snyder
Written by: David S. Goyer and Chris Terrio
Music by: Junkie XL and Hans Zimmer
Produced by: Charles Roven
Cinematography by: Larry Fong
Motion Pictures Rating (MPAA): Rated PG – 13
✹ Casts:
(Image by People.com)
Ben Affleck as Bruce Wayne / Batman
Henry Cavill as Clark Kent / Superman
Gal Gadot as Diana Prince / Wonder Woman
Laurence Fishbourne as Perry White
✹ PLOT:
We'll I don't want to be a villain here so no spoiler alert for you guys! (woohoo!) All I have to say is that, aside from the insane Lex Luthor managed to bring Batman and Superman in one room which brought the battle between man v.s god, there are a lot of stories to be told under the said movie.
✹ TRAILER:
✹ MEMORABLE QUOTES:
"Diana Prince: A hundred years ago I walked away from mankind; from a century of horrors... Men made a world where standing together is impossible.

Bruce Wayne: Men are still good. We fight, we kill, we betray one another, but we can rebuild. We can do better. We will. We have to."
"Superman: No one stays good in this world."
"Lex Luthor: [looks at a picture of angels vs demons] That should be upside down. We know better now, don't we? Devils don't come from hell beneath us. No, they come from the sky."
"Bruce Wayne: You're not brave... men are brave. You say that you want to help people, but you can't feel their pain... their mortality... it's time you learn what it means to be a man."
"Lex Luthor: If man won't kill God, the Devil will do it!"
(All memorable quotes above are found in IMDb)
Alright! It's judgment day for this movie! To prove to you that 3 stars out of 5 is the score for the said movie, let's have the pros and cons:
✹ PROS ✹
❋ CINEMATOGRAPHY:
(Image by: bfi.org.uk)
I love the Cinematography of the movie! The scenes of the movie was awesome, all cameras was put in the proper angles to capture the story, the lenses used, the lighting and the camera movement are excellent plus the special effects were also pure genius!
❋ TONE:
The tone of Batman V.S. Superman: Dawn of Justice is gloomy or dark which applies very well since the storyline of the movie has a lot of mystery in it. Aside from the dark tone capturing the movie, the tone of the movie also captures the main characters' story.
❋ MUSIC AND SOUND:
The music and the sound effects is one of the most important things in making a film, it brings out more emotions when you choose a good sound effect for that specific part of a movie; the music and the sound effects of the movie were epic! Each sound effect and music was like made for this movie!
❋ ACTING:
(Image by streakofblueblog)
The actors and actresses chosen for the film were also great; they portrayed their character as if you were reading the old comic books. The facial features, voice and other traits of the characters were portrayed excellently. My favorite actors in the movie are Gal Gadot portraying as Diana Prince a.k.a Wonder Woman, she was really good that my reaction was, "I wish there is a wonderwoman movie!" and Jesse Eisenberg portraying Lex Luthor in the movie was mind-blowing! When I saw Eisenberg acting all crazy, I was really stunned by his performance it was like he was naturally insane!
❋ COSTUME AND MAKEUP:
(Image by Independent.co.uk)
Both costumes and make up was great. The makeup artists really made it natural looking and the costumes were like what you see in the comic books but with more details. Though, I'm not a fan of Batman's metal / steel / titanium heavy suit but because it looked so bulky and made batman looked so lame.
✹ CONS ✹
❋ THEME:
The theme of the story includes Redemption, Resurrection, Vengeance, Justice, Sacrifice and Friendship. As what I've stated in the plot of the movie, there are a lot of stories under the said movie; the 3 hour movie has so many stories that needed to be told which ended up not focusing on Superman and Batman alone and defeated the purpose of the title of the movie which only focused on the two superheroes.
❋ OBVIOUS PLOT HOLES:
SPOILER ALERT!
❔❔❔ We all know that Superman can hear anyone especially when his girlfriend, Lois is in trouble but when his mother, Martha got abducted, Superman wasn't able to track down that his mother life is in jeopardy.
❔❔❔ During the match between Batman and Superman, Batman as a human being was wearing a suit which is made up of metal or titanium but then, he helped superman find his mother which went to the next scene where batman showed up wearing a completely different uniform. Batman had only 10 minutes to save Martha but he still managed to change outfit and took a bath. OOops!

Overall, the movie was good since the effects, cinematography, etc. are perfect but the thing is, even if the things I stated in the pros are awesome, the storyline was not that great. The director and writers should have divided the movie into two parts and fully explained the sub stories of the movie or they only should have focused on the fight between Batman V.S Superman which is the title of the movie and what we all expected. The disappointment of the storyline had a big impact of the movie. Hence, this is the reason why I gave 3 out of 5 stars in Batman V.S Superman: Dawn of Justice. Although, I gave such score, Wonderwoman's story and Lex Luthor's story is my favorite part of the movie because of their performance and the story behind them, I would still recommend you guys should watch this movie since the story of the movie is still interesting and mysterious, leaving you a lot of questions which would make you want to watch the next movie!
Until my blog!
TTFN!
Ta! Ta! For now!
COPYRIGHT © 2016 ODETTE BALUYUT. ALL RIGHTS RESERVED.