Hello there humans! It's already summer here in the Philippines! Oh wait! What am I talking about? It's always summer here and God! Our place is burning! Whoo! Good thing there are cold tropical drinks available but sometimes these drinks ain't enough. Sometimes, we crave for something cold and sweet to eat. So what should we eat in a hot sunny weather here in the Philippines? The must have Halo – Halo in the Philippines? Maiz con yelo? Ice cream? Nah!! Ladies and Gentlemen, I present to you…
GELATO!! (*insert angelic sound effect*)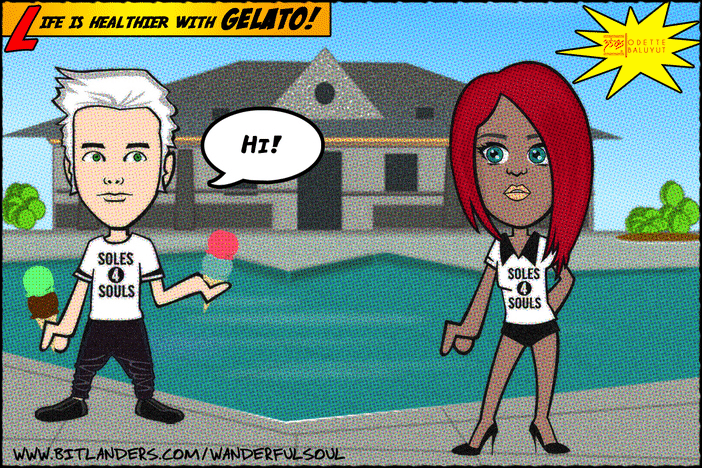 (Image by: Wanderfulsoul ; Credits to Heartluv for giving me an idea on what to write in the storyboard of this image.)
I know right? That khokarjamal and wanderfulsoul gelato scene is so corny but sweet it made me laugh! (HAHAHA) thank you ate Heartluv for giving me that crazy idea by the way! (hahaha) So anyways, you already have an idea on what I will discuss in this blog, it's pretty obvious after all that; this is because I read Mr. Micky's blog about a new double rewards topic. Actually there are two double rewards blog for this month one is the Blog about Sports and Social Good and earn Double Rewards and the second double rewards blog for this month, Blog about Gelato and earn Double Rewards. I actually wrote the first double rewards blog for this month, check out my NBA CARES! DO YOU? blog in this link. You can also check out the sequel of NBA CARES! DO YOU? blog entitled WANDERFULSOUL'S REAL LIFE EXPERIENCE ON SPORTS, EDUCATION AND EMPOWERMENT. So yeah! I read Mr. Micky's blog and clicked the link to the survey chat about gelato. By the way, if you guys are a newbie here, I have actually written a blog about BITLANDERS SURVEY CHAT: A NEW WAY TO EARN REWARDS WHILE HAVING FUN! In that blog, I have explained what a survey chat is and how you can earn more. Feel free to click the link above and know more about survey chat. Going back, have you taken the survey chat lately, specifically the Gelato survey chat? Oh boy! That made me drool! The goodness of Gelato made me want to eat gelato everyday – all day. If you haven't tried the survey chat on gelato, you can click this link, answer the survey chat and enter the world of the amazing GELATO!!
Before I'll start yapping about how I love sweets and where I can find Gelato here in the Philippines, let's first have the fun facts about Gelato!
DID YOU KNOW?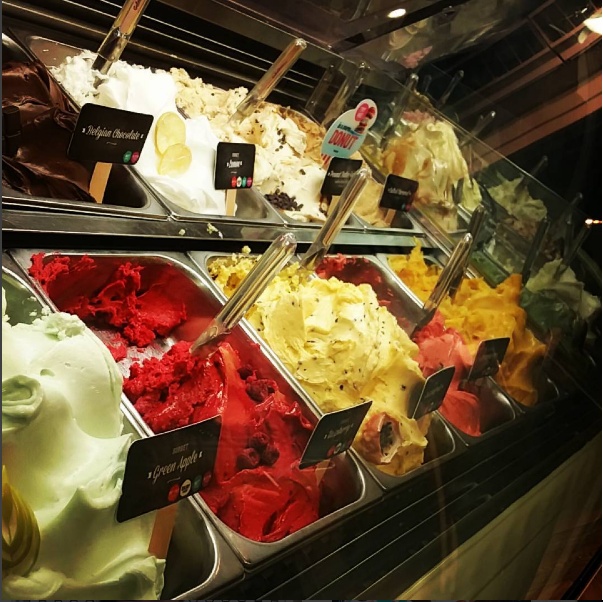 (Image by: kirra2k via Instagram)
❅ Gelato translates as frozen in Italian.
❅ Gelato has a lower fat content than ice cream.
❅ Most gelato is made with whole milk.
❅ For non-milk drinkers, Gelato is a great source of calcium.
❅ Gelato, especially when made with nuts, contains a high amount of protein.
❅ The best gelato has no artificial colors.
❅ A shop that sells gelato is called a "gelateria" while the plural of the word "gelateria" is "gelaterie."
❅ A gelato vendor is known as a "gelatai".
❅ "Sorbetto" is a term for gelato that is made with water instead of milk.
❅ Gelato "affogato" is one serving of gelato with a shot of espresso poured over the top.
THE GOODNESS OF GELATO: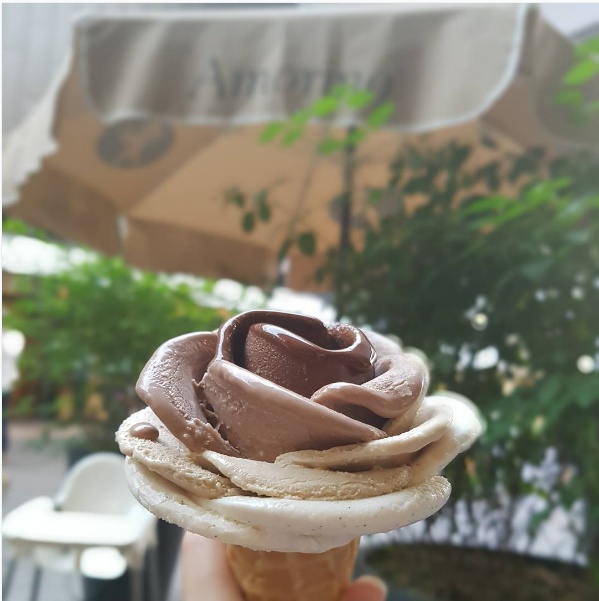 (Image by: dahye.reina via instagram)
Isn't gelato just a fancy term for the word Ice cream? No it's certainly not. There are differences between Ice Cream and Gelato. So what is in gelato that makes it so good? Below is the list of reasons why gelato is better than ice cream:
❶ Ice cream contains 14% to 17% milk fat while gelato only contains 3% - 8% milk fat.
❷ Gelato is made from fruit, sugar, and milk.
❸ Gelato has half the calories you find in ice cream.
❹ Gelato is gluten free.
❺ Gelato has less saturated fat than ice cream.
❻ Gelato contains high levels of Calcium, phosphorus, Vitamin B and protein.
❼ Due to the lower fat content in gelato, your taste buds can experience flavors more intensely rather than ice cream.
AMORINO GELATO AL NATURALE:
During the survey chat, I noticed that the background image of the gelato survey chat is a brand name of a company who sells gelato; curious, I googled it. I found out that AMORINO GELATO AL NATURALE is
"Created in 2002 by two childhood friends, Cristiano Sereni and Paolo Benassi, Amorino was born in the heart of Paris on Ile St Louis." —www.amorino.com/us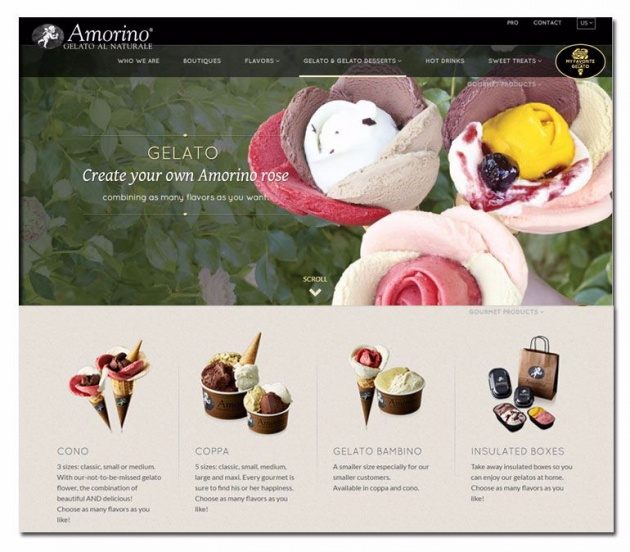 (Disclaimer: I do not own the image above, the said image belongs to Amorino.com; however, The image shown above is edited by wanderfulsoul. To zoom in, check out AMORINO GELATO AL NATURALE in my gallery section.)
You can create your own Amorino rose in which you can combine many flavors. Also, in Amorino, you can choose what cup or cone size you want. They have cono (cone) which has 3 sizes, coppa (cup) which has 5 sizes, gelato bambino which you can choose whether cone or cup for kids and the insulated boxes for take outs!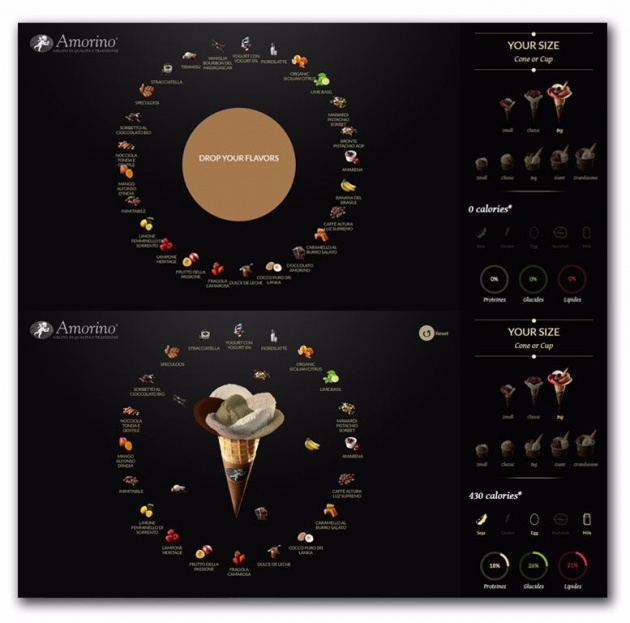 (Disclaimer: I do not own the image above, the said image belongs to Amorino.com; however, The image shown above is edited by wanderfulsoul. To zoom in, check out AMORINO GELATO AL NATURALE in my gallery section.)
In the upper right part of Amorino.com, you can click my favorite gelato which is a pretty cool feature of the website. There, you can choose your own flavor/s, and after that you can see the calculation of how much calories will your gelato be. As for me, who don't do diet, I chose Banana del Brasile, Bronte Pistachio AOP, Vaniglia Bourbon del Madagascar, Cioccolato Amorino and Tiramisu in a big cone and I got 430 calories. You can also calculate your own flavors here. If you want to visit the Amorino gelateria, click this link to see the nearest shop from your place.
WHERE WANDERFULSOUL GOES TO GET HER GELATO:
(Image Source: ph.openrice.com)
I first tasted gelato when we went to Cebu City for a vacation last early 2000's. My siblings and I got our gelato from a gelateria chain in Ayala Center Cebu called GELATISSIMO and God! Help me! It was sooooooo good!!! The gelato melted in my mouth where I can taste the vivid flavors of gelato.
(Image Source: whynotdumaguete.com)
(Image Source: TripAdvisor.com)
It's pretty sad that I don't live in Cebu where Gelatissimo is located, however, I have found restaurants that served gelato here in Dumaguete City, Philippines; one is located in Rizal Boulevard which is a named Why not? I tried their gelato before and it was a Gelato affogato. It was greatand I liked it. It is not the usual gelato since it's affogato and hey! My excuse worked in a broad daylight!*wink*. The second restaurant that is serving gelato is an Italian restaurant named Pasta King! I never tried their Gelato since I only knew now that they are serving the said tasty treat. Sad... But don't worry guys, I will surely go and grab a gelato from Pasta King. By the way, If I'll choose between Chicco's, Why not? gelato V.S Gelatissimo, I would still choose Gelatissimo!
GELATO! BECAUSE ICE CREAM IS TOO MAINSTREAM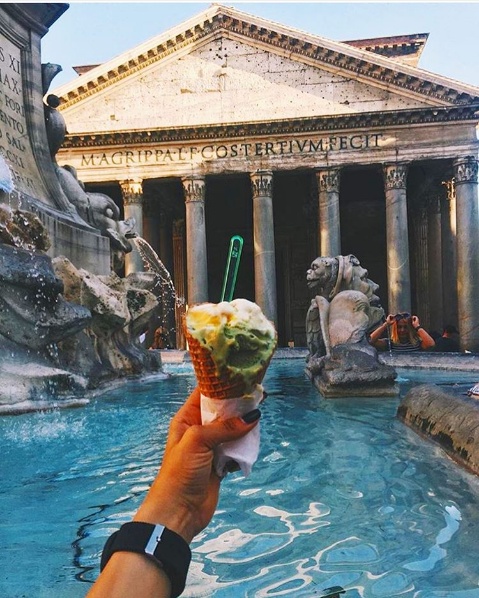 (Image by: italian_places via instagram)
Ice cream can brighten up our day whenever we feel blue. Don't deny it, am I right? I know I am. Whether you're still a child, a teenager, a young adult or you're old and wrinkly, you still love Ice cream! I know so because I love Ice Cream. I can't deny that. That's a fact! Ice cream actually is a source of vitamins and minerals. Ice cream contains many vitamins such as Vitamin A, B-6, B-12 C, D, E and K. Ice Cream also contains thiamin, riboflavin, niacin, folate. Ice Cream is also rich in Energy since it contains carbohydrates and protein. Ice cream is good when you want to gain weight or needs a lot of energy. But there is also a downside in Ice cream,
"Ice cream is a high-fat food, since it must contain greater than 10 percent milk fat to be designated ice cream, with some products having as much as 16 percent, according to the University of Guelph. Milk fat is largely cholesterol, a saturated fat. When your blood cholesterol level is too high, it can build up as plaque, a fatty deposit in your arteries that interferes with blood flow and raises your risk of heart disease and stroke. Ice cream is also high in sugar, which makes up the majority of its carbohydrate content. The Mayo Clinic website warns that consumption of too much sugar may contribute to health problems such as weight gain, cavities and increased levels of blood triglycerides, another unhealthy type of fat."

—healthyeating.sfgate.com
Okay humans, don't get me wrong but Gelato has also a down side. First is that since gelato is denser than ice cream, it may weigh more than ice cream. So if you are conscious about the portion size you might want to choose the smaller size of gelato than your usual ice cream scoop. Secondly, since Ice cream is so common it is cheaper than Gelato which is harder to find than ice cream. However, even though these two reasons are disadvantages of gelato, as listed in the subtopic THE GOODNESS OF GELATO, those 7 reasons are pretty accurate to me and are much more acceptable than ice cream.
We live in an era that is pretty health conscious. If we won't be conscious enough with our health we will end up in a box. I love ice cream! I love the sweet flavorful ice cream, I mean, who doesn't? But the thing is, ice cream is too fatty. Well, unless you want to be obese then go ahead, grab a spoon! HAHA. What I'm saying is even though ice cream is good and I love it but at the end of the day, I would still choose gelato over ice cream.
Well, this is it for now humans, just remember
Life is healthier with Gelato!
Until my next blog!
TTFN!
Ta! Ta! For! Now!
COPYRIGHT © 2016 ODETTE BALUYUT. ALL RIGHTS RESERVED.