We Tried Bingsu at KBingsu Cafe, Greenhills...
We just finished dining at Gloria Maris, but we youngsters in the bunch were still craving for our after meal sugar fix. My sisters and cousin parted ways with us to have theirs earlier as me as I wanted to window shop at the thrift stores in Greenhills first. They said they were headed to Bingsu in Promenade.
It's the first time that I've heard of such ice cream parlor (if it was such), but I think I knew that she's taking us to a Korean joint, just from the sound of the name and for my sister's penchant for anything Korean. My guess was right, but what exactly is a Bingsu?
What is a Bingsu?
Video credit: Arirang News via youtube.com
From Wikipedia, Bingsu is defined as:
...a popular Korean shaved ice dessert with sweet toppings that may include chopped fruit, condensed milk, fruit syrup, and red beans. Varieties with ingredients other than red beans are called bingsu (or bingsoo).

- from wikipedia.org
The free encyclopedia also literally translated the word "Bingsu" as shaved ice, with the popular "Pat-bingsu" directly translated as red beans shaved ice.
About KBingsu Cafe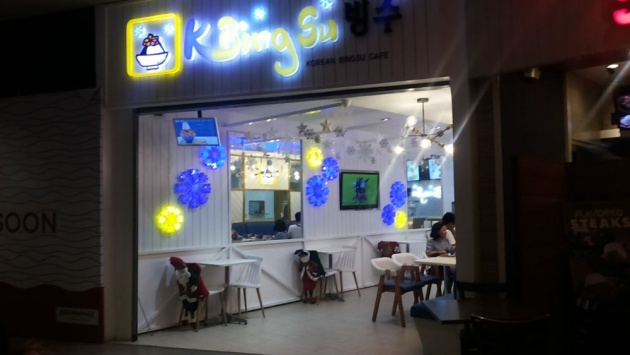 Photo credit: lapiz-lazuli
I can't find any history, description, and other information in their about me tab on their official facebook page. They are, however, a newly opened cafe--just this May 2017--in the Philippines, serving Korean bingsu, smoothies, and other spicy Korean dishes regarded as snacks. They also sell interestingly flavored nuts like honey flavored cashews.
KBingsu Cafe Ambience
Video credit:
lapiz-lazuli
via
bitlanders.com
Their place in Greenhills is just small, but KBingsu isn't just situated as a kiosk, it stands in an actual room. The cafe has no doors nor glass walls at the front, it is straightforwardly made so would-be customers could just waltz in and out easily.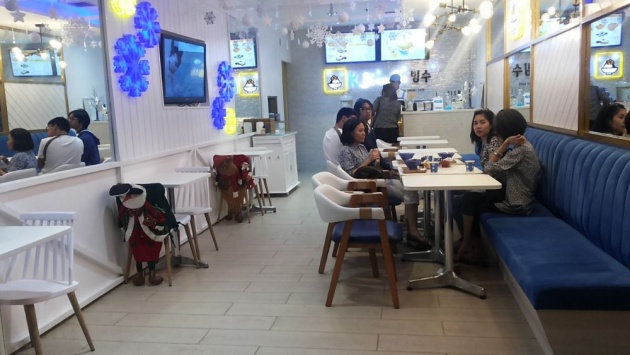 Photo credit: lapiz-lazuli
I find their lightining quirky, but in a cute and kpop way. It's beaming predominantly with white and blue and yellow. Big tables and chairs are lined up at the right side, with the left side generously occupying the walkway.
There are only few seats, unlike a proper cafe like Starbucks, but the place wasn't always filled as only casual dessert lovers who come and go spend no more than an hour or so finishing a bowl of shaved ice or other Korean foodstuff at the cafe.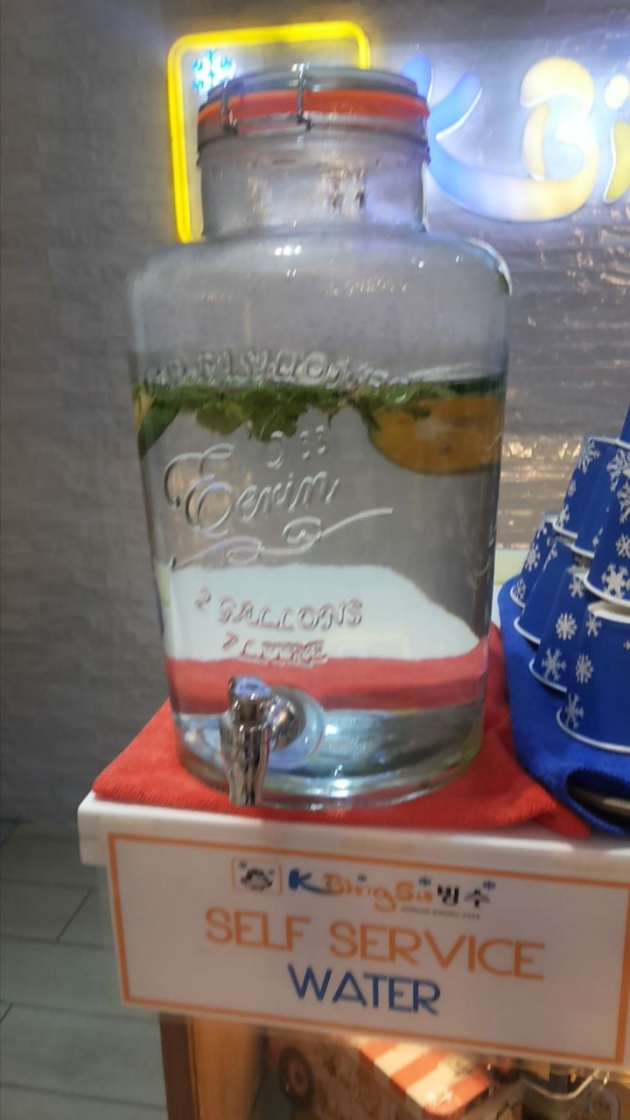 Photo credit: lapiz-lazuli
Lemon water is free, and so is the hand sanitizer. On the opposite side were tablewares such as ice cream bowls, cups, trays, etc. The serving at KBingsu is really huge so you will really need to share it with your mates, if you're not that famished.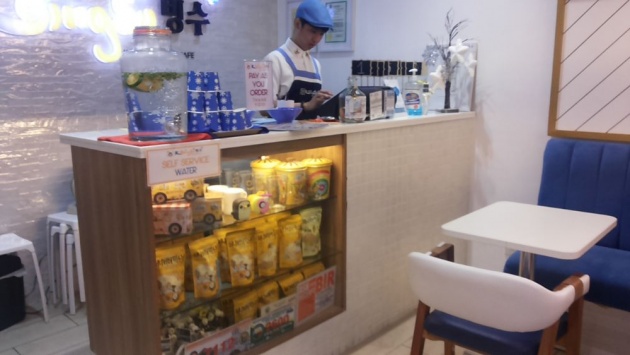 Photo credit: lapiz-lazuli
There's only one staff and I think he does all the work: waiter, cashier, and patissier(?) in one. The person stationed during our visit was courteous, not pushy, and delightful. But he wasn't talkative either. So anyway...
KBingsu's Menu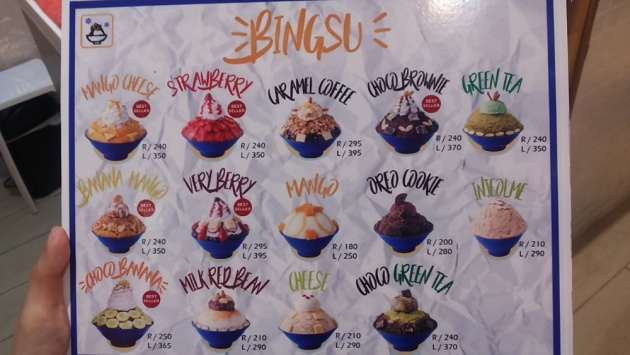 Photo credit: lapiz-lazuli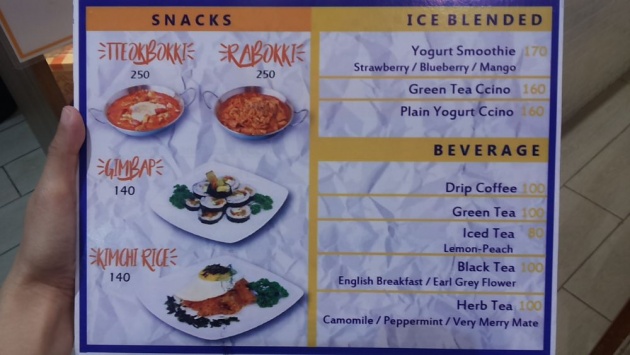 Photo credit: lapiz-lazuli
We were about 7 in our group but our flavor options were narrowed down only to three. Cousin and her son ordered Oreo Cookie bingsu. Me and mom (my fellow window shopper whom I tagged along at KBingsu) shared one order of Very Berry. Our eldest ordered the same flavor as ours, and my other sibling ordered her favorite mango flavor. My other cousin just ordered a blueberry smoothie.
Very Berry Bingsu
Are you craving for some berries? Here is our Very Berry Bingsu, served with freshly sliced strawberries, blueberries and cheesecake, which is then topped with whipped cream and some sweet strawberry syrup!

- from KBingsu facebook page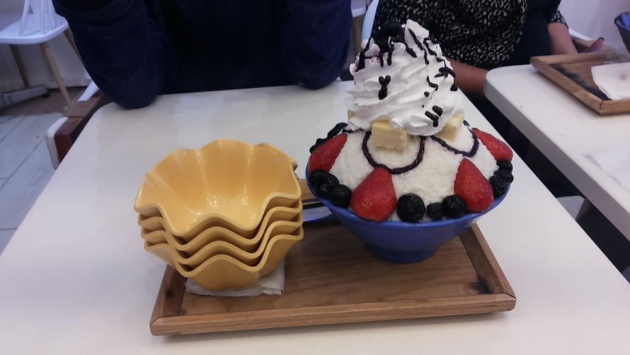 Photo credit: lapiz-lazuli
It is one of their best sellers, as stated in the menu. I really like blueberry so I ordered this one (mom also wanted something with strawberry so this fit the bill). Waiting time was really a bit of a bother, but understandable because it was seemingly only a one man crew. But I guess it was really worth it because this was the best ice cream I ever had!
Oreo Cookie Bingsu
Want some chocolate overload? Have some chocolate bingsu covered with crushed Oreos, topped with chocolate ice cream.

- from Kbingsu facebook page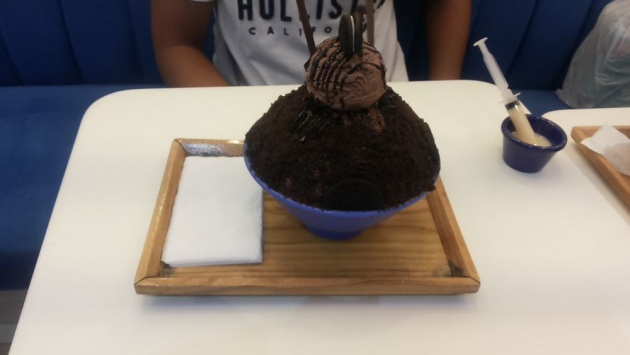 Photo credit: lapiz-lazuli
This delight includes a condensed milk on a little cup dispensed using a needleless syringe (the type you see at hospitals). I found it strange, but if it will enhance the flavor, why not right?
The only thing I find bad in eating bingsu is that it melts easily, faster than your typical ice cream. I don't mind the very large portion size and skyscrapper-like toppings at all. They even add up to the decadence of eating bingsu. Tower of Babel of a bingsu, you say? I'll topple it down with my spoon!
Mango Bingsu
Try our classic Mango Bingsu! It is topped with sweet mangoes topped into cubes. A simple and delectable dessert!

- from KBingsu facebook page
Of all their flavors, I think this one's the simplest (and also the cheapest). Probably because mangoes are abundant here, so expenses are also lowered. I wasn't able to have a taste because my sibling already emptied hers when I arrived, but I guess it was really delish! They say they only use sweet mangoes, so yeah...
Eating bingsu feels like eating cotton candy: it weighs nothing in your tummy and you can't get enough of it (until you're zapped with brain freeze).
Blueberry Smoothie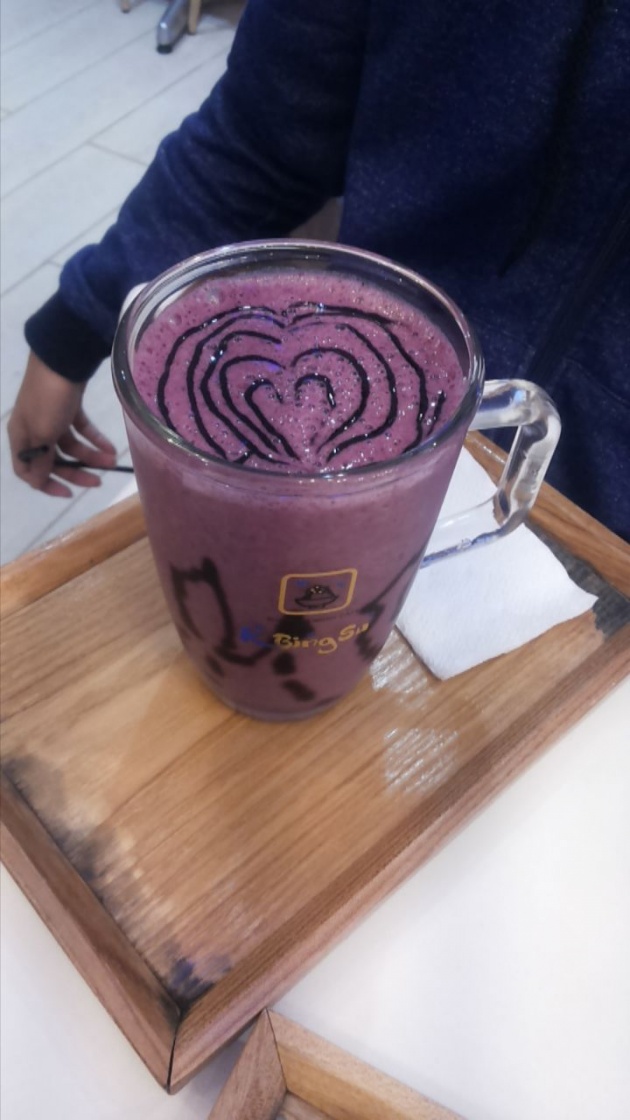 Photo credit: lapiz-lazuli
Nothing fancy with this beverage, but the heart design using syrup was quite cute! I've really had a berry overload, but I'm super OK with it. But what's weird is that my tummy felt the weight of this drink, eventhough I only took a few sips, and it was also made from fruits, milk and ice.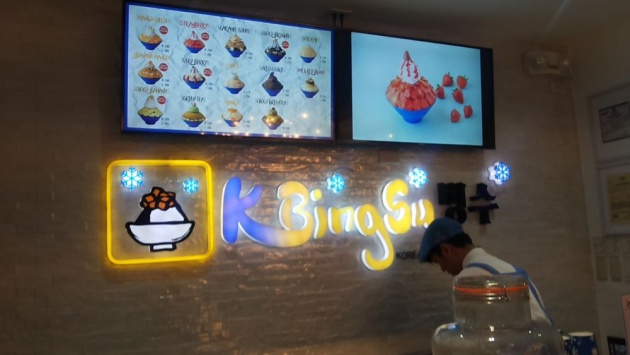 Photo credit: lapiz-lazuli
The bingsu at KBingsu Cafe was the best ice cream I ever had, eventhough bingsu literally means shaved ice. It tasted like ice cream (not slushie), only lighter, with texture as fine as a frozen dessert can get. Honestly, I never knew what bingsu was until I've googled it; it was still ice cream, in my opinion. It must be from their milk base so it tasted like fine ice cream. And after all, cream is a by-product of milk.
Disclaimer: Pictures, videos and write-up are originally made by lapiz-lazuli, unless otherwise stated. Views and opinions in this blog post are truthful but subjective and are not influenced by sponsorship of any sort.