Dinner at Sambokojin, West Avenue
Here's the 2nd part of my Sambo Kojin food trip. This time, we chose the West Avenue branch because it's a bit near from our house.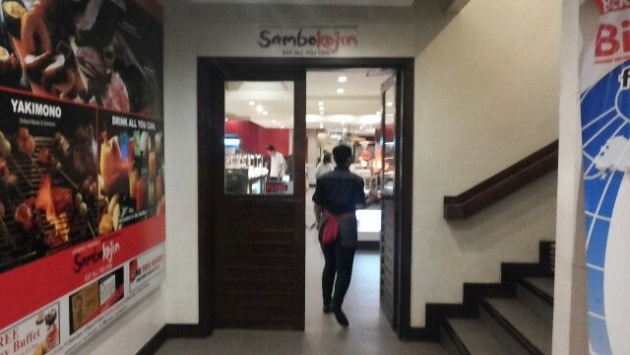 Photo credit: lapiz-lazuli
About Sambo Kojin
Video credit: Sambo Kojin via youtube.com
Sambo Kojin is a premium buffet restaurant that specializes in Japanese and Korean Yakiniku (smokeless grill) cuisine, but they also serve few western dishes, especially their desserts.
Here's some tidbit about Sambo Kojin, if you haven't read my last entry:
From SAMBO KOJIN, the Japanese kitchen god, the fire bearer who held dominion over home and hearth, in whose honor, the ultimate "grill all you can, eat all you can Yakiniku" restaurant Sambo Kojin was named now offers the best of Japanese barbecue and the charm of its Korean counterpart.

Highlighting the freshest and most premium meat, poultry, seafood and vegetable yakiniku menu items, with a range of sumptuous cooked specialties and an extensive sushi bar, diners enjoy the ritual pleasures of grilling and the delight of feasting together on dishes resulting from the mastery of a Japanese and Korean culinary tradition.

From the kitchen God, to your table, Sambo Kojin creates a dining experience to be relished, repeated and remembered.

- from Sambo Kojin, the kitchen god
Getting There...
The restaurant isn't hard to spot because it is almost situated in the leftmost corner of West Ave., if you're coming from the south area. This is Quezon City we're talking about so it is north of Manila, the capital of Philippines.
Commuting wasn't hard, even via jeepney, according to my sister, and you'll have the help of Waze or Google Maps anyway so you won't run in circles spotting the place.
Reserved Seating
You can reserve your seat in West Avenue branch, just contact them at least an hour before your dining schedule.
If you want to skip the long lines, you should call them and make a reservation. When we arrived at the joint, we only asked the receptionist our reservation and she led us to our tables.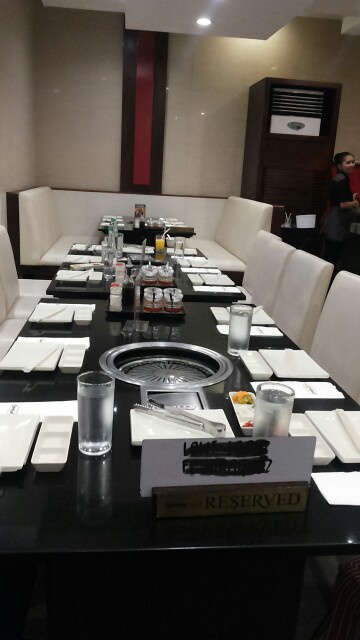 Photo credit: lapiz-lazuli
We reserved a table for 20 people and they delivered well. Because we were a big group, the staff managed to reserve us 3 tables. Unfortunately, we didn't fill up all the reserved seats so the last table was transferred to another group.
Valet parking
When on a private vehicle, valet parking is mandatory in this branch. The parking area was stuffed when we got there, so you really need to hand your keys to the valet guy and let him wait for an open slot. Just be sure not to leave any valuables (wallet, jewellery, electronics, etc.) in the car with the attendant. It's to prevent the blame-game incase it gets lost.
The Place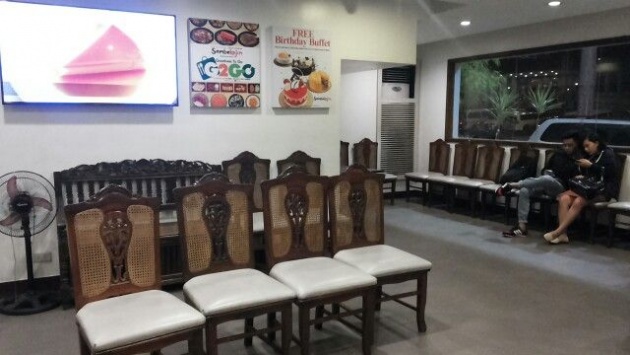 Photo credit: lapiz-lazuli
The waiting area was roomy and the seats were comfortable because they have backrests. There was also a big TV on the area so you will be a bit entertained at the waiting lounge.
Compared to the SM Megamall branch, the place was smaller, but the seats were more comfy and spacious.
Because of its size, food selection wasn't that many. However, you won't run out of stuff to try out so I think the proper term would be "adequate selection."
The restaurant was warmly lit and minimalistically designed, though the air conditioning wasn't that strong and chilly. Still, eating here had been a cozy experience.
Washroom is OK: clean, flush is working, has tissue, and has liquid hand soap. But it was just small (2-3 cubicles).
Other Differences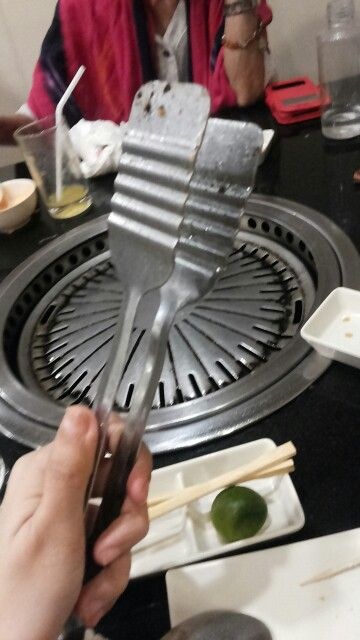 Photo credit: lapiz-lazuli
There was actually a flat-head tong in every table. This was a heaven sent as cooking on the smokeless grill had been easier than using chopsticks. I believe they should provide this on every Yakiniku restaurant.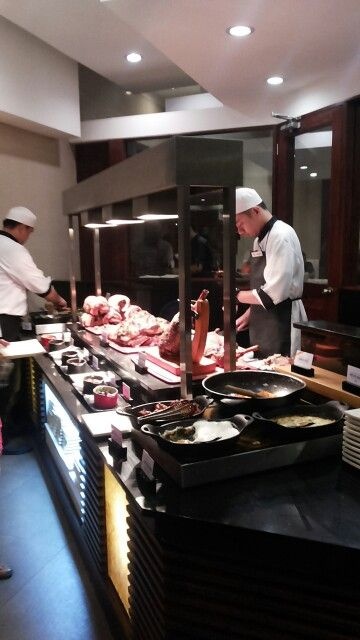 Photo credit: lapiz-lazuli
Some dishes aren't available but they have obvious meat section (photo above), just right next to the entrance. In the Megamall branch, I didn't find a setup like this.
Plate was white instead of black. Same size, shape and weight, though.
There was a waitress who made rounds and asked if the diners need new drinks or were they in for a refill. Thumbs up for her service! Best of all it's free! Wow.
Video credit:
lapiz-lazuli
via
bitlanders.com
Singing Happy Birthday was a collective endeavor, not just exclusive for every table that had a "celebrant" (this is a valid word). Every staff would actually sing out loud, with bravado, plus their rehearsed choreography. It was fun to watch, all the more if it wasn't for my sister blocking my view. Oh, well...
The Food
Photo credit: lapiz-lazuli
Food tasted good--fresh, thoroughly marinated, well seasoned, and properly heated. However, those food that were wrapped in foil and to be grilled were somehow a letdown. We were in for a surprise only to open up the foil and discover veggies, not meat. I think this kind of thrill is best suited for vegetarians.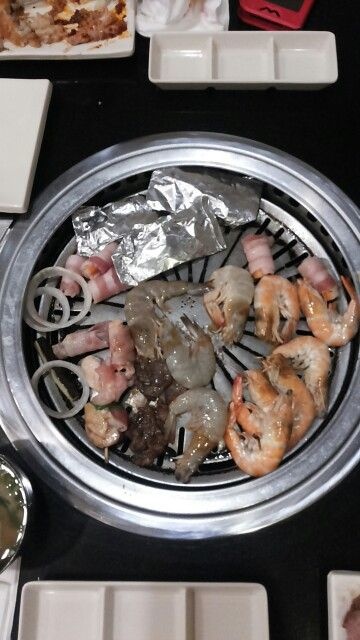 Photo credit: lapiz-lazuli
There were nametags on the dishes but some were not put beside or in front of the serving plate of each dish. For seafood, this isn't really an issue, obvious from their shape and form, but you will play the guessing game if you want beef instead of pork. There are cooks on the other side of the table, but I didn't bother to ask every dish that looked interesting (maybe next time I might).
It was my first attempt to try out the Sambo Kojin sauce (on my tempura). It was unexpectedly sweet, I like it.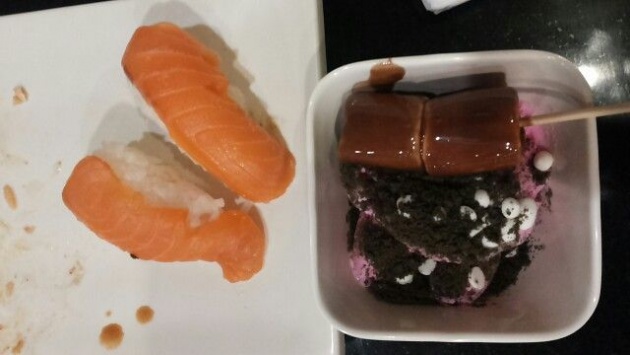 Photo credit: lapiz-lazuli
For me, dining at a buffet restaurant won't be complete without raw salmon and frozen yogurt. There was no froyo, but I can compromise with ice cream, in which the joint had. But I did ask a few staff only to find out that what they have was scooped ice cream instead of that machine mixed soft ice cream. Scooping was really an effort but it still was heaven.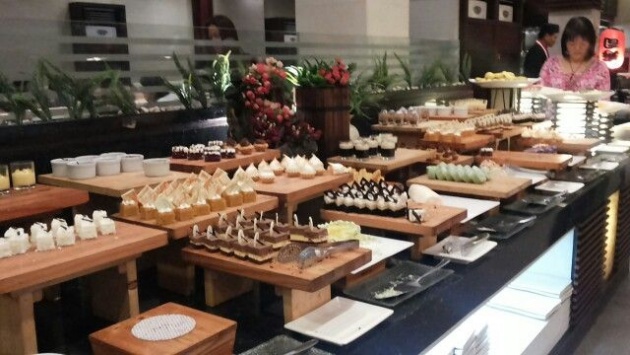 Photo credit: lapiz-lazuli
For desserts, you get the same stuff on other Sambo Kojin branches, with few differences. Creme brulee, carrot cake, mousse cake I think are some staples. A new thing I've found was the mini roll cake with sprinkles on top. I didn't manage to finish mine, not because it was bland, rather I was simply stuffed. I then realized that your tummy can't always have room for dessert. Myth debunked, I guess.
Leftovers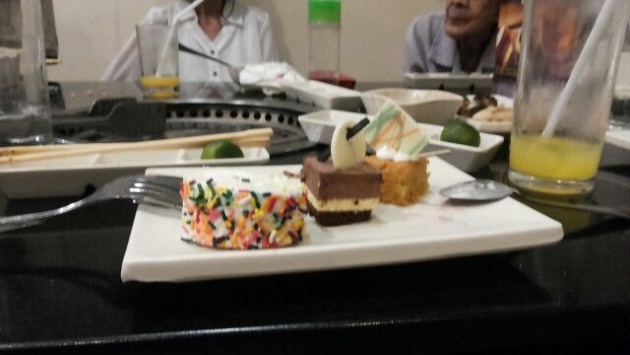 Photo credit: lapiz-lazuli
They weren't strict on leftovers but I value food so I finished up my plate, except that roll on cake. I was talking to my mom while resting my tummy a little. Next thing I knew it was gone! Waiter took it. But I was glad we didn't get charged for it.
Wrap Up
tl;dr: Sambo Kojin, an eat-all-you-can joint, is worth your time and money.
Want your opinions be heard? Fill out this survey chat:
Disclaimer: unless otherwise stated, photos and videos are owned by lapiz-lazuli. This blog post is originally written by lapiz-lazuli.