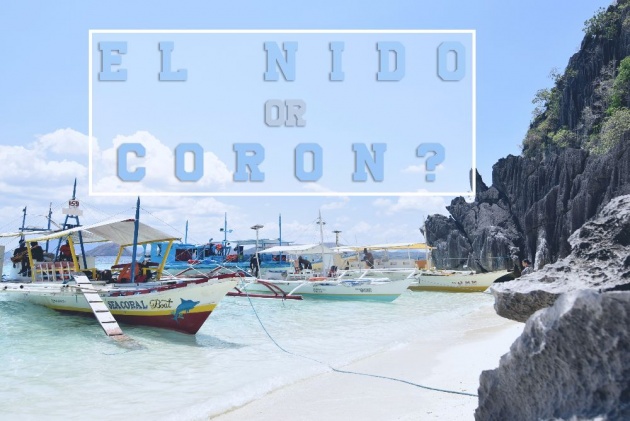 Image credits: Jean Beltran-Figues via bitLanders.com
Been a member of this DIY Philippines group in Facebook and I guess my time line has 60% of its updates and postings from users all over the country. If you are not aware of the FB page, this is actually a group where the members share their opinions, experiences and DIY itineraries. It is referred as DIY Philippines because at first it was created to help the members with making their own travel iti within the country but soon after, it has expanded to DIY travels going to other countries such as Japan, South Korea and a lot more.
At times I feel like I don't like to be a member of this group anymore because there's a tendency of me getting hyped up with the photos they share and their itineraries making me want to travel again but then my condition is not ready yet for it.
However, there's one topic within the group which I got myself interested in and that's the comparison whether a couple should go to El Nido or Coron. Which is which?


►EL NIDO or CORON?◄
I have been to those two places, both are pretty, both are enticing and I believe both would give good memories. However there are considerations to take upon when deciding where to go?
So this couple, the girl posted a question where she and her boyfriend are planning for a vacation and they are confused whether to go to El Nido or Coron and now the girl is soliciting some advice from the group. Of course that would actually be a huge discussion because some would be telling El Nido yet some comments out that it should be Coron. Well, I didn't put any comment on but it is interesting to read comments which I normally do on Facebook but I am not really the type of person who adds comments that fast. In fact, I didn't add one to this discussion and instead, made a blog out of it.
Now, where should this couple go? I have my own comparison inside this blog.


►EL NIDO◄
Two years ago, my husband and I went to Puerto Princesa, then to El Nido for the first time to spend our anniversary there. It was the first major travel that we had done ever since and we both love the experience.
El Nido is a Philippine municipality on Palawan island. It's known for white-sand beaches, coral reefs and as the gateway to the Bacuit archipelago, a group of islands with steep karst cliffs. Miniloc Island is famed for the clear waters of its Small and Big lagoons. Nearby Shimizu Island has fish-filled waters. The area has many dive sites, including Dilumacad Island's long tunnel leading to an underwater cavern.

Information reference: www.google.com.ph
I have written and posted blog entries for the experiences my husband and I had during the trip which we can't forget of course. In fact, we are planning to return to El Nido but not soon.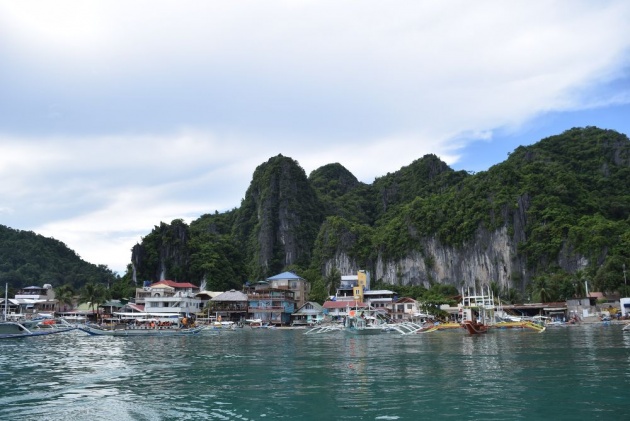 Image credits: Jean Beltran-Figues via bitLanders.com
You may check on these blogs here:
►
What's good about El Nido?

◄

Island hopping in El Nido costs cheaper and it offers four tour packages - A, B, C and D. We were lucky that the place where we stayed at offered good tour package which had combined Tour A and C together for a discounted price.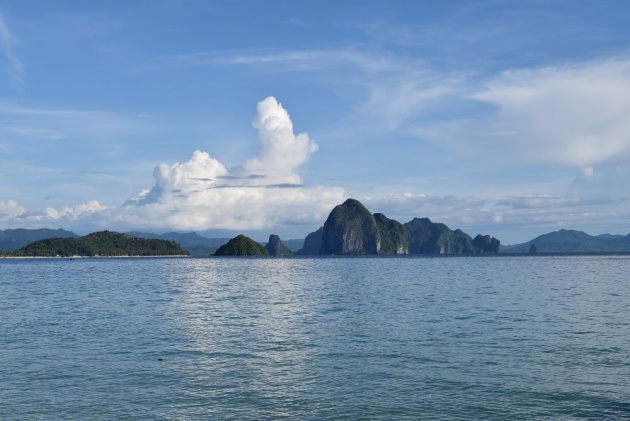 Image credits: Jean Beltran-Figues via bitLanders.com
Best stop for us was the Seven Commandos Island although we were stuck at the island because of some boat machine issues, it was cool to witness the sunset while in this island. I guess that was one reason why we love El Nido. The beaches and the islands were really nice plus the monoliths in those Taraws. Taraw is a Cuyunin word for mountain.
We also climbed Taraw which was an unexpected adventure for me but it was super rewarding upon reaching at the top. It was an experience I won't ever forget, the tears, sweat and teared pants says it all - I was happy we climbed Taraw! It is evident in the image below: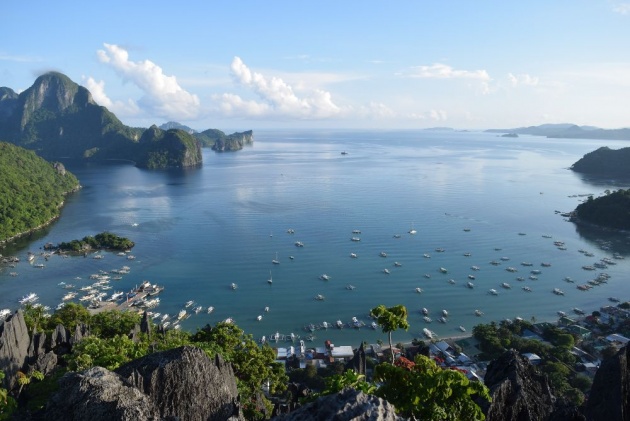 Image credits: Jean Beltran-Figues via bitLanders.com
Please check out the blog intended for that Taraw Climb:
Talking about food, we shelled out very little amount of cash for it. Perhaps the advantage of El Nido over Coron is the food prices. There are restaurants which offers food ranging from Php 150 above but if you roam around, you can find carenderias which has viands costing between Php 15-50. That's where we dined in all the time and perhaps had helped with our budget. Although we also had eaten at a restaurant which costs higher but that was just for the experience, the food is like what we eat in Cebu and we didn't go to El Nido for the food but instead for the beaches and the amazing view.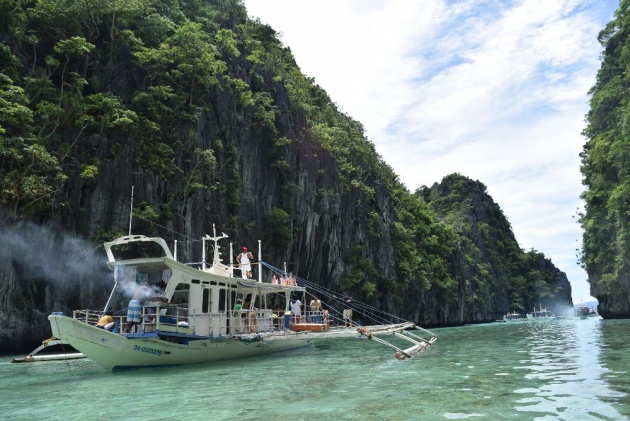 Image credits: Jean Beltran-Figues via bitLanders.com
When it comes to the boarding, we had a very cheap deal in El Nido. It only cost us Php 350 per night for a fully cemented double bed room. I had inquired and reserved from Tay Miloy's backpacker house which by the way is very famous to the backpackers out there in the web. I researched for the cheapest place to stay in El Nido and I found Tay Miloy. But since it was full when we reached there, he referred us to another house which was really near to them but also offers cheap accommodation. It was way better than in Tay Miloy's by the way. It was also a fan room but it was not hot at all probably because we were at the third floor with the cool breeze coming in from both two windows. It was a plus to have a direct view of Taraw from our window.


►
Disadvantage

◄

Perhaps the only disadvantage when coming over to El Nido is the travel time. There's no commercial direct flight from Cebu or Manila to El Nido. Everyone has to travel to Puerto Princesa then to El Nido which is around 6-7 hours drive via a bus. It can low down to around 3-4 hours if you take a van.

We took the bus because we booked and paid it in advance prior to coming to Puerto Princesa which we regret, we badly hoped we had just took a van.

Nonetheless, the experience in El Nido is definitely recommendable specially for couples.


►CORON◄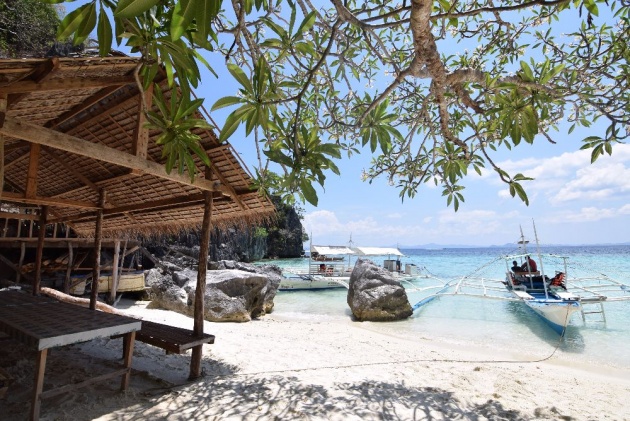 Image credits: Jean Beltran-Figues via bitLanders.com
Is another tourist spot in Palawan. Note that El Nido and Coron are both tourist spot places in Palawan. However Coron is located northern part of El Nido thus tourists may travel from El Nido via a ship or boat or take a plane from Cebu or Manila to Busuanga Airport, from there it only takes 30-45 minutes drive to the main Coron town.
So as you can see, traveling to Coron is easier compared to El Nido. Most foreign tourists travel to Coron first then take a ship to El Nido which is also an option.


►
What's good about Coron?

◄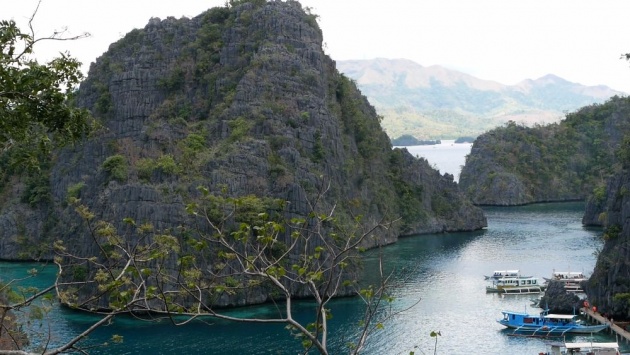 Image credits: Jean Beltran-Figues via bitLanders.com
There are more than 200 Calamian islands and diving spots in Coron and Busuanga which all are tourists spots. Some may be private ones owned by rich personalities but they still have public areas. These tourists spots can't be visited in two or three days. If one wants to go to all of these, he or she will have to take a month leave to enjoy them but no one wants to do that though. In short, there are many tour options in Coron than in El Nido.
If you are a beach bum, you can select a tour package that includes beaches and lagoons while you can take the ship wrecks and diving spots if you are an adventurous person. It's up to you or you can take a package that has a combination of the beaches and the diving spots like the Ultimate Coron Tour Package which we took. Read the details here:
Aside from that, there's also a tour which includes a visit to the Calauit Safari Wildlife Park in Busuanga which by the way costs a lot but is very much worth it if you want to see Giraffes and Zebras in person, just don't get too near to them.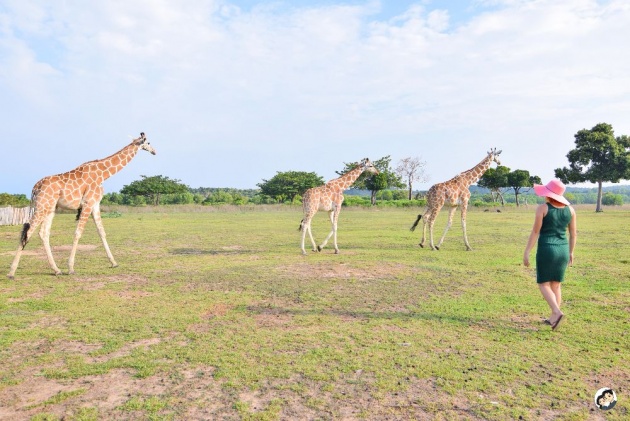 Image credits: Jean Beltran-Figues via bitLanders.com
Read the experience here:
Also, the view from Mount Tapyas is awesome specially when witnessing the sunset. That's what we did on our first day in the town. There are lots of people climbing on the 700+ staircase to get to the top. It is also amazing to observe the boats going from and to the port. Most of these boats were coming from island hopping tours.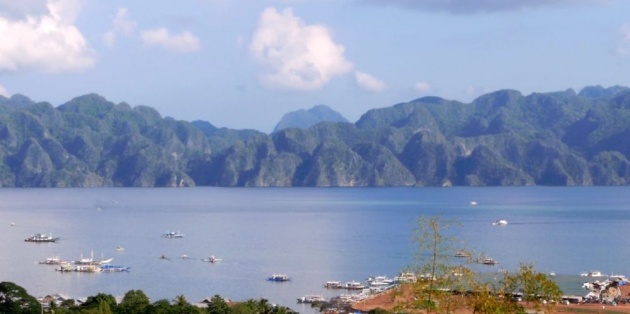 Image credits: Jean Beltran-Figues via bitLanders.com
Here's the experience:
►
Disadvantages

◄

For me, there are more challenges in terms of budgeting and accommodation when coming to Coron compared to El Nido.
►Food
Restaurants in Coron offers very high price range. It is challenging to find a carenderia, we eventually found one on our last day in Coron but the whole three days, we were paying around Php 600 or more for the four of us which means each one has paid around Php 150. While when we were in El Nido, my husband and I would only pay less than a hundred for the two of us. There's really a huge gap in terms of the commodities and food prices.
Coron Food. Video credits: Jean Beltran-Figues via bitLanders.com
►Accommodation
Finding a cheap accommodation in Coron is also challenging, you'll have to really do a lot of research and online hunting. Gladly, I found Patrik and Tezz Guesthouse which offered Php 550 per double bed room. However, if I would compare the accommodation to the place where we stayed while in El Nido, the amenities were lot better in El Nido although I love Patrik and Tezz Guesthouse because of the owner's attitude towards their guests.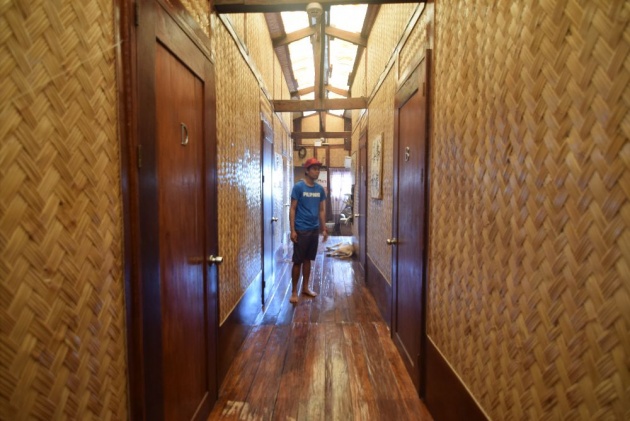 Image credits: Jean Beltran-Figues via bitLanders.com
The usual pricing of air conditioned room in Coron would cost around Php 2000 above.
►Tour Packages
Although you have a lot of options in Coron, the tour packages are also way more expensive compared to that in El Nido.
Video credits: Jean Beltran-Figues via bitLanders.com
►Air Fare
Note as well that both times when we traveled to El Nido and Coron, I paid a very low air fare because the airlines were on sale at those times. It is then important that one has to check Cebu Pacific and Philippine Airlines when planning to visit both islands.
However, if we compare the original pricing, traveling to Busuanga usually cost more compared to traveling to Puerto Princesa.


►VERDICT◄
So the choice would really depend on the person traveling. If you don't have issues with the budget, then I believe experiencing both locations would be perfect so you can compare them yourself.
However, for budgetarians like my husband and me, I would go with El Nido because budget wise, it is friendly!
How about you? How often do you travel? Help us out with some answers on this Querlo chat below:
Related blogs:
• Puerto Princesa City Tour
• Climbing 721 Steps at Mount Tapyas
• Coron Day 3: Calauit Safari Wildlife Park
• Coron Second Day: Island Hopping (Coron Ultimate Tour)
• El Nido Island Hopping
• Taraw Instant Trek El Nido Palawan
Best regards,
Jean Beltran-Figues
♥ blogging since 2010 ♥
♥ photography enthusiast ♥
♥ a wife of a programmer/gardener/gamefowl breeder ♥
♥ we travel and promote our beloved country, the Philippines ♥