After the 2013 Summer of Cinema, what next? Why, of course, the 2013 Autumn of Cinema. 50 or so bloggers and yours truly were crammed in the kitchen in the offices of Yahoo UK in the London's West End for the launch of the Autumn Movie Preview. There was not a seat to be had at this exclusive event, hosted by Alex Zane, who is the go-to man for events of this nature. I, of course, am the goatee man, but I'll let that pass.
The raison d'être was the launch of a trailer preceded by a movie quiz, 40 quotes twenty of which were from movies of the last thirteen years. When I failed to identify one from CASINO ROYALE, I received a daggered look from Lady O. I did not get the one from TITANIC right in the second half of the quiz (quotes from 1939 to 2000). Truly, it was not my night, and several other bloggers were also admitting defeat. The highest team score was 31, the highest individual score was 22.
This is of course means nothing to you, gentle reader, who want to know simply this: what films should we look forward to in the next three months. Here are my tips for your viewing pleasure (all the dates refer to the UK):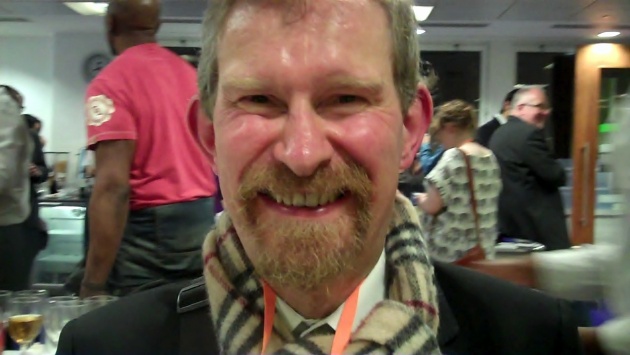 NEBRASKA (out December). Alexander Payne's latest road movie with Bruce Dern in fine grizzled form who travels to reclaim a prize; it's about the journey, not the destination. Shot in gleaming black and white, the look of choice for discerning filmmakers (Joss Whedon, Noah Baumbach) this year.
DRINKING BUDDIES (November). Jake Johnson, Olivia Wilde, Ron Livingston – what's not to like?
PHILOMENA (November). Judi Dench as an Irishwoman searching for her child, taken into care as a baby, aided by Steve Coogan as Martin Sixsmith. Apparently very moving; co-written by Coogan and based on real events.
GRAVITY (November). Sandra Bullock and George Clooney in space. Don't cut that rope – arrgh! Directed by Alfonso Cuaron.
DON JON (November). Joseph-Gordon Levitt trades in his PREMIUM RUSH bicycle for porn in his directorial debut. Not to be confused with THANKS FOR SHARING (October) about a sex addict.
LE WEEK-END (October). Jim Broadbent and Lindsay Duncan go to Paris and all I got was quite an entertaining movie, actually. Old married couple notice the rot and do something about it, sort of. Jeff Goldblum over-acts in support.
CARRIE (November). A remake of Brian de Palma's classic. Can Chloe-Grace Moretz efface the memory of Sissy Spacek? I'll give her a chance.
BLUE IS THE WARMEST COLOUR (November). A lesbian relationship movie with lengthy love-making scenes filmed matter-of-factly by Abdellatif Kechiche. It's three hours long, but don't let that put you off. I wonder if the Cannes jury would have applauded it if it was about two men!
MACHETE KILLS (October). Charlie Sheen is the President in this GRINDHOUSE spin-off sequel. Mel Gibson co-stars alongside Danny Trejo and Michelle Rodriguez.
THE HOBBIT: THE DESOLATION OF SMAUG (December). That high frame rate stuff really put me off. I'll watch the sequel in normal vision. Benedict Cumberbatch voices the dragon and also pops up in THE FIFTH ESTATE (October) and AUGUST: OSAGE COUNTY (December).
THE HUNGER GAMES: CATCHING FIRE (November). Critic-proof; the only sure-fire hit of the season.
GLORIA (November). Chilean female crowd-rouser wowed Clapham Picturehouse audience at a sneak peek in September.
DOM HEMINGWAY (November). Jude Law talks Cockney. End of.
SUNSHINE ON LEITH (October). Dexter Fletcher does Scottish; cast bursts into Proclaimers songs uh-huh-uh-huh-uh-huh.
CAPTAIN PHILLIPS (October). Hanks, Greengrass, Somali pirates.
Well, those will keep me busy for the duration.
http://www.youtube.com/watch?v=notykwe8nTM
AUTUMN OF CINEMA promo launched on Tuesday 24 September. With thanks to the Film Distributors Association