Gone are the days of print advertising, where only the gift of sight is utilized and the rest of the human senses wait patiently to be stimulated. But enter the fast-paced age of technology, where sight is combined with movement and sound, increasing the quality of the viewer experience and expanding the potential for advertising.
In the past decade, social media has jumped at the chance to expose products and services to users through commercials and paid advertisements. Though these advertisements are now an expected occurrence, one can't help but cringe when a commercial interrupts a viewing or listening experience. Realizing that traditional marketing has exhausted most, it was only fitting that the creative thinkers take a different approach.
The fashion industry has taken notice of the added value of movement on screen. E-commerce websites have embraced animated thumbnails in order to better market products. Through these animations, a simple neck scarf can be transformed into multi-functional, wardrobe staple right before the viewer's eye, turning a want into a need. The movement of modeling products on e-commerce sites creates an added story for the viewer, allowing them to imagine the products on themselves rather than on the page.
The fashion film has taken it a step further as a more artistic means of conveying a brand's marketing message on-screen. These films have the power to tell a story, with or without words, and envelope the viewer in a multi-sensory experience.
Take, for example, the short film Rattle produced by Charlie Wan. Model Zuzana is wearing two looks from the Prada F/W 2011 collection. She successfully embodies the beauty and awe of a rattlesnake; contouring her body, Zuzana shakes oversized plastic scales to a slightly seductive beat while wearing a cunning grin. In just 1 minute and 30 seconds, the viewer is pulled into Wan's accurate interpretation of Prada's F/W 2011 collection. The sound of plastic scales rattling and the illusion of a slithering snake are intoxicating, proving the power of the fashion film as a marketing tool.
Some films, however, have a less direct marketing approach. Wan's Red on Red beauty film featuring Laura O'Neill takes a more creative, experimental turn, showcasing color, lines, and shapes to an upbeat track. By incorporating movement, music, and sharp color, the audience is given the ability to latch onto a certain edge that is present only when all of these elements are combined. The primary goal is to take the viewer on a sensory trip, rather than push a product or service.
The future of the fashion film is often contemplated and debated: what direction it will take and, like social media advertising, how far it will go before the public demands something greater. For now, viewers are content to have a fresh, all-encompassing experience that is so far outside the box from a traditional print or commercial advertisement. Following the growth of technology, the marketing movement has taken an equally grand step in a different direction. ~K-SS
IMAGE FROM CHARLIE WAN'S RATTLE: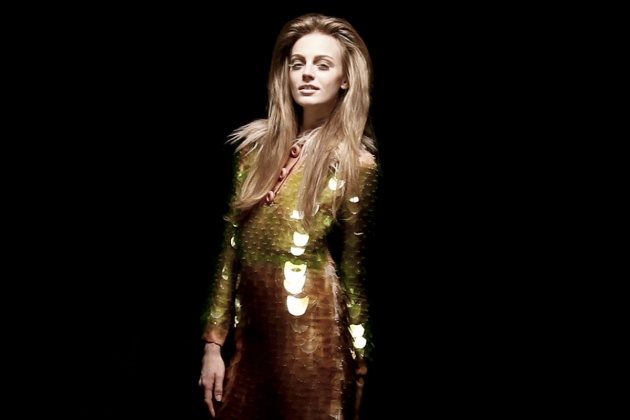 PLEASE VISIT CHARLIE WAN'S WEBTV