عید مبارک
 Eid Mubarak!
Happy Eid 1392!*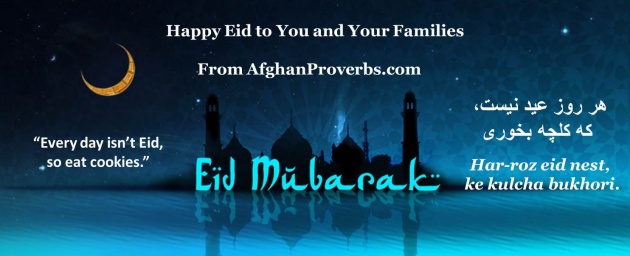 To honor the end of this year's Ramazan season and the start of Eid festivities عید all over Afghanistan, here is an excellent recipe for Kulchee Birinjee  کلوچی برنجی  (literal: Rice Cookies). Afghan families prepare and serve many kinds of sweets during Eid celebrations. Kulcha (cookies)  کلوچه  are found everywhere.   
     There are many types of Afghan Eid cookies, but the following recipe is one of my favorites.  These cookies are very tasty and easy to make, and you are guaranteed to enjoy them. 
(Recipe is courtesy of Humaira's "Afghan Culture Unveiled")
Afghan Butter Rice Cookies
Kulchee Birinjee
کلوچی برنجی   
Ingredients: 
 3/4 cup butter (1 1/2 sticks), softened to room temperature
3/4 cup sugar
2 egg whites
2 cups white rice flour
1/2 tsp. ground cardamom
1/4 cup coarsely chopped pistachios
1/4 cup shelled whole pistachios
Instructions:
Preheat oven to 350 degrees.
Beat butter and sugar with an electric mixer until light and creamy.
Add the egg whites and mix until smooth.
Gradually add the rice flour, cardamom and pistachios.  Mix well. 
Scoop up a tablespoon of dough and set on a cookie sheet (ungreased is ok).  Flatten the dough with the palm of your hand. The cookie will not rise or spread during cooking.
Next, press the back of a fork into the dough, making a "criss-cross" with the tines of the fork (as you would with a peanut butter cookie). 
If the fork begins to stick, dip it in a glass of cold water from time to time. 
Place a pistachio in the center of the cookie. 
Continue with the remainder of the dough, setting the cookies 1 ½ inches apart. 
     Bake for 12-14 minutes.  Let cool before eating. Then, nosh-e jaan! (Eat heartily!) 
     As a great Afghan Proverb says:  "Khoob be-push, khoob bukhor, zendagee ko-tah ast." (Dress well, eat well, life is short.)  Enjoy the good things in life while you can!
خوب بپوش، خوب بخور
 زندگی کوتاه است
Happy Eid 1392 (2013)
Follow the Proverbs on Twitter:  @afghansayings 
 -----
* The official Afghan calendar is the Solar Hijri calendar. Year One of the calendar was the year of the Prophet Muhammad's migration to Medina in 622 CE.