Recently we had the pleasure of meeting and chatting with Canadian filmmaker, Frank Caruso. Frank was kind enough to take time out of his busy schedule to drop by and join us for coffee and an interview.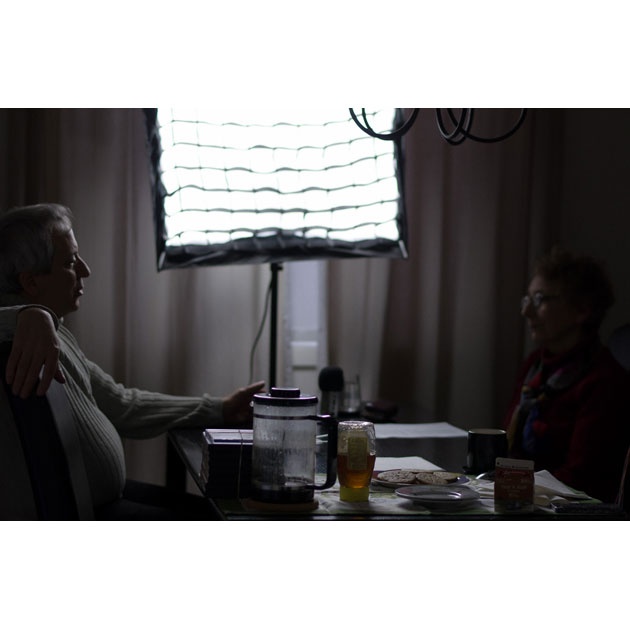 Photo above by Bruce M. Walker

I asked Frank to tell me a little about how he got started.

Frank said "My family moved to Canada in the 1950's and settled in North Bay, where I grew up and went to school". Frank stuck around North Bay, and eventually started his own business there.

Frank had a coffee shop in North Bay. They had music, folk singers and such. The place was always packed and he loved it. Things were going really well, "Until" Frank said "the government of the day lowered the age for drinking from 21 to 18 and suddenly the kids were all going to the bars instead of coming to my place. See, the age group of the kids that came to my place was 15 to 20, now they could go and drink, that's where they went, a lot of them underage, but getting in with fake IDs.". Franks coffee house was no longer working. "You have to move on" says Frank. "When things are no longer working, you just move on, otherwise you get stuck in a rut."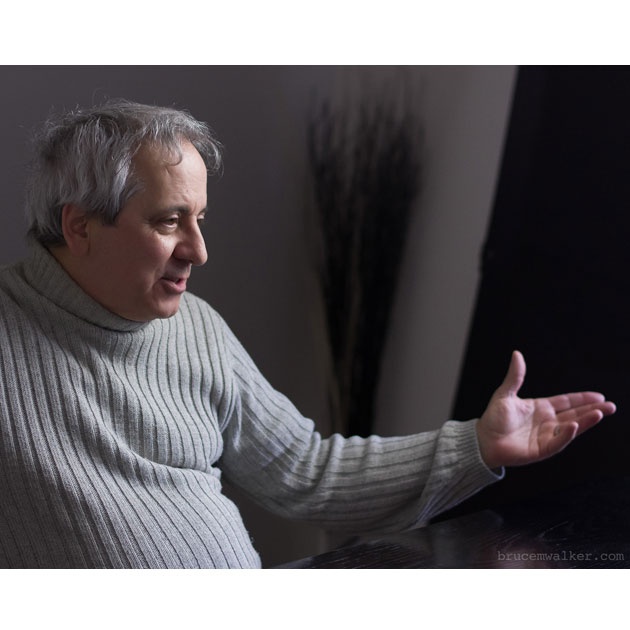 Photo above by Bruce M. Walker

Frank turned the coffee house into a restaurant, thus gaining a new customer base.

Never one to sit around on his laurels, Frank decided he wanted to start a theatre group and actually have a real theatre from which to operate. He found a landlord who was willing to actually build a theatre to Frank's specifications, and soon North Bay had a real, live theatre. Frank became a theatre Manager. They had theatrical offerings, Comedy, music, including jazz performances. It was very successful, and Frank had his hands full operating both the theatre and running his restaurant. Next, Frank decided he needed to take his theatrical troupe on tour. 'We just did it on the weekends" he explains with a grin.

Frank was also acting at this time, performing more than twenty lead roles in such classics as The Odd Couple, Chapter Two, It Had to be You, Lovers and Other Strangers and Barefoot in the Park. I said to Frank that he really must have been crazy busy - running the restaurant, running the theatre and going out with the Theatre troupe on weekends … Wow. Frank agreed he was busy, but it was manageable, and anyway, he loved it.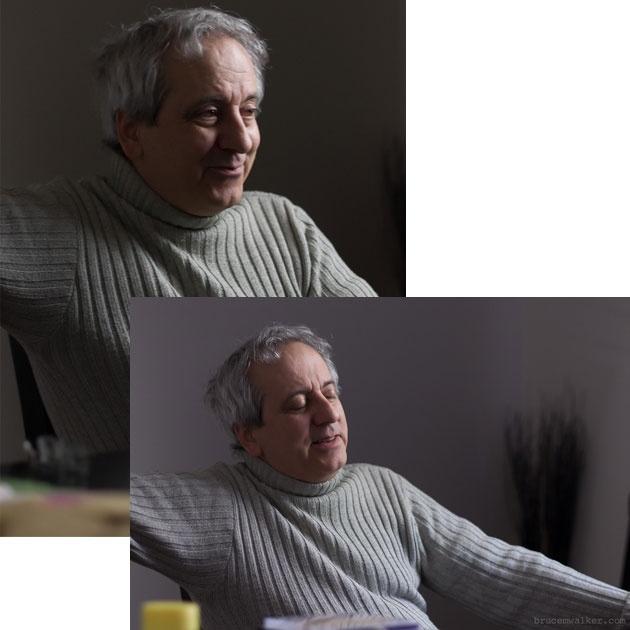 Photos above by Bruce M. Walker

I asked Frank at what point he go interested in being a filmmaker. He smiled and said "We had been taking the Theatre group all around Ontario and had a series of performances booked by a hotel chain in Timmins" I expressed surprise at the location since Timmins is a mining town, and was not exactly known as the cultural mecca of Canada in the 1980s. Frank smiled again. "You would be surprised at how many well heeled people lived there and were delighted to come out to our show. It was after one of those shows that I was invited to mingle with some of the guests, and one of them, a well to do lawyer, told me that I should move to Toronto and get on TV. He said "this is fine as far as it goes, but you should be getting more exposure." Frank said that he thought about what the man had said, and finally concluded that, yes, he should be moving into a different market. In North Bay he was a big fish in a small pond, and could remain there enjoying moderate success, but moving to a lively, culturally diverse town such as Toronto could open him up to way more opportunity.

After thinking about it, Frank decided to spend some time on someone else's movie set. He had a friend in Toronto who knew someone who was actively making a movie, but they weren't hiring, so he volunteered his services for a six week period. "I wanted to learn." he said "I knew nothing about the business, so I just got in there and did whatever came up." Apparently his strategy worked because in 1992, while he was still in North Bay, Frank produced his first feature length movie, No Angel. He wrote, directed and produced it. No Angel aired on Arts & Entertainment, Superchannel, City T.V., Movie Pix, London Television (UK) and sold to over a dozen foreign territories. It was also screened at the Montreal International Film Festival in 1992.
Not bad for a first time filmmaker!




Image above courtesy Caruso Films

I asked Frank about his influences such as directors/movies/actors. He shook his head "Really, I don't have anyone that I use as a role model. I never had the desire to be just like some other director. I have no wish to be an imitator."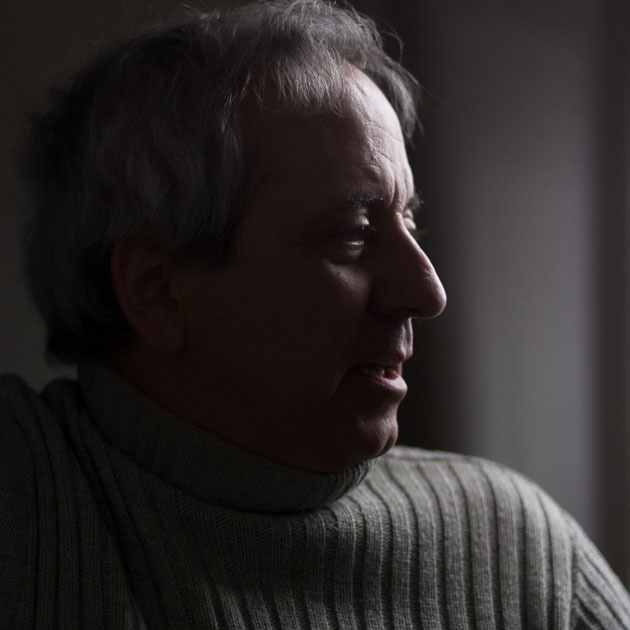 Photo above by Bruce M. Walker

I asked Frank which of his own movies was his favorite. He answered unhesitatingly "Club Utopia", which incidentally, has its first public screening Feb 19/14 at the Carlton Theatre on College Street. (Watch for a review of Club Utopia on this blog.)

Frank quickly added that his other favorite was what he called his art movie, Final Dance. This project is close to his heart. (Watch for a review of this film on this blog.)

Image above courtesy Caruso Films

Frank says that he is going to back off a bit on going after distribution deals. "For some films you need major distribution", he said, "So whenever possible, I can do this myself, and will not have to pay large amounts of money for it." He continues "The movie biz has changed significantly in the past few years. Before, you had fewer films competing, and had a fair chance at getting picked up. Now, with the advent of digital - everybody is a film maker." He snorts derisively " Years go, I would tell people I was a filmmaker, and they would be impressed. Today, I say I am a filmmaker and they say 'Yeah? My neighbour does that. He made this film and got 10,000 hits of YouTube' " Frank says "They have NO clue. They do not see the difference between getting a bunch of views on YouTube, and actually monetizing the project." .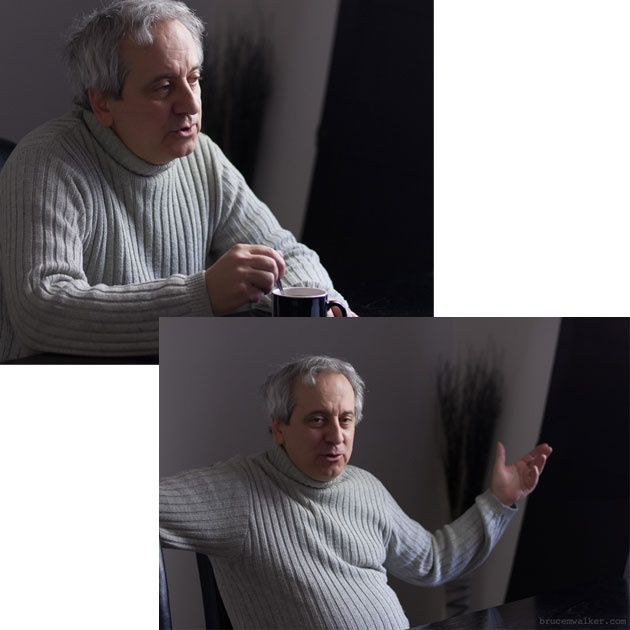 Photos above by Bruce M. Walker

I asked him about festivals, since he is not going after distribution, was he going to be submitting to festivals? Frank snorted derisively "There are only 10 "real" festivals, many of the others are just scammers. There now 800 Film Festivals worldwide, many are legitimate, but a lot are not. Think about it" he says "you charge $50.00 for a submission and you get in 500 submissions - which is probably low ….see what I mean? - there's a lot of money to be made. So what are they offering these filmmakers? What kind of credentials do they have as a festival?" He shakes his head.

"In my opinion, unless you have submitted to one of the major festivals, you are wasting you money" I asked him which ones those would be, he ticked them off on his fingers "Cannes, Sundance, International Film Festival Rotterdam, the Netherlands, Guadalajara Film Festival, New York, Toronto International Film Festival, Venice International Film Festival, Hong Kong International Film Festival, Berlin International Film Festival, or the East End Film Festival in the United Kingdom " He stops for a moment

"You submit to one of those other festivals, if you get in, how many people will see your film? 75 - if you're lucky. And what are the chances that you'll get a distribution deal from something like that? Pretty much zip. So you just blew $50.00 for what?"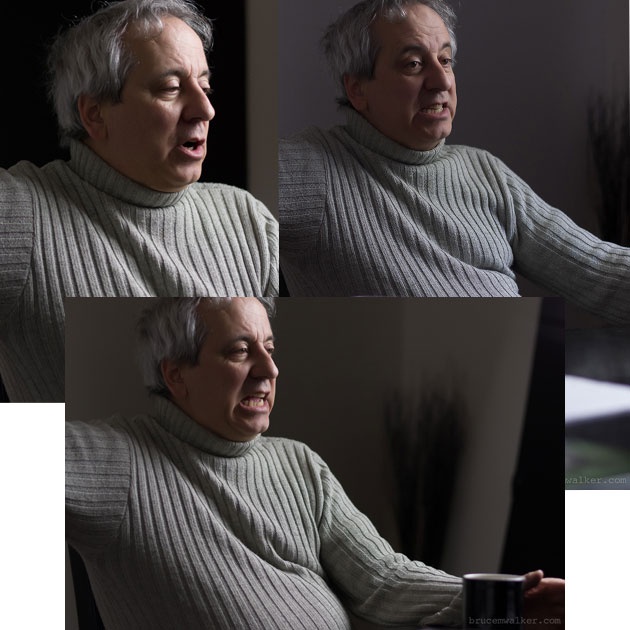 Photos above by Bruce M. Walker

"No" said Frank, "Whenever possible, I'm just going to surge ahead and do my own promoting and arrange for screenings. Act like a distributor."

As a veteran Director and Producer, Frank has 45 stage plays, seven feature films, several shorts and numerous commercials and video productions to his credit. Frank is as busy now as he was in North Bay in the 1980s. He teaches acting, he's involved with writing screenplays and working with other filmmakers, in addition to his own films, commercials and music videos, and he hinted he is planning a musical tribute to Frank Sinatra, with Frank singing. He muses on a possible CD title "Caruso does Sinatra', or maybe 'Frank does Frank" …"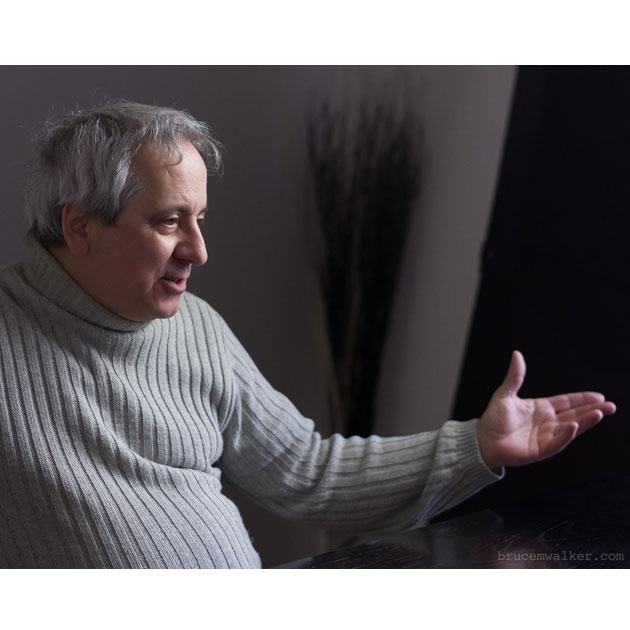 Photo above by Bruce M. Walker

I asked Frank what he has coming up. Frank got a dreamy look on his face. "I have so many projects, I'm just concerned I won't get to do them all …I'm working on a TV series, a comedy, called The Carlucci Brothers, then there's Blind Side of the Heart, L'Image … I could go on …there's the idea for something revealing the conspiracy of drug companies to supress cancer cures …." Frank sighs, "I just need extra time to fit all this in"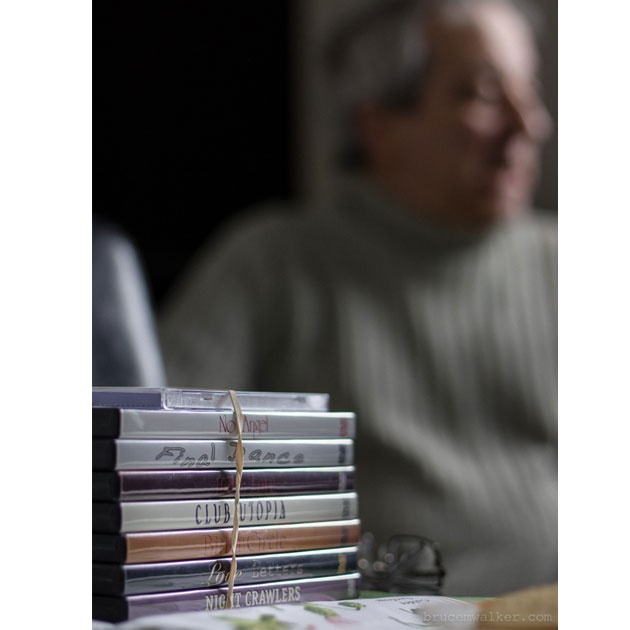 Photo above by Bruce M. Walker

The interview is coming to an end, and I figure I need a bunch more time just to explore some of Frank's new ideas for another article!

I thanked Frank for being so candid with me, telling him that it's so nice to interview someone who does more than grunt. Frank got a mischievous look on his face and asked me "Do you know why some actors never get invited to do an interview?" I shook my head. Frank says "watch this, I'm going to do an impression of Robert de Niro getting interviewed." Frank proceeded to do this causing everyone to break into uncontrollable laughter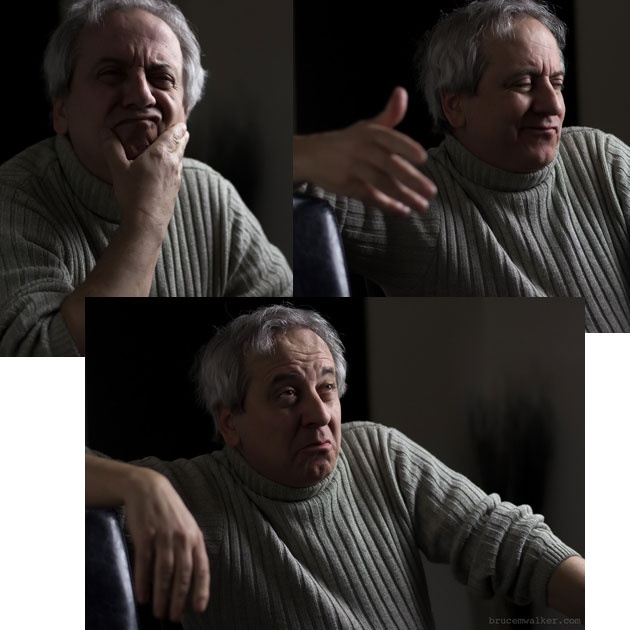 Photos above by Bruce M. Walker

Frank Caruso is an irrepressible and talented individual and it was a pleasure to chat with him. I look forward to our next interview.

Below is a list of Franks' films, all of which are listed on IMDB, or you can visit Franks website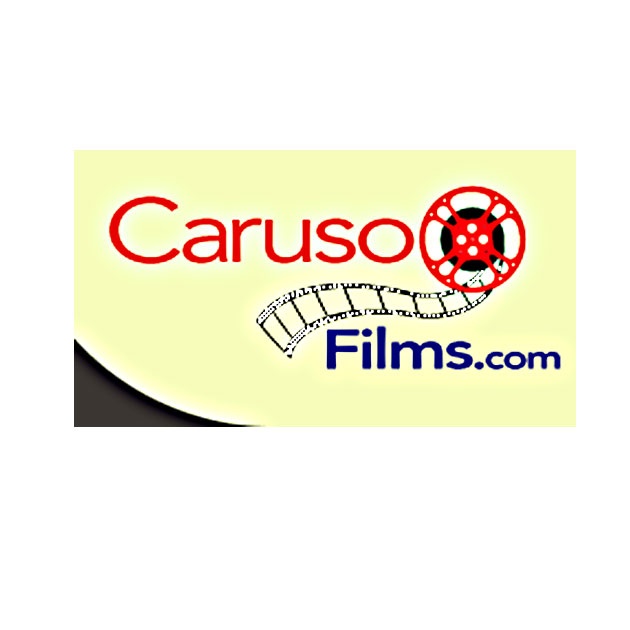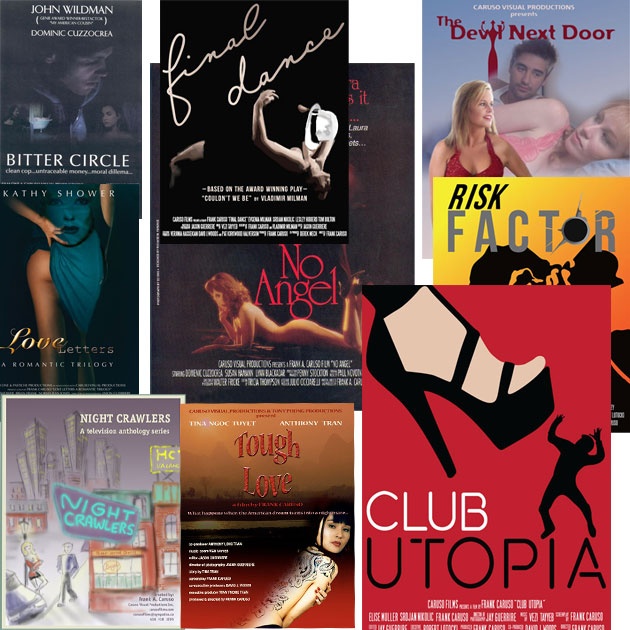 Images above courtesy Caruso Films

CLUB UTOPIA (108 minutes) DISCONNECTED (4 minutes)
 DEVIL NEXT DOOR (30 minutes)
 TOUGH LOVE (90 minutes)
 NIGHT CRAWLERS (35 minutes)
 RISK FACTOR (90 minutes)
 BITTER CIRCLE (86 minutes)
 NO ANGEL (99 minutes)
 LOVE LETTERS TRILOGY (98 minutes)
 FINAL DANCE (90 minutes)