Source: Google
Introduction:
In 2012 #GivingTuesday was created by 92nd Street Y and United Nation Foundation. 92nd street Y is a Jewish base organization which was established in 1874 in New York city for combining people to the arts, worlds of education, health, wellfare of around the world and Jewish people while United Nation Foundation is established in 1998. United Nation Foundation is working with UN (United Nations), this organization is not only supporting United Nations causes but also solving problems globally.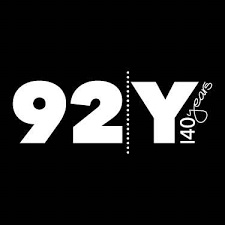 Source: Google

Source: Google
As #Giving Tuesday is a live event that connects different groups of individuals, communities and organizations around the world for one common purpose for celebrating and encouraging giving them. #Giving Tuesday has been promoted on the first Tuesday immediately after the widely popular shopping days Black Friday and Cyber Monday. #Giving Tuesday also known as "GIVNYC", in 2012 six inspiring organizations joined #Giving Tuesday named Microsoft, Case Foundation, Starwood Hotels, Phoenix House, Sony and Heifer International. #Giving Tuesday last event was held in 2nd December 2014 and many big organizations named Skype, Microsoft, UNICEF and Google praised their working style.

Donation Management:
#Giving Tuesday is a day that involves and celebrates charitable activities, volunteer opportunities to support non-profit organizations. All resources of #Giving Tuesday are available for free on their website and any one can participate through it. Donations of #Giving Tuesday need to be made through partners websites and its responsibility is to launch their fundraising campaign of all partners.
How can spread the word #Giving Tuesday on social media:
• Talk about giving using the hashtag #GivingTuesday
• Like us on Facebook - www.facebook.com/GivingTuesday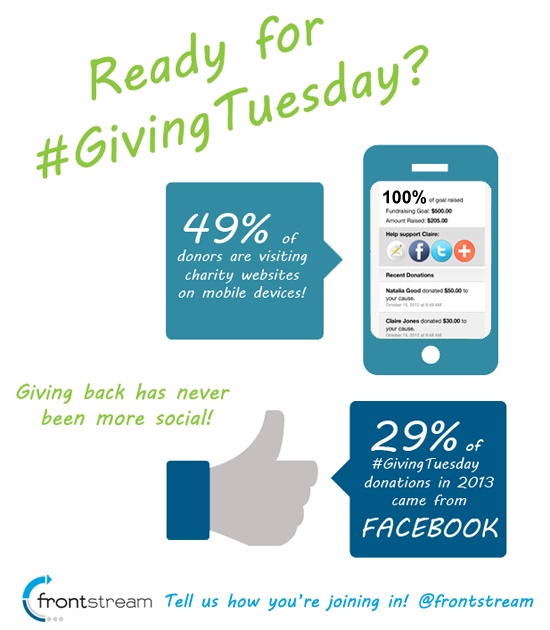 Source: Google
• Follow us on Twitter @GivingTues and use the #GivingTuesday hashtag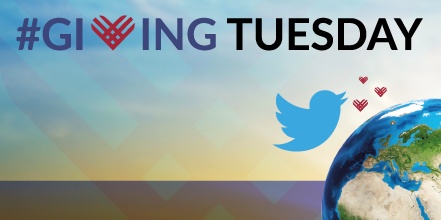 Source: Google
• Follow us on Pinterest - http://pinterest.com/givingtuesday/giving-quotes/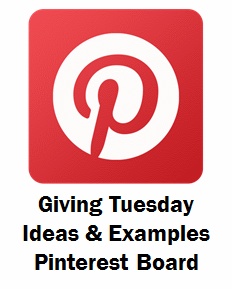 Source: Google
• Share all of our social media channels in your organizational and personal social networks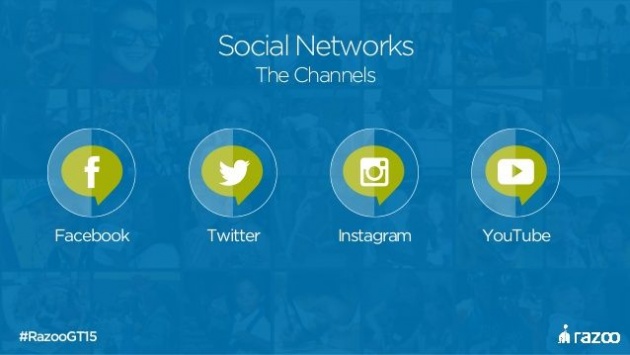 Source: Google
• Announce your participation in #GivingTuesday to your networks and email lists
• Use the #UNselfie hashtag to talk about how you are giving and why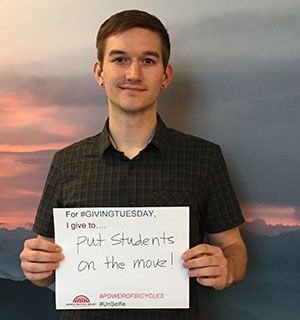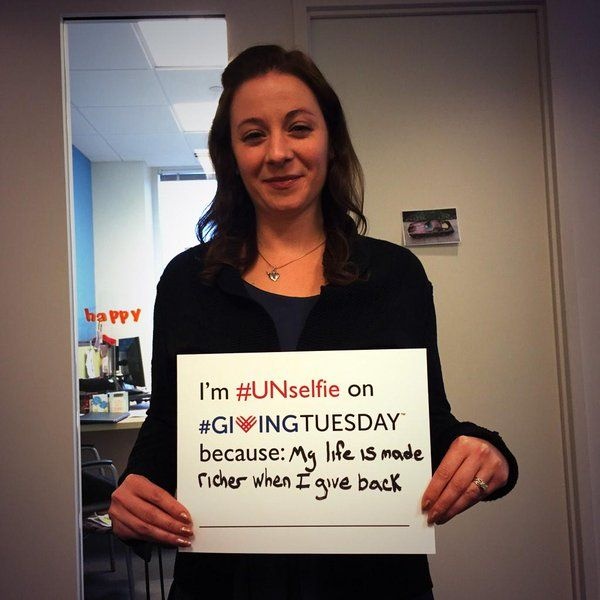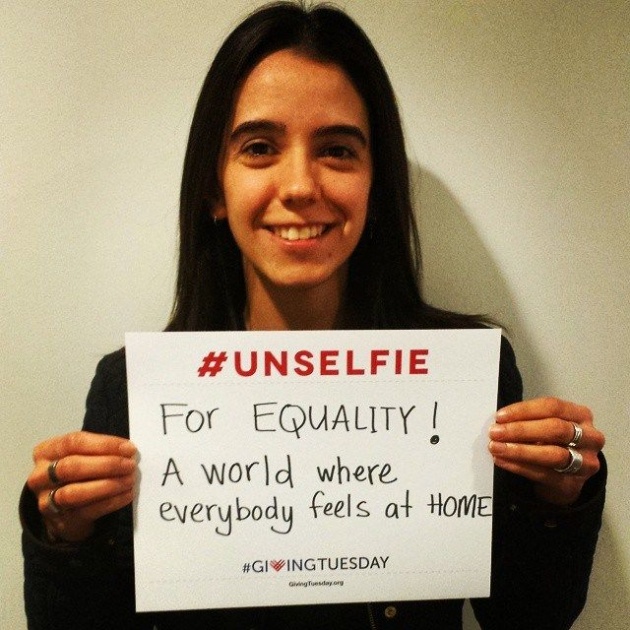 Source: Google
Other countries who involved in their own #Giving Tuesday movement:
Following below are the countries who are involved in their own # Giving Tuesday movement.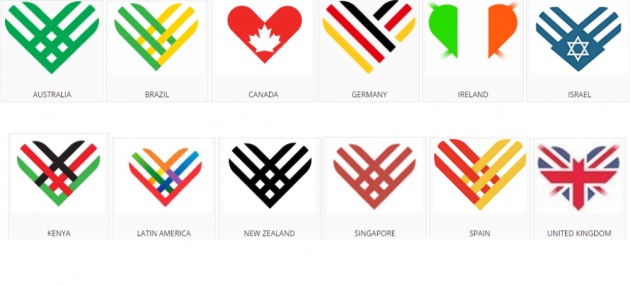 #Giving Tuesday ToolKit:
#Giving Tuesday put some Toolkit ideas for schools, universities, families and religious organizations.
In this toolkit you also find:
• Messages
• Case Studies about corporations(on large scale and small businesses as well)
• and Press Release.
Messages
MEGA MESSAGES
Use these mega messages when talking to press, your staff, community leaders, donors, or volunteers, and become a spokesperson for the wider #GivingTuesday movement:
• #GivingTuesday is a special call to action to create a global day of giving that brings diverse organizations and communities around the world together to give back.
• #GivingTuesday celebrates generosity by providing people everywhere with an opportunity to give more, give smarter, and give great.
• #GivingTuesday unifies charities, corporations, small business, and individuals from across the globe to show that the world gives as good as it gets.
• You don't have to be a world leader or a billionaire to give back. #GivingTuesday is about ordinary people coming together doing extraordinary things.
Case Studies
The partners of #Giving Tuesday are:
• Art Organizations
• Corporate Partners
• Nonprofit
• Religious Oraganizations
• Giving Paltforms
• Schools and Universities
These partners are major components to making this movement a reality. According to the Case Studies I am going to highlight the organization working under the above mentioned partners.
Art Organizations:
There are six organizations are involved in which Downtown Allentown Arts Group, Houseton Grand Opera, The Art Commission In Toledo,Oh, The John Paul Getty Museum, The Metropolitan Museum Of Art & The Philadelphia Orchestra.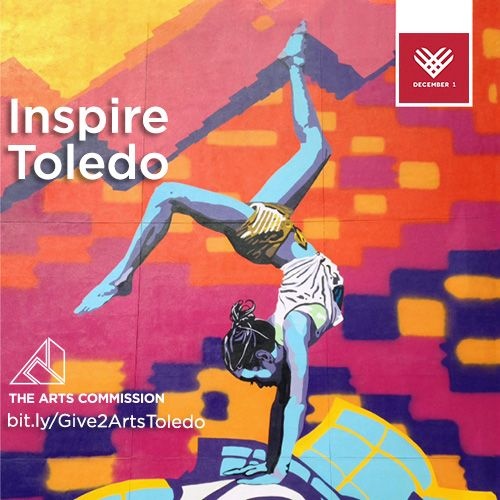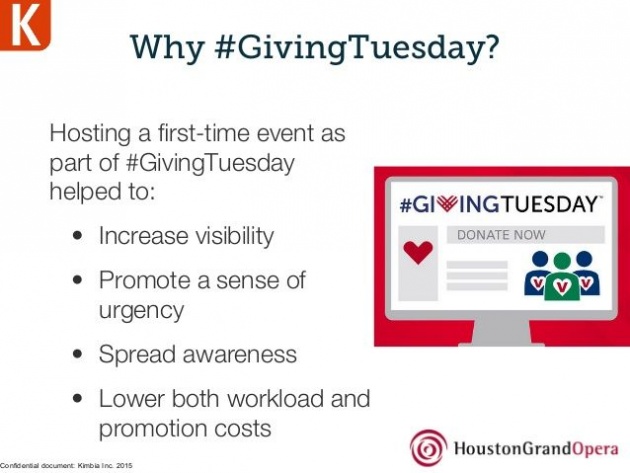 Source: Google
Corporate Partners:
In corporate sectors there are eighteen partners involved in which Anthropologie, Bank of America, Bitcoin, Cvs Health, Dick's Sporting Goods, Johnson's Baby, Ryder System, Inc, Salesforce.Com, Southwest Airlines, Toys 'R' Us, Ebay, H&M, Home Depot Foundation, Home Goods, HSBC, Hyatt Hotels, Visa & WALGREENS.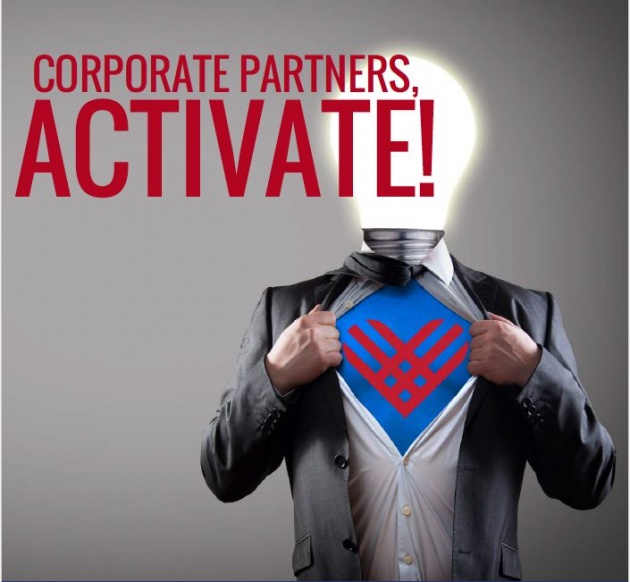 Source: Google
Nonprofits:
12 nonprofits organizations involved which are Big Brothers Big Sisters of Southwest Washington, Center for Nonprofit Leadership, Dress for Success and Fergie Footwear, Big Brothers Big Sisters of East Tennessee, Road to Hope Fund, Wateraid, World Bicycle Relief, Ymca of the USA World Service, Helen Woodward Animal Center, Michael J. Fox Foundation, Panthera & Pds Serve Foundation,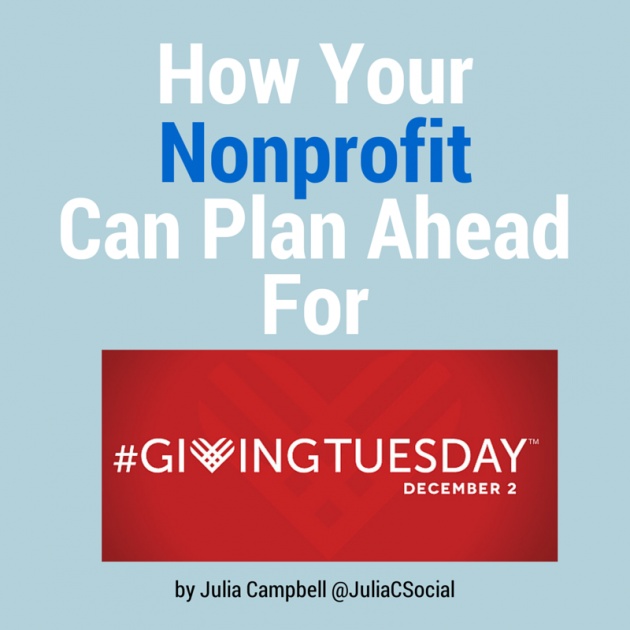 Source: Google
Religious Organizations:
7 organizations are involved which are Baptist Peace Fellowship of North America, Catholic Relief Services, Jewish Federation of Greater Metrowest NJ, Lutheran Services in America, The Presbyterian Church, United Methodist Church & World Vision.

Giving Platforms:
7 organizations are involved in which Blackbaud, Catchafire , Crowdrise, Eventbrite, Indiegogo, Network for Good & Paypal.

Source: Google
Schools & Universities:
5 institutions are involved name as University of Michigan, Nightingale-Bamford School, Seton Hall University, St. Jean the Baptiste High School & University of North Carolina at Charlotte.

Source: Google
Press Release:
Below is the press release timeline of #Giving Tuesday for their communication department.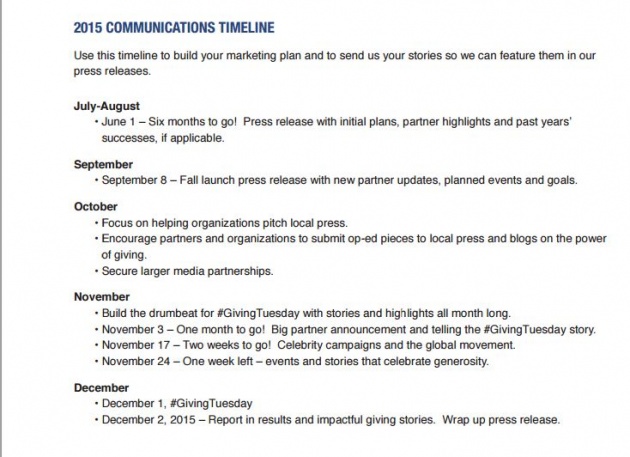 Reference:http://www.givingtuesday.org/wp-content/uploads/2015/09/2015-GivingTuesday-The-Complete-Toolkit.pdf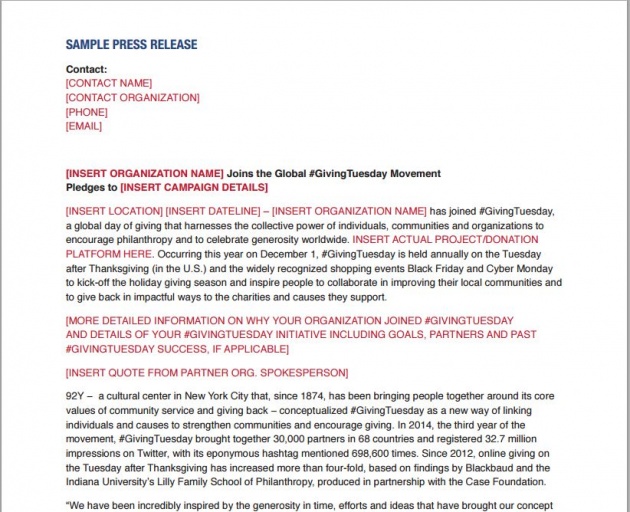 Reference:http://www.givingtuesday.org/wp-content/uploads/2015/09/2015-GivingTuesday-The-Complete-Toolkit.pdf
Razoo Introduction:
In 2006 Razoo was established & they helped more than two seventeen million dollar for causes all over the world. Through this spirit of working, Razoo bring all together for change the world. Razoo has made easy online fundraising, individuals, communities and engaging for nonprofits.
Razoo is also inviting and hosting since last 3 years for #Giving Tuesday nonprofits and individuals campaign from across America to join together and raise funds for the world-changing causes that matter to them.
On 1st December 2015 Razoo is once again going to host Annual #GivingTuesday event.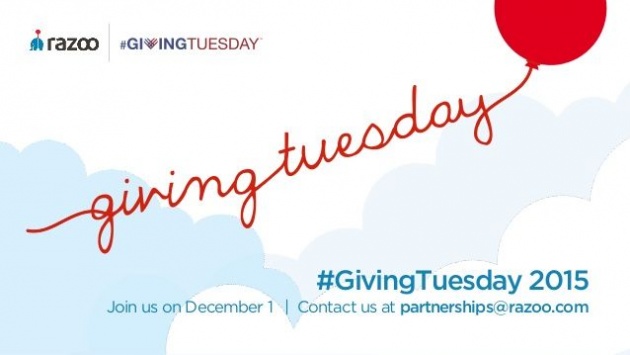 Source: Google
This is the End of my Article. Hope you people enjoyed alot... I spend my hard working here in writing this and want your comments below in comment section.
Thanks for sparing time in reading My 5th attempt for my virtual home "Bit Landers".... Stay Connected for more articles.. :)