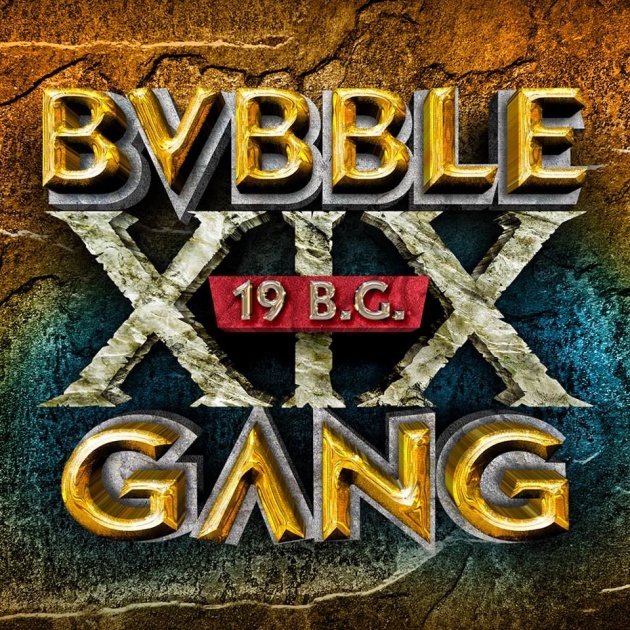 (Image Source : Bubble Gang)
Bubble Gang is the funniest and the longest-running sketch comedy or gag show in the country for two decades in GMA network. The show's time slot is every Friday night after GMA's TeleSeryes and aired internationally in GMA Pinoy TV. Directed by Uro dela Cruz. This show made the audience roll over with laughter since it started airing for two decades now. Laugh 'till you drop with the gang's gags, commercial spoofs, recurring characters,current events, parodies on politicians and their segments that until now continues to make this the best and the funniest spoof show in the country.
History
Bubble Gang was inspired by Tropang Trumpo, a gag show of ABC channel. It started airing on the 20th of October 1995. These were the first cast of the show: Michael V., Ogie Alcasid, Aiko Melendez, Assunta de Rossi, Eric Fructuoso, Susan Lozada, Antonio Aquitania and Wendell Ramos. They were hired by Douglas Quijano, a talent manager. The show's casts includes two extras in the show: Marissa "Mykah" Flores who was a personal assistant of one of the main casts, Susan Lozada and another extra is Diego Llorico. He is the production assistant of the said show.
Format
Pop culture comedy is the format of Bubble Gang. They perform skits or sketches similar to any variety show. Michael V or "Bitoy" said that he picked those ideas from ordinary people. They also do spoofs of different commercials and shows even on political figures and celebrities.
Broadcast
Bubble Gang: Just Chew It! slogan gained popularity in the year 1996 and the time slot is every seven at night. Successful ratings were proved when they spoofed Mexican telenovelas in Philippine television and rapidly caught on Bubble Gang Mania. They goofed around the concept which made their own mark as the site of the biggest gathering of soap spoofs.They introduced Miyusik Tagalog Bersiyon and Miyusik English Versiyon where Michael V. translates it to Tagalog/English literally.
Miyusik Tagalog Bersiyon and Miyusik English Versiyon
Then in 1998, they decided to parody one of the religious program which is the "Ang Dating Daan" and they made it "Ang Dating Doon" with the Voltes V theme song. Due to religious sensitivity, they decided to quote fairy tales and nursery rhymes instead of religious scripts. It is hosted by Isko Salvador as Brod Pete, Chito Francisco as Bro Jocel and Cesar Cosme as Bro Willie. After how many year, it was removed and it came back again on 2011 on their 16th anniversary and renamed it to "Ang bagong Dating Doon", that focusing on some member's questions or opinions or through some media sites. And answers them by song lyrics which host Brod pete interprets it in a humorous way. And instead of bible or Book, they incorporate new technologies by using iPads and Macbook Laptops as their reference materials and Bro Jocel used it sometimes for playing games notably Temple Run or checking his Facebook while on air. When they say Praise the roof! members raise their hands shouting Alien! instead of Amen!
Ang bagong Dating Doon
.
In July 20, 2012, Bubble Gang made a tribute a week after death of the King of Comedy, Dolphy. To honor his contribution to Philippine comedy.
JOHN EN MARSHA KUNO
In July 19 2013, Ogie Alcasid finally left the show after the rumors that one of the main cast, is transferring to another network- TV5. His friend and cast member Michael V. still says that no one can replace Alcasid as Boy Pick UP.
Bye Ogie "Boy Pick Up" Alcasid
In May 2013, Bubble Gang launched a talent search that was called "Bagong Gang" The search for the New Recruits and among the contestants are: Denise Barbacena, Arny Ross, Juancho Trivino, RJ Padilla, Jan Manual and Joyce Ching. The Bagong Gang winners were Denise B. and Juancho Trivino.
(Image credit to Nicole Devera)
On their 18th anniversary, they celebrated it on October 07,2013 and dubbed it "Barely Legal". They Introduced their new cast such as Betong Sumaya, Sef Cadayona, Max Collins, Andrea Torres, Mikael Daez, Paolo Contis, Carla Abellana and Chariz Solomon. And had new segments such as Antonietta, Istambay sa Looban, Atlit, Lala Ytera and Ikaw at ang Ina. On their 18th year, they surpassed the other comedy shows like John En Marsha of RPN-9 which ran for 17 years and T.O.D.A.S. of IBC-13 which ran for a decade.
On October 24, 2014 they celebrated their 19th anniversary and dubbed it 19 B.C. with a theme of Sparta.
Main Cast Members 2015
(Image Source: Bubble Gang)
Michael V. - (1995 - present) - creative Director
Antonio Aquitania - (1995 - present)
Diego Llorico - (1996 - present)
Myka Flores - (1997 - present)
Rufa Mae Quinto - (2001 - present)
Boy 2 Quizon - (2003 - present)
Moymoy Palaboy - (2008 - present)
Sam Pinto - (2010 - present)
Jackie Rice - (2010 - present)
Gwen Zamora - (2010 - present)
Paolo Contis - (2012 - present)
Betong Sumaya - (2012 - present)
Chariz Solomon - (2010 - present)
Andrea Torres - (2012 - present)
Mikael Daez - (2012 - present)
Max Collins - (2012 - present)
Sef Cadayona - (2013 - present)
Joyce Ching - (2013 - present)
Juancho Trivino - (2013 - present)
Jan Manual - (2013 - present)
Denise Barbacena - (2013 - present)
Arny Ross - (2013 - present)
RJ Padilla - (2013 - present)
Join the Bubble Gang's 20th Anniversary
Join them as they celebrate their 20th anniversary.
(Image Source: Bubble Gang)
(Image Source: Bubble Gang)
The Bubble Bible Book
Bubble Bible By Bitoy is out now! Only P250.00 in National Book Stores. It is also Available digitally in BUQO and will also be available in Amazon soon. Book launch and signing is scheduled on December 6 at the Glorietta 5 Atrium!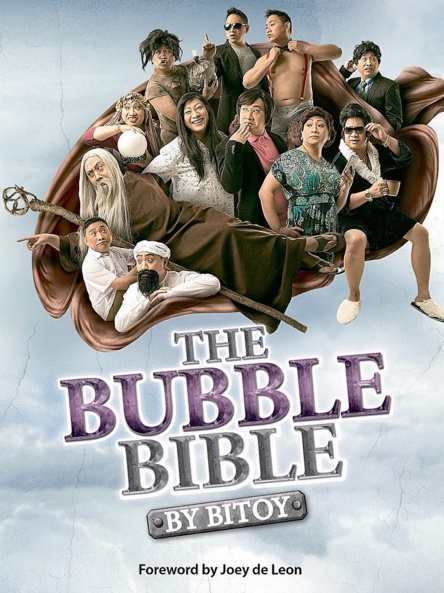 (Image Source: Michael V.)
Inside the Book - One person that Impersonates different characters and stars.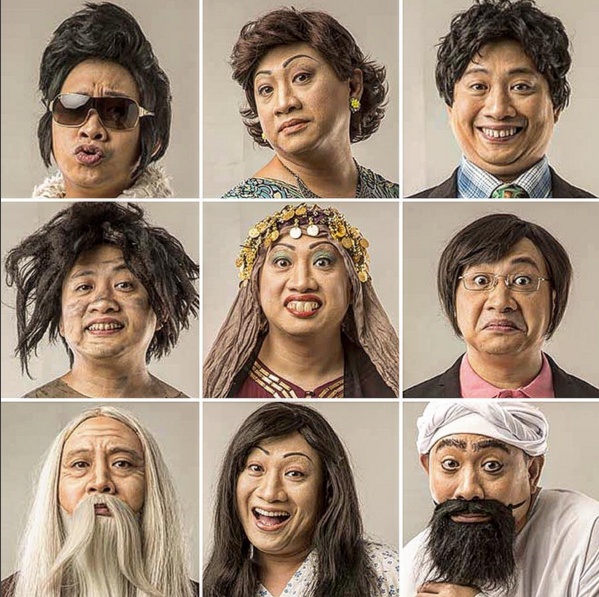 (Image Source: Michael V.)
Michael V. is one of the main cast since the show started up to present. He is the creative director of the show now. He is also an actor, impersonator, comedian, singer, voice artist, rapper and a parodist. These images below were made by Bitoy / Michael V. for 15 minutes each.
Latest Segments (Halloween Episode)
Bubble Gang Zombie Attack
Zombie Attack, this sketch were played by different group in this show. With different situations and different story but still have one concept for comedy Halloween episode.
Istambay sa Looban is a segment that was started on 2013. This is portion of situational sketch that takes place in a squatters' area where Sef Cadayona , Michael V. and Antonio Aquitania narrates it through song with small guitars. It's a gag where the song is interrupted by squatters. And because Aldub is so popular nowadays, the show's producers thought that they'll continue this sketch with parody of the KalyeSerye which they call , IstambaySerye and the popular loveteam AlDub which they call AlBad. Juancho Trivino plays the role as Alfred while Denice Barbacena as Yaya Badel and Betong Sumaya as Lolo Nidoro.
This is a sketch about a mother called Donya Ina Moran which is portrayed by Michael V. who does not like the modern mannerisms of this generation specially the young people, regarding social media websites. One of those young people is her daughter, Selphie Moran, who is portrayed by Sef Cadayona. Donya Ina always criticize Selphie about what she does and what she post in social media sites. The famous lines were "Paki - explain" (Tag-lish of Please explain) and ended with "Labyu!"(Love you).
This is the Iyo Tube where this duo, Moymoy Palaboy, does a webcam performance singing local and international songs through lipsynch. It started year 2008. In this latest episode, their guest in Iyo Tube is the best friend of Maine Mendoza or Yaya Dub of AlDub.
This is another sketch which involves captives who intruded the Island where the group of gay cavemen live. The captives will be asked logical questions or a riddle each. If they got the correct answer, he/she will be set free and spared from the punishment. If not, the captive will be asked whether Tsugi or Chorva. If he /she chose Chorva, he will be forced to be taken fancy by the cave gay men and then will be set free. And if he chose Tsugi, follows same condition with chorva. The last part of the show.