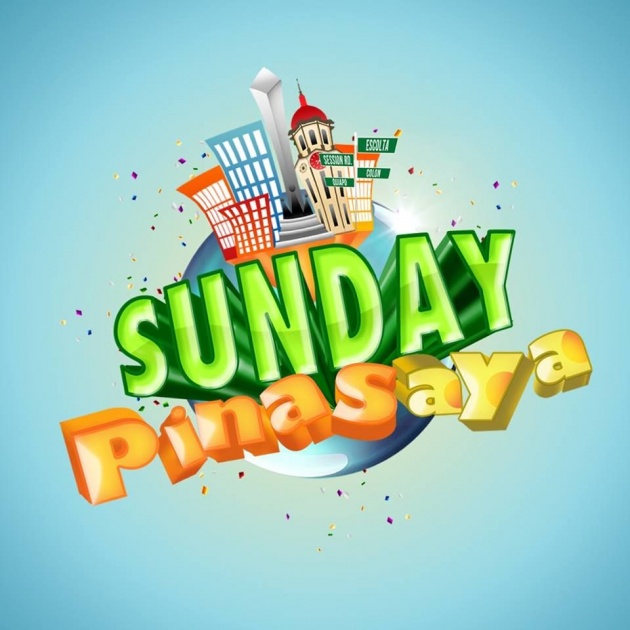 This is a two hours noon-time show every Sunday at 12:00noon aired by GMA network's Sunday Grande Block. It was premiered on August 9, 2015 and is also aired worldwide via GMA PinoyTV. It's the successor to Sunday All Star and a first noon-time variety show in network to be produced as a blocktimer. While predecessors like SOP, Sunday All Stars and Party Pilippinas were by GMA Network. Sunday Pinasaya is produced by the APT Entertainment, subsidiary of TAPE Inc., a company behind the longest running noontime show in Philippines, Eat Bulaga.
Meet The Hosts

From Mondays to Saturdays, most of us watch the Eat Bulaga! noon-time show . While for Sundays we watch Sunday Pinasaya where the Pambansang Bae Alden Richards is one of the segment host there. This is also a skit, comedy show and musical play aside from variety show starring Marian Rivera-Dantes, Jose Manalo, Wally Bayola and Ms. Ai-ai de las Alas together with Alden Richards, Barbie Forteza, Julie Anne San Jose, Valeen Montenegro, Jerald Napoles and Joey Paras.

Sunday PinaSaya Halloween Episode
These were the hosts who started the show and welcomes all who came and all the viewers. From left - right: Jose Manalo, Marian Rivera-Dantes, Alden Richards and Wally Bayola. They gave hints on what to expect on this episode, Halloween Party. And the first segment is Damay Lamay.

Damay Lamay
"Lamay" means "funeral wake" while "Damay" means "symphathy". This segment is about the myths in a funeral wake like; wearing red clothes in a funeral wake will bring you bad luck. Another bad luck is when your tears fell in the coffin while crying. And one more is according to this dead's niece that came from USA, that there's a zombie party every November 1 and after they realized that day is November 1, they found out that those who attended the funeral wake earlier were zombies.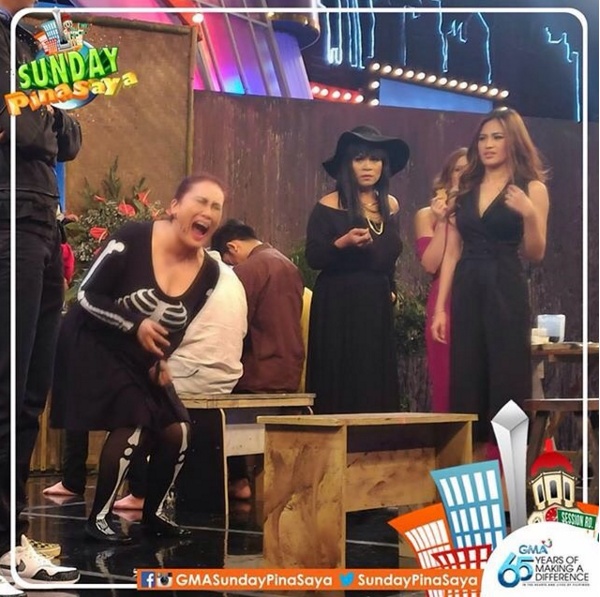 And......!!! Zombiiieeeees are there.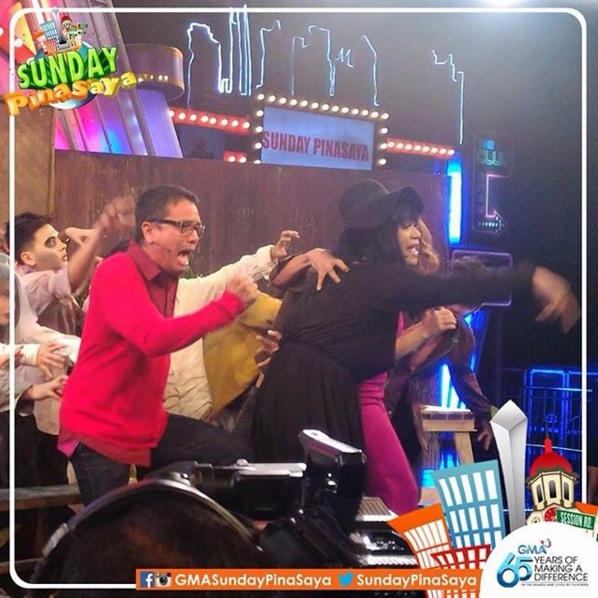 Chef Boy Next Door
This segment starts with a dance number of Chef Boy Next Door Alden Richards, known as half of the phenomenal love tandem, AlDub, together with Rico Fabio played by Jerald. This show has a cooking segment by Chef Boy Next Door Alden which is assisted by Rico Fabio (Jerald).
(Edward Cullen and Jacob)
After the dance number of these guys, demo of simple recipes is next. Then after teaching the live audience, Rico Fabio will then choose someone from the studio audience to taste the food prepared by Chef Boy Next Door. This lucky person will have a chance to play a game with the chefs.
Usually, in this game, the lucky person will have the chance to spin a wheel which will determine which part of Chef boy next door's body she will have to kiss. But in the latest episodes, instead of kissing body parts, it was modified. Now, it contains special prizes like, Alden's studio Album, pillow or chocolates. Plus free hugs!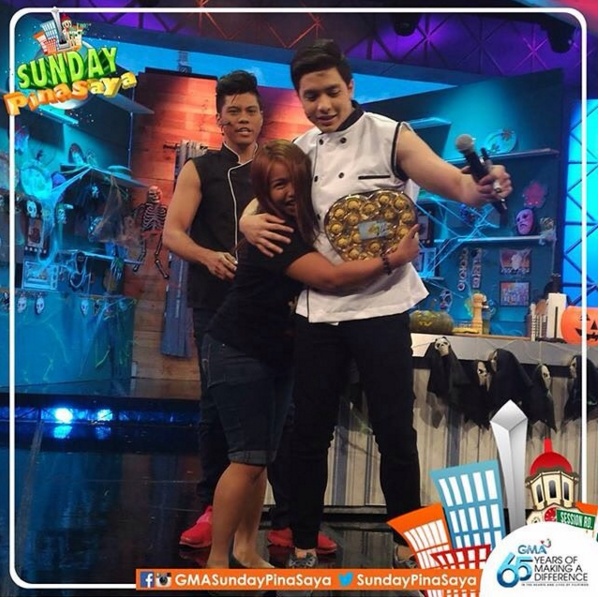 Judge MD
Judge MD played by Marian Rivera-Dantes, is a segment where she'll resolve crazy and pretty conflicts between two parties. Unlike the usual court, Judge MD sits on the center while two parties in two witness stands, faces each other. These two parties were portrayed by celebrity guests.
There are two more characters that plays significant role in this skit; the Court Clerk which played by Valeen Montenegro and Police Officer played by Jose Manalo. And another one, the waiter,played by Jerald, who took the food order of Judge MD when she says "Order in the Court".
(Judge Vs. Zombies)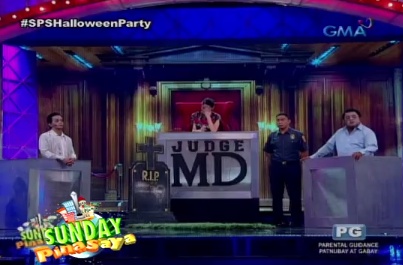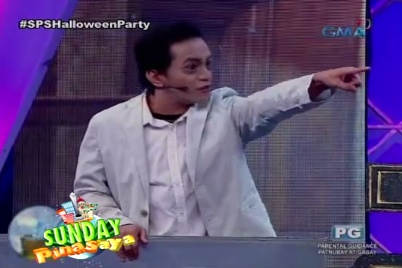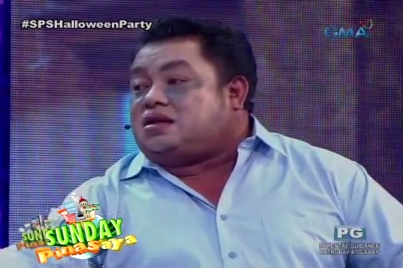 (After Hearing the Decision of Judge MD Zombies strikes at her)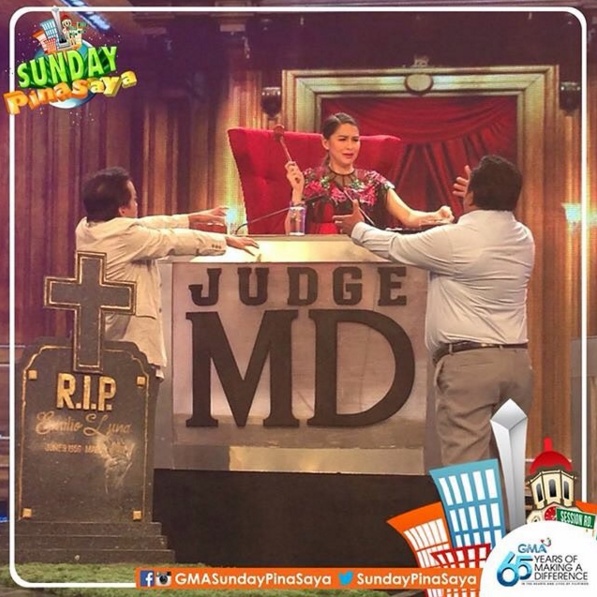 (Judge Vs. Zombies)
Cynthia's School of Over Acting
Coach Cynthia is played by Wally Bayola who is an arrogant gay and overly confident coach in acting. His students who were actually seasoned and award-winning actresses were criticized and mocked by Coach Cynthia. He teaches them his techniques in acting which is best described as "overacting".
These are the award-winning actresses that were tested by Coach Cynthia in this segment in different episodes; Jaclyn Jose, Maricel Soriano, Celia Rodriguez, Cherie Gil and Nora Aunor.
(Cherie Gil with Coach Cynthia)
But on this Halloween episode, did Coach Cynthia was able to teach his guest this time? Watch it.
Hot Dance Number
After watching funny and thrilling segments in Sunday PinaSaya, Andrea Torres, the #2 Sexiest Woman in the Philippines this year, and Rodjun Cruz made the stage hot for the meantime. Watch their hot dance below.
Madramarama Presents: Mana Po
This skit follows a Filipino drama Series or Filipino Telenovela which can be watched in weekly episode. Despite of the dramatic plot, it is injected with funny acts, punch lines and jokes. And turns like dramatic-comedy series. And each episode ends with a question. The audience will try to stake by voting if what will happen on the next episode via show's social media account. By the way , this is the last episode of Madramarama Presents: Mana Po. The first series of Madramarama is "Ano ang ano? Kanino?" (What is what? Whose?).
The End of Mana Po Series
SPS Halloween Costumes
From L - R : Ms. Ai-ai delas Alas as Leticia Adams Apple, Joey Paras as Queen Elsa, Marian Rivera-Dantes as Snow White, Alden Richards as Iron Man, Wally Bayola as Ninja Turtle, Jose Manalo as Chucky Doll and Valeen Montenegro as Poison Ivy.
Kanta Ririt Segment
This is a show's game segment called Kanta Ririt. It is a fun and exciting segment aside from comedy skits. The game masters were Marian Rivera-Dantes and Jose Manalo. Two teams of celebrity guests will compete in a charades-like guessing game of song titles. Each of the members of the team will take turn to sing the tone of the songs and don't have to sing the lyrics. They should deliver it through sounds like animal sounds like dog's aw-aw-aw or cat's meow-meow-meow as long as it sounds like the song. Which ever team got the most of the correct answers of song titles with in two minutes will win and will bring trophy.
But in this Halloween episode, Sunday Pinasaya's hosts,instead of celebrity guests, were divided into two groups and followed same rules of the game.
Julie Anne San Jose as Cruella de Vil
**********************************************************************************
All Images' source are from Sunday Pinasaya
For Update Follow their Official Social Media accounts :
Sunday PinaSaya
official account: https://www.facebook.com/GMASundayPinaSaya/
Sunday PinaSaya
account: https://twitter.com/sundaypinasaya7
Sunday PinaSaya
account: https://instagram.com/gmasundaypinasaya/