Ruth Porat (born 1957) is an American[1] financial executive, who is the current CFO of Alphabet (of which Google is a subsidiary) as of May 2015.[2][3] She was Chief Financial Officer and Executive Vice President of Morgan Stanley from January 2010 to May 2015.[1]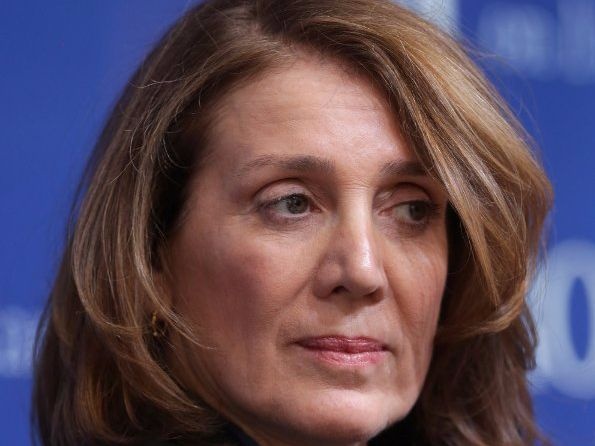 Early life and education
[
edit
]
Porat was born to a Jewish family[4] in Sale, Greater Manchester England,[5] the daughter of Dr. Dan and Frieda Porat.[6][7] She moved at a young age to Cambridge, Massachusetts, where her father was a research fellow in the physics department at Harvard University. Her father later relocated the family to Palo Alto, California where he worked at the SLAC National Accelerator Laboratoryfor 26 years.[8] Porat is a graduate of Stanford University, and holds a master of science from The London School of Economics and an MBA from The Wharton School of the University of Pennsylvania
Morgan Stanley
[
edit
]
Porat started her career at Morgan Stanley in 1987 but left to follow Morgan Stanley President Robert F. Greenhill to Smith Barney in 1993[9] and returned to Morgan Stanley in 1996. Before becoming CFO, she served as Vice Chairman of Investment Banking, from September 2003 to December 2009 and Global Head of the Financial Institutions Group from September 2006 through December 2009. She was previously the co-head of Technology Investment Banking and worked for Morgan Stanley in London.[5] Her financial partner during the Internet investment banking craze was Mary Meeker, who is the godmother to Porat's three children.[9]
During the financial crisis, Porat led the Morgan Stanley team advising the United States Department of the Treasury regarding Fannie Mae and Freddie Mac, and the New York Federal Reserve Bank with respect to AIG.[10][11] In the 2011 HBO movie "Too Big to Fail," Porat is played by Jennifer van Dyck.[12] In May 2011, she presented to the Bretton Woods Committee hosted by the International Monetary Fund in Washington, D.C. on post-crisis reform and financial legislation, and to the World Economic Forum in Davos, in 2013 on "trust" levels within and of the financial sector.[13][14][15]
In 2013 it was said that President Barack Obama would nominate Porat as the next Deputy Secretary of the Treasury.[16] However, it was reported later by Bloomberg News andThe New York Times that Porat had contacted White House officials to withdraw her name from consideration because of improving conditions at Morgan Stanley and the acrimonious confirmation process inflicted upon then Treasury Secretary-nominee Jack Lew.[17][18]
Porat's career was analyzed in the McKinsey & Company study "How Remarkable Women Lead".[19] She was named "Best Financial Institutions CFO" in a poll conducted byInstitutional Investor for its "2014 All-America Executive Team".[20
On March 24, 2015 it was announced that Porat would join Google as their new CFO as of May 26, 2015.[2] Bloomberg Business reported that her hiring deal included financial incentives that will eventually amount to $70 million by 2016. [21]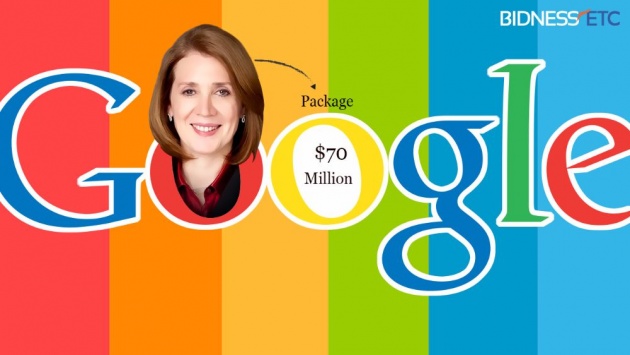 Boardships
[
edit
]
She is a member of the Borrowing Advisory Committee of the United States Treasury,[22] the Board of Trustees of Stanford University,[23] the Board of Directors of The Council on Foreign Relations,[5] the Board of Trustees of the Economic Club of New York,[24] and the Bretton Woods Committee.[25] She is a member of the Advisory Council of the Hutchins Center on Fiscal and Monetary Policy at the Brookings Institution.[26]
Political views
[
edit
]
Porat supported Senator Hillary Clinton when she ran for President in 2008, hosting a fundraiser at her apartment in The Dakota in New York City.[27] In 2011, Porat expressed her support for increased taxes on the wealthy and declared on the topic of significant spending decreases that "we cannot cut our way to greatness."[28]
Personal life
[
edit
]
Porat has been married to Anthony Paduano, partner in the law firm of Paduano & Weintraub, since 1983.[6] Porat is a survivor of breast cancer.[29]
Ruth Porat, formerly the CFO of Morgan Stanley, received a $70 million-plus cash and stock deal from Google for making the transition from Wall Street to Silicon Valley.
Porat's salary will actually be less at Google (GOOGL, Tech30): $650,000, compared to the $1 million she made at Morgan Stanley, according to a filings with the Securities and Exchange Commission.
But she'll get a $5 million cash signing bonus after spending one year at Google and a special $25 million stock grant that she will receive incrementally over the next two years.
But wait, there's more! Starting next year, she'll begin receiving a $40 million stock grant every other year. That grant will vest over the course of four years.
She was paid well at Morgan Stanley (MS), but she'll make quite a bit more at Google.
Porat made an average of a little over $10 million in cash and stock at Morgan Stanley over the course of the past four years. At Google, she'll average about $18 million a year over the same amount of time.
As part of the announcement, Google said that all of its executives will start to get the same biennial stock grants that Porat is getting, rather than cash bonuses. That will tie their pay more closely to the company's stock performance, but it's not clear how that will impact the amount they get paid -- most senior executives had been eligible for cash bonuses of roughly twice their annual salary.
Porat's pay package is substantial, but not unprecedented, for Google. Her predecessor, Patrick Pichette, received $39 million in cash and stock in 2012 and $18 million in 2011. (Porat is being paid the same $650,000 salary that Pichette earned.)
Pichette will stay on at Google "until such time as Google determines that there has been a smooth transition to the new CFO," according to the filing. For his knowledge transfer to Porat, Pichette will get the biennial equity grants he was due to receive through 2018, prorated based on the amount of extra time he stays on at Google.
For Porat, Google's new hire orientation is held every Monday (or Tuesday if Monday is a holiday). Google noted that the number of spaces in each session is limited; so Porat's start date hasn't yet been determined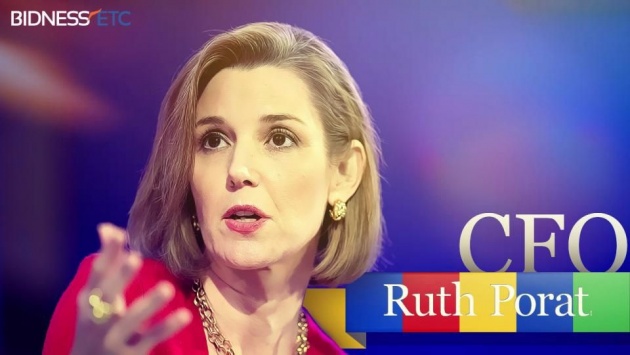 Google's stock hopped on a rocket ship Friday morning, flying up more than 14% after the company's stellar Q2 earnings.That's its biggest one-day rally ever.
The company delivered an EPS beat and was nearly spot-on with revenue expectations, with YouTube's growth accelerating and an unexpectedly high ad-click increase. But the comments of the new CFO, Ruth Porat, also made a big impression.
Google stock had been basically flat for the past year, with Wall Street worried about decelerating core-business growth and a need for more disciplined spending, and Porat told investors exactly what they wanted to hear.
Analysts praised Porat liberally in their research notes this morning:
"New CFO delivers," Macquarie wrote. "... we thought Ruth's commentary was incrementally positive on top of mind issues," Barclays commented. "Dawn of a new era? Kinda feels like it," Deutsche Bank titled its research note on the earnings. Porat "did not disappoint," Goldman Sachs notes. "She focused on the matters that the market cares about the most, namely the ability to invest with discipline and what appears to be a more pragmatic outlook on its balance sheet."
Porat is one of Wall Street's own stars:
Before joining Google, she spent more than 20 years at Morgan Stanley, prompting Politico to laud her as "the most powerful woman on Wall Street."
Google's paying Porat $70 million in bonuses and grants, a number that seems paltry compared to the roughly $50 billion it added to its market cap after she delivered its earnings.
Although her comments on the earnings call did the most to quell investor doubts, we can't actually give her credit for the numbers in Google's report: She didn't officially take over from former CFO Patrick Pichette until May 26, when the quarter was more than half over.
It's good to be Google Inc.'s chief financial officer.
Ruth Porat, who on Tuesday said she would leave her job as Morgan Stanley's finance chief to take the same role at Google, was awarded more than $70 million worth of restricted stock and bonuses to make the switch.
During her first seven months on the job, Ms. Porat stands to receive about $30 million in cash and stock. That would make her one of the highest-paid CFOs in the U.S. In 2013, the last year for which data are available, only Oracle Corp.'s then-CFO Safra Catz received more compensation, at $43.6 million.
She will also make more than most Wall Street CEOs, including her old boss, Morgan Stanley Chief Executive James Gorman, who was paid $18 million in 2013. Morgan Stanley hasn't reported Mr. Gorman's 2014 compensation yet; The Wall Street Journal reported in January his 2014 pay package increased from the prior year.
Among big banks that have reported CEO compensation for 2014, Citigroup Inc. saidMichael Corbat made $14.5 million and Bank of America Corp. said Brian Moynihan made $15.3 million.
A California native, Ms. Porat is getting a substantial raise to come home. In 2013, she earned $10.1 million at Morgan Stanley. Ms. Porat begins her new job May 26.
WSJ.D
WSJ.D is the Journal's home for tech news, analysis and product reviews.
Her total pay package includes a base salary of $650,000 as well as a $5 million one-time signing bonus, and $65 million of stock grants. The stock grants are broken into two buckets: a $25 million new-hire grant that will vest over the next three years as well as a $40 million grant next year that will vest through 2019.
Google's outgoing finance chief, Patrick Pichette, received compensation of $5.2 million in 2013 and $38.7 million in 2012, including stock awards. Google grants large stock awards to top executives every other year. Google hasn't yet filed its proxy for 2014.
Google investors reacted positively to the announcement of Ms. Porat's hiring, driving up the company's shares 2% on Tuesday. They are hoping for a more disciplined approach to expenses at a company that is investing in everything from residential Internet connections to self-driving cars. Investors are also hopeful that Google will decide to return some of its $64 billion cash pile in the form of dividends or stock buybacks.
In a securities filing, Google also said it changed Mr. Pichette's compensation agreements so that some equity awards vest more quickly.
Some of the outgoing CFO's equity grants were due to vest in April 2016 and April 2018, when he is likely to have left Google. The company changed this so he will get a portion of the stock sooner.
One restricted stock award was granted on April 4, 2012, and was due to vest on April 25, 2016. That was worth $33.9 million at the end of 2013, according to Google's 2013 proxy statement. If Mr. Pichette leaves Google this April, he would get roughly three-quarters of this award, worth just over $25 million based on Google's share price on Thursday.
Google said it made the changes to ensure Mr. Pichette "continues performing in the role until such time as Google determines that there has been a smooth transition to the new CFO."
—Alistair Barr contributed to this article.
Google is known for multicolored bicycles, nap pods, and complimentary meals—and the free-spending ways that come with those perks. Now it wants to be known for something else: financial discipline. To whip the numbers into shape, it's brought in Ruth Porat, an almost 30-year veteran of Wall Street.
She's off to a good start. Porat, who joined Google as chief financial officer in May after five years as Morgan Stanley's CFO, on July 16 unveiled second-quarter earnings and sales that topped analysts' estimates. Impressed investors sent the shares to a record the next day, adding $65 billion to the company's market value and more than $4 billion each to the fortunes of co-founders Larry Page and Sergey Brin.
Shareholders cheered Porat, 57, with her strong finance background, as the right person to help instill more discipline at a company that's invested in everything from driverless cars to giant barges. Now she must prove she can create efficiency without crimping the creative culture that's helped Google dominate the online advertising market. "No one really knew her before, because there's no reason a tech investor would really know her," says Gene Munster, an analyst with Piper Jaffray. When she announced the second-quarter results, the idea that a Wall Street hand was whipping Google into shape "kind of went viral," he says. "This perception of a real, hard-nosed woman who has something to prove—I think that inspires confidence."
During the second quarter, Google's operating expenses grew 13 percent from the same period a year ago, the slowest rate since 2013, and declined from the previous quarter. "A key focus is on the levers within our control to manage the pace of expenses while still ensuring and supporting our growth," Porat said on a call with analysts. Her remarks also left open the possibility of Google returning cash to investors in the form of buybacks or dividends, something Wall Street has been asking about for years. At a companywide meeting following the earnings report, she talked about the importance of disciplined execution at Google even as she thanked employees for their work, according to a person familiar with the remarks. A Google spokeswoman declined to comment.
Porat benefited from the efforts of her predecessor, Patrick Pichette. Google's increase in expenses started slowing during the first quarter. "Everything was probably already in motion by the time she came along," says Sameet Sinha, an analyst with B. Riley & Co. Even so, the quarterly numbers seemed to resonate with investors, as did Porat's résumé. "She comes with a pedigree from Morgan Stanley of doing a good job of enhancing shareholder value over her tenure there," says Walter Price, co-manager of the AllianzGI Technology Fund, which owns shares of Google.
At Morgan Stanley, Porat helped the bank recover from its near-death experience during the financial crisis and developed a reputation as a cost-cutter who focused on boosting shareholder returns. In 2013 she laid out expense-reduction targets of $1.6 billion and last year gained approval for the bank's biggest share buyback in four years. This year, the company more than doubled the share repurchase plan. Since the end of 2012, Morgan Stanley stock has climbed from $19 to more than $40.
Porat, a physicist's daughter who was born in England and grew up in Silicon Valley, is no stranger to technology. As Morgan Stanley's top Internet banker during the dot-com bubble, she advised clients such as EBay and Amazon.com and made pitches to tech startups considering going public, accompanied by her close friend Mary Meeker, the research analyst who was called "Queen of the Net." Porat showed a passion for work, quickly diving back in after having each of her three sons and after a battle with breast cancer.
Connecting with Google shareholders will be a priority. After the earnings call, Porat, who traded pantsuits for jeans at Google, planned to begin meetings with investors in cities such as New York and Boston, making the case for Google's prospects.
Announcing Porat's hiring in March, Page said she would "invest in a thoughtful, disciplined way in our next generation of big bets." She received a pay package worth more than $70 million that will vest from this year through 2019, according to a company filing. In her first months on the job, she's been reviewing programs throughout the company. They include driverless cars, which seek to use technology to take humans out of the process; Project Loon, an effort to deliver Internet connectivity to rural and remote areas via high-altitude balloons; and Google Fiber, its broadband and TV service in select cities, according to a person familiar with the matter.
Some of those initiatives may have to be abandoned. "She might have to go and tell Larry and Sergey, 'Here are 10 projects, pick five—let's go with those,' " Sinha says. The Google Fiber project could get a hard look, according to Munster, because it competes with established companies such as Verizon Communications and AT&T that are focused on building and delivering broadband and TV services.
Lifting the share price is crucial for Google, where many employees get much of their compensation in stock and can easily jump to a rival such as Apple. In the year before Porat was named to the job, the shares had fallen 4.5 percent while the Nasdaq Composite Index had climbed 17 percent. "Retention is the biggest challenge," Munster says.
Google's issues go beyond cost control. They include a threat to its core business of selling ads next to search results. As consumers access the Web via smartphones instead of desktop PCs, they're increasingly likely to tap on an app rather than open a browser.
At the same time, Google faces stronger competition in online commerce from Amazon, which is grabbing more users who skip comparison shopping on Google and buy from the retailer. Also, Facebook, growing more quickly than Google, is competing for advertising and is a threat to Google's YouTube business as it pushes video options to its users. "It was a good quarter, but it doesn't mean there aren't a lot of the same structural and competitive concerns," says Ben Schachter, an analyst at Macquarie Securities.
The bottom line: Investors welcomed Porat by adding $65 billion to Google's market value after she presented second-quarter earnings.
(Corrects Ruth Porat's birthplace.)