Have you ever done a search for a term like "how to get more retweets?" If you do, you'll see that the results look like this: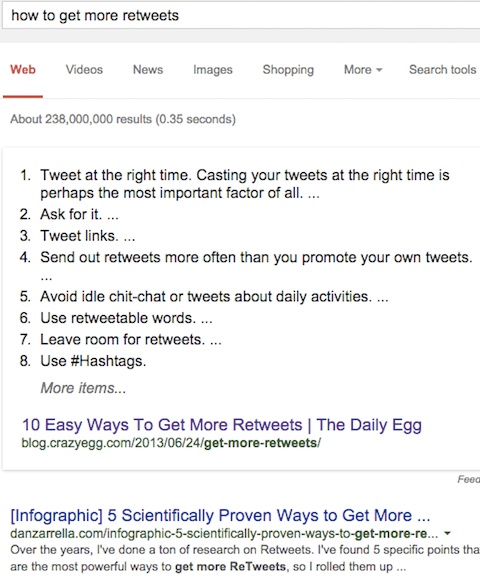 Can you see what Google did? It pulled the ten tips from the Crazy Egg article and placed them at the top of the search result. This is due to the fact that Google is now better able to understand the meaning of words and phrases since its Hummingbird update. The cool part about this is that if you answer questions within your content, you can have your blog listed right at the top like Crazy Egg's is.
When leveraging this tactic, make sure you are answering specific questions such as "how to get more retweets" or "what color is the sun."
This tactic worked so well that the post generated 2,954 visitors in the last 30 days from Google. And those visitors stayed on the page for at least 6 minutes. That is really high, considering that the average time on-site for the whole blog is 49 seconds.
The reason the time on-site is much higher for this one article is because visitors have a clear understanding of the content they are about to see. They saw a preview of the content within the Google search result, so if they click through, you know they are extremely qualified visitors.