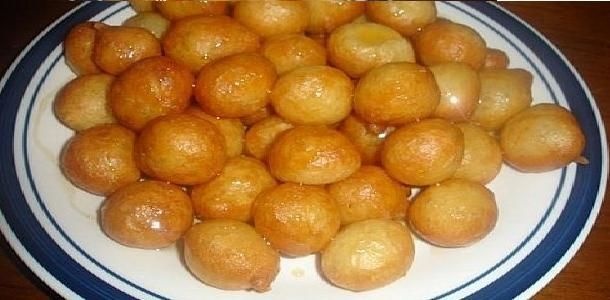 Preparation Time:
3 hr(s)
INGREDIENTS
1
teaspoon
limFacebooke juice
COOKING METHOD
1. For the Sugar Syrup: Boil half a cup of water and the powdered sugar in a sauce pan then leave over medium heat till the syrup begins to thicken. Add the lemon juice and rose water. Set aside to cool.
2.
3. For the Dumplings: In a bowl, mix the flour with the yogurt, a pinch of salt and enough water to get a thick batter.
4. Combine the yeast and sugar, then mix in a half cup of warm water and combine with the batter. Cover with a cloth and set aside until the batter rises.
5. Heat oil in a frying pan. Meanwhile, divide the batter and shape into small balls.
6. Deep fry the balls, a few at a time, in the heated oil.
7. When the dumplings are golden brown remove from oil and strain, then immediately dip in the sugar syrup and serve hot.