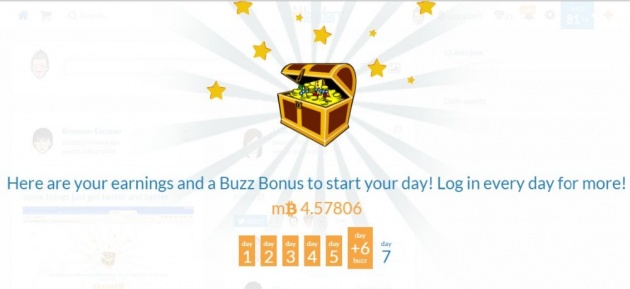 How Sharing Screenshots Can Affect Bitlanders
It's been 4 months since I joined this platform and I'm reaching my 5th month stay here. At first everything in here was all confusing. Although I already encountered same sites like this where you interact, make contents and earn, Bitlanders is far different from the rest I've had known. This is because they pay their users using a currency that is new to my senses.
During that time, I don't have any idea on what bitcoin is all about. I'm confused on how this type of currency works and can turn into a physical cash on the real world! Nevertheless, I still stayed here and continued what I've started. I gained a lot of Bit-Friends where we shared moments and new ideas. Because of them I eventually learned how things work out here.
Although there are quite some informative and helpful tips on how to make a start here on your first day which can be read by everyone in the FAQ section, for a newbie like me I still found it too complex for me to understand. But that was 4 months ago and many things changed since then. As far as I can see now, more tips has been produced through numerous blogs which has been passed from one user page to user page through the content flow which made everything quite simple.
In some cases, the Bitlanders team held some occasional events to add more fun and interaction. One of my experience was the Halloween Event. Users submit their original content with a Halloween theme and the one with the highest buzzed shall be crowned as the winner.
A new feature that added more fun was the introduction of the stickers! Some users like me uses those stickers with pre-created emotion or actions to express what I'm feeling about the content.

Today, what made Bitlanders more addictive and fun are all the quests you can do daily! No more lame buzz moments! Completing this various task will earn you a nice reward that would trigger your adrenaline not to miss the daily quests by going online everyday. Rewards varies from +1 to +3 buzz points and some would give you a +1 gem which can be used to submit contents for reviews.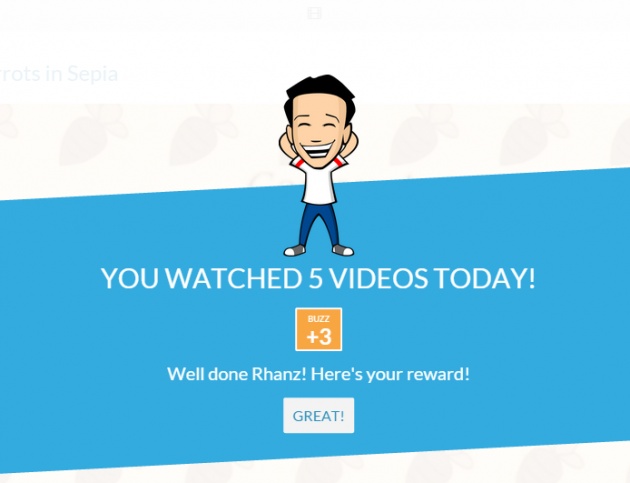 What made me really write this blog is the reason of sharing. Sharing some of your screenshots especially the earnings that most of us gained daily by logging in. Below is the screenshot of the earnings of one of my bitlanders friend.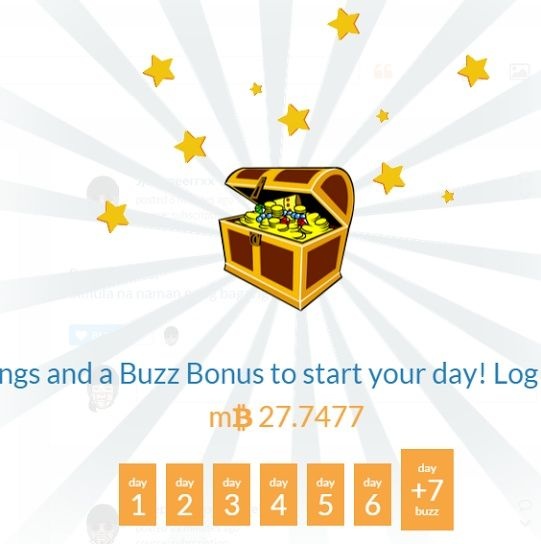 The thoughts:
I made this blog, concerning the starters or the newbie who recently joined this digital platform. Not even the newbies but also the old users who find it hard to make a success everyday. I observed that some of them give up once they received their daily treasure boxes because they immediately convert it to it's real value and when they discovered it's a little bit low for all their efforts for the day, they would just give up half way not knowing the great potential of earning here.
So this made me see the light on the way how some users share their screenshot of their daily earnings. It made a huge impact on me and maybe to some other users too. In this way I find it really helpful. It's a motivation that makes me pursue for more. It's an inspiration for me to be more creative on my contents.
By showing some of the screenshots people would know how far and great the earning potential here can be if done properly and wisely plus a little bit of commitment.