Celebrate with a deluxe-edition quiche, piles of biscuits, and the best holiday ham ever.
Easter feels like a daytime holiday, doesn't it? Something about the egg hunts, the spring theme, and all that ham makes it the perfect occasion for a fancy midday meal. And what with the egg theme and all, that means brunch is in order. But serving a noontime spread for a crowd (even a small one) doesn't mean doing your best impersonation of a short-order diner cook. There are plenty of ways to upgrade your Easter spread long before the doorbell rings. Here's how to do it: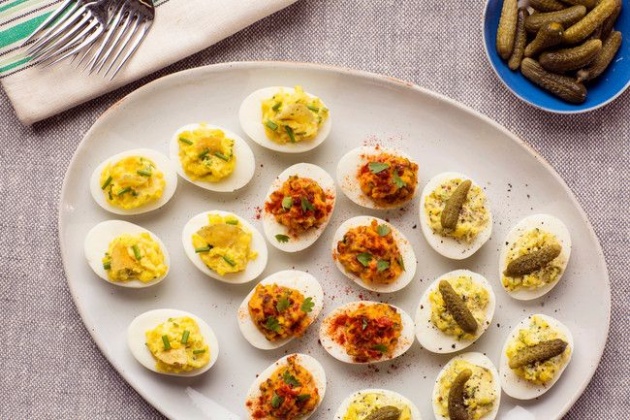 KICK OFF THE FEAST WITH A CLASSIC
No one can turn down a deviled egg. In fact, if you put out a platter with this range of smoky, pickle-spiked, and chorizo-infused fillings, they'll probably disappear even before you bring out the ham.

SCORE A GREAT HAM, AND INFUSE IT WITH FLAVOR
Sure, you can run out at the last minute for a perfectly good ham from the supermarket. But as long as you're focused on making things ahead of time, might as well source a less salty, more meaty bone-in ham, like this Epi staff favorite from D'Artagnan. Then all you need to decide is how you take your ham: Spicy, sweet, or tangy.
IMPRESS EVERYONE WITH A DIY HONEY MUSTARD
Every slice of ham must have its mustard, but that doesn't mean your only option is a dollop straight from the jar. Mix that mustard with mayo, honey, and a hint of spicy cayenne, and you've got an addictive sandwich spread you'll want to save for next week's sandwiches, too.
PREP MAKE-AHEAD BISCUITS
Fact: If you bring a basket of warm biscuits to the Easter buffet table, people will lose their minds. Something about delivering warm homemade bread for a holiday feast just seems like a magic trick. No one needs to know how easy it actually is: Just make the dough, shape, and freeze it on sheet trays, then transfer to freezer bags and freeze up to two weeks in advance. On Easter, all you need to do is turn on the oven about a half hour before guests arrive. You can bake them straight from frozen—just add a few minutes to the baking time.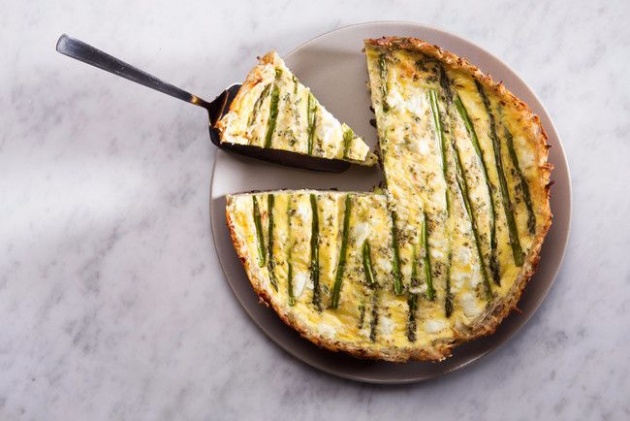 MAKE THE ULTIMATE SPRINGTIME QUICHE
Quiche feeds a crowd and looks fancy on your buffet, so you're probably already thinking about making one. For the ultimate Easter theming, you'll want to make this brand-new recipe, packed with springtime asparagus, fresh-tasting tarragon, and plenty of fresh goat cheese. Bonus: a shredded potato crust that tastes just like hash browns.
DON'T FORGET A LITTLE GREENERY ON THE TABLE
With all that smoky ham and savory quiche on the table, you'll want a hit of freshness for the feast, too. But no need to get complicated about it: A simple Boston lettuce salad with sliced radishes is just the thing. Oh, and remember to pick up some pickles. Their acidic punch is just what you need alongside your holiday ham biscuit.