Video credits: GlobePH via YouTube.com
I have not withdrawn my PayPal funds for quite some time now. One reason was I want to withdraw an amount which is worth the wait, PayPal transfers the amount in 2-4 business days. Second reason, I was busy in the previous months because of my Ectopic Pregnancy operation. And lastly, I was hoping I can find ways in which I can transfer my PayPal balance in a much faster way and thought that if I can find that out, I will stick to it and will never be using UnionBank anymore, reason? UnionBank is a bit far from our home and our office, in short, it is not very accessible to us.
It's a pain that PayPal allows money transfer to bank but takes a lot of waiting time. It is not very friendly but I was able to live with how it works because I don't have any other choice. When transferring PayPal funds, I would ensure that I do it on a Monday, without holidays in between so that I can get it by Wednesday or Friday on that same week. So far I had no issues with transferring funds to bank, the only concern I have is how about urgent cases? Those times when I need to get the funds withdrawn instantly because I badly need it.
Image credits: JeipiTV
Then few months ago, I remember my online friends talking about GCash and its instant PayPal funds Cash in. Cash is a process of funding the GCash wallet, it's like depositing or converting cash to GCash balance. When they mentioned that GCash allows instant transferring of funds from PayPal to their GCash wallet, I decided I should get my GCash account reopened.
I do have the GCash application installed on my Android mobile device and its sitting here for quite some time yet I have not used the option to cash in just yet from PayPal. Finally today, I realized that I should take time to do this procedure. Let me also share to you the steps in getting this worked out.
What is GCash?
Image credits: www.vmoney.com
First, let's learn about GCash.
GCash is an internationally-acclaimed micro payment service which transforms a mobile phone into a virtual wallet for secure, fast, and convenient money transfers at the speed and cost of a text message.

GCash is a service for Globe & TM customers only which uses the cellular simcard as the account itself.

Information Reference: www.globe.com.ph
With the use of the mobile number, GCash allows multiple functionalities which are very beneficial to the account holder and to his or her family and peers. Here are some of the things you can do with GCash:
- Send& receive money to & from another Globe/TM mobile phone anytime & anywhere

- Buy Prepaid load with an instant 10% rebate

- Make purchases at GCash partner establishments

- Pay bills, purchase games, make donations, etc.
These things can be done with the use of the mobile device, simply by texting the codes for each transaction. Isn't it neat?
More information can be found in the Globe website for each services and the codes for texting, visit www.globe.com.ph/help/using-gcash
GCash Mobile App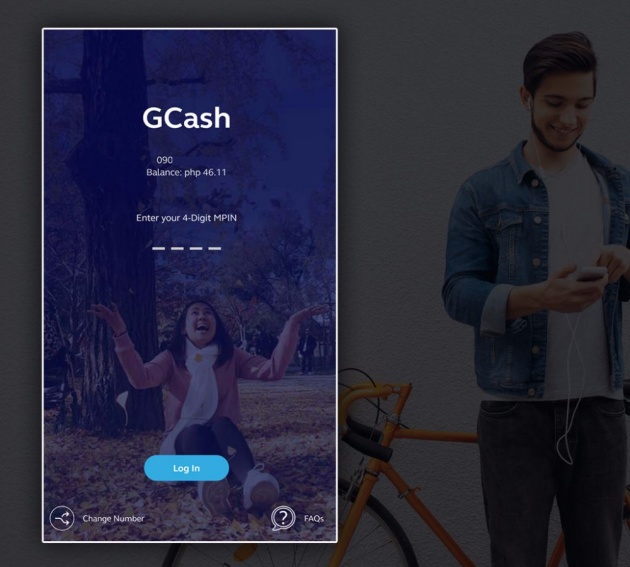 GCash landing page screenshot. Image screenshot credits: Jean Beltran-Figues via bitLanders.com
Then the introduction to powerful smart phones came into the picture, instead of texting these processes, one can just install the GCash mobile application to avail of these services.
This is what I did since I have an Android mobile device and a Globe simcard. I searched for it on the Android Playstore, downloaded and installed the app and launched! The mobile number has to be inputted on the landing page, it sent an authentication code to my mobile and I entered the 6-digit code on the app. It then prompted me to create my own GCash MPIN.
The authentication has been done so that it will be linked to the GCash number in the device. Then the account has been created yet I have certain things to do so that I can make use of its full potential specially the Cash in process from PayPal to GCash.
GCash Verification Process
(Know-Your-Customer)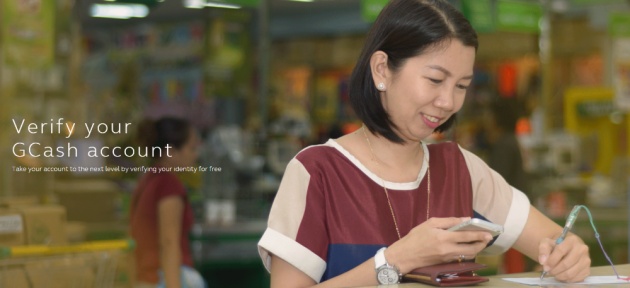 Image credits: www.gcash.com
So I can get full access to send money and cash-out services, I got to do the free one-time account verification. Without the verification I won't be able to use the Cash in from PayPal to GCash. It is pretty easy how to know if the account is not yet verified, on GCash, navigate to the account and it has the account status at the bottom of the profile picture.
Why go through the KYC process?
Well, it is actually a required process by the Bangko Sentral ng Pilipinas. With a verified account, transaction limits will be increased if not lifted. Let's name a few:
- Maximum wallet cap increase from Php 40,000 to Php 100,000.
- Aggregate Daily Incoming funds is lifted
- American Express Virtual Pay spend limit is lifted
- Load purchase can be done depending on the wallet cap instead of just Php 500 daily
- ATM Withrawals is lifted from being a restricted option
- Card Transactions will also be based on wallet cap
- Mobile Banking (GCash to Bank)
- Mobile Banking (BPI to GCash) can be done with PHP 40,000 daily (Bank setting)
- PayPal to GCash instant cash in is possible.
The PayPal to GCash is really an important feature for me, this instant option would give me another reason to use PayPal to GCash then GCash to Coinsph which allows bitCoin conversion from Philippine peso. I am tryint to invest in bitCoin right now so this is definitely a great help.
Speaking of bitCoins, let me know what you think most likely to have a future? Bitcoin or the Blockchain?
Going back, verification process gives two options: Visit a store or perform an online verification. Here's how I did the online verification procedure instead which is more convenient for my end.
1. Visit fb.com/gcashverify
Image credits: gcashverify Facebook Page
I messaged Gcashverify about how to verify my GCash account and the customer service agent responded with an autobot message which states:
Hi, this is the GCashBot! An agent will get to you shortly.

If you are here to go through the KYC process, please fill up bitly.com/gcashverification & let us know when you're done.

If you've given your info, please message us your GCash number.
I followed through the steps provided.
2. Fill Up Verification Form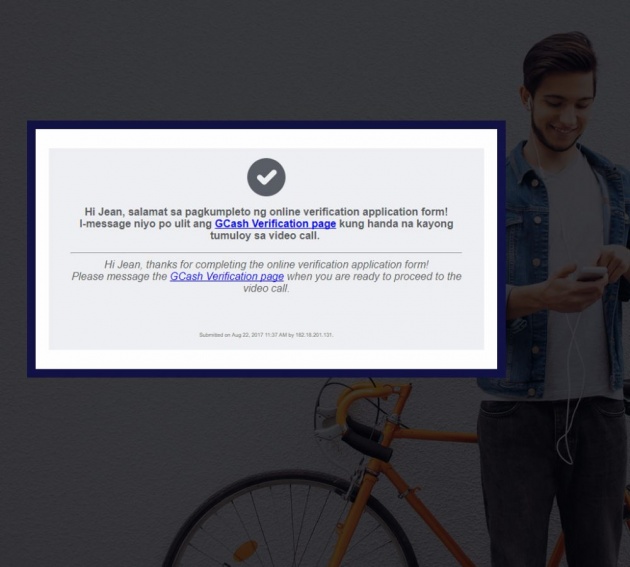 Image screenshot credits: Jean Beltran-Figues via bitLanders.com
On the link given above by the GCashBot, I was given a page where I need to input necessary personal information from my full name, address, status and address to my identification cards as well.
Once done with filling up the details and uploading my ID as well so I messaged the same Facebook user about my mobile number and that I was done with the process.
3. Video Call
A video call is required so that the Globe agents can verify my account. Certain time slots were given to me and I opted for 3pm. I originally selected 2pm but for some reasons, they didn't reply immediately so I instead selected 3pm today and the GCashBot assigned me my verification officer named Jaime.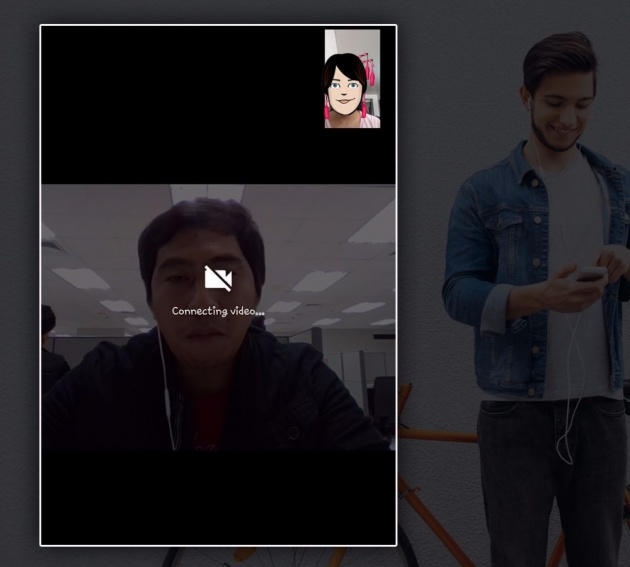 Jaimie on the screenshot above. Image screenshot credits: Jean Beltran-Figues via bitLanders.com
At 3pm, Jaime called me via Facebook and verified the details I have entered on the verification form. Then asked me to take my ID (passport) in front of me for a selfie. It was quite weird though but I like this process instead of going out to a store.
4. Confirm Verification
In order to confirm all the details in this verification process, Jaime sent a message to my mobile number requesting for my PIN in order for me to proceed with the verification. This is actually the last step.
So I immediately replied with the PIN and that's it. Jaime congratulated me for the successful verification and my profile now shows verified. I can now enjoy the full range of GCash services!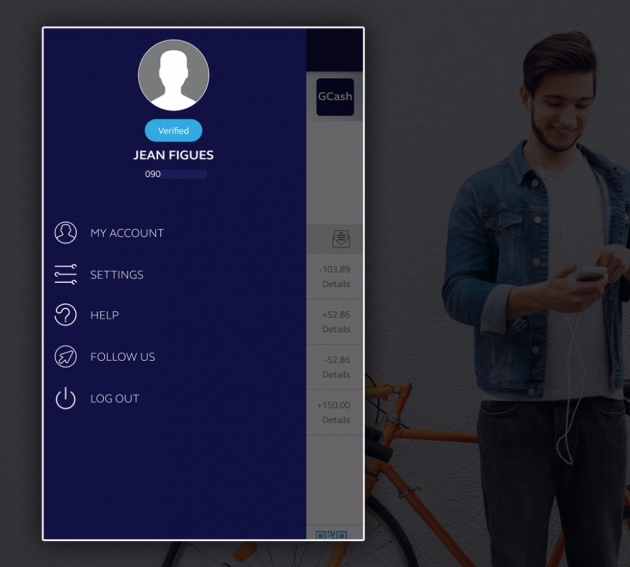 Account now shows verified! Image screenshot credits: Jean Beltran-Figues via bitLanders.com
This option is definitely a star! I had a smooth process, no hassle with going out of the house, no traffic, no pollution and no money spent at all! I only need an internet connection to perform everything and it was successful in my first attempt in less than an hour.
Definitely, I am recommending it to everyone who would like to get their GCash account verified.
PayPal to GCash Instant Cash In
The main reason why I signed up for GCash is their PayPal instant cash in. It is instant so I have to try it myself and test if it is indeed instant. Note that this procedure is also fee free so I am excited for my first transaction.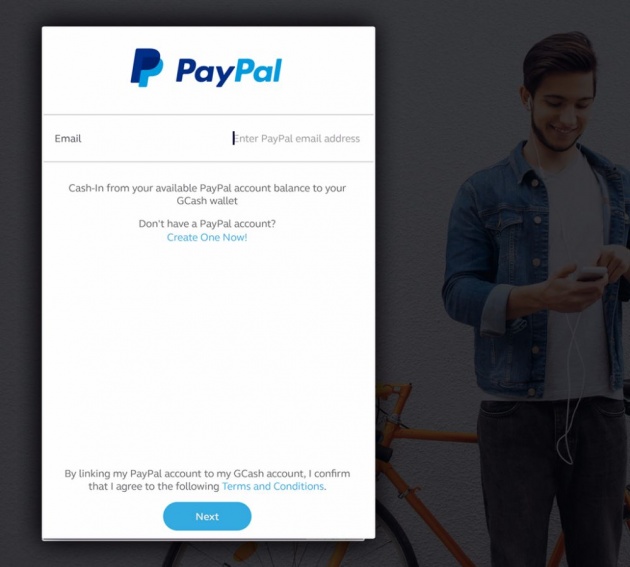 Image screenshot credits: Jean Beltran-Figues via bitLanders.com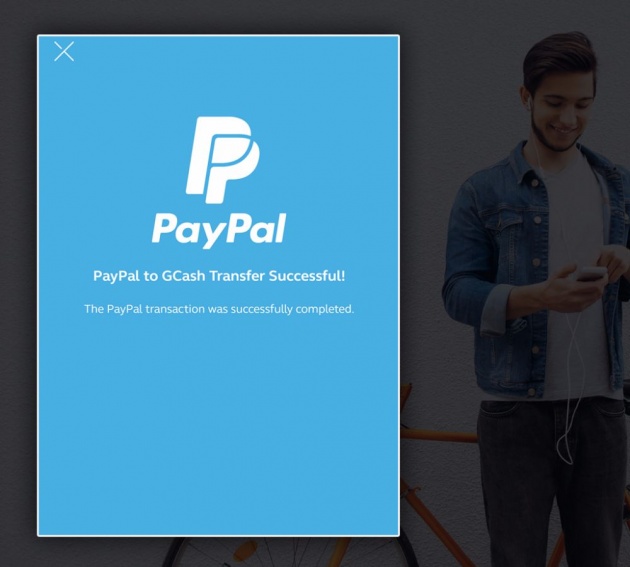 Image screenshot credits: Jean Beltran-Figues via bitLanders.com
I added my PayPal account on GCash Cash in option, it asked me to login to PayPal for the authorization. The balance of my PayPal account now showed on my GCash app and I proceed with transferring certain Php 500 amount. Check the video below:
Video credits: Jean Beltran-Figues via bitLanders.com
The process was indeed instant. It took only seconds for the amount to show up, no fees at all! I am now a happy GCash user!
Best regards,
Jean Beltran-Figues