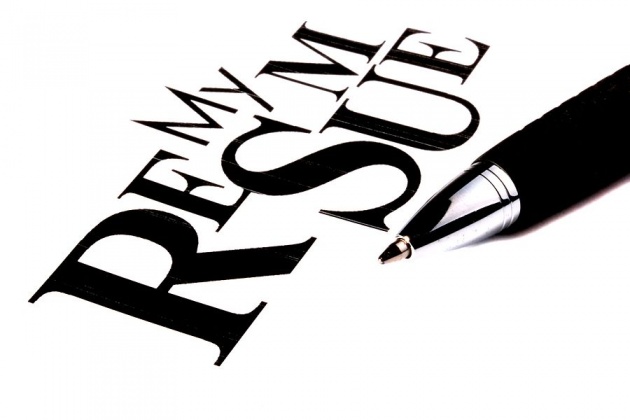 The well written resume may include a persuasively arranged summery of:
1. Name and Address

The name and address should be on top of your resume

2. Career objective or summary of qualification:
This is very important part of resume. Objective should be precise and relating to your field.

3. Education and training

In education field you have mention your all achievements of major educational degrees or diplomas certificates in order such that you most recent degree should be listed on top then so on. Supposing you have done MBA in 2002 and then you did 1998
BBA so 2002 would come first and 1998 would come later. This is called reverse chronological order. When you are giving information you must include your degree or diploma, major field, institution, and date of attainment for each level. Here is an specimen.
1993 to 1995
Master on business Administration with emphasis on International Business, University of Punjab.
1990 to 1993
Bachelor of Business Administration , Accounting, University of Punjab.
4. Work experience skills, and, accomplishments:
You can tailor your description to highlight the relationship between your previous responsibilities and your target field. There are two way to highlighting the experience.
You can show your past experience either date wise i.e. reverse chronological order(latest position to older position) or you can highlight the job title . it depends on to whom you are sending your resume. If somebody who is interested in knowing that what are the major skills you have then you will highlight the skills, if somebody wants to know how do you progress in date wise then you have to highlight the latest job first and then second and so on.
5. Activities and achievements:
Your potential reader of resume would also like to know about your Major activities and achievements you have take part.
You can talk about the speeches or panels of expertise.
You can mention about different workshops and seminars that you had attend.
Do put in your resume if you had done and volunteer counseling
If you know foreign languages do put in your resume this is an important attractive ability that you can highlight and get chance to enter.
6 .Personal data (memberships, honor and awards, hobbies and interests):
You might add your personal date that is memberships, honor and hobbies etc. mention major hobbies only.
7. References:
Your prospective employers would like to know some references and if you have good references that is you need to give references regarding your different areas of your personality you can put any name regarding your academic like any professor of your college. If you had a work in industry you can give a suitable professional's name. while listing your references you need to put the names, titles, address and telephone number of the references(but before you give this information don't forget to obtain the permission).
Some Key points:
While constructing the resume on thing is most important. Resume must reflect flexibility.
when you are working on your resume keep in mind that this resume is not for all the jobs in your career. Some people make a resume and use photocopy version of resume in all fields, don't ever do that suppose if there is sale job so you have to construct a separate resume for sale job, and if there is marketing job then construct your resume separate. Supposing if you are looking for a marketing you must highlight my skill in language because if a company is multinational and say it's a French company and I know the French language and if I highlight that I can even market a product using my French skills, you have plus point then your competitors. If you are applying sales job and you know you have got a past experience of putting up good sale target that is an edge over it.