Indian Movie Review - Jolly LLB 2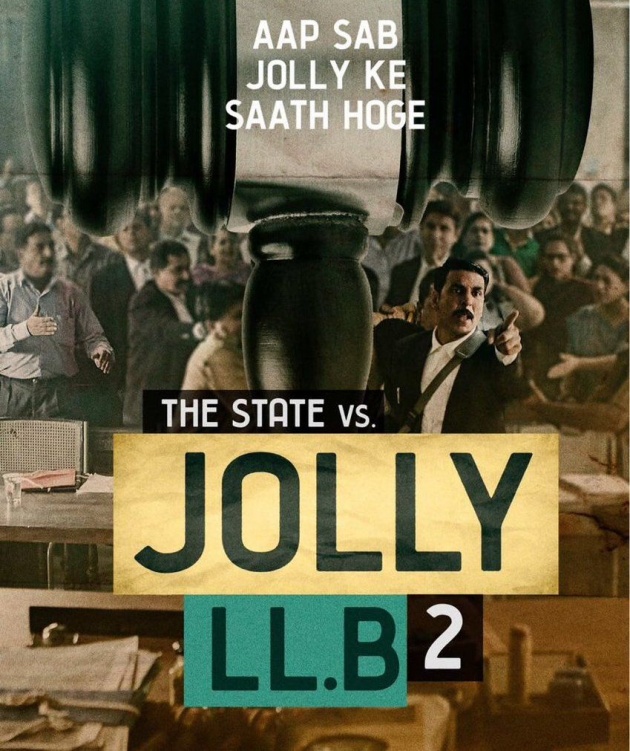 Image Credit: www.bollywoodbindass.com
✔ Introduction


Hello Friends, I hope you are doing fine and are having a good time on bitlanders. Today I have come up again with my new blog with the title of "Indian Movie Review - Jolly LLB 2". Friends, this blog is about a recently released Indian Hindi language movie "Jolly LLB 2". The story of this movie is about a lawyer who fights a case for a widow whose husband had been murdered by the Police as a result of fake encounter labeling him as a Terrorist. Whereas the real Terrorist had bribed the Police Inspector to do so, in order to create a safe hideout for himself. The movie highlights certain tactics and tricks played by the lawyers in the Courts in order to delay the justice, whereas they completely know the fact that "Justice Delayed is Justice Denied". The movie was directed by Subhash Kapoor who also wrote the movie plot. The movie was produced by the Fox Star Studios.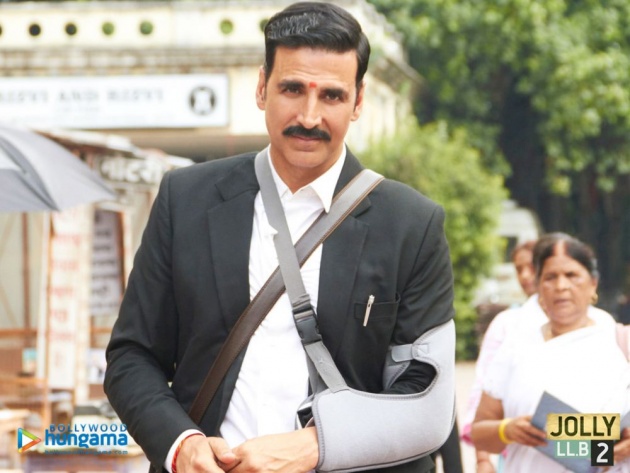 Image Credit: www.bollywoodhungama.com
The movie "Jolly LLB 2" was released on February 10, 2017 under the distribution banner of Fox Star Studios. Some details of cast of this movie are as under:
✤ Akshay Kumar as Advocate Jolly
✤ Saurabh Shukla as Justice Sunderlal Tripathi
✤ Huma Qureshi as Pushpa Pandey
✤ Ram Gopal Bajaj as Mr. Rizvi
✤ Annu Kapoor as Advocate Pramod Mathur
✤ Kumud Mishra as Inspector Suryaveer Singh
✤ Sayani Gupta as Hina Siddiqui
✤ Manav Kaul as Iqbal Qasim
✤ Inaamulhaq as Mohammed Iqbal Quadri
✤ Sitaram Panchal as Sitaram
✤ Sanjay Mishra as Guru Ji
✤ Brijendra Kala as Dubey
✤ Avijit Dutt as VK Paul
✤ Mir Sarwar as Kashmiri Police Inspector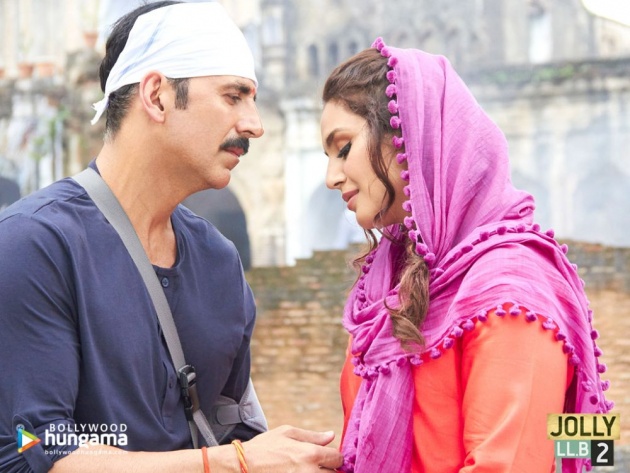 Image Credit: www.bollywoodhungama.com
There is a real world outside Bollywood courtrooms where a common man can't differentiate between a corrupt judicial system and a fraudulent police administration. And this world comes charging at you before you can look away. Add a few bullets and some dark humour and you get Jolly LLB 2, the second film in the Jolly LLB (2013) franchise.

Troubled with such structured corruption, a lawyer, suddenly awakened by his conscience, decides to take on this nexus of police, judiciary and criminals.
Movie Review Source: www.hindustantimes.com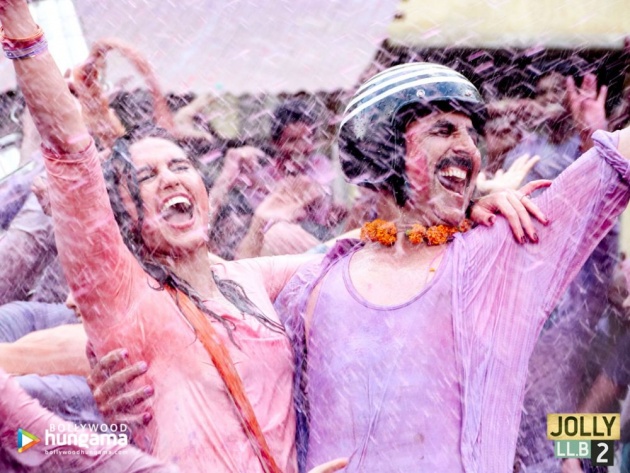 Image Credit: www.bollywoodhungama.com
Video Credit: FoxStarHindi via Youtube.com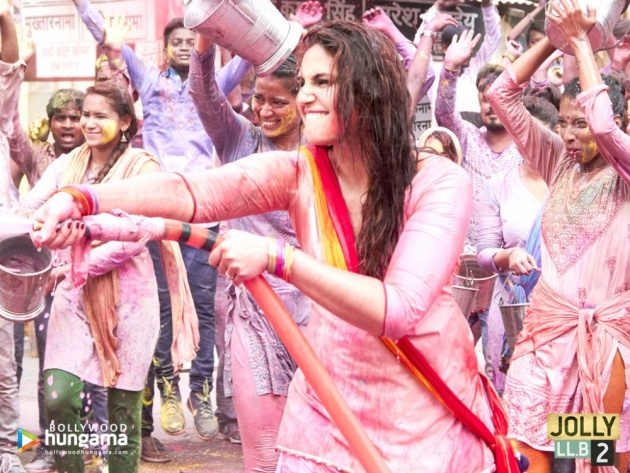 Image Credit: www.bollywoodhungama.com
✔ Movie Plot And Review

The movie begins with Advocate Jolly whose full name is Jagdishwar Mishra. He lives in Lucknow and is living a settled happy life with his family which includes his wife Pushpa Pandey. Since he is a young lawyer, he is in practice with a famous lawyer in the city who has a huge reputation and whose name is Mr. Rizvi. Jolly always thinks about his future and he feels that he needs to make his own office to attract his own clients and become a big lawyer. He gets a chance when a lady approaches Mr. Rizvi's office to give him her case. She meets with Jolly who tells her that Mr. Rizvi is busy and he can deal on his behalf. The widow informs Advocate Jolly that his husband had been encountered on the pretext of being a Terrorist. However, he was a gentleman having no such activities. Jolly tells the widow that Mr. Rizvi would take this case on the fee of Indian Rupees 200,000/-. The widow accepts the offer since she thinks that Mr. Riziv is a reliable Advocate and gives Jolly the money he asked for.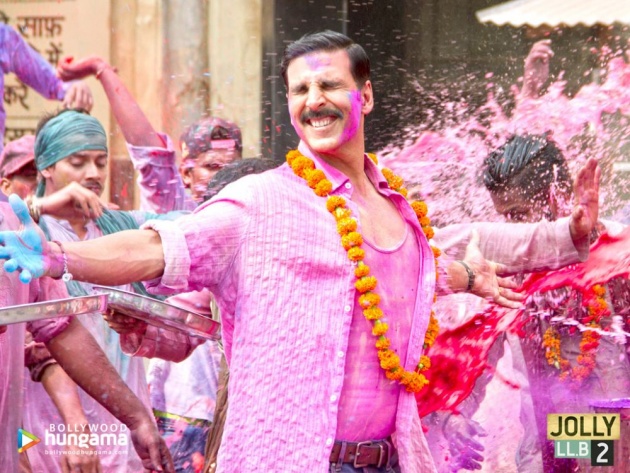 Image Credit: www.bollywoodhungama.com
The widow whose name is Hina Qasim comes to know later that Advocate Jolly had tricked her and Mr. Rizvi wouldn't take her case, she commits suicide in desperation. Since Advocate Jolly is a good at heart person, he is also encouraged by his wife to fight the case of widow in order to provide her with justice her family deserves. Jolly Advocate starts investigation about the widow's case and comes to know that late widow's husband Iqbal Qasim was in fact murdered in a fake encounter by Inspector Suryaveer Singh who claimed that Iqbal Qasim was actually a Terrorist whose real name was Mohammed Iqbal Quadri. In order to give this encounter a true identity and color, Inspector Suryaveer Singh also kills his own fellow constable Bhadouria and put the blame on terrorists. Feeling something fishy in the whole matter, Jolly advocate files a case against Inspector Suryaveer Singh who in return hires senior lawyer Pramod Mathur, another very experienced Advocate in fighting such cases in the Courts.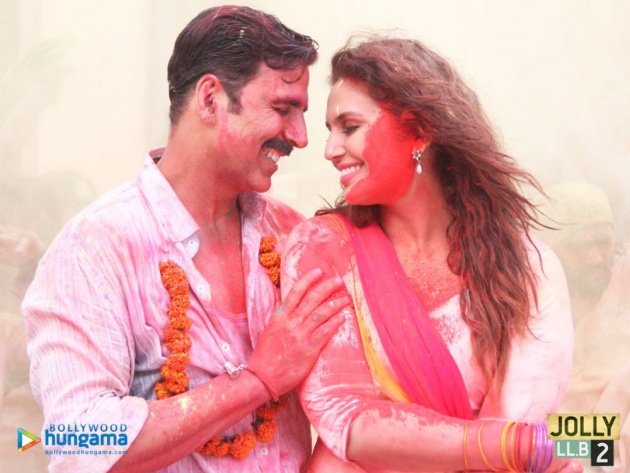 Image Credit: www.bollywoodhungama.com
When the hearing starts, the judge sees that there is no evidence provided by Advocate Jolly, therefore the Judge Sunderlal Tripathi confronts him as asks him to bring solid evidence in the next hearing. Jolly Advocate visits different cities where relatives of the involved constables were living. He finds one Constable Fahim Butt who tells Advocate Jolly after some arguments and application of force by Jolly that the person who was killed in the encounter was not the terrorist as media was so informed. Advocate Jolly takes Fahim Butt to Lucknow where the case is being heard. On the day of hearing, Advocate Mathur starts his tactics to delay the case and get another date for hearing. When he keeps repeating the same practice, the Judge Sunderlal Tripathi feels offended and makes sure that proceedings continue despite Advocate Mathur's delaying tactics. Advocate Jolly presents Iqbal Quadri who was actually living as a Hindu Pandit in disguise. With the help of Police and the statement of Fahim Butt, it is proved that Iqbal Quadri had paid a huge amount to Inspector Suryaveer Singh for the fake encounter of Iqbal Qasim as Iqbal Quadri. The Judge in the ending scenes sends Inspector Suryaveer Singh to Jail to serve life imprisonment. Jolly Advocate is happy that he was successful in providing the Justice to Iqbal Qasim and his wife Hina Qasim.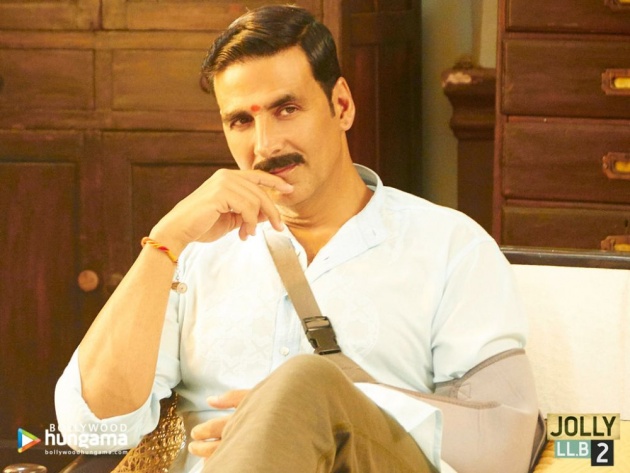 Image Credit: www.bollywoodhungama.com
Video Credit: T-Series via Youtube.com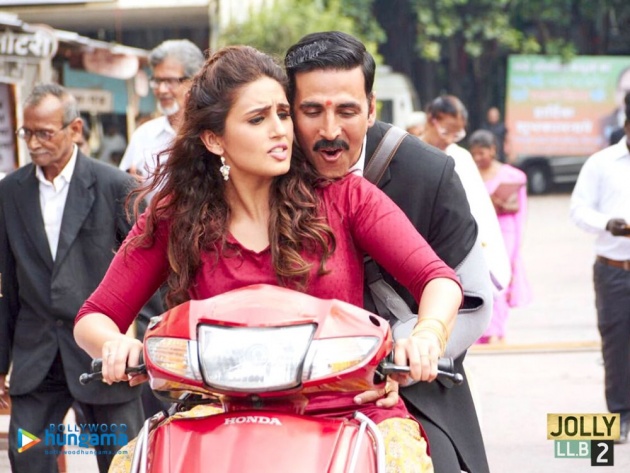 Image Credit: www.bollywoodhungama.com
✿ Here is Querlo Chat for you. Isn't it fun to chat with a Chatbot ?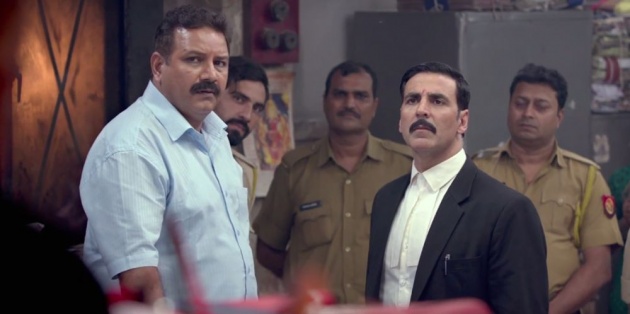 Image Credit: www.bollywoodbindass.com
✔ Conclusion
After the success of initial film of the Jolly LLB film series, the Director and Writer of the movie Subhash Kapoor has come up with another masterpiece. The movie's story truly matches the real definition of
Satire because Subhash Kapoor has successfully conducted constructive social criticism with a little touch of humor and has tried his best to highlight as well as draw attention to a very serious issue in the society which is a hindrance in providing social Justice to a common man of the society. The central idea behind the movie was a unique one and that is the reason why Bollywood movie lovers welcomed such a movie and watched with full enthusiasm. The effort bore fruits for the Director and for Akshay Kumar who played the lead role in the movie. The movie was declared to be a Hit movie and managed to earn about 2 Billion Indian Rupees on the box office.
✿✸✔✤✪ - - - - - - - - - - - - - - - ✿✸✔✤✪ - - - - - - - - - - - - - - - ✿✸✔✤✪ - - - - - - - - - - - - - - ✿✸✔✤✪

Thanks for Reading. This Blog was written by Rafaquat Noman (a Resident of Saudi Arabia and a Traveler) for bitlanders.
✿✸✔✤✪ - - - - - - - - - - - - - - - ✿✸✔✤✪ - - - - - - - - - - - - - - - ✿✸✔✤✪ - - - - - - - - - - - - - - ✿✸✔✤✪