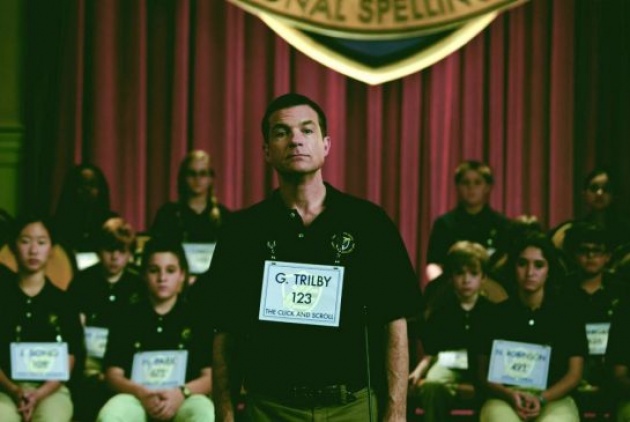 So Jason Bateman, making his first full feature film directorial debut (and he stars in this one too!) premiered his raunchy spelling bee comedy at the Toronto International Film Festival and had them all in stitches! Festivalgoers dug the movie's premise and Focus Features ended up buying the worldwide rights to "Bad Words."
Here's the full press release from Focus Features:



TORONTO, September 7th, 2013 – Worldwide rights to the comedy Bad Words, directed by and starring JasonBateman, have been acquired by Focus Features for a 2014 theatrical release. Focus CEO James Schamus and co-CEO Andrew Karpen made the announcement today at the Toronto International Film Festival, where the movie is having its world premiere.

Bad Words, a Darko Entertainment/Aggregate Films/MXN production, was represented at Toronto by Creative Artists Agency and Hicks Professional Law Corporation, which made the deal with Focus at the Festival. The movie is the feature directorial debut of Mr. Bateman, who last starred in the blockbuster comedy Identity Thief and is currently an Emmy Award nominee for Arrested Development. Mr. Bateman is also a producer of the new movie through his company Aggregate, with Academy Award nominee Mason Novick (Juno) of MXN and Darko's Sean McKittrick and Jeff Culotta. Andrew Dodge wrote the original screenplay; it is his first to be produced, and it was selected for "The Black List" in 2011.

In the movie, Mr. Bateman portrays Guy Trilby, a 40-year-old man seeking catharsis in his life. He seizes the ideal that this will come for him through…the National Spelling Bee; after discovering a loophole in the rules, Guy zealously joins the competition and easily outpaces the pre-teen field in match after match. As reporter Jenny Widgeon (Kathryn Hahn of Afternoon Delight) delves into Guy's story, Guy finds himself forging an unlikely friendship with a competitor, awkward 10-year-old Chaitanya (Rohan Chand of Homeland), which may spell things differently for his future. Bad Words also stars Screen Actors Guild Award winner Allison Janney, Ben Falcone (Bridesmaids), Rachael Harris (The Hangover), and Philip Baker Hall (Argo).

Focus Features and Focus Features International (www.focusfeatures.com<http://www.focusfeatures.com/>) comprise a singular global company. This worldwide studio makes original and daring films that challenge the mainstream to embrace and enjoy voices and visions from around the world that deliver global commercial success. The company operates as Focus Features in North America, and as Focus Features International (FFI) in the rest of the world.

In addition to Bad Words, current and upcoming Focus Features releases include The World's End, the new comedy reuniting director Edgar Wright with actors Simon Pegg and Nick Frost; Closed Circuit, the suspense thriller directed by John Crowley and starring Eric Bana and Rebecca Hall; the true-life dramatic thriller Kill the Messenger, directed by Michael Cuesta and starring Jeremy Renner; the comedic fable The Boxtrolls, the new animated feature from LAIKA, directed by Anthony Stacchi and Graham Annable with a voice cast that includes Ben Kingsley, Toni Collette, Elle Fanning, Isaac Hempstead-Wright, and Tracy Morgan; Black Sea, the suspenseful adventure thriller starring Jude Law for Academy Award-wining director Kevin Macdonald; Dallas Buyers Club, world-premiering at this year's Toronto International Film Festival, directed by Jean-Marc Vallée and starring Matthew McConaughey, Jennifer Garner, and Jared Leto; and Fifty Shades of Grey, the highly anticipated film adaptation of E L James' #1 bestselling book that is being directed by Sam Taylor-Johnson and stars Charlie Hunnam and Dakota Johnson.