This week, I started reconnecting with short film makers that I contacted in the past about joining Film Annex. With new improvements on our film distribution platform like Eren's Picks, the Buzz Score, and all our success stories, I hope they find reasons to join us, share their work and generate revenues from it.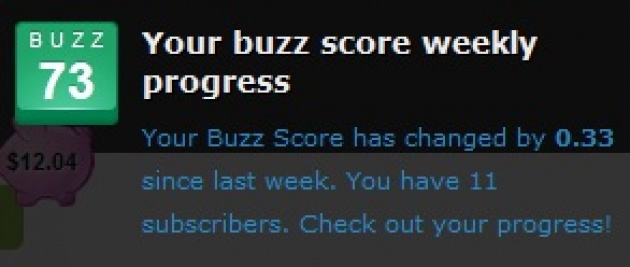 Speaking of the Buzz Score, I wrote an article on ways to increase it. It measures the reach and influence of your content on the web and is used in Eren's Picks to rank our filmmakers. The blog gives 5 easy ways to improve the Buzz Score and reminds how it works.
Some of our filmmakers are real expert at sharing on social media and Jonathan Ng is one of them. I wrote a new article in the Filmmakers on Social Media series with a great interview of Jonathan on how he uses social media to promote is work and his thoughts on online film distribution. No more than 366 Likes on Facebook!

I also worked on another edition of the Film Annex Industry Newsletter, this week with the Superbowl Best Buy Ad directed by Oscar Nominee Ryan Buckley, the Film Line-up for SXSW, and the Ed Koch documentary.
For the new content, we have several new trailers for the ECU Film Festival, Manny the Movie Guy's review of Side Effects along with interviews of the cast, a new animated segment of One Big Happa Family by Jeff Chiba Stearns, and the interview of the main character of Soliloquio by Ignacio Ruiz Alvarez.
I also promoted on our social media platforms different blogs and films, like the last video on the construction process of Malake Jalali School in Herat, Afghanistan, as part of the Afghan Development Initiative, the article on Women's Annex and women empowerment published in TakePart, or Fereshteh Forough's article on Saudi Arabia first female director Haifaa Al-Mansour (449 Likes!).
Have a great weekend,
PS: Subscribe to my blogs by clicking on the Subscribe button in the 'About the author' section below. Thanks!