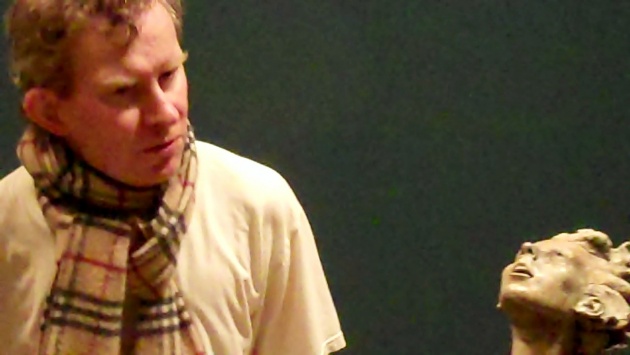 Saturday 1 June
Why are there some many people wandering round North London wearing AMERICAN IDIOT t-shirts? Because Green Day is playing at the Emirates Stadium! I am heading in the opposite direction, to Housman Books, which surprisingly does not have the magazine to which I contribute, and then to Cineworld West India Quay, where I see Neil Jordan's BYZANTIUM. The audience is respectful and attentive and, unlike me, does not laugh at the one (intentional?) piece of comic relief. They file out unenthusiastically.
Kumar and Lady O have a day in front of the television, watching first RESIDENT EVIL: EXFOLIATION (sorry, I can never remember the subtitle – it's the one that came out in 2012, DESPERATION or something; ah, RETRIBUTION) and then TWO DAYS IN NEW YORK. For me, the latter film will always be symbolised by a screening at Sundance London last year in which the English subtitles did not appear. Kumar appears to enjoy it; there are a few booming laughs from the lounge.
A new TV show THE AMERICANS starts on ITV. It stars Keri Russell, who makes Russian Spy pie as a sleeper cell agent who in the opening episode captures with her husband a defecting KGB General. I remember this movie – it was LITTLE NIKITA, written by the great Bo Goldman. It is very much post-ARGO television, with a passing reference to American hostages being released. I cannot muster much enthusiasm for it.
Sunday 2 June
I spend the early part of the morning tapping one-fingered on a keyboard. Later I see a film about a woman whose two fingers across a typewriter. Yes, at last I catch POPULAIRE, sadly without Lady O. The plan is to take Kumar to see FAST AND FURIOUS 6 in D-Box at Cineworld in Greenwich. However, I am unable to book it on Cineworld's website, being first given an error message, then unable to select it from the booking menu. I tell Kumar we can travel at risk. We travel and the tickets are not available. Kumar throws an ALMIGHTY STROP. 'I'm never coming here again, or getting excited by D-Box. This place is rubbish.' Repeat in a loop for twenty minutes with tears. Fifteen year olds, eh! I take him one stop to Canary Wharf. He settles for the 15:30 show of THE HANGOVER PART III.
I find it difficult to locate him after the screening. I run up and down the three storeys of the cinema, calling him name, thumping on toilet doors. Eventually I find him on the ground floor, calm as you like. I growl as only aged would-be thespian film reviewers can. (Comment: I belong to a painfully small demographic, like those who can remember CARAMAC – that will mean nothing to my American readers, even less to the Indian one (hello, sir).
We made another 'you won't see it on Film Annex' short this morning in which I recite Russell Crowe's speech for the MAN OF STEEL trailer. Is Superman cursed? Yes, I wasn't funny. Kumar felt really self-conscious filming outside Alexandra Palace as I attempted to launch a teddy bear into space. As I pushed it down the hill, it flipped over. In true Ed Wood style, this was the only take. Don't give up the day job.
Monday 3 June
Where can you find a group of film bloggers enjoying free drink? It could only be an event organised by the Film Distributors Association, specifically the opening of the 'State of the Art Cinema' exhibition. I arrived at around 18:45 to find the Getty Images gallery full to bursting. Yes, there was quite a queue for the loo. I found I had seen most of the posters already, either on line or at my local multiplex. Alex Zane gave an introductory speech, extolling the virtues of having the poster for PIRANHA 3DD above his bed. (These are the jokes.) Sue Perkins, the co-host of THE GREAT BRITISH BAKE OFF had sensible glasses and no need of such smuttery. The shin-digged until about 21:00 when I spilled onto the pavement clasping my scarf, saying 'goodbye, old friend' to my own reflection. Oh, and I met two women who formerly worked for Virgin Cinemas, in marketing, not cleaning up Virgin Cola. (Other soft drinks are available – AND A GOOD THING TOO; foul stuff!)
Tuesday 4 June
I attended the press screening of WE STEAL SECRETS: THE STORY OF WIKILEAKS, Alex Gibney's impressive documentary about the rise and fall of Julian Assange, a.k.a. 'you can interview me on camera for a million dollars'. (No thanks, old son.) The film used its two hour ten minute running time well. It described how the young hacktivist Assange, soon to be played by Benedict Cumberbatch as an iconic STAR TREK villain, sorry a geeky Melbournian, may have been responsible for messing with NASA. 'You have been [English rude word]-ED' said the message. Nothing was ever proven. The film mainly deals with events of the last five years, how Wikileaks revealed the corrupt goings on behind an Icelandic Bank that had to be bailed out. When the Wikileaks gang – it can scarcely be called an organisation – took possession of the leaked documents provided by the gender sensitive Pvt Bradley Manning, Assange hit the BIG TIME. He was like a God. Of course, he also went to Sweden and had sex with two young interns who were concerned about his abandonment of protection. This, and his hubris, was to be his undoing.
The film focuses on the headline leak of footage that confirms US soldiers were involved in the massacre of Reuters journalists. There were plenty of other horrifying revelations. Manning opened up to bi-sexual hacker Adrian Lamo and this was to be his downfall. The film reveals how shockingly easy it was for a low-level intelligence officer to drain a security database of its contents, with access to classified material being given to 4 million users. ('The need to know was replaced by a need to share,' says one former senior National Security official.) Gibney's triumph is to treat Assange, Manning (often represented by words on a screen and emoticons) and Lamo sympathetically and features an interview with one of Assange's accusers. (For those who don't know the story, he is holed up the Ecuadorean Embassy fighting extradition to Sweden.) A fine work!
Meanwhile, with no Future Film Steering Group to go to, Kumar discovered joy of blogging, using the site 'wordpress.com'. Mind you, I couldn't find his work when I searched for it the next day. But I'm getting ahead of myself...
Wednesday 5 June
Try tearing Kumar away from his blog! It's impossible. 'Dinner's on the table.' TAP TAP TAP! 'Flies are eating your dinner.' TAP TAP TAP! 'Flies have died in your dinner from overeating.' Tapping stops. 'I must go to the toilet.'
I was due to see SILENCE, a documentary about recording, well, silence, by Pat Collins and TWO DAYS IN PARIS, introduced by Anna Chancellor, but reader I was tired. So I cancelled both. I was very sorry to miss Miss Chancellor, who made an impression in Martin Clunes only film as director, STAGGERED. (Who is Martin Clunes? British TV star, does adverts with a talking dog for car insurance until he had points docked on his licence – I don't know the particulars – wanders around the British countryside in search of a hook. DOC MARTIN, yes, him. Named after footwear.)
It is very easy to digress doing this blogging malarkey.
Whilst loitering around the internet, I was intrigued to discover that Woody Allen's new film is entitled BLUE JASMINE and features Alec Baldwin as a Bernie Madoff-type of Ponzi scheme infamy, you know, 'heyyyyy, sit on it' – wait a minute, that's a Fonzie scheme, terribly sorry. Cate Blanchett plays Mrs Ponzi, the woman who has to clear up after her husband. It sounds too good to be a Woody Allen film – culturally relevant, surely not! Sally Hawkins and Louis C.K., who also sounds like a perfume (go figure), co-star.
Meanwhile English cricketers beat New Zealand in a one day match, bowling them out. The margin of victory, 34 runs, was slight. The venue was Trent Bridge. New Zealand won the series two-one so it was only a crumb in a biscuit of comfort.
England's Under 21 footballers fared less well against Italy. A perfectly good goal was disallowed and Italy snatched a winner. England's Coach Stuart Pearce was philosophical. 'We gotta win our next two games... it is tournament football.' I'm sorry, that's not Descartes.
Thursday 6 June
At this point, I should physically be tearing Kumar away from his laptop, but no. Apparently, having pasted a link to his Facebook he has had 25 visitors to his site. 25? I could only open my mouth in exaggerated slow motion.
As I write, music blasts from nearby Finsbury Park. The Stone Roses are playing there tomorrow. Finsbury Park is hardly Spike Island. Earlier whilst out for a walk, I heard the unmistakable sound of 'Don't Stop 'Til You Get Enough!' I've had enough, mate. Blooming sound technicians trying out their PA systems.
Spent the evening writing a review of PARADISE: LOVE but being unable to send it as Sky Television interferes with BT internet ('Sky: believe in market share!). Kumar and Lady O watched THIRTEEN DAYS, Kevin Costner's Cuban missile crisis movie.
Friday 7 June
In the early morning sent off my PARADISE: LOVE review and read some of Kumar's blog, a.k.a. I have just discovered slang words dealing with masturbation and I'm not afraid to use them. Kumar described his blog as PG – 13. No, Kumar, you haven't listened to Parental Guidance writing this nonsense. At least root it in personal experience rather than waffle.
I finally saw THE STONE ROSES: MADE OF STONE at Cineworld Haymarket. The cinema was blooming empty. Why? Because fans of the group were all at Finsbury Park seeing who could fill the most plastic beer glasses with urine. Now I should not begrudge fans of the Roses their entertainment but when I alighted at Finsbury Park I was sent on an Unmagical Mystery Tour looking for the bus stop. 'Turn left and left again', when I was informed I could not go to the bus garage. This sent me down the dark recesses of Fonthill Road which is not a happy place. Basically, I had to walk home. Just as I approached my house, a W3 bus past me with hardly any passengers. Hardly surprising since NO ONE TOLD ME WHERE TO CATCH THE BUS!
Curse you, Stone Roses promoters. Film was good, though.
Saturday 8 June
AFTER EARTH or the laundry? What a choice. Team Oliver chose the Will Smith movie. Opinion was divided between pro (Kumar), anti (me) and the fence (Lady O). Given Will Smith is renowned for being quite savvy when it comes to sci-fi, I was somewhat disappointed that it was so basic: crash-land on a planet and find a homing beacon to get help. What I learned is that if you pack a pet on a spaceship, it is bound to escape. It's the first law of DARK STAR.
England's cricketers made a good start in the Champions Trophy competition beating Australia in their opening game (a one day, 50 over match). Well, blimey, that's a minimum requirement. The big telly event of the evening (we say telly, you say Savalas) was the final of BRITAIN'S GOT TALENT, in which the most dramatic thing was not that Simon Cowell got pelted with eggs live on national television, but that Jack Carroll didn't win (he's a fourteen year old kid with a disability – cerebral palsy, I think, but there's nothing wrong with the speed of his brain). Kumar & I reckoned it was a fix. They're never gonna let a kid win. Lady O was on the fence.
On future plans, I told Lady O of my grand vision, to open a small cinema in a rural setting devoted to British films, with a coffee lounge and a flat above it where we could live. We would absolutely refuse to be programmed by City Screen but instead show movies that traditionally only got a week's release if that before heading for DVD. Something to do in Lady O's retirement; she wants something to live for more than another Brunch Burger at the Devonshire House. (Isn't witnessing Kumar's future success enough?)
Sunday 9 June
After a quiet morning writing a film review (AFTER EARTH) and experimenting with Windows Movie Maker, cutting a 'Man of Fool' trailer, Team Oliver had lunch (single person roast beef dinner for Kumar, chicken with leeks for the vegetable eaters of the house). We then headed to the BFI South Bank so that Lady O and Kumar could see James Franco introduce PSYCHO. We had the usual talk about Kumar's ambitions: he wants to make Seth Rogen type comedies with his friends - SUPERBAD meets ZOMBIELAND. This is all contingent on him getting a decent camera. No, Kumar, it is all contingent on you writing a blooming script!
Anyway, after lunch we all trotted off to the BFI South Bank where Kumar and Lady O saw PSYCHO introduced by James Franco, apparently he had some sort of epiphany watching it. 'Hey, I'm ....' [The sentence cannot be completed for fear of legal suit.] Except that he did not have an epiphany watching this movie, it was MY OWN PRIVATE IDAHO. Apparently, Gus Van Sant gave him the dailies and he re-cut the movie – INTENSE. Franco and photographer-filmmaker Douglas Gordon have collaborated on some sort of art installation-thingy featuring footage from PSYCHO. It's very – what's the word?
I sat in the bar editing ALL SMASHED on Windows Movie Maker. No background music but a nice change not to have dissolves. Now, if I could just speed up the captions....
In the evening we watched a little bit of Jimmy Fallon and had pizza. A good day! Kumar and Lady O enjoyed PSYCHO, in case you are wondering.
Monday 10 June
Kumar's last day as a fifteen year old. I was very tired in the afternoon. Kumar wanted to use the internet to do his homework – turning stills from an actual film trailer into a PowerPoint Presentation. Well, of course I didn't mind. So I had my snooze – snore, snore, roll over, roll over – and I woke up an hour later and Kumar had not done a stroke of work. He was on that wretched Facebook exchanging messages! Well, I gave him my most fierce Larry Oliver scowl. You know, eyes close together, mouth straight. He had better get his act together otherwise NO STEERING GROUP and NO JOSS WHEDON. It was not so much the Riot Act as the Riot Bill because it still had to go to Committee Stage (Lady O had not given it Royal Assent). So Kumar was suitably told. I went off to the library and then did some shopping. I even did my own crude cut and paste onto a PowerPoint presentation of stills from the trailer for PARANOIA (starring Liam Hemsworth, Gary Oldman and a bald Harrison Ford) just to demonstrate proof of concept. (I should have picked a better action film for Proof of High Concept.) By the time I came home, his assignment was complete.
Yes, I know this is supposed to be the Diary of a Film Reviewer, but sometimes real life intervenes.
Tuesday 11 June
Those ridiculous Under 21 footballers (under £21 hundred a week salary, they should be – the lot of them) bearing St George's colours got trounced by Israel One-Nothing. That's right, England's Under 21's won nothing. Home without a point! Enjoy your sunbeds, boys.
Kumar celebrated his 16th Birthday by going to Future Film Steering Group where he made a 15 second short films with his chums, receiving editing advice from Rob Savage. (When is STRINGS coming out?) Meanwhile, I headed to Soho Screening Rooms to see HUMMINGBIRD which tries to reconcile Jace with the Stath. Yes, Jason Statham tries to become a SERIOUS ACTOR whilst threatening a bad guy with a SPOON. 'You brought a knife. I brought a spoon. Now tell me – who killed Isabel?'
I'm getting ahead of myself. Statham plays Joseph Smith, a soldier who in Afghanistan took part in revenge attacks on five innocent Afghans and gave himself a dishonourable discharge. 'I just walked out,' he explains. We first meet him on the street WITH HAIR. He's homeless and amongst a group disturbed by the taxmen. 'Give us your money and your drugs.' These homeless people all hide their stashes in their mouths and not up their rectums – very strange. Anyway, Jace being Stath – he fights back and gets a right kicking in the ribs.
So Jace flees the men, leaving Isabel behind and hides in a rich bloke's apartment. The owner is Damon Caulfield, a photographer who specialises in nude torsos in black and white. He's away until October 1st in New York. Result! Plus he left his keys behind – and his car keys! Joey has won the lottery. His post even includes a bank card and a pin number. Joey is in the money.
The first thing he does after drinking vodka, that is, to numb the pain of two cracked ribs is withdraw a whole wodge of cash. Then he drops off £500 to Cristina, the nice lady who doles out soup to the homeless. 'Buy yourself something nice,' he tells her. The bespectacled nun wimples.
Now Joey can only stay drunk for so long. But he is concerned about young Isabel. The two taxmen find her and make her a prostitute. Joey leaves posters around with his name and number. Isabel leaves a message: 'It's all right. I'm OK.' We know it's not true.
So Joey starts to get his life back together. Cristina confesses to her Mother Superior that she has this £500 donation but she wants something REALLY SPECIAL. This turns out to be tickets for a ballerina's farewell performance. It's sold out, except for a box. How much? £500! When is the performance? 1 October.
We know the film is building to something.
Joey smartens himself up. Damon's threads fit him exactly. (Really?) But he has a little problem with the neighbours. So he passes himself off as Damon's lover. Incredibly, they buy it.
Joey has to get a real job. So he ends up as a kitchen hand in a Chinese restaurant in Soho. He's the go-to man for trouble. (What do you expect? He's Jason Statham.) So when some diners cause some trouble, Joey shows them out. 'You'll miss your last train.' One of the guys takes a swing. Joey winds him. 'You'll miss your last train.' Another guy has a go. Joey easily floors him. 'You'll miss your last train.' Eventually he takes all of them on, slamming one against glass.
'Guess what, you've missed your last train.'
This does not really compare with: 'Dominic Torretto. You don't know me. But you're going to.'
So writer-director Steven Knight, best known for his screenplays for DIRTY PRETTY THINGS and EASTERN PROMISES which covered some of the same territory, but were better directed, obviously, does not really do tough guy dialogue. Now you know why Statham hangs out with Luc Besson and went to Hollywood. He still has a thing for the nun and he does more tough stuff for the Chinese.
He becomes a driver – who'd have thought?
So he sends Cristina dozens of pizzas and Chinese meals. 'Thank you, crazy Joey,' say the homeless.
Meanwhile, his neighbour wants to find out if he's bi-curious.
'Lately I'm attracted to nuns.'
Joey invites Cristina to dinner. He has bought her a red dress. They dine al fresco. Cristina tells him she might have some news. The police found a woman in the river. She shows him a photograph.
Joey cuts his steak into minute pieces. There is some serious meat cutting going on.
He burns the photograph and throws the table over. He wants revenge. He wants a description.
He's going to have to pay the taxmen a visit.
Joey is dressed smartly when the taxmen come to call. He does the business, breaking the big bearded beefy guy's arm and putting the little guy in the bin.
He threatens the little guy with a spoon. 'What happened to Isabel?'
It was a City Guy, around thirty, with a scar above his eye.
Joey passes on the information to Cristina. The police need more information.
At this point, Joey is part driver, part tax collector. He goes into a restaurant to collect payment. They don't take him seriously. Big mistake! One of the guys pulls a gun on him. Joey shoots him in the arm.
Now I forgot to mention why the film is called HUMMINGBIRD. In a drunken hallucination, Joey sees birds floating in front of them. They are like drones or Coalition Force helicopters.
Joey fires at them. Only he does not have a gun. That's when he decides to get sober.
So Joey – named after a bird, obviously – who's a pretty boy, then? He wants to catch up with his former family. He sees his ex-wife (Vicky McClure) collect their daughter from school. Later he tries to talk to his ex in a supermarket. She has been reduced to giving men blow jobs for £25. She throws cans at him, obviously.
Joey gives her money.
He has to do a job. A job no one wants. He drives a van to a lorry park and collects a truck. Inside there are boxes. Inside –
'With your left hand, make a fist,' he says in his best Cantonese. He counts 58 fists. Some of them are children. Some of them are malnourished.
In exchange for this, he discovers that Isabel's killer is Max Forrester. He is going to some top do on 1 October.
Some time before the end of the movie, Joey and Cristina have a date. She gets drunk at a gallery, wearing the red dress. They share a kiss. Cristina is going to Sierra Leone on October 2. Soon her crazy period will be over.
Some time before the end, Joey buys Cristina a camera to take pictures of him. She even photographs him close up – smiling. He wants pictures for his daughter, to remember him in smart clothes. Cristina goes back to Joey's apartment. They make love off screen. It is October 1. Damon comes home. They flee with a bag full of cash.
It is the night of the ballet. Cristina waits for Joey. Joey goes to a corporate party, meets Max Forrester, tells him he should know what life is like 'down there' and tosses him from the roof of the building.
He visits his ex-wife. His daughter answers the door. Joey asks to hold her hand. He leaves a bag of cash that Cristina refused to take. Now it's time to get drunk.
Cristina finds him in Covent Garden. She puts her shawl around him. She sees the ballerina walk to her car – the woman she could have been if she had not been assaulted 17 times by her gymnastics teacher in Warsaw. On the 18th time, she stabbed him. They did not send her to prison. They sent her to a convent.
Joey who once saw (whilst hallucinating) a body appearing from the ceiling in Damon's flat confesses his part in the killing of five innocents.
Cristina leaves for Sierra Leone.
Joey left Money for Damon – rent plus damages. He is back on the street. But the police are closing in.
Well, it isn't Shakespeare.
The worst thing is how they pass off one part of Covent Garden as another. You know the locations are all wrong. (It's all to do with filming permits, you see.) You understand why Joey works in Soho, but not why the Chinese trust him. At the end, his voiceover tells us he's shopped them.
I don't think HUMMINGBIRD will remain in multiplexes for very long.
Wednesday 12 June
Kumar sees MUCH ADO ABOUT NOTHING and an interview with Joss Whedon at BFI South Bank. After waiting for tickets for the latter for 90 minutes (17:35 to 19:05) I procure coffee from M's, lemonade from Marks and Spencers. Kumar and I have a drink between events.
I sit in the bar typing my entry for Kumar's birthday. Next to me an actor and actress talk loudly, name checking Hugh Laurie, Darren Aronofsky, Johnny Depp and a bad date,
Actors, eh?
Kumar enjoys the film and the interview. He is successful in obtaining a picture of himself with Mr Whedon. The dozen or so autograph hunters are similarly disappointed as we are told, 'Mr Whedon has left the building.' Is he aware how he has disappointed his fans? 'They didn't pay!' he might reply. What a very selfish Mr Whedon.
Thursday 13 June
The curse of Superman strikes. As I prepare to meet Lady O for the press screening of MAN OF STEEL, Kumar asks to use my computer – my portal to the outside world – to play his Maths revision CD. This is all well and good until it ceases to work. Kumar ejects the disc and switches the computer off but then it won't go back on. Or rather the computer is on (a white light shines) but the keys do not work. On-off, ctrl-alt-del – nothing works. I use some fairly violent curse words which Kumar repeats back to me (what do I expect?). The collective brains trust finally determines to remove then replace the computer battery. Success! Power and access to functionality are restored. I leave Kumar to continue his revision but leave the house WITHOUT THE TICKETS.
More unprintable curse words follow.
Fortunately the good publicists let Lady O and I in, though it is 18:50 and there are no good seats available. Lady O moans, as well she might. Then Senior Publicist Jane Trotman introduced the film.
'Yesterday was the premiere and you could tell because it rained!' We were treated to two trailers (PACIFIC RIM, THE DESOLATION OF SMAUG) before the main event.
I could not fault the actors but the human element was missing. Lady O felt the film took too long to reach its conclusion. Both of us were disappointed. However, I can commend writer David S. Goyer for introducing fresh elements to the story.
Kumar was still up when we returned home, wanting A DRINK. Water late at night before bedtime – a recipe for disaster...
Friday 14 June
Kumar did not do any revision. I found him watching MADAGASCAR 3: EUROPE'S MOST WANTED with Lady O. Bad Kumar! I remonstrated with him appropriately – he has Mock GSCEs in less than two weeks. 'Wake me up at 7 am,' he pleaded. I was cross. CROSS. Moreover, now I had to get up early on my 'Larry Oliver lying in day'. Growl!
Put review of MAN OF STEEL on Film Annex. Some problems with the title for reasons I did not understand....
Saturday 15 June
Kumar did intend get up at 07:25am and put face to revision whilst I went shopping and facilitated the laundry. By the time I had returned he was being tested in Spanish by Lady O who, as one might expect, did not want to go out today.
Went to the library and fixed my MAN OF STEEL review on Film Annex. I also deposited some money into Kumar's account (it was his birthday last Tuesday and his uncle had sent him a cheque). The teller would not advise me of his balance. I gave her my worst Larry Oliver frown.
Kumar's revision was short-lived. He went off with his chums to see MAN OF STEEL. He returned in two minds. 'It's just BATMAN BEGINS with Superman instead of Bruce Wayne,' he complained. He thought he might like it more in D-Box, the cheeky so-and-so.
Sofia Coppola was one of the guests on LATE NIGHT WITH JIMMY FALLON (first aired June 10th) for about ten seconds publicising THE BLING RING. Russell Crowe talked about meeting Henry Cavill during the making of PROOF OF LIFE and sending him a care package which inspired Cavill through his lean years. Cavill of course is Kal-El or just Kal to his friends.
Sunday 16 June
Lady O is unwell. I type a review of WE STEAL SECRETS and send it to one of my editors. Then I try to upload MAN OF FOOL onto Film Annex. After Kumar stirs he works diligently on his blog. I'd rather HE DID SOME REVISION.
In the afternoon, we headed out to the Prince Charles cinema to pick up tickets for next weekend's AVENGERS marathon. Mission accomplished, but alas, no tickets left for the 'Edgar Wright Takeover Event' on Saturday 6 July. Kumar is very disappointed.
Monday 17 June
And the surprise film at Cineworld cinemas nationwide is... NOW YOU SEE ME. Saw it at Cineworld Trocadero – yes, I had truck with the Troc - though it was allegedly full. Plenty of trailers for E1 distributed films: 2 GUNS (looks terrible), THE MORTAL INSTRUMENTS (generic, boring), RED 2 (might be good, but Bruce Willis doesn't really put himself out), DIANA (Naomi Watts, what are you doing?) Oh, and a trailer for THE INTERNSHIP. I remember when E1 or Entertainment One to its friends released good movies like NEDS – Non Educated Delinquents. What happened?
Tuesday 18 June
One week until Kumar's mocks. Still, he goes to that Steering Group. Oh well. That's mockery for you.
Wednesday 19 June
Wrote reviews of NOW YOU SEE ME and BREATHE IN, the latter opens the Edinburgh Film Festival today. In cricket, England improbably beat South Africa and earns a place in the Champions Trophy final on Sunday. Wish 'em luck!
Thursday 20 June
I wrote a message to that enterprising filmmaker Simon Horrocks, who is endeavouring to raise £15,000 to screen his £4,000 movie THIRD CONTACT on London's biggest IMAX screen at the BFI South Bank. Me, I'd use the £15k to make another movie and screen my £4k movie at Portobello Film Festival. Still, one cannot legislate for ambition.
In the late afternoon, I head for Stoke Newington where I have been invited for champagne and canapés (more like canapé singular) at a French restaurant on the main road. (How was I supposed to find it – I cannot even remember its name!) Still, find it I do, after two false starts. (There are three Stoke Newington streets with similar names – I got terribly confused.) There I am greeted by my hosts, the good people of FRANCE IN LONDON website. We head to the basement, where I receive said canapé, a tasty concoction in a plastic shot glass with what looks like crepe pastry on the side. (Reader, it was green, tasty but brief.) I got chatting to an embittered interpreter – I kept calling him a translator, which must have galled - whose work with asylum applicants had been contracted out by MR CAMERON. (Yes, he spoke in block capitals.) He voted for the Conservatives, but wasn't happy with them. His wife – or I should say, his second wife (he told me how his daughter lived in Stoke Newington, but he wouldn't visit her; apparently, she didn't approve) – was an Asian born lady who had just seen Lenny Henry in a new production of FENCES and was altogether more pleasant. No chips on her shoulder; I suspect her diet was more varied. She was a supply teacher but, like her husband, had suffered at the hands of the Conservative Party. 'They're hiring kids now, not properly qualified teachers.' I asked if she had taught in North London. She shuddered. 'I taught in Tufnell Park.' She preferred East London and Ealing – she taught all over, when she could get the work. Science was her specialty but supply teachers are asked to teach anything. I felt genuine sympathy for her and wished her well.
A lady in her forties was sitting on her own staring at images projected onto a wall. (The restaurant screens content from a French TV channel that specialises in pop video type stuff.) I tried to engage her in conversation. Another victim of the economic downturn, she was unemployed. Formerly, she worked in the city as a researcher. She did not invite conversation. I asked her one interesting fact about herself. She had taken a Zumba class. (I explained my efforts in the marathon department.) I took my leave of her but she would not shake my hand. (Rule number one: only talk to couples.)
I had a brief chat with Patricia O'Connell, of FRANCE IN LONDON, who explained that her next event was the Chelsea motor show with a tie-in for the movie RUSH (a biopic of James Hunt, due out in September). I also met a web designer, a man called Guy, who explained the difference between English and French websites; the English like lists of features, the French like demonstrations – what does it do. I suppose this is the difference between the reserved and the passionate – clichés even enter website design.
I got back from North East London in time to take Kumar to North East London for his free 22:00 'Slackers Club' screening of MONSTERS UNIVERSITY at Hackney Picturehouse. The show was sold out. I tried to follow Kumar in (well, you never know) but the security staff correctly ejected me. (Quite right too – never go in without a ticket, boys and girls.) I had a fairly boring two hours listening to the heavy bass of music until the film finished. I saw the final gag – scant consolation really. Kumar and I got home just before One AM. I could not let the young lad travel back alone.
Friday 21 June
At the Apple Store, visiting the site 'Free Movies UK', I discovered that Kumar's favourites, Seth Rogen and Evan Goldberg were appearing next Monday at a special Q and A screening of THIS IS THE END, sponsored by Yahoo Movies UK. To get tickets, you had to email a question. The best ones would get picked. I duly entered a question about whether celebrities fought over their respective death scenes. Well, you never know...
Saturday 22 June
It was the day that Kumar would attend his first 'all-nighter' at the Prince Charles Cinema. One ticket, six films: IRON MAN, THE INCREDIBLE HULK, IRON MAN 2, THOR, CAPTAIN AMERICA – THE FIRST AVENGER and AVENGERS ASSEMBLE. I decided to make a short film in which Kumar would enter the cinema and then emerge thirteen hours or so later affected by cramp and wanting the toilet – well, maybe not the latter. I decided to quiz him.
Me: 'Black Widow, Sue Storm, SuperGirl, Seven of Nine – you see where I am going with this - which one has the silliest name?'
Kumar: 'Who's Seven of Nine?'
Me: 'David Banner –'
Kumar: 'You mean Bruce Banner.'
Me: 'Bruce Banner has anger management issues. Why don't those villains give him an everlasting joint? He could be permanently mellow on marijuana.'
Kumar: 'We're supposed to be PG, Larry. We're setting a bad example for the kiddies.'
Me: 'The Hulk and Iron Man. Who would win in a fair fight?'
Kumar: 'The Hulk, obviously!'
Me: 'No – the Hulk doesn't fight fair. He just smashes.'
Well, it passed the time.
Eventually I said goodbye. A tear came to my eye. Little Kumar will get his first back ache. It is like seeing him ride his first bicycle – I seem to recall that ended with him in pain.
I popped off to see the 21:00 screening of BEFORE MIDNIGHT with only my Cineworld Unlimited card and coffee money in my pocket. But about that 'Edgar Wright takeover'? Surprise! They had 15 tickets left. I had no money, so had to return tomorrow.
Lady O stayed up to watch FAMILY GUY and the end of Zack Snyder's DAWN OF THE DEAD. When I went to bed at One AM, she was watching something else.
Sunday 23 June
Two words: FRANCES HA. This was my film of the year so far, though Kumar was less impressed.
My morning: a tube to the West End. Filmed intro as families filed into a preview screening of MONSTERS UNIVERSITY at the Odeon, Leicester Square. Kumar emerged red-eyed at 10:25. I filmed his response quickly. He still had his phone and membership card. We were in time for a junk food breakfast. Then, we raced to take a Piccadilly line tube to Green Park (Kumar ate on the way). Change for the Victoria Line, then a southbound train to Brixton. I had enough time to relieve myself of excess liquid before we took our seats in the Ritzy screen two.
Kumar had enjoyed his AVENGERS marathon though had nodded off during IRON MAN 2 (briefly), THOR and CAPTAIN AMERICA. He had run out of food early. So next time he would prepare better.
During FRANCES HA, his eyes closed. He laughed a few times but was clearly worn out. He was less engaged by the Q and A with Noah Baumbach and Greta Gerwig. 'I thought it was going to be more interesting,' he complained.
We took a bus back to the West End, passed through WEST END LIVE in Trafalgar Square, a celebration of London theatre – I picked up a new Oyster Card holder advertising the musical' Charlie and the Chocolate Factory' - then headed for the Prince Charles.
Little Kumar Williams got his own 'golden ticket' for the Edgar Wright takeover event.
How were we going to top that?
A few more words: an audience with Seth and Evan.
The English cricket team snatched defeat from the jaws of victory in the climax of the Champions Trophy (atrophy, I call it) failing to eclipse India's 129 in a reduced 20 over game. They lost four wickets in swift succession, which said it all, Bhopara and Morgan's efforts being wasted. Ho-hum.
Monday 24 June
We made it to the Seth Rogen - Evan Goldberg Q and A screening of THIS IS THE END at London's Soho Hotel - wahoo!.At last Kumar would get his picture taken next to his hero.
Kumar thought he had seen Seth Rogen inside, wearing a hoodie. He was ecstatic.
We saw the film, THIS IS THE END.
Kumar was ecstatic.
We attended the Q and A and I filmed some of it on the Flip.
Kumar was ecstatic.
Seth and Evan left without posing for photos.
Kumar was depressed.
He moaned all the way home.
At some point, he will remember this as one of the happiest days of his life. For me, it was back to the kitchen.
Tuesday 25 June
Packed my bag for a trip to The Hague – I was finally going on trial for crimes against film criticism (boom, boom). I borrowed some language CDs (colloquial Dutch) from the library. It looked like hard work.
Kumar only completed 25% of his Maths paper in the first of his mock exams. Not good. I should have pushed him harder. The phone appeared to be cut off. Both Lady O and I reported it to BT. Apparently, there is a fault on the exchange.
Wednesday 26 June
Two Euros Fifty for a tiny cup of coffee? That's the real crime. This was what I discovered at Den Haag. Saw ONLY GOD FORGIVES at the Pathe Spui in the city centre. It was not good.
Thursday 27 June
Saw L'ECUME DES JOURS (le nouveau film de Michel Gondry) in French with Dutch subtitles at Film Huis Den Haag, screen 4. In the same auditorium, you could see one film (say HANNAH ARENDT) at 19:00 followed by another (L'ECUME DES JOURS) at 21:30. These films would be screened at different times on different days. The auditorium had thirty seats. Only six were filled for my screening. I was the one viewer who laughed, but then I responded to the visuals rather than to the tired puns ('Jean Sol Partre'). Apres le roman de Boris Vian.
Visited the International Court Tribunal for Yugoslavia where a glass partition separates viewers from participants. I did not see a trial take place, rather a cold set. I felt very cold.
Friday 28 June
Back to normality: yesterday, whilst I was away, the BT man fixed the phone. Also, yesterday, Kumar went to a friend's party in Croydon and travelled by himself. Well done him! Lady O watched episodes of MIRANDA and MRS BROWN'S BOYS and laughed heartily. She was, however, worn out. Kumar's mocks were over.
Saturday 29 June
Lady O and I watched Laura Robson win her third round match at Wimbledon. Wrote reviews of THIS IS THE END and BEFORE MIDNIGHT.
Sunday 30 June
Made another silly movie with Kumar, THANE OF CAWDOR, aka THE SILENT SCOTTISH PLAY. We had really good locations, including a function room overlooking the Globe Theatre on the South Bank and an art museum in Guildhall. A shame we had to convert the footage to black and white.
Hope you had a good month at the movies.