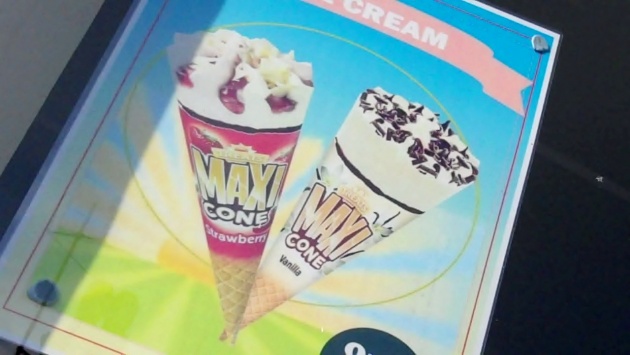 Sunday 1 September 2013
Middle aged nudity. That's just what the teenage Kumar doesn't want to see. Unfortunately, it was a feature of GLORIA, a Chilean film which constituted his first ever test screening.
Clearly, Kumar travelled all the way to Clapham Picturehouse on the hope of a cutting edge American indie. The boy can dream. He did, however, give GLORIA a chance. This had nothing in common with the John Cassavetes movie of the same name, or the Sidney Lumet remake with Sharon Stone. Rather it was about a fifty-something divorced mother of two who goes to retro 1970s discos, sings on the way to work and begins a relationship with the owner of Vertigo Park, which would be a pretty good name for a film but is actually a real-life theme park in Santiago.
Kumar, of course, does not relate. Still, he answers the questions on the test sheet with diligent slowness. The cinema, Clapham Picturehouse screen three empties as his pen works up and down like a windscreen wiper. He chooses the same striking poster image that I do (Gloria on a roundabout, her eyes closed, her face welcoming pleasure) and writes that it sums up the film better than the two alternatives: a woman looking into the face of a man in day light – he could be her long-lost brother – and a woman sitting in a bar on her own; what is it, LOOKING FOR MR GOODBAR for the over 50s? I must say I like the sound of that.
Afterwards, we procure some fizzy drinks from Clapham Sainsbury's. Kumar opens a tin on the bus – it is, of course, non-alcoholic. We get various buses back to North London via the Elephant and Castle and Kings Cross. It takes a couple of hours but saves 75 pence on Kumar's Oyster card. You'll never know when you might need that! Later, I send an appreciative tweet to Network Releasing, which they kindly acknowledge.
Monday 2 September 2013
Kumar spends his day at the BFI South Bank, completing the dubbing and editing of his short, FLICKER. Except that he does not quite finish it. I try to persuade Lady O to join me at the premiere of Si Horrocks' THIRD CONTACT. This is his big day, the culmination of his ambition. I don't have a ticket for her, she expresses her customary prevarication. No matter. I suggest Kumar turns up as well. 'You'll know where I'll be,' I say.
I know where I'll be all right – blooming late. For some reason, I set off in a tardy fashion to the BFI IMAX Cinema at Waterloo roundabout. Once inside there is a very long queue. I thought it might be one of those premieres with posters for the film everywhere, paparazzi and a red carpet - well, it wasn't like that. It was filled with Kickstarter donors, crew, friends and associates of these groups.
I was some way in the queue when Kumar spotted and joined me. Mr Horrocks shook my hand personally and presented me with my ticket which was a blank except for a seat number written in high-lighter. (I was hoping for a souvenir.) He also gave Kumar a ticket but alas we could not sit together. Instead, we swapped seats. I sat on the side whilst Kumar was in the central block. It was ironic that the seats next to both of us were empty.
The film, THIRD CONTACT, reminded me of Paul Schrader's adage: viewers would rather be confused than bored. I was confused but not bored by a tale of a psychologist who breaks down in front of his patient. (For a brief moment I thought the patient might be the main character.) With its main subject being quantum suicide – try putting that on an ad - the film's most admirable quality is that it eschewed conventions of commerciality. That said, it did boil down to characters having holes drilled into their heads. Horrocks had paid a lot of attention to dramatic structure and the film had its own atmosphere. There is definite room for films that invite audiences to puzzle over them, offering the surface pleasures of photography and (dis) location. It could have used more humour, but it does seem to exist in its own parallel universe.
The Q and A session involved the dry-voiced Horrocks (without the aid of an MC) inviting people to ask him stuff. I thought he might invite his cast and crew to the stage, but in the end it was just him. At the back of many of our minds, there was really only one question: how does it feel to stand in front of several hundred strangers who you know helped you realise your ambition? Horrocks didn't have to say: he was bowled other. The experience seemed unreal.
There were a number of questions. 'What camera did you film on?' He pointed to an object most of us couldn't see. 'This one!' He described in more detail his mental breakdown after his career in the music industry went belly up, how he filmed over a year with his friends but was dependent on their availability, how Film Council readers liked his script (for a different project, THE MAN WITH A BULLET IN HIS HEAD, also about quantum suicide) but the Film Council did not want to back him, how he got involved in short filmmaking by writing a script about a homeless woman on the South Bank who is helped by others (sounds like a metaphor for his own experience) and how he got such good sound. Questions via Twitter flashed up on the screen; Horrocks did his best to acknowledge them (after my prompting from the Gods) but he could not quite keep up. These questions were interspersed with messages of congratulations and praise. Using the echo-y microphone, I asked him about the scene in which the main character goes to a company called Destinations after finding a letter addressed to a woman who had gone missing. 'I didn't think organisations in the hole drilling business would use headed note-paper.' Horrocks said of course they didn't, but he missed my point. Why would the hero think they would?
Afterwards, I met Mr Horrocks in the bar to thank and congratulate him. He had a steady stream of friends, well-wishers and people who wanted to have their photo taken with him (including yours truly). A young Polish woman in the queue told me she found the film moving and disturbing. Mr Horrocks would have been pleased with the response. An actress who had recently done theatre in Leicester Square (well, just off it) gave Mr Horrocks her card. I couldn't really stay. It was back to school for Kumar tomorrow. I felt it important that Mr H should enjoy his night.
Tuesday 3 September 2013
If I could give myself a piece of advice, it is: always check my email. I had rsvp'd for a screening of HOW TO SURVIVE A PLAGUE but did not check to see where it was playing. So instead of just popping in to the Apple Store to check (you'd think I'd buy an i-phone) I checked out preview theatres where I thought it might be on. At the stroke of half past six, I ended up at the Charlotte Street Hotel where POWDER ROOM was being screened. The kind people of Organic Marketing allowed me to see it – and the barman accidentally served me with two beers instead of one after I requested a bottle and then pointed out I had two sets of notes. (Oh dear!) I signed an embargo so I cannot say what I thought of the film until the week of release. I can say that it is adapted from a play called WHEN WOMEN WEE and is set ostensibly in a ladies room of a night club in central London. The cast is mostly all women and is headed by Sheridan Smith, Jaime Winstone and Oona Chaplin.
Afterwards I headed to the London School of Economics for an editorial meeting and spent a good twenty-five minutes running up and down the corridors of the Clements Building looking for the room. It turned out the meeting was postponed tomorrow. I did not get the memo. As for the screening of HOW TO SURVIVE A PLAGUE, it was at Somerset House, just round the corner of LSE. Silent scream!
Wednesday 4 September 2013
Everybody who was anybody in the film industry and was available first thing in the morning turned up at the Odeon Leicester Square for the London Film Festival launch, which if I had checked my e-mails, I would have noted started at 10:00am. I arrived closer to half past and after getting a cup of coffee – the catering was almost cleared up and I almost helped myself to a cup of effluvia – a mix of coffee, water and juice left in a jug – until being warned off by one of the serving staff, I wandered down in the dark to the front row as Clare Stewart was speaking. Big blooming mistake! One of the guests had put their bag in the walkway in the front row and I tripped spilling coffee on my FNAC bag and my suit. For a moment I thought I would have to explain that I wasn't in the 'Laugh' section of the programme. I did find a seat but bemoaned the loss of coffee. Stewart's innovation is to intersperse dry introductions with mini clip reels with selections of extracts, though nothing from LABOR DAY as the trailer was still being finalised. The table full of programmes that I noted on arrival revealed a shattering truth: no bags this year. I was disappointed. On the other hand, it was right that the BFI should seek to reduce the amount of surplus paper it created. Paul Greengrass, whose film CAPTAIN PHILLIPS opens the festival – the first British director to have an LFF opening film since 2006 – complimented the programme and described film as a mirror and a window: we look at ourselves and we see other worlds. I look in my mirror and windows and think: 'could do with a good polish.'
Thursday 5 September 2013
THIRD CONTACT goodies – a t-Shirt and incidental soundtrack - greet me when I return home in the afternoon, having arrived in a large white envelope. I model the t-shirt and ask Kumar to take a photo, which is a more complicated proposition than it should be (should have gone for portrait not landscape). I write a piece on how THIRD CONTACT could be promoted and put it on line (checking my emails as well; I'm learning).
Friday 6 September 2013
I finally get my passport, valid until 29 August 2023. That's a science-fiction date. I wonder if we'll have jet packs or corned beef with decent sell-by dates. They have moved the photo to a different page. Overall, the passport looks a bit more vulnerable to damage when stuffed in the old trouser pocket. Story of my life, that one!
I forget about the One Day International (cricket: England verses Australia) on the radio, which is just as well as it is a wash-out. England football team beat Moldova 4-0 in a World Cup qualifier.
Saturday 7 September 2013
Lady O and I attended the public premiere of Kumar Williams' FLICKER at BFI South Bank (Screen 3). The screening is full of a combination of Future Filmsters, their families and friends, and competitors who took part in a competition to make a promotional video for Charlie Higson's latest novel in THE ENEMY series, THE FALLEN. The main event is an extended Question and Answer session with Higson who is best known as a former TV star of the seminal (no, that doesn't mean like semen) TV comedy sketch series, THE FAST SHOW, which showcased the talents of Paul Whitehouse, Higson, Arabella Weir and Caroline ('Scorchio', Mrs Merton, the Royle Family) Ahearne.
This, of course, means nothing to my American readers.
Three degrees of separation: Weir has a child in Kumar's year. Weir appeared with Higson on telly. Therefore, Kumar had no chance with his trailer makers of winning the competition.
Higson talked about his influences – NIGHT OF THE LIVING DEAD, Hammer horror, Nationwide (Frank Bough). I made the last one up. He wanted to write books for young boys to get them reading. Well, most internet trolls are young boys; are you sure that's wise? After several young James Bond books he wanted to create his own character (I know what he means) so devised a storyline where parents all succumb to a virus that turns them into self-centred, emotionally dead monsters.
It's called middle-age.
The kids call the adults Sickos. They must be living in Hell-o. (It's this celebrity culture, you see.) I don't know why the kids don't make them well-o. But the adults look rather yellow. The kids' knees turn to Jello.
That was me being a rapper. A sweet wrapper, more like, all wrinkled.
Weird, says Kumar, offering a running commentary as I tap the keyboard – why don't I try writing?
The interview is briefly interrupted by some films. I switch on the Flip to make a copy just in case I have difficulty downloading it from Vimeo later on. (That's what we dramatists call a plant.)
FLICKER tells the story of four young kiddies who talk to the Devil using an Ouija (or 'Yes-Yes') Board. When the candles blow out one of them dies. This isn't entirely clear in the movie – it's not what they call spelt out. The dialogue feels translated into English but is especially well delivered by two of its cast (at least one is a drama student). The fight scene generated a laugh, but that wasn't a bad thing. Surprisingly there was very little blood. I'm not sure it was worth losing a spoon. (I can't let that go.) Higson described it as opening well, with good atmosphere, though he wasn't sure what happened at the end. He was also critical of the excessive sound fx track (not that bad in my view). Still, enthusiastic applause and young Kumar seems to be getting better at his craft. Even Lady O is moved to praise and she has a degree in Cynicism. Or is that a degree of cynicism.
The other films continue the gothic theme. In one, a character gets trapped inside a picture. In another, a model is sacrificed to a deity. The best one (sorry, Kumar) is a film that mixes black and white and colour. In one, a young woman has things thrown at her. In black and white footage, a man is angry and throws stuff. The woman looks in a mirror and sees –
'Dad!'
We also watch the losing trailers created by Future Filmsters. Kumar's one rather loses the whole atmospheric tunnel thing with mounting sense of dread. It is rather better at fast cutting, zombie walks and someone being hit by a spade.
We have a celebratory burger at the Devonshire House. Kumar and Lady O watch INSIDIOUS and snort derisively. Kumar also receives his 16 + Zip Card. Now he has appropriate ID for 15 rated films. He also has to pay more on the Tube (sniff).
Sunday 8 September 2013
Kumar's attempt to watch the THIS IS THE END Re-Release trailer on MTV on my laptop ends with my computer being infected with the dread z32.bot. Nasty! It takes out Windows Defender. When I try to download it from another site, the virus sends me to another site and tells me I've won a prize. Needless to say I log out. So BT computer protection is rubbish. I use Kumar's laptop to check that my internet account hasn't been hacked.
drop my laptop off at PC World in Tottenham Court Road. We have time to travel to Fopp and Forbidden Planet. Kumar buys his SHIELD Oyster Card holder and is happy. He has a sandwich at Subways in Tottenham Court Road and I a cup of coffee. Afterwards, we do a tour of two cinemas, first Surrey Quays Odeon, then Cineworld at the O2 (ex-Millennium Dome). We are too late for anything Kumar fancies seeing. We do stop by the Sony Centre (no trailers, sniff) and then the Sky Studios, where Kumar takes the IRON MAN experience and we both read the news. When we get home, we download Kumar's IRON MAN picture but our video is missing (triple sniff). We travel back via the Rich Mix cinema and Hackney Picturehouse and pick up the usual collection of booklets and leaflets. But overall it is an expensive day. England cricket team lose as well (the second One Day International against Australia). At night I listen to Victoria Azarenka [check spelling] grunt against Serena Williams in the Women's Singles final of the US Open Tennis. Williams wins, way past my bedtime.
Monday 9 September 2013
I collect my computer from PC World and spend six hours running a virus scan, finally removing (touch wood) the z32.bot. I miss the press preview of MY EVENING WITH JONNY WILKINSON running the scan. I do listen to the first two sets of Djokovic verses Nadal in the Men's Singles Final of the US Open before the scan is complete at midnight. Nadal eventually triumphs, though Djokovic took the second set 6-3. Kumar watches the penultimate episode of season two of NEW GIRL – CeCe is getting married and ends up with henna all over her face. Apparently it smears.
Tuesday 10 September 2013
It is our 19th Wedding Anniversary. Happy Anniversary! I elect to stay home for the evening though I do drop Kumar off for his Future Film meeting at the BFI South Bank and pop round to Housman Books to procure one of the magazines that I write for (the shop hasn't received it by post). I ensure Lady O has a hot meal (Chicken Arrabbiata) even though Kumar and I ate earlier – Tuesday night is Spaghetti Bolognaise. She does not watch the footie which I listen to on the radio, a painful affair in which England draws with Ukraine Nil-Nil.
Wednesday 11 September 2013
A completely nondescript evening in which Kumar refused to do his homework but watched episodes of THE BIG BANG THEORY and the opening of GOLDMEMBER, which Kumar thought was the best thing ever ('Dixie Normous!' Cue hysterical laughter.) I cooked the contents of a curry box for Tesco's (Curry Night In for Two) but I think I was supposed to use a microwave. The plastic containers melted. I had Chicken Korma, Kumar Chicken Tikka Masala. I did not go wrong heating up the Naan bread. I also had some potato dish which wasn't bad. The containers for each item looked as though they had been pulled from the wreckage of some nuclear apocalypse.
Needless to say, Lady O proved far more motivational than I did putting the fear of several religious deities (I almost wrote diets) into Kumar. On the latter, maybe I should have threatened him with an apple.
Thursday 12 September 2013
If only I could have printed off my preview ticket for THE CALL. Then I would not have ended up at the Carnaby Street 20% off shopping evening. It was not an unpleasant experience but it is difficult to resist free beer and cocktails served to incentivize some impulse buying.
I had a strategy. Pop in for ten minutes and then head to Soho Screening Rooms to see if there were any movies on. The first part of the strategy worked well. I went to Vans, had a cocktail and a canapé served on a skateboard which I filed under 'unusual'. I followed this with a beer.
I know what you're thinking – not a good idea.
But there were no previews.
So I returned for a perusal in stores such as Levis (no trousers my size, except really thin ones) and some fancy schmancy clothing store with a DJ and a clamour of under-age drinkers, from which I could not remove a bottle. I even got to watch young people receive a master-class in DJ'ing and had my photo taken at Dr Martens, where they had exotic cocktails and a band, three guitars and one young woman singing. Her lyrics were rather drowned out (poor thing). I dropped by a 1950s-style barbering establishment, DR DUCKTAILS which had a rather attractive line in black t-shirts. 'I don't wish to have my hair cut,' I explained the Scandi-Goth behind the counter, 'because that would be terrifying. But how much are the T-Shirts?' (Answer £25 reduced to £21.)
£15 and we would have had a deal.
I also popped in to a rather empty camera shop that did not sell 8mm equipment.
So, no purchases, but moderate drinking. Part two: go and see ANY DAY NOW at West India Quay Cineworld on the last day of its release. I took the Central line to Bank (busy) before changing for the Docklands Light Railway to West India Quay.
It was on the latter that I felt a disquiet in the bowel region.
Uh oh! I'm going to need the Gentleman's cloak room. No worries, we're quite close to West India Quay.
The train went straight past the station. What the guff?
My rumble turned to leg contortions. I needed a rest room and now. I headed for a nearby Coney and Barrow institution full of city types (as opposed to me).
The cubicles were occupied. One man was peeing, the sort who would not leave the toilet seat up at home; I'm being unkind but needs must.
As Scotty would say, I cannae stand the pressure.
So, zip up and flush. Finally, finally....
Explosion!
I took as they say remedial action. But prevention is better than cure. Cure leaves a guilty whiff.
Toilet humour, eh. But it wasnae funny.
I headed for Cineworld, bought a coffee (was served a latte but wanted an Americano; cue wait for a second coffee), saw the trailers for RUSH, HOW I LIVE NOW and SUNSHINE ON LEITH.
Travis Fine's ANY DAY NOW was a worthy drama about a cabaret artiste (Alan Cumming) who gets a boyfriend then takes in an abandoned teenager with Down's Syndrome. This is fine until he is taken into care. Then Cumming's character fights for custody. The legal system judges him harshly. He gets an African American lawyer who looks like Samuel L. Jackson in PULP FICTION. Not a good look if you want the film to be taken seriously. It goes for a poignant ending but plays like a TV movie of the week. Not bad, but it privileged politics over characters. I wanted more about the three characters.
Friday 13 September 2013
After pizza and Chicken Arrabiatta for dinner, I nodded off during ANY QUESTIONS on Radio Four. Listened to some of the film music prom (the orchestra murdered the Cantina Band theme from STAR WARS). Watched BATES MOTEL and LATE NIGHT WITH JIMMY FALLON (abridged) with Robert de Niro (now aged 70). The former was set in a 1950s-2013 time warp and imagined Norman (Freddie Highmore) and his mother (Vera Farmiga) taking over the Seafairers Motel after Norman's father died. Norman's mom is sexually assaulted by the former owner ('everything here is mine') before the owner is stabbed to death by mother (note the overhead use of the knife). We wait for the line: 'mother's not herself today'. A couple of cops stop by as Mrs and Young Bates clear up.
Saturday 14 September 2013
Arsenal win away at Sunderland 3-1, though a perfectly good Sunderland goal (ball trickling in) is ruled out as the referee blew his whistle for a tussle between Joey Altidore of Sunderland and an Arsenal defender. England win the ODI against Australia in Cardiff, with Jos Buttler hitting a six and a four in the final over to get England over the line (England needed 7 from six balls, it got 10 from three of them including one dot). Oh, and we saw WHITE HOUSE DOWN at Cineworld Wood Green before a meal at the Devonshire House. I cannot recommend the Mexican Burger but then I ate the jalapenos first. I could not taste the guacamole. In the evening, I wrote reviews of BLUE JASMINE and WHITE HOUSE DOWN. I did the laundry first thing as usual.
Sunday 15 September 2013
Kumar struggles with his homework, an essay on Gandhi he described as easy. He only manages the opening paragraph before giving up. So, no movie – and he's supposed to be good at history. 'It's so dull,' he protests. Well, that's the way he writes it...
I e-mail a couple of movie reviews (WHITE HOUSE DOWN, BLUE JASMINE) to my editor then put lunch in the oven. Kumar tries out his new camera and takes a picture of cream on my beard. Cream on my Beard: the title of a bad night out. I find I cannot import the footage into Windows Movie Maker or Flip Share. On Kumar's Apple it is perfectly fine. He enjoys playing with the zoom, which makes a clicking sound, and watching the lens focus. You can see all my wrinkles. Very Anthony Dod Mantle.
It rains. I pop off to see IN A WORLD... at Cineworld Fulham Road. It has some amusing moments, some quite amusing. Arsenal remains at the top of the Premier League, but we're only three games in. It doesn't mean anything.
Monday 16 September 2013
The final one day international and what better way to invest an evening's listening to hear England lose; 249 all out chasing 298 all out. It was briefly hopeful, most hopeless. Of course, there are better ways to spend an evening... Lady O watches MASTERCHEF AUSTRALIA.
Tuesday 17 September 2013
Lady O works late at the Bureau of Moving Things so I see GIRL MOST LIKELY on my own. On the way I swing by Housman Books to pick up the fortnightly newspaper that I write for, read my review of ABOUT TIME and wonder what I was thinking. Then I took a bus to Upper Street. The bus stalled in traffic. A kind bus driver let me off and I popped off to buy a cup of coffee at Pret A Munchie (should be called Pret A Drinkie). After disposing of my recycling at a not-so-nearby receptacle full of plastic bags and all sorts of untreated trash (my goodness, don't these people have standards?) I pulled my aged frame up to the Vue Islington.
If I sat away from the main viewers I was confident that my entertainment would not be interrupted. No one sits in the front section of a Vue screen.
Reader, how wrong I was.
After the film started, two girls came in, chatting and eating and vocalising what they were seeing. I should not have been surprised. We live in the age of running commentaries. How do I know I am alive? 'Well, I'm just saying...' Our problem is that we feel the urge to talk, like, 'I'm here. I'm at a place that you're not at. Where you's? Your cousin's! He mental. Nah, I'm just watching a movie. That girl from BRIDESMAIDS. What, I'm not no bridesmaid. Put me in a white dress – what you think? Don't give me no attitude. Anyway, there's this bloke and he's got crabs. Ewww. No, your cousin ain't got no crabs. How do I know that? How do I know? HOW? You're lying (smiles).'
And so weiter.
Needless to say, I just to get the Caroline Flack out of there! I was trapped. Verbs were being discarded at will. The English language reduced to consonants – imagine.
The heroine was actually called Imogene.
I was very happy when they left. All that was left of them were two J2O bottles with the caps still on.
I listened to Manchester United improbably beat Bayern Leverkeusen 4-2.
A sub-plot. I ran for a 19 bus and just miss it. It pulls away, indifferent. I catch a 43 bus to Highbury Corner. I see a 19 bus abandoned with a few passengers still on it. It had clipped the side of a garbage truck. A garbage truck! Of course the driver didn't look through his rear view mirror; I've been saying that for years. 'You got lives in your hands,' he was saying.
He was saying...
Wednesday 18 September 2013
Kumar, Lady O and I saw RUSH at Cineworld Haymarket. Three girls who came to see Chris Hemsworth bare his nipples sat in front on us, chatting through the trailers and consulting their mobile phones. Lady O fumed.
Afterwards, we had a late supper (20:30) at the Shack Pizzeria a few doors down, where my Unlimited Card gets 25% discount. Alas not much longer. The shack is closing its doors. We cried into our Barbecue Meat Feast (thin crust) followed by an overpriced heated cookie with two blobs of ice cream that passes for dessert. Doesn't Lady O know you can but such cookies for 20p each in Sainsbury's? We were paying £3.95 for the plate – literally!
Arsenal won their opening match in the Champions League against Marseilles.
Thursday 19 September 2013
Put review of RUSH up on Film Annex. Then good news! Jean-Pierre Jeunet has a new movie out, shortened title T S SPIVET, with Helena Bonham Carter, Callum Keith Rennie and Judy Davis, about a boy who has won a prize in a science fair and crosses America to claim it. Shades of Alexander Payne's NEBRASKA perhaps. Prochainement au cinema, a 16 Octobre. I feel a trip to Paris coming on.
Friday 20 September 2013
I can heartily not recommend rice with bolognaise sauce. That's not what I meant to cook but was tired and opened the wrong tin. I then boiled whatever pasta we had left to compensate, but it was an odd meal, wolfed down very quickly.
The buses to the West End appeared to be full of children travelling alone. Kumar and I took a 29 bus. The front two seats on the top deck were filled with two boys, who could not have been older than ten. Feet on the sill in front of them, they were loud but well spoken, impressively independent but unsettling. Most unnerving was that their parents appeared happy to permit them to travel alone in a purposeless manner. Annoyingly, they seemed not to understand the difference between a bus and the park. Kumar barely wrote in his red exercise book. He stared into space. I listened to Radio 4 on my phone. On the bus in front, also a 29, girls waved at Kumar, trying to get his attention. He was of course oblivious. He thinks reality is a film by Mateo Garrone, which, of course, it is.
Whilst Kumar saw IN A WORLD ... in one of London's smallest screens, Empire 6 in Leicester Square (number of rows three, number of seats thirty; my nan had a bigger front room) Lady O and I saw THE RAILWAY MAN at the cinema opposite, the Odeon West End. We had a little fracas trying to get Odeon points on Kumar's ice cream – I had to sign for a refund, the Odeon charged us again, then we got the points. It was messy, and I'm not just talking about the ice cream. Based on a true story, THE RAILWAY MAN starred Colin Firth as Eric Lomax, a soldier who was interred by the Japanese in Burma, who built a radio and was subsequently accused of being a spy. The experience scarred him. Even though he marries a nice woman he meets on a train (Nicole Kidman) – Eric is obsessed with timetables, hence the title – he can't shake the nightmares. A former colleague (Stellan Skarsgård) tells him the Japanese translator who accompanied his torturer is alive. Eric seeks justice. The ending, for a well-meaning film about war-traumas in which the young Lomax is played by Jeremy Irvine, is obvious. The film has huge credibility issues. It is set in 1980 with flashbacks to the 1940s, but Firth is too young. Jim Broadbent would have been more credible. Then there is the melodramatic confrontation in which at one point Lomax imprisons the Japanese man. I didn't believe that either. Lomax is dead so he cannot protest, so I did to Lady O on his behalf. Only she did not want to hear that either. She was in a grumpy mood on the way home. I rustled up a pizza for her; then she was slightly happier.
Saturday 21 September 2013
Saturday means two things: maths class for Kumar, laundry for me. I carried out the usual chores that were shopping and then preparing lunch and dinner. A bit of a blur, really. Kumar wanted to see R.I.P.D. with his friend, who was ultimately too cash strapped or busy to go. Maybe he knew it was underwhelming...
Sunday 22 September 2013
It was Nine o'clock in the ante meridian and Lady O wasn't having any of it. Daylight, mobility, a cup of coffee? Leave me alone, it's the weekend. This left Kumar and I to see HOW I LIVE NOW on our twosome. Kumar took an age to get ready as per normal. We had to get to Fulham Road Cineworld by 11:00am by a series of buses, since Kumar's Oyster had a zero balance. So 4, then 38, then 19 then runnnn! Kumar and I were bereft of puff, two wheezing geezers with an A4 admit two print out. Plunged into darkness, we staggered to the front row and watched Kevin MacDonald's apology for an apocalypse movie from a low angle, making it just before the start of the credits. The film reminded me just how good Cate Shortland's LORE was.
Not one to commit his opinion to actual words, Kumar's super objective was to see R I P D 3D. He was convinced it was a mainstream masterpiece in waiting. I had more modest expectations. But first chicken and chips, then to find a cinema screening said film. Was it at Kensington Odeon? No. Staples Corner Cineworld? Not on your life. That left East London, specifically West India Quay. So I ponied up for tube fare so we could get to the World of Cine before 3:50pm.
Success, euphoria, blah-blah-blah!
Kumar was disappointed. It started promisingly but then Kevin Bacon drained it of life with an uncharacteristic bad performance. Was he enjoyable as a super malevolent villain with a cunning plan to supplant mankind with Dead-O's? Nah, he was just phoning it in. Kumar took one look at his turn and cried, 'let's put this conga in reverse!' At least, I felt that's what he meant to say.
We took several buses back to Finsbury Park, via the city where we seemed to be held up by the world's longest conga line, the Rich Mix, Hackney Picturehouse and Highbury Corner. We were in time for LATE NIGHT WITH JIMMY FALLON and it was indeed a late night.
On the plus side, Arsenal beat Stoke 3-1.
Monday 23 September 2013
It was just one of those days. Listen to THE ARCHERS and FRONT ROW, try to get Kumar to do his homework. I'm sure I put something in the oven which begat full stomachs but confess it was a blur.
Tuesday 24 September 2013
It was the evening of Film Distributors Association's AUTUMN FILM LAUNCH at 125 Shaftesbury Avenue. But where on the Avenue was this address: some nightclub, perhaps, or a casino? No, as Lady O and I discovered after a long walk, it was the offices of Yahoo. We joined a long queue to first collect our security badges, then to sign in. Finally, we took a lift to the fifth floor. Someone was talking weepies. 'I cry when I see Pedigree Chum commercials.' It was like some daft quote featured in Time Out London: 'overheard this week.'
I felt a genuine sense of excitement as we wove past offices, greeted by smiling faces, then an anti-climax. We were in Yahoo's kitchen, competing for the few seats with young bloggers. Lady O got a drink whilst I got some food (cold buffet) but we had no clear view of the podium or the TV screen. Still, all we needed was to hear the quiz questions. However, they were all based on movie quotes. My heart sank double.
Sensibly alternating soft drinks with beer and later wine, I was recognised by two people, one an American whom I met at Somerset House in April, the other thought she saw me at the Olympic Opening Ceremony. (I wish!) I did pitifully bad at the quiz; Team Oliver amounted to Team Nada. However, I did win a spot prize for correctly identifying that Jason Isaacs was a member of the HARRY POTTER franchise who appeared in GREEN ZONE.
Lady O repeatedly called for silence and as our failure at the quiz became apparent went into one of her super colossal sulks. She was not happy with our haul: a T-Shirt, two DVDs, RUSH baseball cap and PLANES stickers (once again, I'm very old). I on the other hand was pleased. I also recorded a personalised introduction to the AUTUMN OF CINEMA trailer, plugging FILTH for reasons that escape me. Kumar behaved himself on his lonesome.
Wednesday 25 September 2013
Let other pens dwell on JAWDANCE, the showcase of spoken word and poetry-centred short films that takes place at the Rich Mix Arts Centre in Shoreditch, East London. This time, once more held up by Kumar (a recurring pattern) I did not perform. He was upset but he did have the latest copy of DIGITAL FILMMAKER to entertain him.
In the third round of the Capital One cup, Arsenal beat West Bromwich Albion on penalties. I listened to the shout out on my radio. As a burkha wearer would say, it was a veil-biter.
Thursday 26 September 2013
I rendered into a short poem the disappointment of the previous evening. I did however get an e-mail link to my introduction ('Autumn Film Preview 14' on youtube). Last time, of course, my intro disappeared into the ether. At time of writing it had 17 views – either fully or partially.
Friday 27 September 2013
We interrupt our humble existence with a special announcement.
Kumar has been accepted into the BFI future Film Academy.
It's like Jedi school only without a little green guy mangling the English language.
Kumar didn't want to accept his place without consulting his keepers. Sure, he could go, even though Lady O fixed me with a frosty stare – less messy than frosty ice cream.
'You let him do what? He's got GCSE revision over the October half term holiday.
Kumar undertook to keep up with his revision, which is not a promise he can keep, the little nail-cutter dodger. But we'll know he'll try.
His excitement doubled when he watched AGENTS OF SHIELD. 'Awesome,' was his one word review. Mind you, he has also used that word to describe a particularly troublesome dump.
I imagine him laughing and scowling.
Saturday 28 September 2013
The ward is growing up. Today he got his National Insurance number. We had a meal at the Devonshire House after his Saturday morning mathematics. Lady O went through one of her violent mood swings when we started talking about moving. 'When?' 'When Kumar finishes full time education.' I should have set my dial to Pinocchio Storm Warning but that would have been a lie. Anyway, the Lady of the House upped and left. Later we discovered that she went for a Costa Coffee.
Arsenal beat Swansea 2-1 away, now top of the Premier League. Both the Mans, City and United, lost.
Saturday 29 September 2013
It's not a good idea to give yourself 90 minutes to reach Cambridge Cineworld from Finsbury Park Train station. That was the amount of time Kumar gave me, going through his familiar routine of slow motion getting ready. 'I'mmmmmmm goiiiing tooooo the bathrooooom' and so on. The train journey was pleasant enough. Kumar greeted the countryside like it was a genuine pleasure. 'I never knew we lived so close to green,' he said. 'What you talking about? You root around your nose all day, you see green all the time.' Kumar said something about Gatsby's green nose, but I didn't understand it either.
We were late for the film after the train slowly pulled into Platform 7. We ran, well I did, Kumar hobbled, then walked, then ran, then hobbled. We made it in time for the title card of SUNSHINE ON LEITH.
I hated the last minute dash for the 11:00am preview screening. Kumar hated the film. 'No sign of Dexter Fletcher [the director]', he moaned. Really, I thought he was the old guy who staggered out of the pub and the end of a musical number and blew a whiffy one. (Good job it wasn't in smello-o-vision.)
Afterwards, as we left, I spied a poster for SEDUCED AND ABANDONED, a late addition to the festival. When was it on? In eight minutes. Eight minutes. I was happy to see the James Toback documentary. Kumar prevaricated about la bouche and said OK.
Best decision he had made that day. He enjoyed it. Big cheesy grin!
Afterwards, he had a Subway sandwich. Then we walked to Cambridge Town Centre, checked out the Arts Cinema, where the surprise film, MUHAMMAD ALI'S GREATEST FIGHT was in progress, and visited a few museum bookshops in search of a wallet. (My Black Hole one from the Greenwich Observatory has practically imploded.) No such luck. We wandered by the river but I did not fancy spending £22 for a punt making an ALL IS LOST parody. So we headed for M & S, bought a bottle of lemonade and headed home. I thought I could change to the tube at Tottenham Hale but London Underground didn't allow it. We got a train to Liverpool Street then out again to Hackney Downs. Too late for LET'S KEEP IT SHORT, I bought him a Chicken Snackbox. Home in time to see Lindsay Lohan on LATE NIGHT WITH JIMMY FALLON. Was that part of her parole?
Monday 30 September 2013
You can take a Kumar to homework but you can't make him do it. Still, he did finish his history but wasn't willing to start his Spanish. Cue insults and gnashing of teeth. Lady O did a top notch job of calming the beast; she even cut his nails. He polished off said Spanish homework in less than half an hour. At time of writing, he is reading DIGITAL FILMMAKER hoping you all had a good September at the movies.
Good: GLORIA, THIRD CONTACT, WHITE HOUSE DOWN, IN A WORLD [on balance], RUSH, SEDUCED AND ABANDONED
Lacking: ANY DAY NOW [too much like a TV movie], GIRL MOST LIKELY, THE RAILWAY MAN, R.I.P.D.
Not allowed to say: POWDER ROOM
Split decision: HOW I LIVE NOW, SUNSHINE ON LEITH