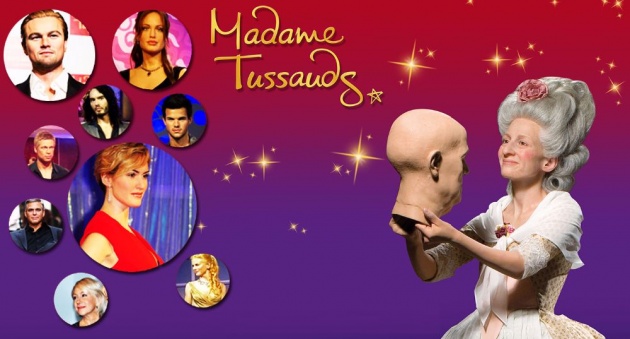 Image Source: Google Edited by Moon Khan
Madame Tussauds is worldwide well known wax sculpture museum and a major tourist attraction in London at Planetarium. This museum is situated not only in London but its other chains have also opened around the world like America, Singapore, Germany, China, Hong Kong etc. This museum features many wax figures of popular and notable personalities of politics (like Barack Obama, David Cameron etc.), superstars of films (like Kate Winslet, Angelina Jolie and Brad Pitt etc.), sports icons (like Jessica Ennis, Carmelo Anthony etc.) and pop stars (Michael Jackson, Adele Laurie) around the world.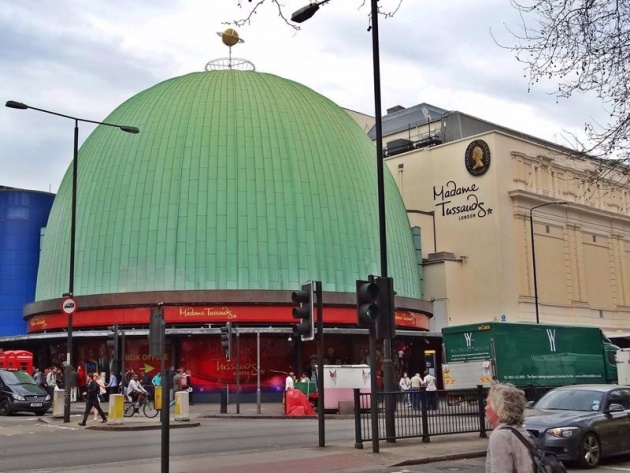 Image Source: Google
The founder of this famous wax museum is Marie Tussaud. Marie Tussaud was born with the name Marie Grosholtz but after her marriage to FrancoisTussaud she known as Marie Tussaud.
History:
In 1761, Marie Tussaud (the woman who later on known throughout Britain as Madame Tussauds) was born in Strasbourg (city which is located between Germany and France). Marie Tussaud's father was died before her birth. Her father was descended from a long line of public executioners in the city. Marie Tussaud's mother named Anne left Strasbourg and lived in Bern (the capital of Switzerland). Here she worked as a housekeeper for a doctor named Philippe Curtius. Dr. Philippe was not a physician but also had a talent and skilled in wax modeling. After became Swiss citizen, soon Marie Tussaud got so close to Dr. Curtius and called him uncle. Marie Tussaud learned the art of wax modeling from Dr. Curtius. Soon Marie Tussaud and her mother joined him and she became his assistant. She had become quite skilled in making anatomical models which was used in medical school classes.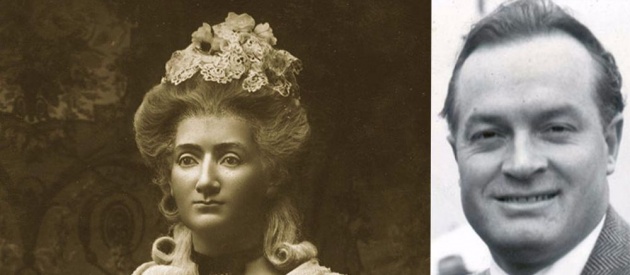 Image Source: Google Edited by Moon Khan
Marie Moved to Paris:
History showed that the art of wax modeling of human figures almost three thousand years back. This art widespread in medieval Europe, when wax sculpture of a kings was used for funeral processions and also those of saints which were made for churches when costlier materials were unavailable. In 1767, Marie Tussaud and her mother along with Dr. Curtius moved to Paris. Dr. Curtius here opened a wax cabinet and organized an exhibition in 1770. Soon Dr Curtius's business grew to be quite successful. After some years he divided into two venues:
The Caverne des Grands Voleurs (Cavern of the Grand Thieves, which opened on the Boulevard du Temple in 1782) and
The Palais Royal, which featured tableaux of the French royal family.
In these exhibitions not only famous wax models of royal family were showcased but also famous villains throughout history.
After learning the art of wax modeling from Dr. Curtius Marie Tussaud created her first wax sculpture of French play writer, philosopher and historian named Voltaire in 1771. Other famous personalities of that time were also modeled by her included Benjamin Franklin and Jean Jacques Rousseau. She also modeled many other prominent victims during the French Revolution time.

Image Source: Google Edited by Moon Khan
"She claims that she would search through corpses to find the severed heads of executed citizens, from which she would make death masks. Her death masks were held up as revolutionary flags and paraded through the streets of Paris and asserted she had even given art lessons to the Princess Elizabeth, the sister of Louis XVI, at the Palace of Versailles in 1780 but on the evening of The French Revolution, Marie returns to Paris in 1789."[1]
French Revolution:
In the reign of terror during the French revolution, Marie Tussaud was arrested and imprisoned along with her mother and Joséphine de Beauharnais (Napoleon Bonaparte's wife) in 1793. Her head was shaved for the preparation of her execution by guillotine. But she was released by the support of Mr. Collot d'Herbois. After her releasing she was forced to prove her loyalty by making death masks of the revolution's famous victims including Queen and king. Marie Tussaud then made death masks of victims including Marie Antoinette, Robespierre, Marat and Louis XVI. In 1794, French revolution ended.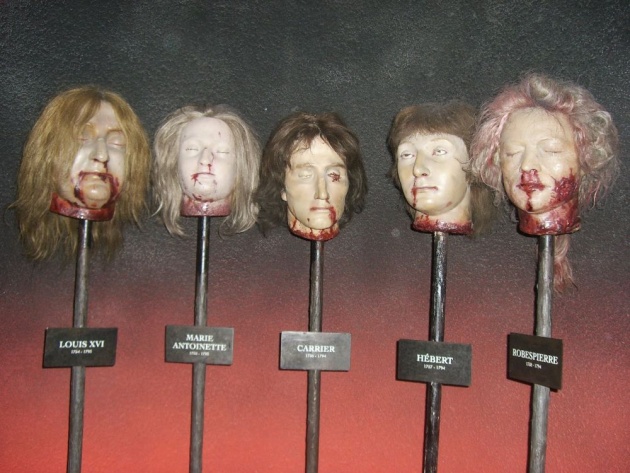 Image Source: Google
In 1794, Dr. Curtius was also died and before his death he left his collection of wax works to Tussaud. MarieTussaud married with a civil engineer named François Tussaud in 1795. From François Tussaud she had three kids, two sons named Joseph and François and one daughter but her daughter died after her birth.
Marie's London Wax Museum:
Marriage life of Marie Tussaud was not remain very successful and she left her husband. In 1820, Marie Tussaud took her children and all wax modeled along with her and went to the travel exhibit around the world. In this tour Marie Tussaud showcased her wax work which got popularity in these countries like Scotland, Ireland and England. Marie Tussaud tour remained quite successful. In 1835, Marie Tussaud started her first own permanent exhibit business of wax modeled in London at Baker Street (between King and Dorset streets). When Queen Victoria was crowned in 1837, Marie Tussuad made marvelous wax modeled and display the whole scene. Marie's both sons Joseph and François also joined her business and she herself sat at the entrance of her exhibition space and collected coins from public. In 1842, she made her own wax modeled which is still available in the entrance of the London wax museum.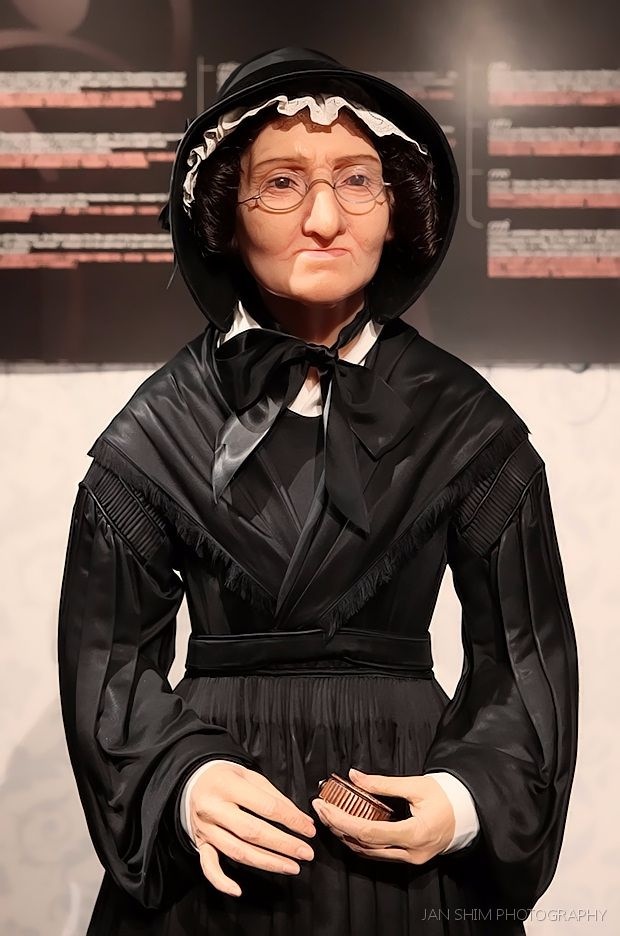 Image Source: Google
"Besides the waxworks, historical relics on view at Madame Tussaud's included one of the blades from the guillotine obtained from the executioner Sanson himself and objects associated with Napoleon. There was also the Special Room devoted to murderers and bloodshed, which from 1846 became the Chamber of Horrors."[2]
Video Courtesy: You Tube
Death of Marie Tussaud:
At last in 1850 at the age of 88, Marie Tussaud died due to severe asthma. Before her death she advised her both sons that never to quarrel. Later on in 1884, Marie Tussaud grandsons moved her exhibition space to another site on Marylebone Road. This new place was destroyed by fire and her grandsons rebuilt this place and shifted her wax work collections in 1920. Nowadays this museum known as Madame Tussuads, which features popular models of different personalities.
Currently "Madame Tussauds" Museums Around the World:
Besides Marie's original Madame Tussauds wax museum, other chains of this museum were also started open around the other countries of the world.
In 1972, the second Madame Tussauds museum was opened in Amsterdam, the Netherlands.
In America, the first branch of American Madame Tussauds museum was opened in Las Vegas in 1991. Second was opened in 2000 in New York, third site was opened in Washington DC in 2007 and fourth was opened in Hollywood in 2009. Fifth was opened in California and San Francisco in 2014. Sixth was opened in 2015 in Orlando, Florida.
In 2000, in Asian country very first branch of Madame Tussauds was opened that was Hong Kong. Its second Asian branch was opened in Shanghai, China in 2006. In China another branch was opened in Beijing in 2014.
In 2008, branch of this museum was opened in Berlin, The Germany (Unter den Linden). In 2010, third site of Madame Tussauds was opened in December in Bangkok. Where in 2011, Blackpool (United Kingdom) and Vienna (Austria) both branches were opened. Then in 2012, its branch was opened in Sydney. In 2013, Madame Tussauds was opened in Wuhan and Tokyo, Japan.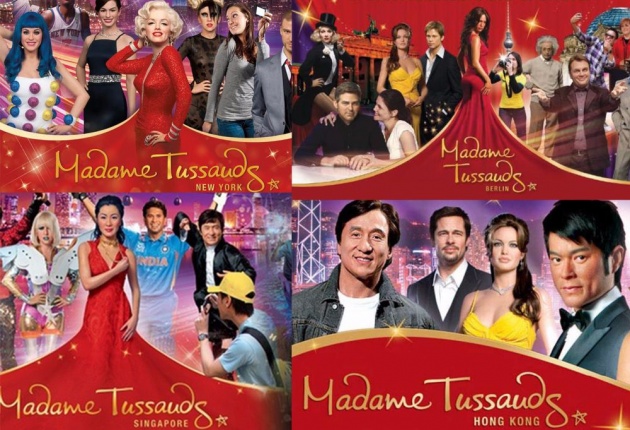 Image Source: Google Edited by Moon Khan
At Baker Street the exhibition of Madame Tussauds is still located and on regular basis current events are updated. People they have attained celebrity statues. London's royal family allowed to museum workers to take photographs to update the likenesses of visitors which is on display permanently in London's Madame Tussuads.
The Process of Making Wax Figure:
First of all the famous personality whether who belongs to politics, film, sport etc. is invited for a sitting at the site of Madame Tussauds. After that, they take four months for making a complete wax figure e.g. two days for making eyes, 140hrs for creating the head of hair, 35hrs for coloring the head etc. The oil based paint is used for skin texture and color, several layers are applied for giving the realistic looking. During its making this thing kept in mind that the Wax figure make two percent larger than an original person, because during the whole process wax shrinks by this much.
Video Courtesy: You Tube
Some Interesting Facts about the Famous Figures:
Here I am going to tell some interesting facts about famous figures ….. :)
Most Portrayed Figures:
Do you know which figures are portrayed most of the times worldwide??? Don't worry if you don't know. Let me tell you… they are Michael Jackson the popular pop star, the Queen Elizabeth of London and famous pop star and fashion icon Lady Gaga.
Michael Jackson's figures are portrayed thirteen times in London Madame Tussauds museum whereas the Queen Elizabeth is portrayed twenty eight times. Lady Gaga is portrayed eight times but not only in London Madame Tussauds museum but also in around other countries of the world like America, Berlin, Hong Kong and Shanghai.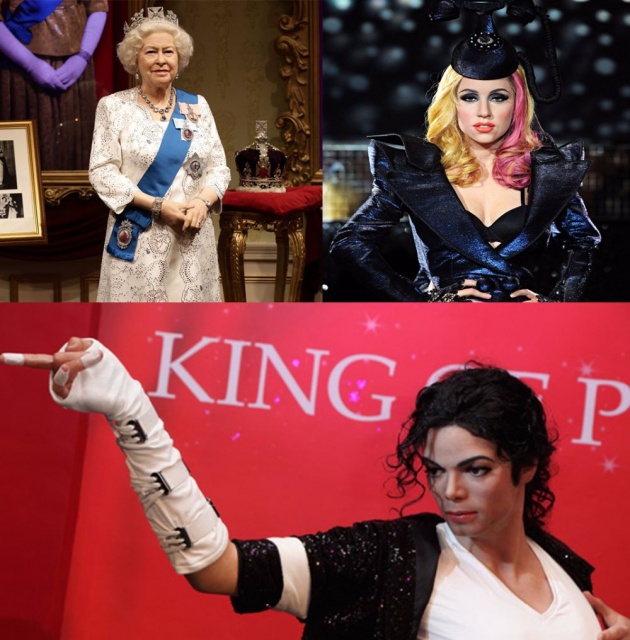 Image Source: Google Edited by Moon Khan
The Worst Likeness Figures:
The worst likeness figures are of two worldwide popular personalities one is American Ex-President Barack Obama and Holly Wood super star Kate Winslet giving famous pose of movie "Titanic". These two statues were considered the worst in likeness because of their less resemblance.

Image Source: Google Edited by Moon Khan
Fun Facts:
Do you know the most hugged figure in Madame Tussauds???? Yes He is Justin Timberlake.
Popular Bolly wood film star Shah Rukh Khan's wax figure is the first figure which is proposed by a female fan. Female fan of Shah Rukh Khan belongs to Bradford and she was presented him diamond ring while the figure of Shah Rukh Khan is reputedly thinking about it.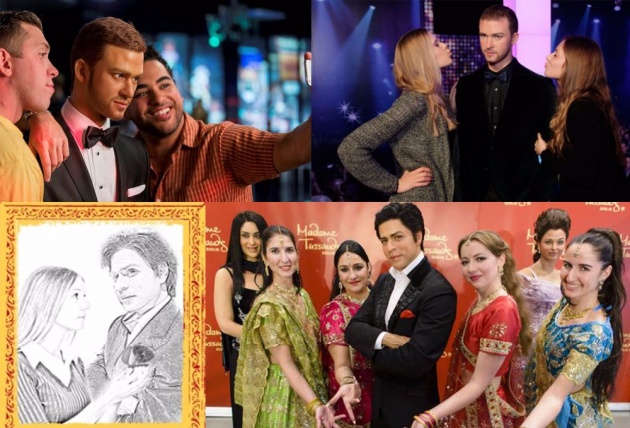 Image Source: Google Edited by Moon khan
References:
[1] https://en.wikipedia.org/wiki/Madame_Tussauds
[2] http://www.historytoday.com/richard-cavendish/death-madame-tussaud
This is the End of my Blog. Hope you people enjoyed alot... I spend my hard working here in writing this and want your comments below in comment section.
Thanks for sparing time in reading My 37th attempt for my virtual home "BitLanders".... Stay Connected for more articles..... ツ