Life is a pilgrimage. Each moment should be lived in depth, because each moment contains God, hidden within it."--Banani Ray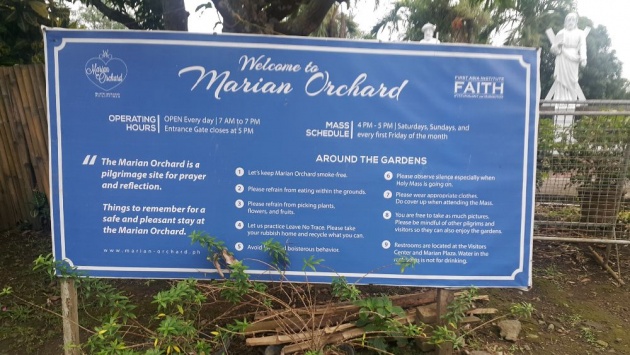 *Image is credited to Rain Tajon via www.bitlanders.com
When I am planning where to go in Batangas, someone suggested about checking this place that is filled with many flowers and Statues, and the place is lovely and very still new, the place is Marian Orchard. Since it is located near Lipa City, Batangas, where we stayed for a night and just more than 30 minutes away, I put it as our first place to visit on the following day and it is Sunday too.
When we woke up on that morning, the weather was not cooperating, it was cold and raining, knowing that we will be going in an open place, I was quite worried if we will enjoy the place or appreciate what is there. But we really have to go there since it is a part of our itinerary and I am glad that most of us brought our caps and umbrellas, we might not worry about getting sick if we got caught in the rain.
Looking at the map while getting directions from the reliable Google map, I saw that the place is near the Taal Lake, and when we were just few minutes away, from our bus window, we can have the view of the Taal Lake indeed, and it made me excited, thinking that the place we will be going have the same view. And we get there as early as 8:30 in the morning.
What is Marian Orchard?
Marian Orchard is a Catholic themed-park that is built on a 5-hectare land, filled with trees and colorful flowers. It was started in the year 1986 by Lazaro L. Katigbak when he bought the land where the orchard now is standing. And through the years, the place has become a prayer park. And then in the year 2015, Lazaro Katigbak and FAITH (First Asia Institute of Technology and Humanities) Colleges that led the stablishment of Marian Orchard Faith Foundation Inc.(MOFFI) that is duly registered with the Securities and Exchange Commission (SEC).
Inside the Marian Orchard.
When I was reading about Marian Orchard, I found out that we have to pay 50 pesos for the entrance for those who are not from the area and 25 pesos for those who are in the area, but when we were paying, the staff told us that everyone has to pay the same entrance fee of 50 pesos.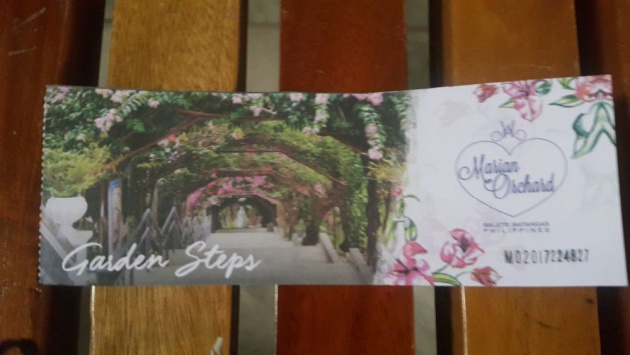 My Ticket
*Image is credited to Rain Tajon via www.bitlanders.com
The staff is not just welcoming when we check the surroundings, the place has given me this kind of feeling that I haven't felt, it brought a certain warmness on my heart despite the rainy weather at that time as I look up to this tower, The Sacred Heart Tower. Like it is opening its arms, welcoming us as we get inside.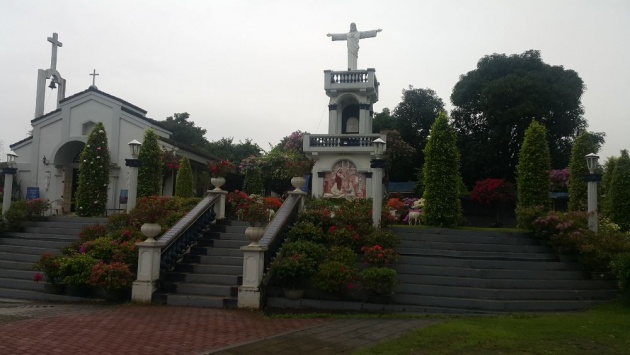 The Chapel and the Sacred Heart Tower
*Image is credited to Rain Tajon via www.bitlanders.com
As we climb with few steps for a picture, we can not help not to be wowed for with just small steps up, you can see some parts of the Orchard, we just felt sad that the tower at that time is closed. Beside the Tower is the chapel that held mass on Sundays at 4:00 PM, we get in and say a little prayer and I saw the ceiling of the chapel, it is giving me peace.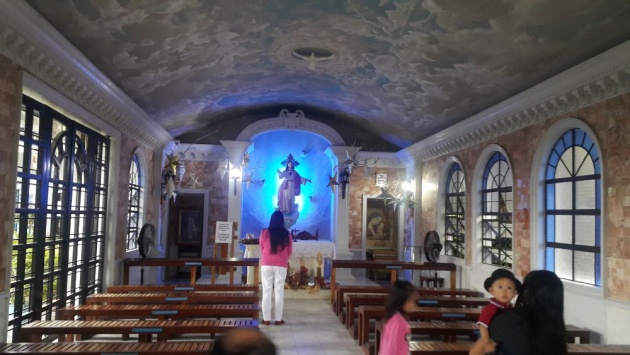 The inside part of the Chapel
*Image is credited to Rain Tajon via www.bitlanders.com
Since we go there where the flowers are not yet in their full bloom, we get to enjoy the flowers, that is every where, and it made me wanted to visit the place again on the month of April or May where the weather might be better and the flowers are all blooming.
Going down the chapel, I roam around and get into this tunnel like that goes down. Bougainvillas are shaped to make the place look like tunnel, and it would look best if the plants bear flowers.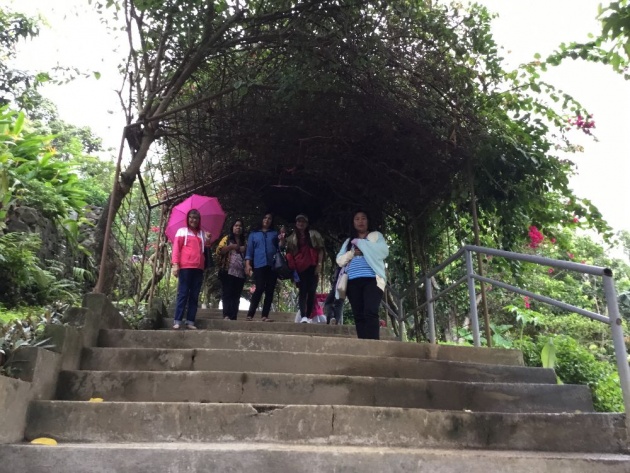 *Image is credited to Rain Tajon via www.bitlanders.com
Following the cemented pathway, I noticed that something is being built of there are more things that are being added with the place. When I asked where the pathway will lead us too, the staff told us that there is a Last Supper scene down but with the slippery way, I decided not to. I just go to the other way and it led me to the "calvary mountain", where Jesus Christ was nailed upon the cross and died with two more sinners. And even with the slippery soil, I really climbed up to touch those statues.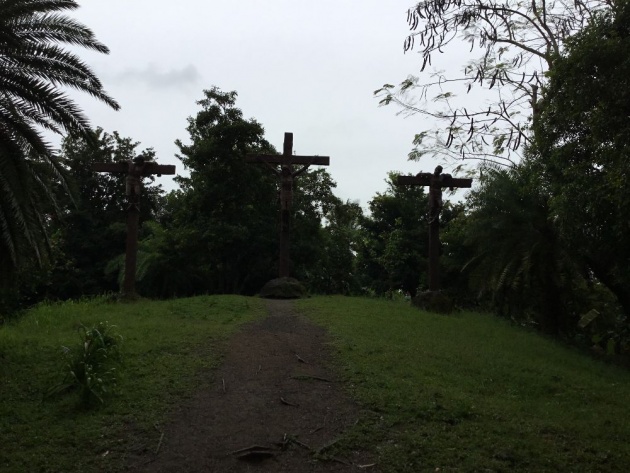 Calvary Mountain
*Image is credited to Rain Tajon via www.bitlanders.com
There are more things to see while we were walking, the way was quite steep and it made me sweat and can not help not to catch my breath. And I felt like I have run few kilometers just to get to the top where we came from. Then the path led us to this place where we can buy souvenirs, and it is this place like a ruins, it looked like one of the ruins in Corregidor.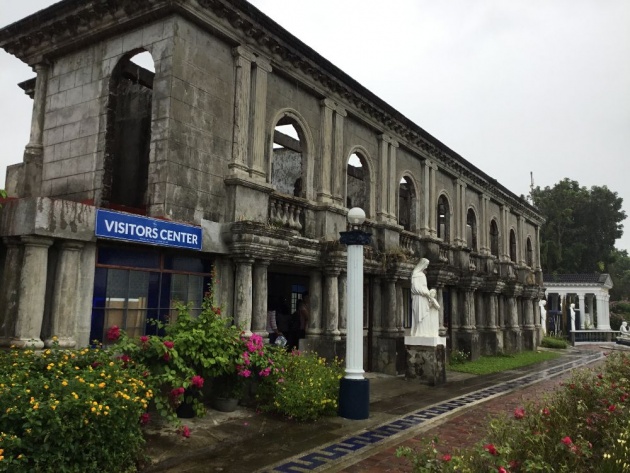 The Ruins in Marian Orchard
*Image is credited to Rain Tajon via www.bitlanders.com
Inside the souvenir shop, I saw items that best describe the place, they got a lot of rosaries and I bought one despite the pricey price. My colleagues bought some tshirts too. And on the same building is the orchard's comfort room.
What else to see inside the orchard is the Garden of Saints, Mama Mary Shrine, Chimes of Mary that has 14 bells and chimes every now and then. There are also huts and store where you can grab snacks and water, Chapel of Sto. Enterrio or Dead Christ.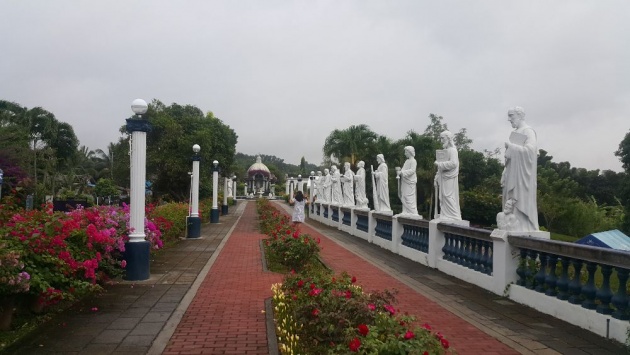 The Garden of Saints
*Image is credited to Rain tajon via www.bitlanders.com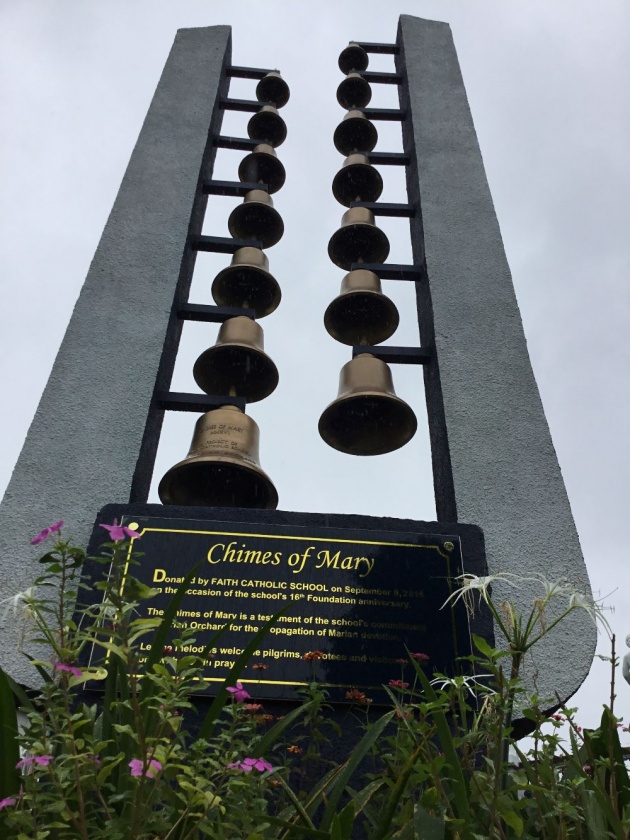 Chimes of Mary
*Image is credited to rain Tajon via www.bitlanders.com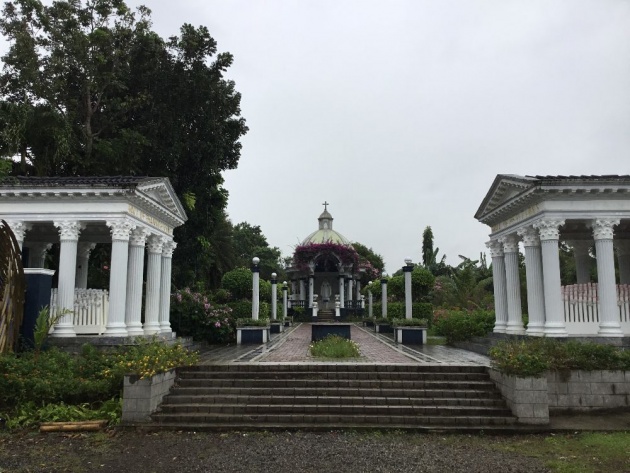 The Shrine of Mama Mary
*Image is credited to Rain Tajon via www.bitlanders.com
The Pond in near in the Chapel of Sto. Enterrio
*Video is credited to Rain Tajon via www.bitlanders.com
Review and Recommendation
Marian Orchard is a place to visit when you are in Batangas. At first, I thought it was just those flowers that mae me decide to add it up on our itinerary but it made me see more of what the place is all about.The place is clean and the staff are very friendly too. I would just recommend you to go there when the sun is up or the weather is okay for you to have a sight of the Taal Lake and go there when the flowers are in full bloom. Though I have learned that the place is filled with pilgrimage during Holy Week, well it is the best time to be there to be honest.
While walking on the cemented pathway, i felt like I made a different journey, not just because of the steepy climp up but it made me look around the place. And I would love to go back on Marian Orchard.
Looking around the Marian Orchard
*Video is credited to Rain Tajon via www.bitlanders.com
*************************
Thanks for reading, until next time!