There is nothing more amazing than seeing hard work pay off, and I couldn't be prouder of my husband and his brilliant filmmaking. MAGNUS, in particular, has become a part of our family. Mad Ruffian (as you may or may not know) is a husband/wife team. Mad (me) (the producer) and my handsome and talented director husband (Ruffian.) When I say Magnus is a part of the family - I do mean it... You see, he is actually a real object - a tool - that sits on the speaker on Ruffian's desk. He probably once belonged to a jeweler (the imaginary likeness of whom inspired the set in the film) and now he holds in his hands an "all access pass" to a festival. He has held many a thing since we met that fateful day at the thrift store when I was shopping for random antiques to put on the tables at our wedding.
So... My darling husband, Ruffian, has a background in VFX and CGI (3D) and as soon as I brought actual Magnus home, he was inspired to turn him in to a wonderful, quirky little character. MAGNUS in the film, is an animated, CG character. The backgrounds in the film are photos that were taken on a small set we created and then manipulated in Photoshop and projected on to 3D geometry using a 3D software package. MAGNUS was then animated into these scenes. Although we had a "real-life" Magnus, to get the smooth animation that Ruffian wanted, he had to recreate MAGNUS as a virtual 3D model to rig and animate in the 3D scenes he created. After lighting and animating the scenes, Ruffian rendered and finessed them in a compositing package. And, I would be wrong to not mention the film's beautiful co-star, Ellie. The last time I offended her, she refused to come out of her trailer until I gave her biscuits and, I'm pretty sure that if I did it again, I might have a little treat awaiting me instead of cuddle and a purr. There is nothing CG about that kitty and she did it all in one take! (Or 20.)
The original plan for MAGNUS was to make a series of these little films to see in what types of shenanigans MAGNUS might find himself. It turns out that without a render farm, it takes a lot longer than you'd hope to produce even a two-minute film so, if you happen to have one at your disposal and have a few computers to spare (after all, you might as well give up farming for those bit coins as it's close to impossible to get one), we'd be most grateful to use it to render the next couple of installments.
Until then, we aren't sure what is in store for us (or MAGNUS) but, we do know that we wish you the happiest and safest of holidays and a very Merry Christmas from our family to yours.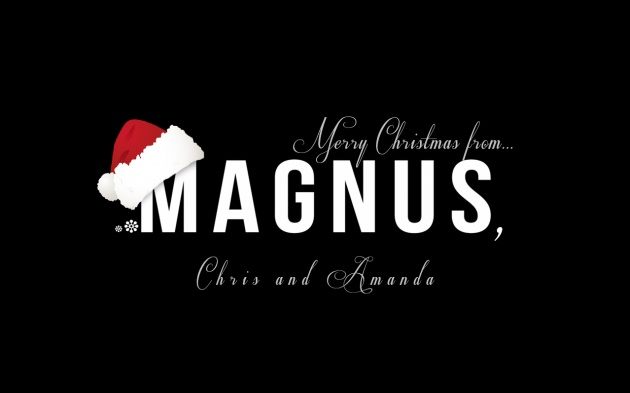 We'll see you in the new year,
MR (+m)