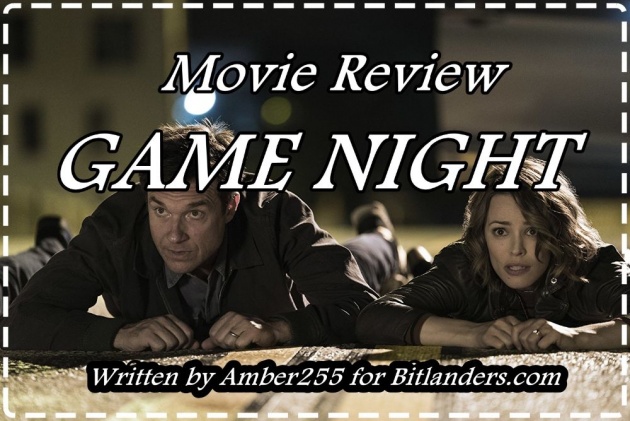 Movie GAME NIGHT Review: comedy worth not only big screens but also our precious time - Photo credit: imdb.com, Edition by Amber255 via Bitlanders.com
Jonathan Goldstein and John Francis Daley, two Hollywood directors, present a comedy with a high potential, which can become one of the best representatives of this film genre in the past few years - GAME NIGHT. This creative duo is fun and somewhat non-standard. Such Hollywood tandems usually are linked to relatives like Coen brothers or Russo brothers.
Other duos, such as Phil Lord and Christopher Miller, are, at least, of a similar age. J. Goldstein and J. Daley are different. They are not relatives; they are also distinguished by a difference of 17 years.
The path to these creators is also interesting. They are creators of a funny 2011 comedy Horrible Bosses and enough successful film by critics and viewers - the humorous fantasy movie Spider-Man: Homecoming. But they are also responsible for the Vacation that became an absolute tragedy. However, the comedy GAME NIGHT surprised me a lot.




It's very funny, with a script by Mark Perez, and all the pieces fit together like a perfect Rubix cube.Katie Walsh, Tribune News Service




Credit: rottentomatoes.com



Let the game begin!
GAME NIGHT, Official Trailer - Video credit: WarnerBrosPictures via YouTube.com
The Short Story Of The Movie
Each person is looking for a suitable engagement that will not only satisfy the soul but also raise adrenaline in the blood, delivering great pleasure. However, there are such hobbies, in which, having made the wrong step, you can lose a life. The comedy GAME NIGHT is about such a hobby.
Annie, performed by Rachel McAdams and Max performed by Jason Bateman are the aces of table games which no one of their friends has defeated. Each week, they organize game evenings, where with two more couples they are having a variety of attractions, ranging from table games to performances games. Brooks (Kyle Chandler), who is the brother of Max, arrived unexpectedly and broke a settled tradition. Having declared that their games are too boring, the hot-headed brother suggests raising the party to a higher level.
While reading movie GAME NIGHT review, check QUERLO CHAT: What kind of movies do you like?
His idea is a detective game, in which some people would break into a party and kidnap one of them, and the rest, following the hints left, will have to find the victim and figure out the crime motives.
The members of the party enthusiastically agreed with the offer, and Brooks was soon kidnaped by two burglars and hidden in an unknown direction. Strongly determined to defeat, the buddies go after him. Only they still do not know that Brooks' abduction has not been played, and what they consider to be a game is really a matter of life and death.
Getting entangled in a dangerous story, but without knowing it, during a chaotic night, players will end up in a lot of funny and dangerous situations. By avoiding fatal danger, the buddies will survive the craziest, fun and memorable evening of games in their lives.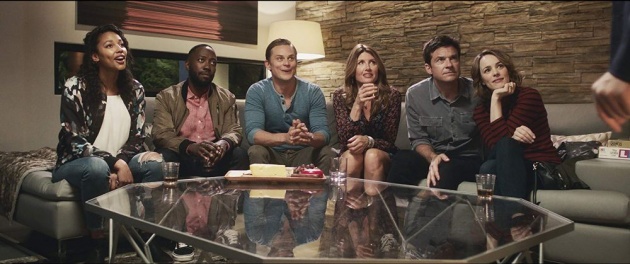 Movie GAME NIGHT Review - Photo credit: imdb.com
The Content Of The Movie
To create a really good comedy is real art, so it's no wonder that in the last few years we can count the really funny American comedies on one hand's fingers. And here I am talking about comedies, not action films, drama or melodrama, in which you can see comic elements. Adding comic elements, those films do not become a comedy.
So I looked forward to GAME NIGHT comedy, but at the same time, I was waiting very suspiciously for the new work of Jonathan Goldstein and John Francis Daley's tandem. Nevertheless, these buddies have written really good scripts for my already mentioned films, but also created not funny at all movie Vacation in 2015. It is the latest movie they directed that caused the greatest doubt about the quality of the GAME NIGHT.
But when I started watching the movie, I calmed down. After ten minutes of review, we were able to understand that this will be a really fun and entertaining movie. And right away, I will tell you why this comedy, in my opinion, is worth not only big screens but also our precious time.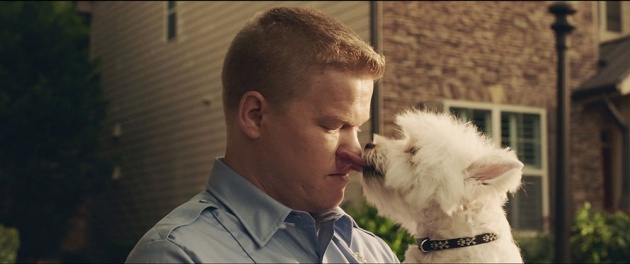 Jesse Plemons and Olivia in GAME NIGHT - Photo credit: alaninbelfast.blogspot.com
First of all, what you need to know about this movie is that it's a project created by true film lovers. Therefore, a lot of good jokes will be associated not only with the film world, the actors but also with the show business. It could cause some problems - the so-called inside jokes may only be understood by people who know a lot about films and have seen a lot of movies that were mentioned there.
But, I believe, it's not the fault of the creators that some of the less experienced people will not understand the super accurate and just sarcasm-filled joke about Denzel Washington, Edward Norton, The Green Mile, or the Iron Man.
The second important aspect - it is not just a black comedy. It is a film based on funny and macabre situations which are thrown into a cocktail of several genres. As a result, the background of this great comedy sometimes become elements of a thriller or action films. But they do not overshadow the very most important - the genre of the main movie, which in every scene appearing in the first plan.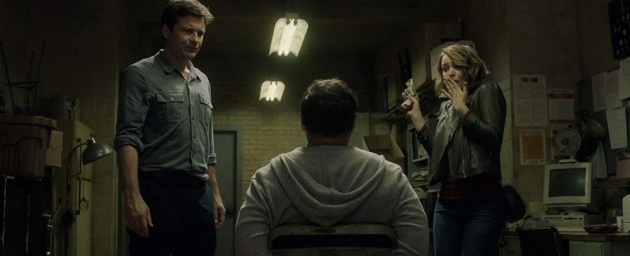 Hollywood film GAME NIGHT - Photo credit: alaninbelfast.blogspot.com
The fact that that the storyline is really well-implemented leaves impression too. Here, we get a very fun presentation of the action, which is difficult to predict, although it is possible if you make a lot of effort. And I'm talking about a couple of storyline's turns that turn the situations every time upside down. Therefore, you do not know exactly who bluffs and whoever speaks seriously to the end of the movie. And, believe me, it's very fun.
This dynamic, full of actions, and sometimes tense comedy project did not become boring at any minute. The movie is very cheerful, so the time in the movie theater passes imperceptibly. That's exactly what a comedy should look like that's good and comic in its storyline, which makes it possible not only to feel good after the preview but also to create a very good entertainment. Unfortunately, I cannot say that about most of the comedy movies.
The plot of this movie is not really disappointing. Often, Hollywood projects on the first side of movie attract us by intrigue but all of the film's potential breaks very quickly. Although the first part of the GAME NIGHT is better than the second one, we do not feel a big recession in the second half of the movie. The creators add attracting new trump cards, new surprises or story's hooks. Such measures are intended to keep the viewer's attention to the very end. Although not all tricks have proved successful, the work is not boring, and the intrigue is up to the very end.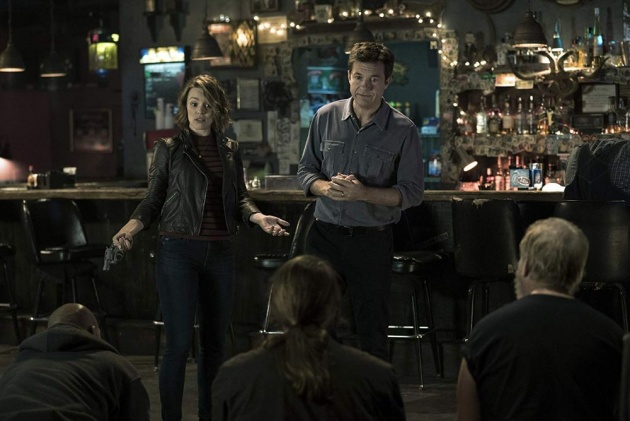 The comedy GAME NIGHT - Photo credit: imdb.com
The Heroes Of The Movie
The creators tried to make the characters as personal as possible, making each character a distinctive and memorable one. We can divide the main friends of the company into three pairs, and none of them were just statistics that just exist somewhere along the way until the main story develops. Each actor had exceptional qualities, each of the couples had his own conflicts and motivations that supplemented the main storyline of the film.
The characters in the film really cause a charming feeling. Each of them is individual, although it can be said that these were quite standard comedy heroes. Here we get each other loving couple, Max and Annie, a bad guy Brux, an idiot Rajan having brains of the size of a nut, a very intelligent woman Sarah, a husband and her wife, Kevin, and Michelle who all time disagree with each other, and the horrific freak, Garry.



Comedy is a super-objective thing. The same joke is funny to one person but it's not to the other. It's all just kind of flavor and taste, as opposed to drama, where there's this kind of undisputed level of authenticity or not. With comedy it's all different kind of flavors. - Jason Bateman




Credit: eu.azcentral.com



Max (Jason Bateman) - in his life, everything goes easy and carefree: Max has a beautiful wife, good friends, a small house. Often here they are gathered by families to play in intellectual games. But Max has an older brother, Brooks, who has always been more successful than him, and this upset the protagonist. So when Brooks comes to visit Max, the brothers feel chill. However, when Brooks is abducted, the brother is doing his best to save him. And then it turns out that Brooks actually was always envious to his brother. But why? Who is Brooks actually?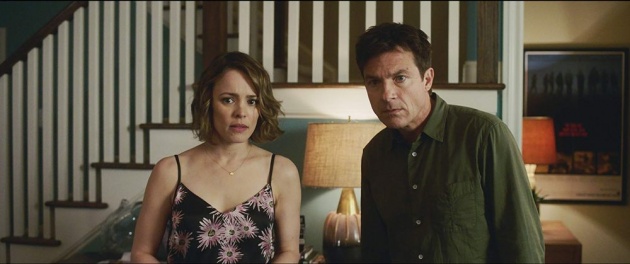 Jason Bateman and Rachel McAdams in GAME NIGHT - Photo credit: mrmoviefilmblog.com
Annie (Rachel McAdams) - a cheerful, vivid girl who is happy with her life and all that she has. Of course, like any married woman, Annie wants kids, but Max is not ready yet. Therefore, the main leisure time in their free time is games.
Brooks (Kyle Chandler) - according to his stories, this is a successful, self-confident man. Therefore, Max's friends were glad when he decided to take part in the game. The task that Brooks offered to his friends was very enjoyable, and they quickly joined the game. However, in the search for Brooks, it turned out that for all the external carelessness and easiness of the hero there are a lot of secrets.
Gary (Jesse Plemons) - however, how it would not be strange, that freak Garry was the brightest character in the film. All the scenes with him made us laugh to tears. I do not lie. This is an exceptional hero about which creators could create a side project of this comedy. He is neighbor Max and Annie, a silent and calm policeman who almost never separates from his suit form. Previously, he also played night games, but then neighbors stopped inviting him. Gary, of course, felt offended because the neighbors continued to play secretly. It would seem that a little strange Gary could not have any relation to Brooks' abduction, because they did not even communicate. But in the course of investigating the abduction of Brooks, it turns out that the neighbor is absolutely not the one he wants people to think about him.
Although it was sometimes tried to show the same problem several times, what could become boring, but we should praise the creators for deciding to develop the story through a few different heroes. It can be argued that such a solution deepened the plot and gave it more dynamism and playfulness.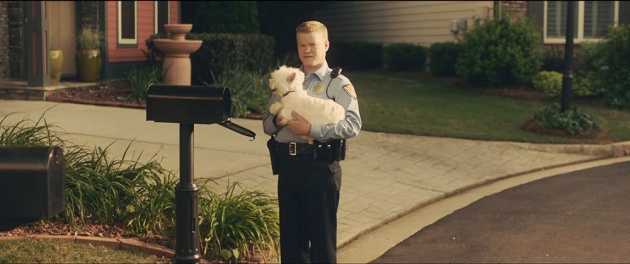 Gary - Jesse Plemons - in GAME NIGHT - Photo credit: imdb.com
The Technical Side Of The Movie
This movie becomes also a great, quality spectacle for both eyes and ears. It's possible to melt even because of the perfect soundtrack alone. Indeed, when the Queen song Don't Stop Me Now started at the beginning of the film, and finally it was crowned by their huge hit We Are the Champions, I barely could keep my tears. The moods were immediately raised to the clouds. Of course, the musical compositions that the famous Cliff Martinez wrote to the film has caused very positive feelings for this film. The stylistic presentation of the film surprised. GAME NIGHT has proven to be well on a number of visual levels.
The good camera work done by the operator, Barry Peterson, should also be highlighted. Every scene of the action was filmed gracefully and alive. And I must praise also the picturesque looking images, which, in addition, played a rather important role in the film. But the most delighted was how the developers looked at the main theme of the film - games. In some scenes, the movie world looked like a simulation of the table or computer games.
The editing is also good. Especially because it is able to keep the intrigue right up to the end of the film. It's really hard enough to predict every action of the heroes, so the presentation of the storyline was thoroughly thought out. The montage of sound gave the sense of adrenaline watching the scenes of shooting and action.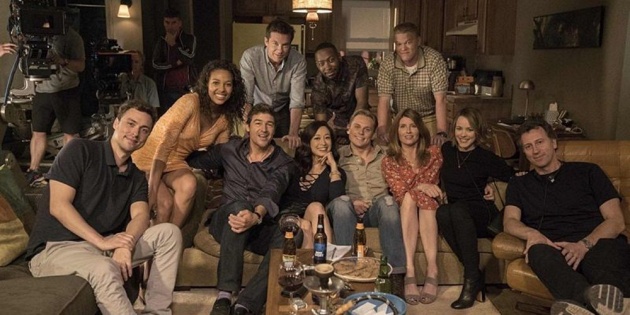 Movie GAME NIGHT Review - rachel-mcadams.net
The Collective Work Of The Actors
Actor Jason Bateman delighted us with his performance this time because it seemed that he just played where he was offered. Yes, he played in an awesome Ozark series and several serious drama projects such as Disconnect and The Gift. But if we talk about comedy, the last good appeared in 2011, and it was Horrible Bosses.
Although, he was the same in this film, as in many other similar films, most importantly, this actor is not able to annoy, although he looks the same everywhere. And here's a high-quality project, in which it was enough to be himself.
Rachel McAdams shone in this film. She is not only a beautiful but also a great actress who can play both a naive and affectionate girl and a silly sexy wife whose actions are very difficult to predict.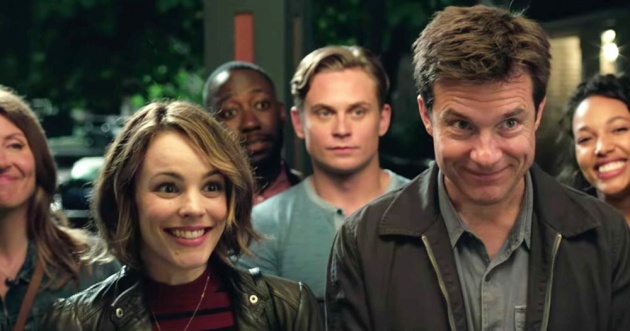 Main actors of the GAME NIGHT: Jason Bateman and Rachel McAdams - Photo credit: twitter.com
But neither she nor Jason Bateman can compete with, in my opinion, the most charismatic movie character Gary, performed by the talented and versatile Jesse Plemons. The actor is most often known from the crime genre bands like Black Mass, American Made, or such historical drama as Bridge of Spies.
He played the role of a funny freak in this film, which performed very successful. Frankly, when I was sitting in the cinema, I began to scare by him, such a horrific he was.
Billy Magnussen, Sharon Horgan, Lamordne Morris, Kylie Bunbury, and Kyle Chandler appeared on the second-rate roles. True, there were also small roles in the film, in which famous actors played important roles that were not as important to the plot line. Therefore, it was nice to see Danny Huston, Chelsea Peretti, Michael C. Hall, and Jeffrey Wright.
The Cast of GAME NIGHT interview - Video credit: Entertainment Studios via YouTube.com
On The Final Note
Among all the genres of films, I prefer thrillers, comedies, and detectives. And what if all these genres are combined in the film? Of course, it will interest me. And such for me was the movie GAME NIGHT. First of all, I liked that it combines both humor, intrigue, and an interesting unusual plot. Well, of course, familiar actors helped to attract my attention. The film really turned out to be light and funny.
GAME NIGHT - a very good quality comedy, which makes it possible to experience incredible fun impressions in the cinema. And all because of the unpredictable and cheerfully developed storyline, with numerous references to popular culture (from films to well-known events), charismatic actors, not boring action, and, of course, the atmosphere of tension specific for well-matured thrillers.
Here, too, is a line of fraternal relations, which is quite dramatically developing throughout the film. A lot of instructive moments, both for heroes and for viewers.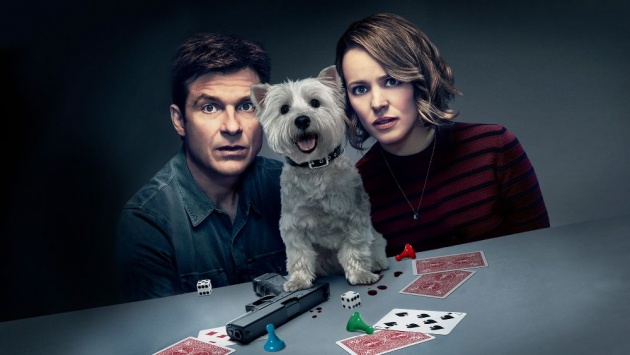 Jason Bateman and Rachel McAdams in GAME NIGHT - Photo credit:kidskunst.info
The latest work by J. Goldstein and J. Daley is not a masterpiece and does not claim to become. However, the developers have been working on all the major components of the work, paying close attention to even the smallest detail. And it will really delight the exhausted spectators of the banal and mindless comedies.
This is a comedy. Successful. I laughed. My friend laughed also. The whole cinema hall laughed. You can go to the cinema, without any doubting. You will get a great mood, a storm of emotions and a deadly dose of humor! This is not a comedy, but a super comedy with elements of the thriller.



Game Night is a winner, plain and simple. Brisk and engaging, this is a comedy that's worth rolling the dice on. - Will Ashton




Credit: metacritic.com



My rating: 9.0/10
Rotten Tomatoes: 84/100
Critics average: 78/100
IMDb: 7.0/10
HAVE FUN WATHING!
**************************************************************************************************
Thank you for stopping by and reading my blog.
2018, All Rights Reserved.
You are very welcome to join Bitlanders and share your valuable knowledge and opinion.
**************************************************************************************************