MY FAVORITE SINGER
Hello Guys, Today I am here to present my another Blog on the subject of "My Favorite Singer". Dear Friends, music is a universal language and it is a famous saying that "Music Is Food For The Soul". Therefore, everybody loves Music and like to listen to favorite songs and tunes on almost daily basis. I also like Music very much and like all types of music such as Pop, Classical, Rock, Rhythm & Blues, Jazz, and Country Music etc. Actually, it's all about my mood, however, I like Pop Music more than any other music type and my favorite singer is very famous on international level. He is so much famous that on youtube.com his songs videos are among the most viewed videos. I am sure you must have got some idea and some of you must have understood who I am talking about, yes, it is "Ed Sheeran". Let's have a deeper look into his life, his music and his fame that he got in a short time.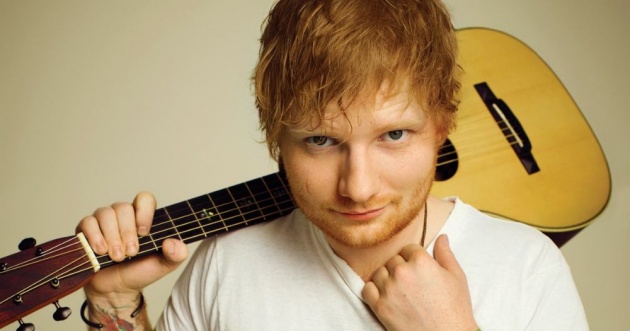 Image Credit: www.rollingstone.com
Ed Sheeran is an Internationally acclaimed artist from United Kingdom. He holds Grammy Award for his singing / songwriting for his international hits like "Thinking Out Loud", "Photograph", "Shape of You" and "Perfect". He is a busy singer these days and remains on tour almost all the time because he is in high demand these days on an International level. His style of singing and appearance gives him a broader appeal among different nations, and it has helped him to elevate to international stardom in a short span of time since his beginning on international level with his debut album "+" (plus). His personal favorites are music legends such as "Van Morrison". Especially, his studio album "Irish Heartbeat" inspired him the most and persuaded him to choose a career in music and singing. Other legendary stars like Eric Clapton, Paul McCartney and Bob Dylan were some of the other music icons who inspired him in his early years.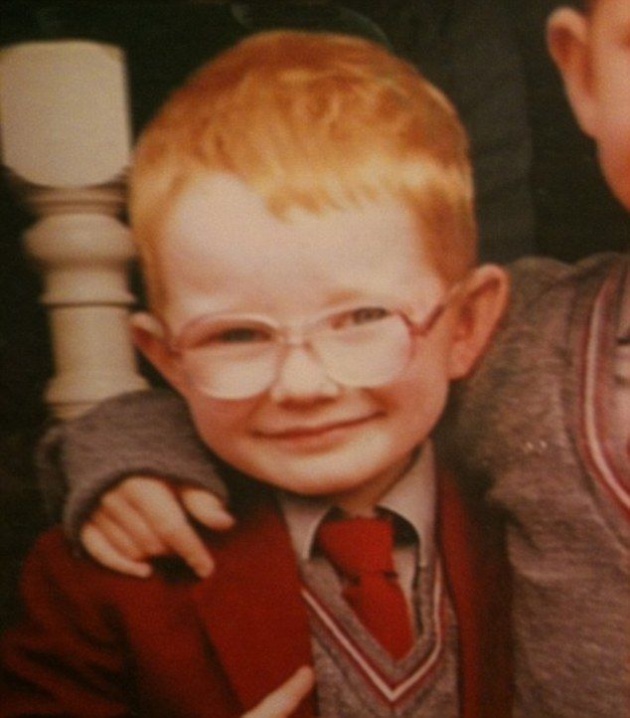 Image Credit: www.dailymail.co.uk
Ed Sheeran was born as Edward Christopher Sheeran in a Town of Halifax, West Yorkshire in England on 17 February 1991 in the house of John Sheeran, the Father and Imogen Sheeran, the Mother. His Father was a professional "Lecturer" and his mother was also a working woman as a "Jewelry Designer". Ed Sheeran's parent used to visit London very often and they were fond of music too as they used to attend many music concerts along with their children and from there, Ed Sheeran developed his liking for music in an early age along with his brother. His parents liked Country Music very much, so therefore, he also started his love for the country music which appealed to him very much. Ed Sheeran is also a spasmodic rapper and an actor as well. In his acting career, Ed Sheeran has played recurring roles on "The Bastard Executioner" and guest appearance in "Home and Away". He has also played the role of "Lannister Soldier" on "Game of Thrones". Anyways, he started recording his music in late 2004 and it was not long before Sheeran was recording his music CDs and then selling them, he soon put together his first official "Extended Play" i.e. EP, and subsequently lead to the release of this first "Extended Play", The Orange Room EP.
Image Credit: wikipedia
His first music endeavor "Spinning Man" also known as "Misery" was released independently. After moving to London from Suffolk in 2008 Ed Sheeran attended a Music Academy to learn more about music and graduated from there in 2009. Thereafter, when he was teenager, he shifted to London for no other reason than music. Soon after, his passion for music and after a number of live shows online, he was noted and regarded to be a future star. Ed Sheeran was not famous until February 2010 when he began to get noticed after he posted a video through SB.tv displaying his diverse style of music and singing. Every star makes efforts through difficult times and Ed Sheeran paid a full price in order to become a "Star" and went through hard times.
Ed stated that he had been living rough in his new book, A Visual Journey.

"There was an arch outside Buckingham palace that has a heating duct and I spent a couple of nights there…I didn't have anywhere to live for much of 2008 and the whole of 2009 and 2010, but somehow I made it work," the Don't singer revealed.


"I knew where I could get a bed at a certain time of night and I knew who I could call at any time to get a floor to sleep on. Being sociable helped. Drinking helped," he revealed.

"I spent a week catching up on sleep on Circle Line trains," he admitted. "I'd go out and play a gig, wait until 5am when the Underground opened, sleep on the Circle Line until 12, go to a session – and then repeat. It wasn't that bad."
Information Source: www.her.ie
After seeing his performance on SB.tv, Ed Sheeran was invited by mainstream rapper and musician "Example" to tour with him and Ed Sheeran was seen by more and more people and music fans which resulted in the enormous growth in the Fan Club of Ed Sheeran. Thereafter, before signing and official deal, Ed Sheeran managed hit No. 1 on the iTunes chart before he ever signed with a record label and without any promotion or label. His most noted performance was in 2011 when he independently released the "Extended Play" also known as EP, "No. 5 Collaborations Project". At this time, Ed Sheeran had been noted as a future sensation and therefore, Ed Sheeran never looked back since then. Thereon, he signed with Asylum Records for his debut album with the name label of "+" (plus) which was released in September 2011. This album started to make its impression quickly as it topped the "UK" and "Australian Charts".
Image Credit: www.cnbc.com
The First album of Ed Sheeran also managed to reach number five spot in the US Music Charts. Besides, this album has since been declared as seven times platinum in the UK. Ed Sheeran's efforts had started to paid off by that time. Later on, from this album, his famous song "The A Team" was released as the first single on 12 June 2011 which was also an instant hit and caused a stir in the music industry. This song got him "Ivor Novello Award" as the Best Song Musically and Lyrically. Not only this, Ed Sheeran also won the Brit Awards for Best British Male Solo Artist and British Breakthrough Act in the year 2012. "The A Team" was nominated for "Song of the Year at the 2013 Grammy Awards", where he performed the song with Elton John. This opened the door for him for his success in Australia, Europe, Canada, and then the United States.
Video Credit:

Ed Sheeran via www.youtube.com
In year 2013, he started to appear with another famous and talented artist "Tylor Swift" in the tours and from then on, they both have been appearing on the screen on and off with their performances which also created some gossips about their relationship. Now the time had come for Ed Sheeran's second studio album and he released it with the name label of "x" (multiply) in the year of 2014. This album also brought him success and it reached number one spot in the UK and the US as well. Later on, in 2015, this album "x" also won him "The Brit Award" for Album of the Year, and he again received the Ivor Novello Award in the category of "Songwriter of the Year" from the "British Academy of Songwriters, Composers and Authors" also known as BASCA. His songs in this album "x" were instant hits again internationally and especially his song "Thinking Out Loud" gave him the honor of receiving two "Grammy Awards" in its "58th Annual Grammy Awards" Ceremony held on 15 February in 2016 in the categories of "Song of the Year" and "Best Pop Solo Performance". Later on, In May 2016, Ed Sheeran's album "x" was also declared the second bestselling album worldwide in 2015.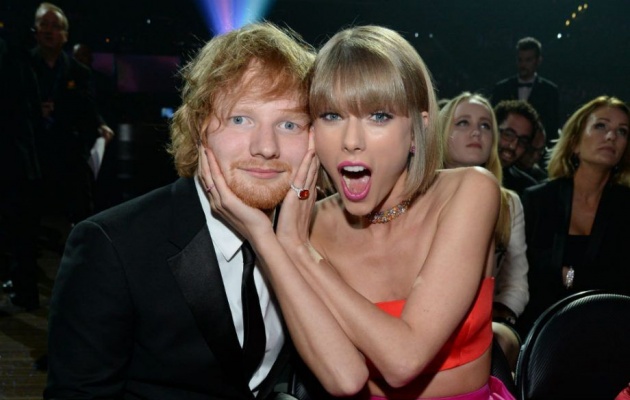 Image Credit: www.nme.com
Now, the time had come for Ed Sheeran's third album and he released it with the name label of "÷" (divide) and it came into music market on 03 March 2017. This album became instant hit the day this was released as it debuted at number one in the United Kingdom, the United States and other major music markets. This reveals how big a star he had become. The first two singles from the album, "Shape of You" and "Castle on the Hill" both were released on 06 January 2017 and the whole music world got glued to them. The video of the song "Shape of You" is among top 3 in most viewed videos on youtube.com. Especially this song "Shape of You" broke records in many countries such as the United Kingdom, Australia and Germany. These two songs debuted in the top two positions of the charts and brought the accolade for Ed Sheeran of becoming the first artist to have two songs debut in the US top 10 in the same week.
Video Credit: Ed Sheeran via youtube.com
Then, from the same album, Ed Sheeran had added another top 10 singles on the UK Singles Chart in March 2017 and he broke the record of "DJ Calvin Harris" of most top 10 UK singles from one album. His fourth single from this album "Perfect" also managed to reach number one in the music charts of UK and Australia. Another song, which is actually an acoustic version "Perfect Duet", which also featured internationally famous "Beyoncé", managed to reach number one as well in the US.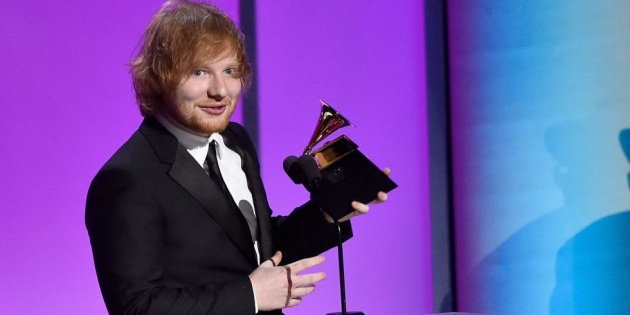 Image Credit: www.digitalspy.com
CONCLUSION
Till now, Ed Sheeran is believed to have sold more than 26 million albums and 100 million singles worldwide which makes him one among the world's best-selling music artists. His unique voice and style has made him an international sensation and a name which no one can forget for a long time. Ed Sheeran having confirmed his massive popularity and international status in the field of music has been awarded an "Order of the British Empire" (MBE) on the occasion of the Queen's Birthday Honors in 2017. In coming days, he is believed to solidify his international fame and singing appeal. He has the talent and charisma and his fans worldwide believe in his abilities to continue mesmerizing them with his sweet voice and songwriting. Ed Sheeran is a very down to earth person and thanks his co-writer, the studio producers, his management and all the fans besides special efforts made by his parents to make him such a successful person in the music industry.
ED SHEERAN'S OFFICIAL WEBSITES:
Thanks for Reading.
This Blog Was Written by Refaquat Noman, a Resident of Saudi Arabia and a Traveler.

DISCLAIMER: The contents of Blog above are that of the author and does not represent his company or agency. The sites, videos, and photos used in this Blog are for information purposes only and links are available for direct access. The author does not receive any monetary benefit from those companies or sites.