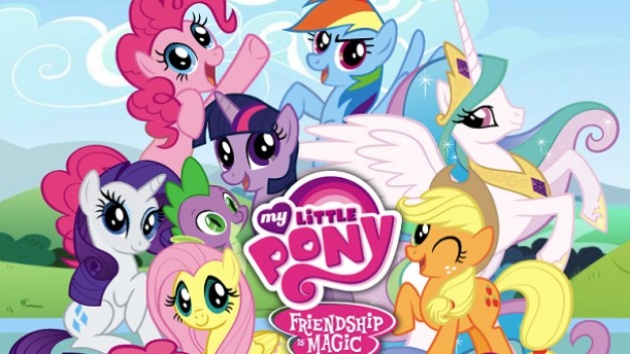 If you're a fan of "My Little Pony" and must see a brand new movie featuring the colorific characters, well, you're in luck! There's a feature film galloping your way this June.

It's called "My Little Pony Equestria Girls" and it has something to do with Twilight Sparkle's crown. But when she searches for her stolen crown, she ends up in another world with no powers -- just another human girl in high school. Oh bummer!

So save the date! On June 15, "My Little Pony Equestria Girls" will have its premiere at the Los Angeles Film Festival's "Family Day."

Here's more on the press release about "My Little Pony Equestria Girls."


The My Little Pony brand has remained deeply rooted in the value of friendship since it first launched 30 years ago. Integrating those same core values, Hasbro Studios premieres My Little Pony Equestria Girls, a new full-length feature introducing a whole new dimension into the world of My Little Pony. When a crown is stolen from the Crystal Empire, Twilight Sparkle pursues the thief into an alternate world where she transforms into a teenage girl who must survive her biggest challenge yet…high school. With help from her new friends who remind her of Ponyville's Applejack, Rarity, Rainbow Dash, Pinkie Pie and Fluttershy, she embarks upon a quest to find the crown and change the destiny of these two parallel worlds.

Five popular Hasbro Studios properties will take over L.A. LIVE's Nokia Plaza with an exciting lineup of activities inspired by the popular My Little Pony: Friendship is Magic, Kaijudo, Transformers Rescue Bots, Transformers Prime and Littlest Pet Shop animated programs. A day of fun for the whole family will feature character appearances, a digital gaming area, photo booth, coloring station, entertainment lounge, giveaways and more. A real fire truck and police car will be on hand for an interactive Transformers Rescue Bots experience, families will be invited to "Pony-fy" themselves to look like the stylish My Little Pony Equestria Girls characters, and the Littlest Pet Shop section will feature a balloon animals and face painting.