Summer is over. For kids, it usually means buying new school supplies. At Film Annex, it means re-designing. This week, we implemented our new featured system on the homepage. The official news is still to be released but you probably have already noticed the changes. Entertainment, current events and sports are now our 3 big topics. We used to have 8 movies and a featured filmmaker and Web TV every week. We have now dozens and dozens of them. So we chose this new content, meaning going through our videos to select the best movies, filmmakers and Web TVs that will rotate on the homepage. The goal is to present the most relevant videos we have on our platform in those 3 topics, directly from the homepage.
And because we always want new content, I also spent some time browsing the Internet in search of new filmmakers that I can invite on our platform. I came across several good animations and a very captivating narrative short film called Plurality. I got in touch with the filmmaker, Dennis Liu, and hope to hear from him soon so we can present his work on Film Annex. I actually used this movie as a starting point for my weekly blog about social media.
I like receiving news from our filmmakers, especially when Film Annex can be involved. So I heard from Sorcha Anglim, who talked to me about a project she's working on with fellow Film Annex filmmakers Amy Hill, Andy Parker and Jack Tew. They are all from the UK but just moved to the same city, Manchester, so they can more easily work together. The exciting part is that the revenues they generated thanks to their Web TVs are helping them right now to finance this new adventure. I can't reveal too much about it as they are still working on the details and don't want to release the news too soon. But they will keep us updated!
I also heard from Lisa Stock who will soon release her short film The Jules Verne Project on her Web TV. You can watch the trailer below. Her film Hell will be screened in New York City in December. She told me that she hopes she can be there during this time and visit us in our studio.
Through the week I worked on the Web TV and Facebook page we set up for Esteqlal FC, a Kabul soccer team that Film Annex is sponsoring as part of its operations in Afghanistan.
My week was also filled with the daily posts I make on our social media platforms. Whether it's on Facebook, Twitter, LinkedIn, Google+ or Tumblr, I keep our viewers updated with our last short films and corporate news. Speaking of new short films, we had great additions on Film Annex this week including the episode 5 of the animated webseries The World of Snowboy and Crow by Ken Turner, and several animations by filmmakers MR Horhager and Nick Fox-Gieg.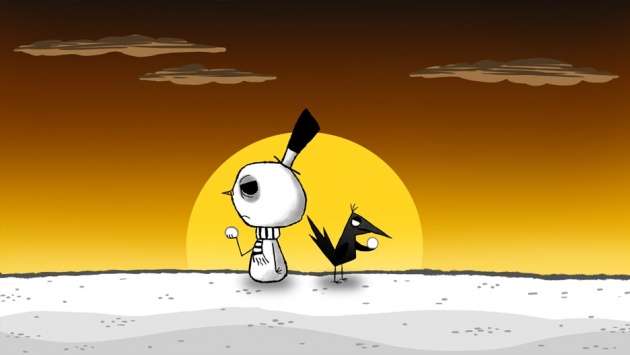 Still from The World of Snowboy and Crow
I'm now wrapping up this weekly recap to start working on our next success stories about the filmmakers we recently featured. More to come about that in a next blog... The day will end with our now traditional Friday afternoon ping pong party. Our office is adopting a bit of Google or Facebook's office spirit with the addition of a brand new ping pong table in our studio! Everybody works better after a relaxing break right?
Enjoy your weekend!