Nick Fox Gieg joined Film Annex after following fellow animator Jonathan Ng's recommendation. He set up his Web TV quickly and is now presenting 7 short films on it. On December 2012, he came to the Film Annex studio to talk about his animations, online film distribution and social media. A few weeks before, he answered our questions about how he uses social media to promote his work and create business opportunities. Here are his answers:
Film Annex: When did you start promoting your work specifically on social media platforms?
Nick Fox-Gieg: I started back with Friendster in 2003. When the video aggregators began arriving in 2005, I signed up for a bunch and used their built-in social networking features. I have 3,400 YouTube followers, which is still my largest subscriber base anywhere.
FA: What social media platforms do you use? Which one(s) do you think is(are) more efficient for filmmakers to use to promote their work and why?
NFG: I signed up for Twitter early, but didn't start to seriously use it till 2011. It's currently my favorite way to reach people. They make it really easy to do one-to-many communication from a wide range of platforms and gadgets. I cross-post my tweets to Facebook, but I took down my Facebook page signup links from my other sites ever since they began charging money to reach followers.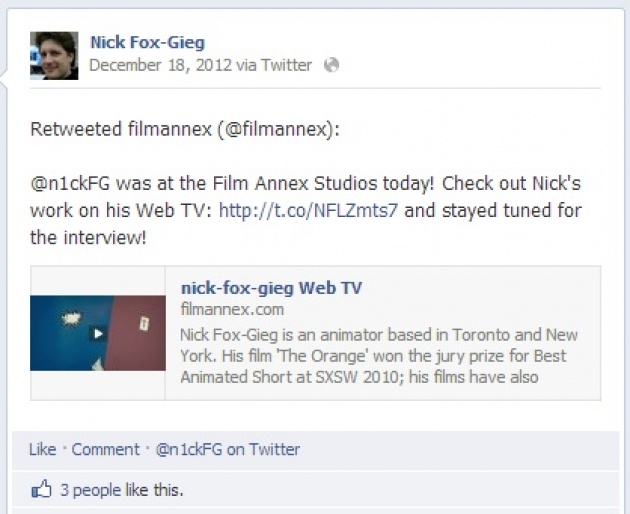 A post on Nick's Facebook page
FA: Did you make interesting contacts or create business opportunities by sharing your work on social media?
NFG: Yes. Building an audience is a big part of how I manage to earn a living. It's important to clarify, though, that I don't exclusively depend on social media. The social media sites are curated by human beings, and the people responsible for promoting film/video attend festivals, etc. like any other curator.
FA: Give us an example on how you promote your Web TV or work in general on social media?
NFG: I use tweets linked to unlisted YouTube links as a way to quickly send video updates without spamming my YouTube subscribers who seem to prefer infrequent postings of finished films instead of constant updates.
FA: Did you see a change on your revenues on Film Annex after promoting your Web TV on social media?
NFG: I've been in an R&D phase this year, at Eyebeam in NYC, and I haven't posted new films in a while. I think my existing audience could be saturated. When I have a new film ready, I'll try putting it on Film Annex first. I'd recommend taking an experimental approach with these things...!
FA: Do you have any tips for other filmmakers on how to promote your films on social media?
NFG: Putting your film online may still somewhat diminish your chances with first-tier festivals, all else being equal, but it's no longer the automatic disqualifier it once was. As I see it, your first priority is to build an audience.
You can follow him on Facebook, Twitter, Tumblr, and LinkedIn. He also has a Facebook page dedicated to his animated work.
His video interview at the Film Annex studio:
Click here to read more about promoting films online and on social media platforms.