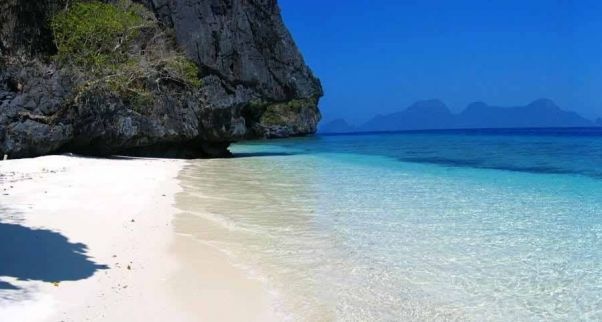 Palawan is an island province situated on the western border part of the Philippines, easily accessible and largely unknown to the majority of the international community. It is a narrow archipelago of 1,780 islands with the country's greatest concentration of islands and with the lowest density of population.
Geographically, Palawan is in fact a lot more remote from the other provinces in the country as a number of its southern islands are tend to be nearer to Malaysia than the rest of the Philippines. It is bounded by the South China Sea on the west and the Sulu Sea on the east. With a land area of nearly 1.5 million hectares, Palawan is the country's largest province. It has an irregular coastline of almost 2,000 kilometers, indented by numerous coves and bays. Highlands and rolling terrain covered with lush forests create a cool and scenic landscape. This island province of Palawan is an idyllic paradise with an invitingly calm atmosphere and nature themes of tropical bliss. It is a fine getaway from the tiring daily grind of work and an ideal place to take a time out from life's pressures.
Additionally, this island province is Philippines' most significant nature treasure as it harbors some of the world's most diverse ecosystem, geological wonders, endangered species, vintage ethnicity and local customs, and most of all, flawless and pristine white sand beaches for vacationers to explore including the Philippines' two strong contenders to the New 7 Wonders of Nature and World Heritage Sites, the Puerto Princesa Subterranean River Park or Palawan Underground River and the Tubbataha Reefs Marine Reserve and Natural Park, a diving spot of global stature since leisure-time divers and sincere marine biologists' world wide visit here to analyze its unique and breathtaking wonder.
Moreover, this tropical island jewel has an excess of natural eye-candy to discover having its countless dive sites as well as wildlife conservatories. Visitors can discover throughout Palawan a guaranteed haven from the urban areas' rat-maze-madness, as it is simple and easy to join mind and body and even soul with the island's endless supply of nature.
Visiting Palawan is an opportunity to experience serenity, the magnificent view and the natural beauty of nature around the sea. A dreamer's destination and a diver's paradise, Palawan waters are among the best in the world, not only for diving but also for fishing.
"It's easy to take all this natural beauty for granted, but it's meant to be shared. We look around at those who come in, and they say that this is the most unique travel destination with the greatest variety of natural beauty. I hope we can help connect more people with this natural beauty, it's the gem of the Philippines, and such a calm and relaxing place, and everyone deserves to come here."
There are easy flight to Palawan, and an endless amount of things to do. Visitors are encouraged to check out the Official Website - Provincial Government of Palawan before they visit so they can get more information and resources to better plan a trip. Travel is best during the summer months, between March and July.
Experience tranquility...experience Palawan...every island an adventure!