"You want to be an Artist? There's no Money and Career waiting for you in that path"
This is what I've got for being too honest and outspoken for my Dream Career. It was from one of our officer, the moment they heard the word "Artist" they already conclude in their minds that Artists or future Artist has no bright future. But of course, not being too subjective towards my feelings, I still tend to disagree. Not to generalize everyone, but most people thinks the same and I wholeheartedly accept that fact. But that won't stop me to do what I love and to pursue soon my Dream work.
Before anything else let's have a run through of what is DREAM all about.
"Dream is a wish to have or be something, especially one that seems difficult to achieve"
Dream is something you wanted the most. The thing you're longing to do or to have. Usually it all started in our mind, we begin to imagine beautiful things for ourselves, for our families even for our friends.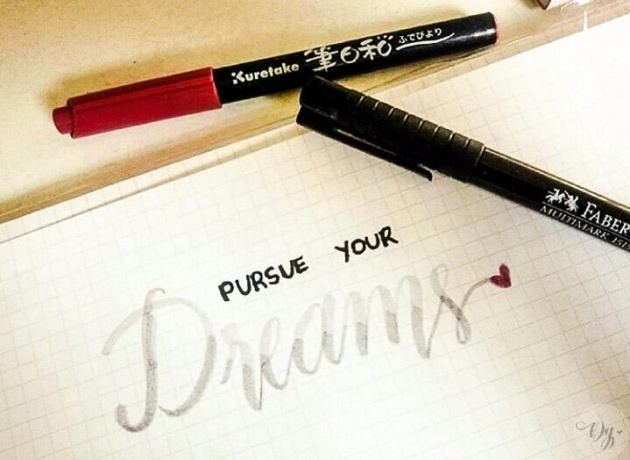 Photo Credits: @forever.favored via instagram.com
Dreaming is such a wonderful Gift. It gave us freedom to pursue what is really inside our hearts, in which eventually that Dream will turn into a passion. A strong desire to achieve what we want or what we are dreaming for. Passion is more than just a desire of wanting to succeed. It gave us driving force to be motivated and to act accordingly to achieve what we desire or what we are dreaming for.
When people genuinely enjoy their profession and are motivated by their passion, they tend to be more satisfied with their work and more psychologically healthy. When individuals are unsatisfied with their profession they tend to also be dissatisfied with their family relationships and experience psychological distress.
I believed on what it is stated here regarding passion for work, If you really love what you are doing as if you are rewarding yourself because you are earning and didn't think as if you are working at all.
Here's a video of Steve Jobs regarding having passion in work:
Source: Coachkriengsak via Youtube.com
So to begin with my Job, I work in a private Banking Institution for more than one year now and indeed there was a huge difference from my dream work compared to my current job. But just like any other young adult, I have no time to waste trying so hard to look for a position that will lead me to my dream career. My tummy won't feed itself unless I intake something right?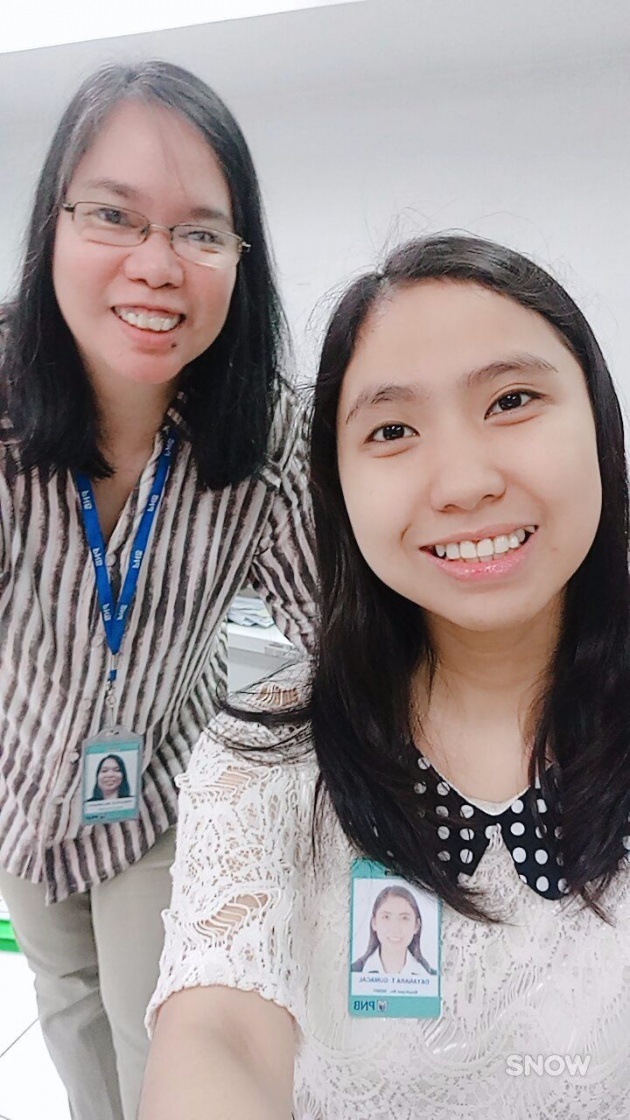 Photo credits: @forever.favored via instagram.com/
(It's me and my officemate who's a Marketing Assistant too)
So back on the topic, I work as a Marketing Assistant in one of the Business Center of this Private bank. Fortunately, the position was fit to the course I graduated in College but only in Financing Industry and also Lending Industry. So what does a Marketing Assistant do? In our case, from the word Assistant we assist the immediate officer assigned to us. In which our assigned officer will market Companies, businessman and businesswoman to borrow money from our bank. In short, we are lenders.
As a Marketing Assistant it is our duty to transact every availments and payments of our clients. We also help our officer doing the approval of our prospective accounts. So that's our daily routine. It was Indeed tiring and no to mention that you must have a high tolerance in Stress and Pressure. Especially when your bosses have different nationality with you. Of course it is part of your work to adjust and adapt also to their culture.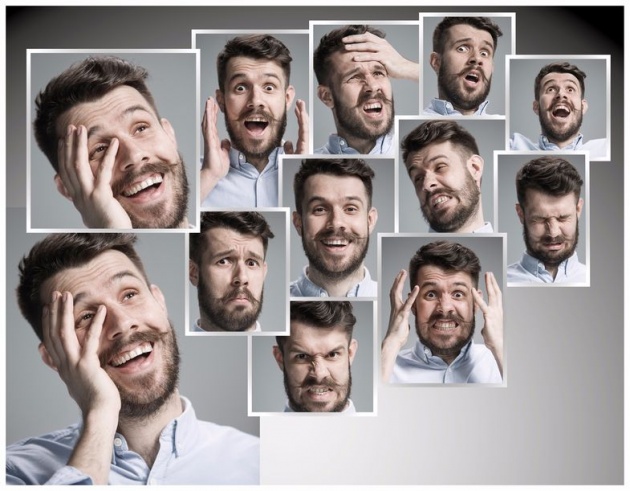 Photo Credits: L & D daily advisor via google.com.ph
Another challenge in every job is the people whom you interacted with. Well it is given that every task in every job is a challenge but there are also people who will test you in every way. From your behavior to your patience up to your Integrity. Indeed you will be challenged, you will be pissed at times and time will come that even your emotions will be affected. But fear not because as I just stated earlier, it is a CHALLENGE. And what is a challenge if it will not test you and change you right? Use this challenges to make you better not just an employee but most of all as a person. This are the things I realized while I was working in this Industry. Most of the time I just wanted to give up and resign because of stress and pressure but having a dream in my mind and in my heart what keeps me going.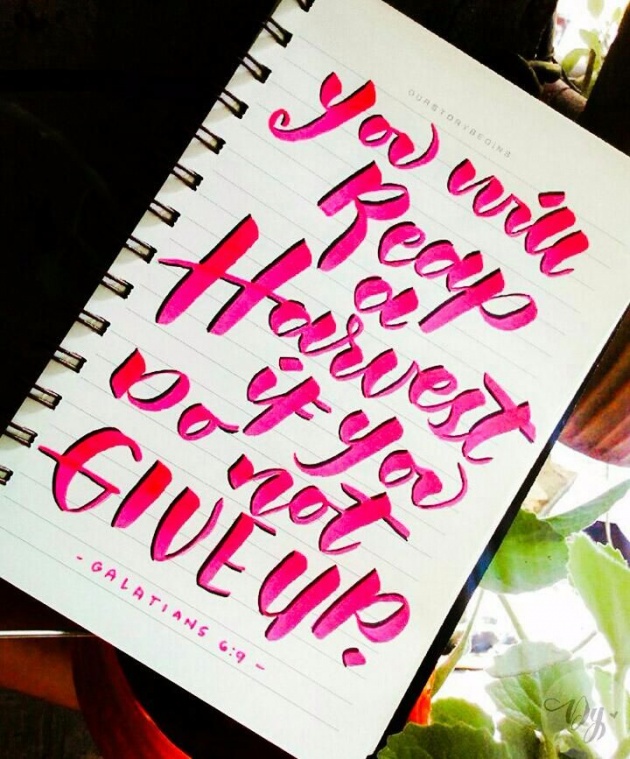 Photo credits: @forever.favored via instagram.com
Do not get weary of doing good for the proper time you will reap a harvest if you do not give up.

-Galatians 6:9
This is my favorite motivating verse, it doesn't just motivate me but it also gives me hope. It reminds me that God promise me good things in the future if I do it for Him and do not give up. So i will NOT give up. Also I know that the God who plot me in this job is the same God who will help me get through with everything.
Okay enough for Drama, so back on the question. If you will choose between your Passion and Practicality what will you choose? I know you must have heard this somewhere but allow me to share with you my stand. So my answer is, I'll choose BOTH. I believe that you can choose to do your passion and be practical as well. How? Simply by making most of your time.

"Job is what you do between 8am to 5pm. While work is what you decide to do beyond 5pm"

-Bishop Oriel Ballano
This is such an unforgettable quote taught us by our senior Pastor. The difference of your Job and your work. As for me being a Marketing Assistant is my Job in which I am mandated to go and report from Mondays to Fridays 8am to 5pm. While my work is being an Artist in which I do most of my free time when I'm not in my Job. I'm not a full time Artist (by now), I just tend to maximize my time sometime after my day to day job but mostly I do my practice every weekend. Just like in my Job, I also got frustrated with my craft. By seeing how my friends and acquaintances achieve sometime because of their Art. But every time I pity myself that is the high time when God reminds me that it is He who gave me this Ability and talent. And that I use it for His glory and to bring praise to His name. What's important is to pursue and to keep going, to make a progress and not to focus on perfection. To do what you love by not comparing yourself or your works to other people.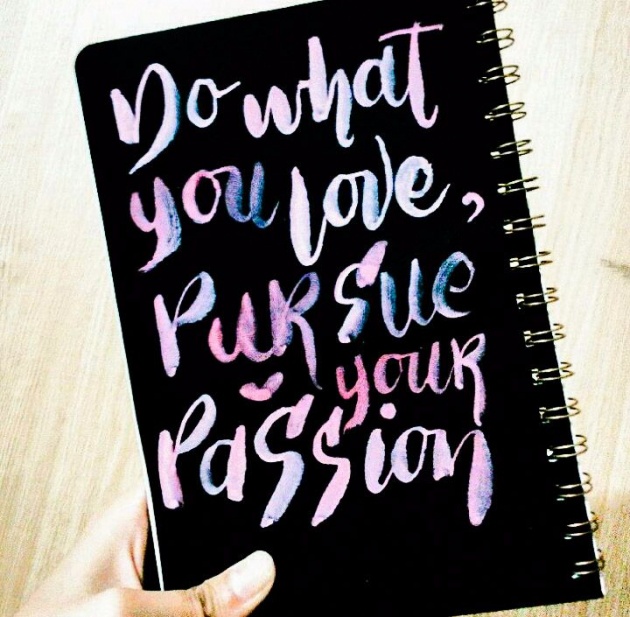 Photo Credits: @forever.favored via instagram.com
I dreamt of having my own business. As our World Literature teacher once said,
"Being an Employee is like being a slave"
which is true. As long as you are an employee, you will always be a slave to your employer. But it must not stop there, you can choose you own path to success. It is your choice if you want to remain as an Employee for the rest of your life or you will leave your comfort zone and try new things for yourselves. (Just a quick break, did you notice that Bitlanders is a platform to leave your comfort zone too? If you're here doing this as your part time, and also has a full time Job like me, you are in the right path indeed.) Even way back college, me and @Caaams are persistent to find a part time Job. Well not literally a Job because we know that it will be hard for us to work and study at the same time. But to look for some alternatives on how we can earn and save money. One of our successful online part time is Bubblews.


Photo Credits: LinkedIn via https://www.linkedin.com
Bubblews is a content creation and discovery platform that combines the traditional social media model with unconventional leadership that allows users to profit from their posts. Bubblews is a holistic macro-blogging platform and social ecosystem where users can come to express their opinions, meet like-minded individuals from around the world, and be compensated for their contributions to the network. Bubblews is a San Francisco-based social start-up that was founded in September 2012 by Arvind Dixit and Jason Zuccari. It has received seed and angel round funding from AJZ Capital, LLC and Capital Financial Ventures, LLC.
So Bubblews is also a blogging Platform in which you'll get paid by like and comments in your content. I know some of you are familiar with this site, some says the site as legit but most of the people says it was a scam. But as for us we are fortunate to be able to earn with that site. But the sad thing is after 2 years the site was no choice but to close the site. Good thing we discover bitlanders. Hehe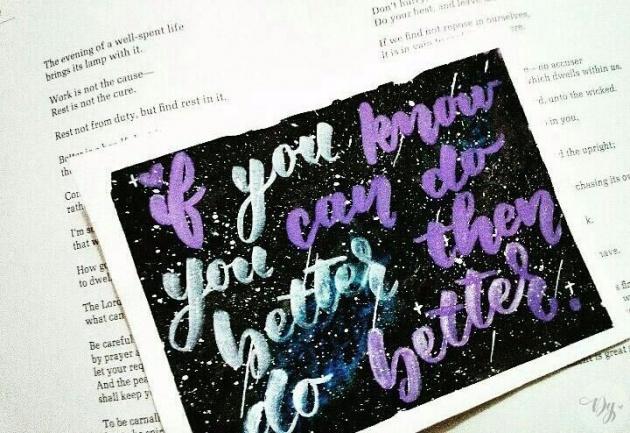 Photo Credits: @forever.favored via instagram.com
So as I do my thing as an Artist, I also do my part as a Marketing Assistant, as the qulte stated above "If you know you can do better, then do better". Knowing that my Job is not the work I love, still I want to make sure that I give my 100% when I'm at the office. Performing my duties and responsibilities. Of course having a stable Job will help me to save money for my future dream and business , the very reason why I need to work hard even better. And as I do my best at my Job, I also make sure that Im investing to my passion by acquiring quality materials and maximizing it by doing commissions. I know that in time, with my knowledge learnt from school, strategies adapted at work, skills given by God and pure heart with unweaving hard work from myself I can achieve my Dream Career and live the moment. It's not too late to discover what your dream career is. Or let's take it easy first, It is never too late to discover what is your Passion.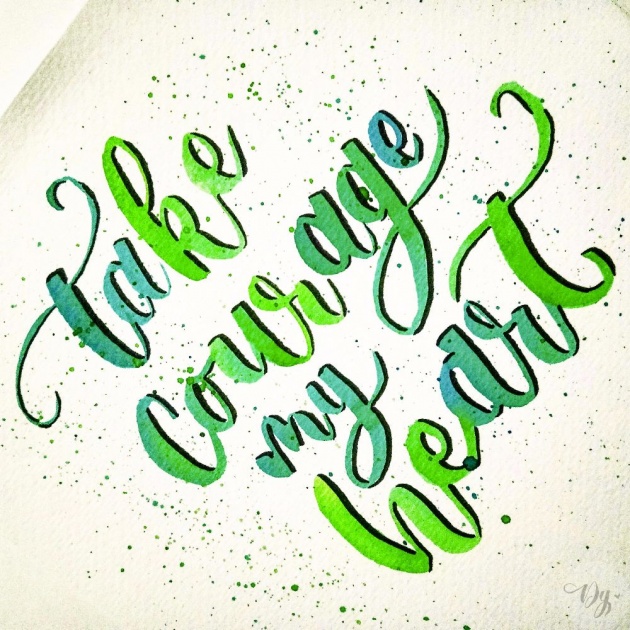 Photo credits: @forever.favored via instagram.com
Maybe you have found your Passion or your Dream but so afraid to pursue it because of risks. Fear not, Take heart and take the risks! It's better to pursue than to do nothing at all.Remember that God created us with Individual talent and skills, you might not discover what's yours but it is not too late to discover and explore it. Start now! You can always choose the path that you will walk in to. But if you will to choose what path to go, always go for what your heart is telling you. Not just what your heat wants but also what you heart thinks the best for you. Choose to pursue, take risks and leave the fear behind.
"Sometimes all you need is just one step to have a better and brighter life."
I'd like to share a talk from my Favorite Masterpenman About Passion and Art.
Source: Calvary South Denver via youtube.com
Here's a short querlo chat for you guys.
Thank you for reading and Have a great day!