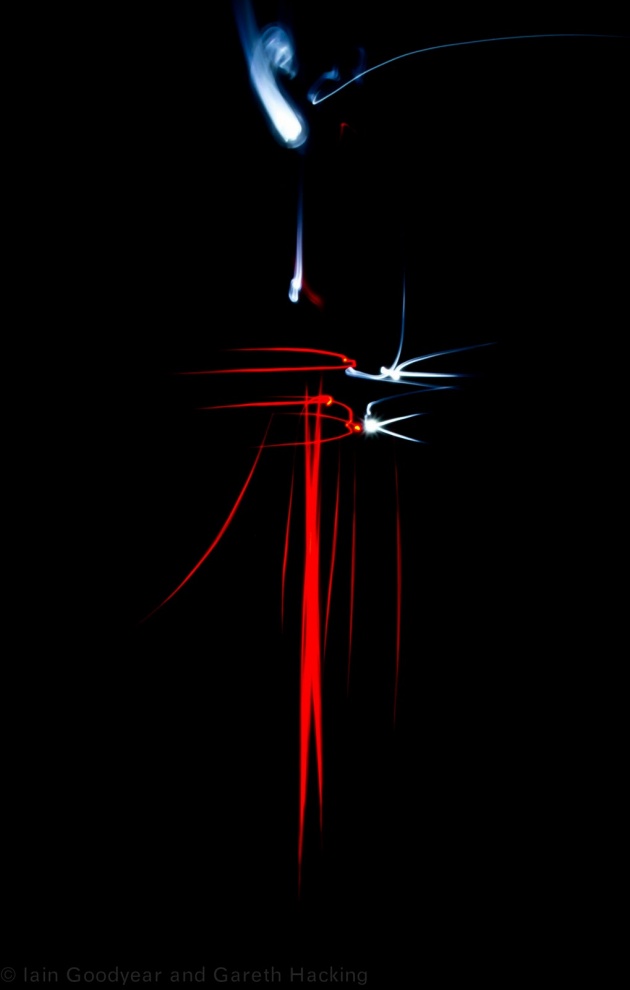 This collection is part of an on-going series that I have produced in collaboration with fellow photographer and artist Gareth Hacking. Over the years, Gareth has photographed a wide variety of events in the Manchester area and you can find out more about his work here - http://garethhacking.blogspot.co.uk/. I met Gareth a number of years ago, when we both worked for the Manchester based arts organization Blank Media Collective. During this time, Gareth and I mainly photographed art exhibition openings and other events organized by Blank Media. This led to frequent discussions about light painting, the process of using our cameras to capture rapid movement of light through extended shutter exposures.
This collection is our first collaborative attempt at putting this technique into practice. What I find so interesting about light painting is the unpredictable nature of it – you never seem to know in advance what you will capture. I find that the results are always unexpected and often surprising. Looking through the photographs now, what I see in many of these images are faces, something that was not originally planned. For this particular collection, Gareth had obtained lights of various colours that could be attached to finger tips. This allowed for some creative experimentation with the movement of the lights, as well as the distance of said lights to the camera.
This collection also inspired the production of 'Left of the Border Films Collaboration One' where I took some of the images Gareth and I created and re-imaged them in three dimensional spaces. As for the future plans for this experimental photographic practice, Gareth and I have already shot another collection (coming soon to Film Annex). This time, we took the process of light painting to a larger out door area. Our aim is to continue to experiment with this technique, hopefully producing a varied body of work that explores the relationship between light and landscape. As we produce more collections in this series I will be blogging about them here on Film Annex. Please do subscribe if you like what you see. I hope you enjoy our first light painting collection.