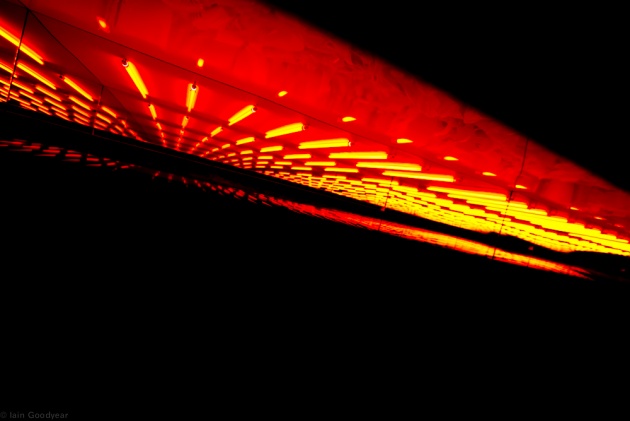 In July 2012 Manchester based artist Liz West asked me if I would photograph the opening of her exhibition 'Chroma', a site specific series of installations at the Manchester gallery BLANKSPACE. 'Chroma' was to be the last exhibition curated by Blank Media founding member Mark Devereux, who has since moved on to form Mark Devereux Projects - www.markdevereuxprojects.com. He describes Mark Devereux Projects as 'an artist production-development organisation established to help increase the national and international profile of early-career visual artists'. When I arrived at this exhibition, Liz was very clear that she wanted my images to show how children in particular responded to her exhibition. I hope that some of my images convey the enthusiasm with which children at the opening responded to the vivid colours and shapes Liz created for 'Chroma'. In describing 'Chroma', Liz has this to say:
"Chroma was the culmination of my interests and ideas over a five-year period. The body of work, site-specific to BLANKSPACE, explored the themes of colour theory, collecting and the exploration of real and illusory space.
I wanted to bring colour, light and space together in Chroma. I was extremely excited and enthusiastic about the idea of exhibiting new site-specific work in such an interesting gallery space such as BLANKSPACE. I discussed lots of different ideas for new work with the curatorial team; it was very much a collaborative process.
I hoped that visitors would enjoy the varied and colourful exhibition, visitors were defiantly stimulated by the playful and richly coloured installations that they were able to interact with, both psychically and visually. It was a treat for the senses, visitors took away with them a sensory experience induced by the powerful nature of colour.
My playful and magical works, each of which I build by hand, consist of unexpected and carefully arranged combinations of materials. Systems of ordering, classification and coding are applied in the development and generation of my work. I try to invoke the monumental, whilst utilising commonplace objects that are found and collected from the world.
At the time of Chroma I was interested in the visual fusion of densely massed objects and formal arrangements of objects found in shops and museums. My work hopefully gives the viewer the opportunity to immerse oneself, moving away from the real into something that is magical and that heightens your senses"
As an individual in attendance of this exhibition, I whole-heartedly agree with Liz that 'Chroma' was indeed a treat for the senses. Much of the artwork I have been fortunate enough to see created by Liz does indeed induce a sense of well being and warmth. I am in no doubt that this is due to her bold and imaginative application of colours and the creative use of mirrors to reflect the numerous found objects Liz seems to be able to acquire. Liz's work often has a kaleidoscopic quality that, combined with her skilful use of light sources, playfully challenges your perspective.
You can find out more about Liz West and her exhibitions (past, present and future) at www.liz-west.com and www.liz-west.blogspot.co.uk. I hope you enjoy my photographs of this excellent exhibition.