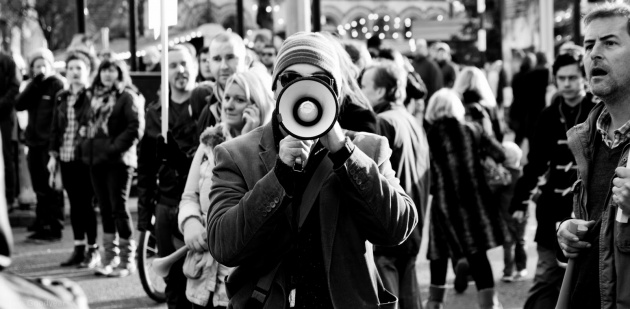 On the 30th November 2011 I took part in a nation wide union backed strike, organised in response to government plans at the time to alter public sector workers pensions. I have been a teacher since 2003 and I (like I imagine many teachers) love my job and the experiences it provides on a daily basis. Teaching is one of those professions that can change day to day, a joy one minute only to become an unexpected whirlwind of emotion and reaction the next. One of the things I cherish about the job that I do is the sense that the unexpected can happen at any given moment. I like to think that this keeps me on my toes, more so than any other job I have ever been lucky enough to have.
November 30th 2011 was the first time I had ever participated in country wide union action. Before I had even arrived at the starting point of this march, I was acutely aware of how important this day was for the many and varied professionals in attendance. This was to be one of the first very public displays of opposition to government plans by a wide cross section of public sector workers. Was this an important event to be a part of? Most definitely. Was this a must to document as a photographer? Most certainly.
So I arrived at the starting point, camera in hand, and I was immediately struck by the sheer volume of people present, all very visibly there to stand as one unified voice. That is, a voice against what I can only describe (in my humble opinion) as a hatchet wielding government, hell bent on declaring war on public sector workers future stability. As I photographed unfolding events, I began to notice a recurring look on many people's faces. It was the look of defiance mixed with smiles and happy faces. This event was undoubtedly a big two fingers to a government who did not (and still do not) seem prepared to listen or compromise, but it was also a unified celebration of a collective defiance.
The march took the crowd along Manchester's Deansgate, up past St Peters Square and onward along Oxford Road to a rallying point by the Whitworth Art Gallery. Here, union leaders publicly condemned government leaders and roared their defiance against their plans as well as their resolve to speak out about plans to reduce public sector pension payouts. This day for me was one of intense energy. This was coupled with a strong feeling that what was happening, what I was witnessing, absolutely had to happen. What makes documenting this strike march all the more memorable was the feeling of unity that was palpable in the air. It is one of the few occasions I have been a part of where I knew, with the utmost certainty, that I was part of something much bigger than myself. I hope you enjoy my photographs of this day.