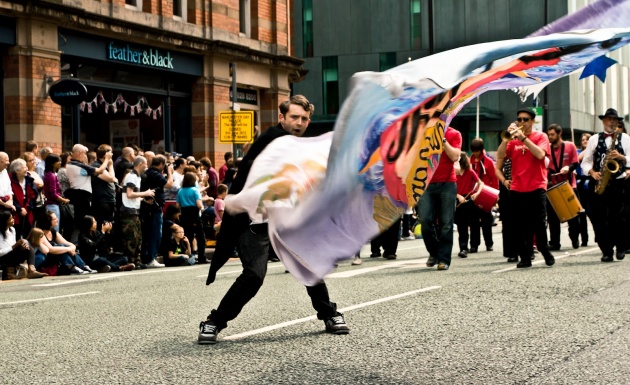 I was fortunate to document the Manchester Day Parade on a sunny day in 2012 and wish to share with you the images I was able to capture on this most lovely day. What an opportunity it was to capture costume, choreography and unbridled enthusiasm - all in relation to this great city and the passionate and creative individuals who lined the streets this day.
The buzz on this particular day was matched by the many intricate costumes people wore as they walked the streets of Manchester's Deansgate. This sense of occasion was made all the more pleasant by the fine warm weather that all in attendance felt.
I'd like to think my photographs capture the collective sense of community spirit that I think so readily exists in Manchester. All who participated so obviously felt a sense of pride, and as a photographer I found this intoxicating. If you have yet to experience this great city I urge you to do so, in particular the next parade. Thank you for taking the time to read this blog and look at my photographs.
To see more of my blogs please click HERE.
Please subscribe to www.filmannex.com/iaingoodyear to receive further updates about my moving image and photography work.