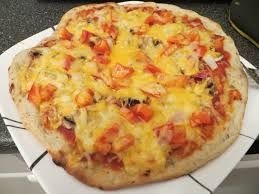 Ingredients:
1 pizza base
For Topping:
1 onion chopped
1 tomato chopped
2-3 baby corns slice
½ capsicums chopped
2 tbsp pizza topping or tomato sauce
2 tbsp pizza cheese or mozrella cheese grated
Preparation method:
Preheat the microwave at convection mode to 230 C. spread the tomato sauce or pizza topping on the pizza base and spread chopped vegetable evenly on it. On the top, spread grated cheese evenly and bake on the rack at 230 C for 8-10 min. or till the cheese melts. Cut into wedges and serve hot.