What is Procurement Management Informations System?
It is a Procurement Management Information System with automated functions for communication, document management and Procurement Information Processing to facilitate and standardize the Procurement Procedures by using world class Information Technology tools. PMIS also publishes the Standard Procurement Documents including Public Procurement law, Standard Procurement, & Contract documents, and publication of bidding opportunities, publication of contract awards and appeal mechanism and etc. PMIS Section works under the surveillance of Procurement Policy Unit (PPU) of Ministry of Finance, Afghanistan.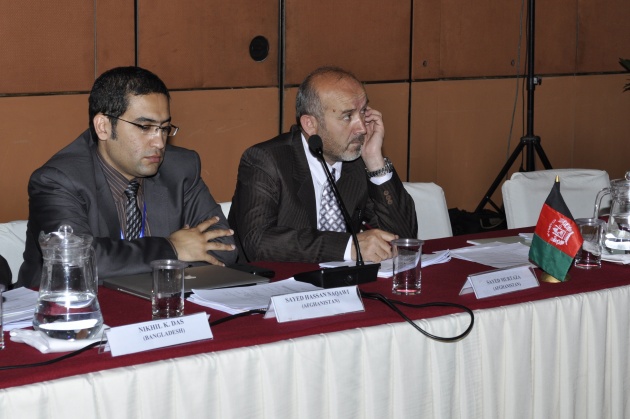 What is the objective of PMIS?
The objective of this activity or component is to provide authorities and users a better means for learning from past experience of procurement, to improve the procurement environment in the country, to scale up procurement reforms, to plan and allocate resources, to demonstrate results as part of accountability to key stakeholders and to enable them to achieve the objectives. As it was required to develop a comprehensive and participatory PMIS system procurement in the country and a procurement website for dissemination of procurement documents and information, the PMIS team fulfilled this requirement under PPU surveillance. This documentation and information includes the Law and Rules of Procedures, Circulars, Notices, standard document, and bidding Documents, bidding opportunities, publication of contract awards, and appeal and review decisions. The more important goals for PPU to develop such kind of MIS System are.
Ensure public accountability & external & internal transparency and openness
Ensure satisfactory internal controls in procurement operations & deter frauds
Facilitate efficiency & effectiveness of procurement operations & use of resources
Learn continuously from the system implementation & make necessary mid course corrections to the system
Enable users to develop monitoring & evaluation skills
Track the effectiveness of the processes employed to ensure that the results meet the objectives
Support different stake holders & making decisions by providing data and feed back
Develop a system of communication between various stake holders on procurement information to ensure a two-way flow of information for the PPU to use to enhance service delivery and quality improvement
Document the process best practices and lessons learned
Institute a mechanism of data analysis & information processing to fast track the implementation of the new procurement Law
PMIS handles the entire information processing including data gathering and storing (database), data processing systems (applications), communication management, information and knowledge management. As far as the PMIS is concerned each and every component/activity which will be dealing with loads of data information including gathering data, processing data and producing output information. In order to provide stakeholders, users and authorities with better means in their assignment and enable them to better achieve their goals and objectives, PMIS Framework was planned and developed. With this PMIS Framework a web-Based PMIS system is developed to provide automated system for communication, documents & information processing including public procurement law, standard procurement, contract documents, publication of bidding opportunities, publication of contract awards, publication of debarred contracts, training module for procurement courses, appeal and review mechanism and etc.
PMIS Development
Work on PMIS started in mid 2007 by PPU. System analysis was performed and PMIS strategy was developed and approved by WB in 2008. Hardware, Software, and Licenses were procured and development based on the strategy started at the same year.
In pursuance to Article 10 of Public Procurement Law, 2008 (as amended in January 2009) on 'Introduction of Information Technology' and Article 67 of Law on 'Procurement Website', the website and PMIS was launched by PPU in an official seminar in January 2009 in presence of the officials from all Procurement Entities/Line Ministries. The operationalization of PPU website and PMIS is an important step to improve the transparency and accountability in the Public Procurement and is very useful to all the stakeholders in the process, including bidders.
The website is designed in Dari, Pashto and English considering the key elements including: architecture, navigation, color, graphs, fonts, performance, consistency and quality.
The PPU website is ready and has been launched for public January, 2009. While static part of the website that has main role of information dissemination can be internally managed by PPU with regular updating of the contents, the dynamic part is dependent on the response and cooperation of the entities. The dynamic part implementation is the most challenging and requires an incentive strategy for full successful implementation including training and financial incentives for personnel doing the PMIS job.
The site also includes:
An intuitive navigation and search engine so users can navigate quickly and easily through different pages and easily search the entire site
Fresh content means that procurement officers and lines ministries/entities with the help of procurement controllers and procurement specialists assigned by PPU in the line Ministries/Entities can provide new information, e.g., bidding announcements, and update content immediately and without any technical support.
The website is organized as a portal to provide for public access to announcements, public tenders, and contract award announcement. The website and the Procurement Management Information System (PMIS) is implemented, maintained and monitored by the PPU and used by MOF and line Ministries/Entities and stakeholders. The website will be developed in a way that will provide a platform to allow e-procurement at the later stage. Also a web based database will be developed to which would lead to an e-procurement environment.
The Website provides one important platform for regular publication of opportunity and outcomes of public contract and ensures better procurement performance monitoring. Now the system is fully stabilized and fully implemented all across the procuring ministries/entities. After removal of all the initial problems and teething troubles and addressing of capacity issues, E-procurement module to be developed and implemented in the near future.
The availability of web site and PMIS helps improving the transparency, accountability, efficiency and effectiveness of Procurement Process.