Two days ago, on Friday, December 14, 2012, 26 people, 20 children and 6 adult staff members, were killed at Sandy Hook Elementary School in the Sandy Hook village of Newtown, Connecticut. This was the second-deadliest shooting in United States, after the Virginia Tech massacre in 2007.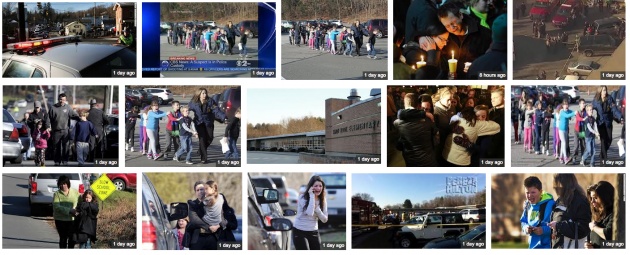 Authorities recovered three semi-automatic firearms next to Adam Lanza: a .223-caliber Bushmaster rifle, a 9mm Glock handgun, and a 9mm SIG Sauer handgun. All three were legally registered and owned by Lanza's mother, who is reported to have been a gun enthusiast. Lanza "had access" to three more guns: a .45 Henry repeating rifle, a .30 Enfield rifle, and a .22 Marlin rifle, but it is unclear as to where these weapons were located. One of these, described as a "long gun", may have been found in the car he drove to the school. According to the medical examiner, all victims were shot with the same "long weapon", and all were hit multiple times; one of the bodies had eleven gunshot wounds. Adam Lanza was too young to legally own or carry either handgun under Connecticut law. (Wikipedia)

An example of a Bushmaster M4A3 with magazines, similar to the semi-automatic rifle found at the crime scene. (Wikipedia)

Of the above, what strikes me the most is this sentence: "All three were legally registered and owned by Lanza's mother, who is reported to have been a gun enthusiast. Lanza "had access" to three more guns".
The keywords of this massacre resonate to me as:
Legally Registered
Gun Enthusiast
Access
As you may already know, in the last 12 months, I have been working intensely on building schools in Afghanistan with Internet Classrooms, so that children of Central and South Asia can connect to the World Wide Web, access a global education and business opportunities. This effort gives these children a future and prevents them from falling victim of extremism and terrorism. With power comes responsibility, and for me, as the founder of Film Annex, a platform with over 50 million monthly viewers and 300,000 registered users, it was time to put the money where the mouth is. In the last 7 months, Roya Mahboob, her team in Afghanistan, and our team in the USA and Italy, successfully built 6 INTERNET classrooms and a R&D center connecting over 30,000 kids to the World Wide Web. Our goal is to connect at least students 160,000 by 2024.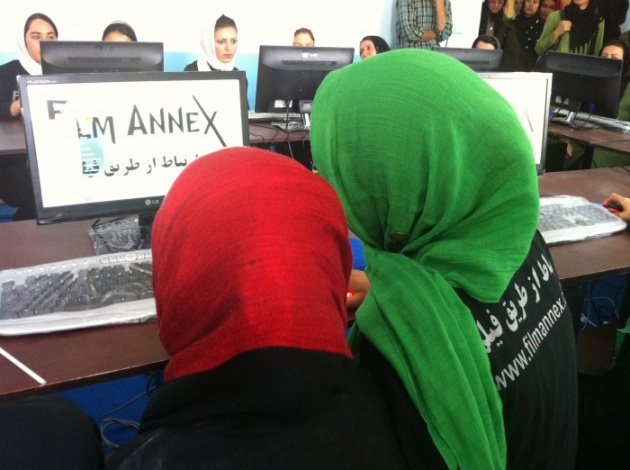 Photograph courtesy of Angela Shah*
But on the other hand, the Sandy Hook shooting took place just a couple days ago, only a few miles away from my home. Just 78 miles, 1.5 hours by car from Manhattan.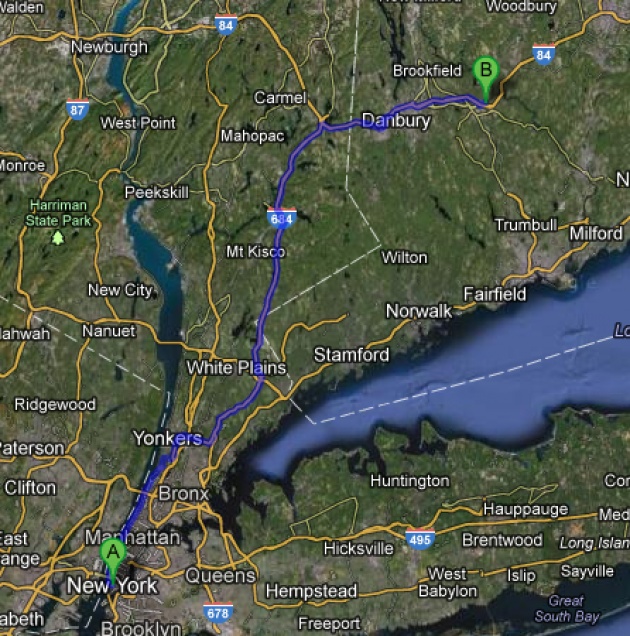 The status quo is unacceptable, and instead of spending time blaming others, I decided to blame myself and those who lived for decades without seeking a real solution, shelter in the concept of "it won't happen to me so why shall I try to change something?" I am NOT looking to discuss politics, but looking at the situation, I must say we don't have time to argue, and it's time to apply some Critical Thinking on this matter. A simple way to do it is to look at other countries with similar size, income, and educational level and learn from them. We don't need to reinvent the wheel as things can't get any worse than where we are now.
The first thing I invite you to do is to go on Wikipedia and read about the Sandy Hook shooting and list of Victims here below:
Nancy Lanza, 52, perpetrator's mother

Rachel Davino, 29, teacher

Dawn Lafferty Hochsprung, 47, principal

Anne Marie Murphy, 52, teacher

Lauren Rousseau, 30, teacher

Mary Sherlach, 56, school psychologist

Victoria Soto, 27, teacher

Charlotte Bacon, 6

Daniel Barden, 7

Olivia Engel, 6

Josephine Gay, 7

Dylan Hockley, 6

Madeline F. Hsu, 6

Catherine Violet Hubbard, 6

Chase Kowalski, 7

Jesse Lewis, 6

Ana Marquez-Greene, 6

James Mattioli, 6

Grace McDonnell, 6

Emilie Parker, 6

Jack Pinto, 6

Noah Pozner, 6

Caroline Previdi, 6

Jessica Rekos, 6

Avielle Richman, 6

Benjamin Wheeler, 6

Allison N. Wyatt, 6
Here in the USA, we have an expression called "going postal".
"The expression derives from a series of incidents from 1983 onward in which United States Postal Service (USPS) workers shot and killed managers, fellow workers, and members of the police or general public in acts of mass murder. Between 1986 and 1997, more than forty people were gunned down by spree killers in at least twenty incidents of workplace rage." (Wikipedia)
But the sad reality is that the target has moved from "Post Offices" to "Universities" to "High schools" to "Elementary Schools". So I decided to research the narrow reality of school shootings in developed countries that share similar income and educational levels.
Here is the sad list of school shootings in the USA, and a summary of the shootings since 1990, the year I moved to the USA. Please note that in very few cases, the shooter is older than 20 years old, and the majority are 14-18 years old kids:
1990s
May 1, 1992: Olivehurst, California - Eric Houston, 20, killed four people and wounded 10 in an armed siege at his former high school. Prosecutors said the attack was in retribution for a failing grade.
According to the National School Safety Center, since the 1992-1993 U.S. school year, there has been a significant decline in school-associated violent deaths (deaths on private or public school property for kindergarten through grade 12 and resulting from schools functions or activities):
1992–1993 (44 Homicides and 55 Deaths resulting from school shootings in the U.S.)

1993–1994 (42 Homicides and 51 Deaths resulting from school shootings in the U.S.)

1994–1995 (17 Homicides and 20 Deaths resulting from school shootings in the U.S.)

1995–1996 (29 Homicides and 35 Deaths resulting from school shootings in the U.S.)

1996–1997 (23 Homicides and 25 Deaths resulting from school shootings in the U.S.)

1997–1998 (35 Homicides and 40 Deaths resulting from school shootings in the U.S.)

1998–1999 (25 Homicides from school shootings in the U.S.)

1999–2000 (25 Homicides from school shootings in the U.S.)
According to the U.S. Department of Education, in the 1998-1999 School Year, 3,523 students (57% High School, 33% Junior High, 10% Elementary) were expelled for bringing firearms to school.
The late 1990s started to see a major reduction in gun related school violence, but was still plagued with multiple victim shootings including;
January 12, 1995: Seattle Washington - A student left school during the day and returned with his grandfather's 9mm. He wounded two students. The incident is portrayed in the documentary Cease Fire.
October 12, 1995: Blackville, South Carolina - A suspended student shot two math teachers with a .32 caliber revolver.
November 15, 1995: Lynnville, Tennessee - A 17-year-old boy shot and killed a student and teacher with a .22 rifle.
February 2, 1996: Moses Lake, Washington - Two students and one teacher killed, one other wounded when 14-year-old Barry Loukaitis opened fire on his algebra class.
February 19, 1997: Bethel, Alaska - Principal and one student killed, two others wounded by Evan Ramsey, 16.
October 1, 1997: Pearl, Mississippi - Two students killed and seven wounded by Luke Woodham, 16, who was also accused of killing his mother. He and his friends were said to be outcasts who worshiped Satan.
November 27, 1997: West Palm Beach, Florida Conniston Middle School - 14-year-old John Kamel was fatally shot in the chest at 8:40 a.m. outside school on a sidewalk by 14-year-old Tronneal Mangum after an argument over an Adidas watch that Mangum had taken from Kamel.
December 1, 1997: West Paducah, Kentucky - Three students killed, five wounded by Michael Carneal, 14, as they participated in a prayer circle at Heath High School.
December 15, 1997: Stamps, Arkansas - Two students wounded. Colt Todd, 14, was hiding in the woods when he shot the students as they stood in the parking lot
March 24, 1998: Jonesboro, Arkansas - Four students and one teacher killed, ten others wounded outside as Westside Middle School emptied during a false fire alarm. Mitchell Johnson, 13, and Andrew Golden, 11, shot at their classmates and teachers from the woods
April 24, 1998: Edinboro, Pennsylvania - One teacher, John Gillette, was killed and two students wounded at a dance at James W. Parker Middle School. Andrew Wurst, 14, was charged.
May 21, 1998: Springfield, Oregon - Two students killed, 22 others wounded in the cafeteria at Thurston High School by 15-year-old Kip Kinkel. Kinkel had been arrested and released a day earlier for bringing a gun to school. His parents were later found dead at home, shot to death by their son
June 15, 1998: Richmond, Virginia One teacher and one guidance counselor wounded by a 14-year-old boy in the school hallway
December 10, 1998: Detroit, Michigan One professor killed by a graduate student.
April 20, 1999: Littleton, Colorado - 14 students (including 2 shooters) and one teacher killed, 27 others wounded at Columbine High School. Eric Harris, 18, and Dylan Klebold, 17, had plotted for a year to kill at least 500 and blow up their school. At the end of their hour-long rampage, they turned their guns on themselves.
May 20, 1999: Conyers, Georgia - Six students injured at Heritage High School by Thomas Solomon, 15, who was reportedly depressed after breaking up with his girlfriend
2000s
February 29, 2000: Unidentified 6-year-old offender in Michigan school shooting. 1 student fatality.

May 26, 2000: Lake Worth, Florida Lake Worth Middle School Florida teacher Barry Grunow was fatally shot by his student, 13-year-old Nathaniel Brazill, who had returned to school after being sent home at 1 p.m. by the assistant principal for throwing water balloons. Brazill returned to school on his bike with a 5 inch Raven and four bullets stolen from his grandfather the week before. Brazill was an honor student. Grunow was a popular teacher and Brazill's favorite.

August 28, 2000: University of Arkansas shooting at Fayetteville, Arkansas At approximately 12:14 pm, Dr. John R. Locke, 67, Director of the Comparative Literature Program was shot and killed in his office by James E. Kelly, 36, a Comparative Literature PhD candidate who had recently been dismissed from the program for lack of progress towards his degree. Kelly shot Dr. Locke three times before taking his own life in Dr. Locke's office after it was cordoned off by campus police.

September 26, 2000: Darrel Johnson, 13, offender in Louisiana school shooting with 1 student fatality.

March 5, 2001: Charles Andrew William, age 15, offender in California school shooting, 15 wounded 2 of which died.

March 30, 2001: Donald R. Burt Jr., age 18, offender in Indiana school shooting with 1 student fatality.

September 24, 2003: John Jason McLaughlin, age 15, offender in Minnesota school shooting with 2 student fatalities.

February 2, 2004: Unidentified offender in Washington, DC school shooting with 1 student fatality.

May 7, 2004: Unidentified 17 year old offender in Maryland school shooting with 1 student fatality.

March 21, 2005: Jeff Weise, 16 year old offender in Minnesota school shooting. Fatalities include 1 teacher, 5 students, 1 security guard, 2 relatives.

November 8, 2005: Kenny Bartley, age 15, offender in Tennessee school shooting with 1 principal fatality.

October 2, 2006: Charles Carl Roberts IV, a 32 year old a milk truck driver, murdered five Amish girls and injured five others before killing himself in an Amish school in the hamlet of Nickel Mines, in Bart Township, Lancaster County, Pennsylvania.

April 16, 2007: Seung-Hui Cho, age 23, offender in Virginia Tech University shooting. 32 students and faculty were killed, along with another 17 students and faculty injured in two separate attacks on the same day.
2010s
February 27, 2012: T.J. Lane, 17, took a .22-caliber pistol and a knife to Chardon High School and fired 10 shots at a group of students sitting at a cafeteria table, killing 3 and wounding 2.
August 24, 2012: Homer, Georgia 16 year old Student at Banks County High school shot himself in the bathroom at school and died from the self-inflicted gun shot.
August 27, 2012: Perry Hall, Maryland Robert Gladden, 15, allegedly took a double barrel shotgun to Perry Hall High School and shot a 17 year old senior with Down syndrome in the lower back.
September 26, 2012: Stillwater, Oklahoma Cade Poulos, 13, shot himself in the head right before classes started at Stillwater Junior High School.
November 30, 2012: Casper, Wyoming Christopher Krumm, 25, offender in Casper College attack with bow and arrow and knife, 1 teacher, 1 relative and self.
December 14, 2012 Adam Lanza, age 20, killed 20 children between the ages of 6 and 7 all in 1st grade and 6 adults at Sandy Hook Elementary School in Connecticut, and then committed suicide. He killed his mother at their home before using her guns in the shooting.
I compared the above with school shootings in other parts of the world and on Wikipedia I did find a list from Europe. Due to the fact that the European list is so much shorter, I also decided to compare homicide rate in the USA (4.2 homicides per 100,000 inhabitants, 314 million inhabitants):

With those of Western Europe (1.0 homicides per 100,000 inhabitants, 389 million Inhabitants).
After that, I decided to put myself in the shoes of someone who would like to purchase a gun and googled "buy a gun", and the top site offered me the information and access below:

"Great Christmas Gift Idea"!
and continue with offers like this:

The above is basically unthinkable for European standards where trained police and military personnel has access to the weapons and where "access" is regulated.
Europe learned from its mistakes of the past 2,000 years of wars and implemented laws that successfully prevent mass murders especially by young children. A variety of laws on mental health and gun control, as well as a preventive series of laws and solutions must be adopted ASAP in the US. Some of them will not give the same results but some will give the necessary effects. What is certain is that the Status Quo is unacceptable and discussing it any further is insane. Prevention is the key word.
The NRA (National Rifle Association) is a very powerful organization and lobby, with 4.3 million members, based in Fairfax, Virginia, conveniently located 19 miles from the White House. With power comes responsibility. It is NRA's primary responsibility to be part of the solution, and from what you see above, it is clear that they failed to use their power to prevent massacre after massacre. Check on Wikipedia the Gun Ownership per capita and see that the US is number one in the world: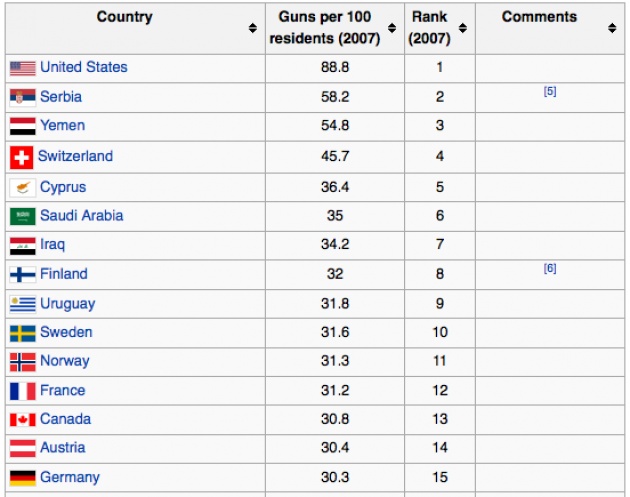 The solution is in the hands of the NRA and their community of "Gun Enthusiasts". They have the power and access to the people, but history teaches us that they failed over and over and over. It Is time for American politicians to step up and make decisions, regardless if they will disappoint "gun enthusiasts" and limit "access" to guns, regardless if they will lose the vote of 4.3 million NRA members and "gun enthusiasts".
While I post this blog, I get reminded of friends and family who have associated gun access to the lifestyle, culture, business, and politics of this country, which I find horrendous. I refuse to support this mentality and I see in the European Union regulations a solution to this matter. Some, angered by my position, asked me to move back to Europe, instead of offering solutions, allowing the Status Quo.
The European Community regulations are the solution, and if there is someone to blame for the deaths listed above, it is the NRA and gun lobbies, who, in spite of incredible power and support, failed to resolve the problem.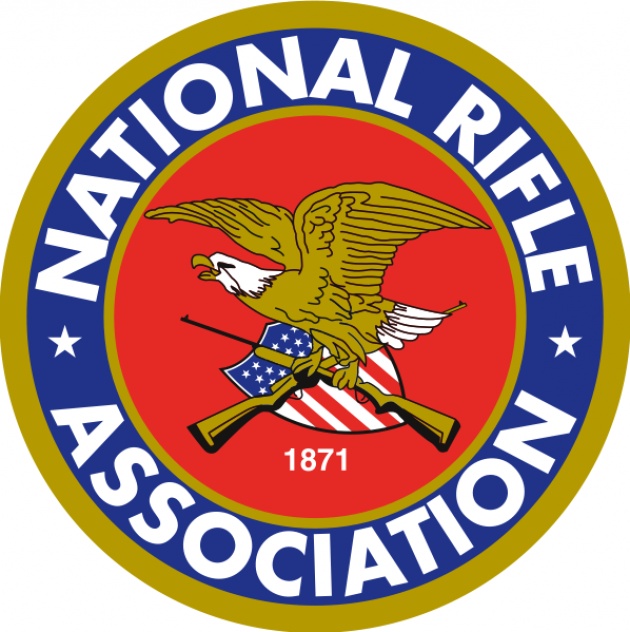 Comments and suggestions are welcome, but let's get something done.
*Angela Shah is a freelance journalist based in Dubai. She has written for The New York Times, TIME magazine, Newsweek and Institutional Investor magazine, among other publications. Angela is the author of "In Afghanistan, Roya Mahboob Connects Girls With Computers".